Home

Kona Kai Resort & Spa
About this Vendor
Weddings with a View
Kona Kai Resort & Spa is a gorgeous hidden gem of Shelter Island, San Diego. With views of Coronado and the majestic Point Loma hillside on either side of our property we can truly offer that ideal San Diego wedding that you have been searching for. Our Chef has a way with food that will leave your guests energized and fullfilled; ready to hit the dance floor! Why limit it to just one day? Create a wedding weekend experience that all of your guests can enjoy. We have award winning Spa Terre, vibrant Vessel Restaurant, water sports, heated pool and much more for your guests to enjoy! Come join the Kona Kai family and schedule your site visit today!
Amenities + Details
Amenities
Bridal Suite

Handicap Accessible

On-Site Accommodations

Indoor

Outdoor - Not Covered

Reception Area

Wireless Internet
For more details about amenities, please message the Venue.
Commitment Ceremony, Elopement, Interfaith Ceremony, Non-Religious Ceremony, Religious Ceremony, Same Sex Ceremony, Second Wedding , Vow Renewal Ceremony
Ballroom, Waterfront, Beach, Country Club, Garden, Historic Venue, Hotel, Restaurant
Bar + Drinks, Destination Weddings, Food + Catering, Service Staff
Contact Info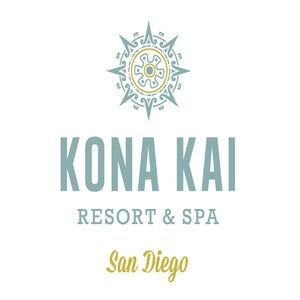 Reviewed on

10/21/2016
Julie K
We got married at the Kona Kai Resort and it was a DREAM wedding!! The venue was unbelievable, the staff was amazing and the entire experience was five stars. Jenay, our coordinator made our event run smoothly and perfect. Her attention to detail was amazing and she was so... Read More fabulous with ensuring the timeline stayed on track. Our guests raved about the food! The food was truly incredible and the staff was so kind and on it! The view for the ceremony and reception was breathtaking. Thank you Kona Kai for a dream come true wedding!!
---
Reviewed on

7/31/2016
Karen F
We went to a total of 15 venues in San Diego when we started our wedding planning process. Once we visited Kona Kai though it was not even a question. Everything we ever wanted and could have requested was made possible here. Jennifer Hoffman was such a pleasure to work with and... Read More made us feel like we were her only clients. Not only did they create a custom menu for us, the chef took the time to really make it perfect. Usually wedding food is mediocre but we had so many guests compliment our meal. Kona Kai went above and beyond for us- from dealing with obnoxious family with a smile to even adding additional decor to the stations just to make everything pop. Every single Kona Kai employee was incredibly helpful and positive. This was a venue that didn't upsell but actually added things just to make our wedding weekend that much better. From Emilio in the front to Chris on the back end everything was such high quality service. The setting here is so idyllic. Because there is only one ballroom, it is likely that they only have one wedding each day which means you and your guests can feel like the resort is all yours. The rooms are huge and comfortable and all newly renovated and the grounds are kept pristine. There are multiple ceremony location options that all look out on the water and there are so many picture worthy spots. We could not have asked for a more perfect venue.
---
Reviewed on

9/14/2016
Suzanne B
I don't know where all these glowing reviews are coming from as my wedding this weekend was a mess and now no one will respond to our emails. First know that the club/hotel has changed hands numerous times over the years and so you can't go off past reviews. Those reviews are... Read More from a different time and different management. Don't get me wrong, the location is beautiful, but we were not at all pleased with the "service" we received. First off, we planned our wedding in about 8 weeks and in that very short time period, we were given THREE different points of contact, including the last one just two weeks before the wedding. First this person quit and then that person left and on and on... We were very nervous about all the change-ups and of course, things fell through the cracks even though we were assured they would not. We never even MET our final point of contact and she was not present the day of the wedding (or at least, no one claimed to have seen her. I certainly did not see or hear from her the day of). SO, given that no one was there to make sure everything was as it should be, I sent the following list in an email on Monday morning about things that went wrong: "1. The signs for our event were pointing in the wrong direction and many guests got lost. My sister and friend noticed and, only after they complained was it corrected. 2. I know we didn't have alcohol included in our package, but we assumed SOME LIQUID would have been provided. The only thing non-drinkers could drink — including ME because I'm 4 months pregnant — was the water that was set up for the ceremony. Frankly, I'm a little appalled that water service was not provided. Had I known that there would have been NO drink service at the table — not even glasses and a pitcher of water — I would have certainly paid to have that provided. 3. The tiki torch dance floor was not set up like it was in the diagram we approved. The tiki torches were set up around the tables so there was no "dance floor". 4. We had a cash bar and the ATM was broken. Not only could most of my guests NOT get drinks, but your poor bartender basically had to just stand there the whole night while he watched everyone walk up to the pool bar to get drinks. 5. I know it's standard to include a 22% gratuity, but there was practically NO service. There were a couple of guys who set up the buffet, cleared our plates, and lit the torches/fire pits. They did a great job, but I'm highly doubtful you split the full gratuity between those three guys. Had there AT LEAST been water service, I would have felt like MAYBE this was justifiable, but there was not one single SERVER working so I'm feeling quite ripped off that we were charged for service when it was not provided. 6. There was no one on-site to address these issues as they came up so we were just kinda stuck with what we got." We requested some kind of small refund due to all these errors, but I have not heard back from anyone about that email. No apology, no refund offer... nothing. I realize they have our money now so are likely done with us, but my family and I have been loyal members of the Kona Kai for decades. And even if we were first time visitors, we deserve a response to address our concerns. Unfortunately, the new management is shockingly poor and I would absolutely not entrust something as important or expensive as your wedding to such a haphazard venue.
---
Reviewed on

8/27/2016
Kristen E
We stayed at Kona Kai for our wedding weekend and although we had our wedding off site, we had many different events there! The majority of our guests were from out of town so we had a large block of rooms at Kona Kai and it was an amazing experience! Cassie Donovan was our room... Read More contact and was absolutely incredible! She was extremely accommodating and helpful on so many levels. We were so grateful for her throughout the entire process! All of our guests had an incredible weekend thanks to their stay! We also did our welcoming party, the night before our wedding, in the Vessel Restaurant and Bar, as well as an after party after our wedding reception. Kelly Meade and Sean Tiarks were very helpful in setting everything up and were extremely flexible and customer service oriented. We also did a non-hosted brunch in the restaurant the day after our wedding and once again everything was perfect! We are so happy with our experience at Kona Kai and would recommend it for all lodging and event needs! Our guests are still talking about how seamless and fun all of the events were! Thank you Kona Kai! We will definitely be back soon! Here are some pictures that we took at Kona Kai during getting ready and all other photos before the wedding: http://cloveandkin.com/blog/tag/kristen-patrick/
---
Reviewed on

7/13/2016
I absolutely loved my wedding at the Kona Kai and here's why... Food: Weddings are not known for their great food. In fact, I'd say they're actually kind of known for having poor food. After the wedding, I LITERALLY had relatives calling me to tell me how good the food was-... Read More both for cocktail hour (which took place outside) and dinner (which took place in the full PL Room) Music: We outsourced our DJ and the band was my father-in-law's band, but the KK set up a great stage for them and were very accommodating with regard to setup times, power sourcing, etc. Venue: The wait staff were ALL SMILING. I'm not kidding- You would have thought they knew my husband and I personally. They were absolutely lovely and so very helpful. My husband and I didn't attend cocktail hour and had a big bridal party entrance, but the wait staff snuck us the two of us in to see the ballroom before the guests were allowed in. They even brought us a plate of hor'devours! Point Loma Room: Like I said before, the room is STUNNING and overlooks the bay. There is a beautiful fountain and since the remodel a few years back, everything is topnotch. The way I look at it, other venues that host events in fancy ballrooms may as well be located in the middle of nowhere if there aren't any windows or a view. But the Kona Kai has all of the beautiful ballroom features with the backdrop of the San Diego bay and its gorgeous sunsets! Cake: Kona Kai uses Flour Power and I'm so glad they do! My cake was beautiful AND delicious, which is just a testament to the Kona Kai's great service and their own vendor expectations. Honeymoon Suite: They gave my husband and I a free night in the honeymoon suite and I don't want to spoil anything, but let's just say they really went all out with the room. It was the 2nd most romantic thing I'd ever seen in my life! The 1st being my husband's proposal ;) Jennifer Hoffman (Event Coordinator): She is a total bada$$ and yet manages to get stuff done all while being so kind and thoughtful. I can honestly say thanks to her, I went into wedding 100% stress free. She is always quick to respond to an email or text and really makes personal connections with all of her clients. My advice- go check out Kona Kai if you're planning to get married in San Diego. It is not necessarily the lowest cost you'll spend on a wedding venue, but I'm a big believer in 'you get what you pay for' AND for what you get, they really should be charging a lot more. All in all, I give Kona Kai a 10/10 for my wedding experience and my husband and I are so grateful for all of their hard work and dedication to making our special day the best day of our lives!
---
Reviewed on

3/08/2016
Annie E
We were married in San Diego November of 2015 and hosted our reception at the beautiful Kona Kai. Having grown up in San Diego, I had been going to the Kona Kai my entire life as a club member, so when it came time to select a wedding venue, I could not imagine a better place!... Read More You simply cannot beat this intimate waterfront paradise. We housed our guests at the Kona Kai and got a great rate through the reservations team for our room block. All our family and friends felt like they were on a tropical vacation staying at the resort, and enjoyed all the activities the Kona Kai had to offer (poolside cabanas, paddle boarding, beach games, fantastic restaurant/food options, etc). I guarantee in the next couple years it will be THE place to vacation and be married in San Diego, if it hasn't already become that. Jennifer Hoffman was our "go-to gal" for everything related to the wedding. She was incredible. So attentive, creative, responsive, and had a wonderful demeanor about her- she never seems stressed! (A HUGE plus in the world of event managers!). We hosted our cocktail hour on the beach during sunset (highly recommend the spicy ahi tacos as a passed appetizer!), and our reception in the Pt Loma Ballroom (the butternut squash ravioli is TO DIE FOR). Jennifer even arranged to keep Vessel Bar open until midnight for our ambitious guests to carry on the party post-reception (with a gourmet kettle chip / blue cheese / bacon bar, nonetheless!). We wanted to do something really special for our grand entrance to the cocktail hour, and the Kona Kai dock master helped us to orchestrate our arrival via sailboat into a guest slip facing the private beach where our guests were- it was one of the most magical moments of our entire life! We cannot speak highly enough about the Kona Kai staff as a whole- they are all wonderful! Separately- I also definitely suggest taking advantage of the vendor recommendations from the Kona Kai events team. We found our florist through Jennifer (Lois Matthews Designs) and she was FABULOUS. Seeing as they had worked together before, it was one less thing for us to worry about day of. In fact- we really didn't worry about anything that day! Everything was beautiful, and we will remember our wedding day forever.
---
Reviewed on

2/08/2016
Karolyn B
We just held our wedding at the Kona Kai Resort & Spa and it was absolutely amazing!!! My husband and I were looking for a waterfront ceremony location and as a former wedding planner, I knew there are limited locations in San Diego. Luckily I stumbled across the Kona Kai while... Read Moreauyfcbefvrafaxtfuutwwtrufxwrzdburayxxw searching on-line and we were sold after our first visit. It's a hidden gem I have a feeling will soon be the "it" venue for weddings. We wanted a place to serve as a destination wedding location for all of our family and friends traveling into town. The hotel has the perfect amount of rooms so that we could see our guests through-out the weekend around the property. They did an amazing job updating this property, it is very cute and all of our guests loved it! The entire experience was perfect. From the registration desk staff to the bellmen, everyone treated us so well. The Vessel Restaurant has fabulous food and awesome service. The spa is amazing and worth a visit. We worked with Michael DaSilva to plan our wedding and he was the absolute best! Our wedding ceremony was held on the beach with the cocktail reception on the Terrace with dinner inside the Point Loma Ballroom. Everything was seamless and the party amazing! Our guests raved about the food (strongly suggest the short ribs, halibut), the service was on time and the staff was fantastic! Michael was an absolute joy to work with. We had a lot of fun working together and by the time the wedding weekend came along, he had taken care of everything so we could enjoy ourselves and not worry about a thing. We were on a mission for a beach wedding destination celebration and thanks to the Kona Kai Resort & Spa, it was more than we could have envisioned. I strongly recommend the KKR for a parties, vacations and weddings. I am so glad I found this gem to hold our dream wedding!
---
Reviewed on

10/23/2015
George S
We got married here last weekend and had a great time. Most of our guests were from out of town and absolutely loved the resort. While the prices are high, with associated resort and parking fees, the setting was perfect for our small wedding. Catering Sales Manager Michael... Read More DaSilva was so accommodating through our planning process and the rest of the staff couldn't have been more helpful to us and our party throughout the weekend. The food at Vessel is delicious and a fabulous place to just grab a drink. Thank you to everyone at Kona Kai Resort for making our wedding weekend a fabulous one
---
PERFECT Beach Wedding Ceremony & Reception
Reviewed on

9/30/2015
Anne L
We wanted to initially have a destination wedding; however, due to personal reasons, we needed to stay in San Diego for our special day. After one visit to the Kona Kai, we knew this was our place. We worked closely with Jennifer Hoffman to plan the perfect wedding weekend. With... Read More the help of Chris Gutierrez - the day went off without a hitch! The ceremony, cocktail hour and reception were all held on their private beach with beautiful Point Loma and the marina as a backdrop. It was literally the most beautiful background/setting we could have imagined. We had approximately 112 guests. The wedding was on Friday, Sept 4th, followed by a pool party on Saturday. There are cabanas with TV's, so guests could get some shade and watch their favorite college football games. The Chef for the food/restaurant is absolutely amazing....I've ordered Huevos Rancheros every time I've been for breakfast - love it! We also really enjoyed the various sliders, mac and cheese options, burgers and so much more! We actually ewnt with stations for the wedding, because of the great variations of offerings. Guests came from all over the country and are still writing/calling us to say it was the best wedding they have ever been too and loved the relaxed and beautiful venue. We get we are a little biased, but it really was like we were on a tropical island. From the amazing food, to the friendliness of the staff, live music at the pool, bottomless mimosa/bloody mary bar, fun games in the courtyard, extremely comfortable beds / adorable rooms, water activities for kids/adults of all ages - it was a weekend to remember. Nothing was missed with their recent renovations. Although some rooms are on the smaller side (who spends time in the room, anyway), they all have great views. I can't say enough about the amazing experience not only we had working with the staff to plan the wedding but the experience our guests had spending the weekend at such a beautiful, unique boutique resort. We will be returning soon for another visit and highly recommend this be on your "must see" list for wedding venues in San Diego!
---
Reviewed on

5/24/2015
I got married at the Kona Kai last weekend and from beginning to end the entire weekend was perfect! We had a lot of out of town guests and most stayed at the Kona Kai. It was so much fun to have all of our family and friends staying together for the weekend. This is the perfect... Read More place for a destination wedding. They have a beautiful pool, hot tub, cabanas, a private beach and fire pits. Vessel restaurant has excellent food. The bar makes yummy drinks and they have a great happy hour. The hotel was completely sold out but we felt like we had the place to ourselves and it was amazing! The staff is incredibly friendly and helpful and they did everything possible to ensure we enjoyed our stay. We worked with Michael DaSilva to plan the wedding and he is fantastic -- professional, fun, and incredibly nice! Michael made sure everything was perfect and it really was just that. We could not be happier. We had our rehearsal dinner, ceremony, and reception at the resort. The banquet staff were incredible. They all worked so hard to create the perfect evenings and they're great at what they do! The rehearsal dinner was on the patio overlooking the marina and after dinner we all went out to the fire pits on the beach to make s'mores. It was so much fun and all of our guests had the best time! The ceremony was on the circular patio that overlooks the marina and it was so beautiful, the pictures are amazing! The reception was the best part: delicious food, incredibly attentive and professional banquet staff, and we danced the night away. I wish we could do it all again!
---