Home

La Bella Musica
Details
Classical, Jazz, Pop, Rock
Ceremony, Cocktail Hour, Wedding
Contact Info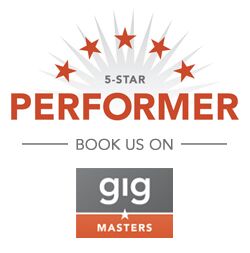 Reviewed on

9/11/2017
Cassandra O
We couldn't be happier with our choice of using La Bella for ceremony music. Emily was so great to work with and helped us pick the perfect music for our day. We received so many compliments on how wonderful the songs sounded and how beautifully the music added to the... Read More atmosphere. The trio did an amazing job with not only the acoustics but the timing of all the music. If you want a great personal touch to your ceremony music look no further!
---
Reviewed on

7/28/2017
Natasha H
La Bella Musica played during my ceremony and they were absolutely great. They are wonderful musicians, and payment was fast and easy. I loved that they offered Tale as Old as Time (one of my favorites!) I would recommend them to anyone.
---
Reviewed on

6/18/2016
Kristina M
La Bella Musica played our wedding ceremony last week and we loved working with them. Their music was beautiful and Emily was super responsive all throughout the planning process and helped us select a great mix of songs for our ceremony. We would work with them again in a... Read More heartbeat.
---
Simply perfect!
Reviewed on

5/01/2015
Kate L
La Bella Musica was the perfect choice for our wedding ceremony! We changed out ceremony venue just a few months before the wedding, and realized that we then needed to find a musician! Emily was wonderful to work with, from start to finish. She answered all our e-mails and... Read More questions, and was always organized. The paperwork she provided was so thorough and I loved the list of suggested songs she provided - it truly helped us pick the music for our big day! Our friends and family continue to compliment the musicians for our ceremony, and I wish now that we had included them for our cocktail hour too! I wouldn't hesitate to recommend La Bella Musica to anyone, and I would book them again in a heartbeat. Thank you for helping to make our day perfect!
---
Magical Musical Experience
Reviewed on

2/27/2015
Katelyn G
La Bella Musica were truly wonderful to work with from start to finish! They helped me pick and organize the perfect music selections for our ceremony and made our dream ceremony a reality. From the moment our guests walked in the door until leaving the ceremony they provided a... Read More magical music experience, which our guests raved about! I highly recommend them! Truly amazing!
---
Beautiful music
Reviewed on

10/23/2013
lisa b
I booked La Bella Musica only hearing them play online. I didn't get to meet Emily until my wedding day because of schedule conflicts. But the music was beautiful, it brought a whole new element to the ceremony.
---
Fantastic Trio
Reviewed on

8/06/2013
Michelle S
La Bella Musica was great to work with. From song selection to the ceremony performance, they were accommodating, reasonably priced, extremely professional and very talented musicians. We mostly stuck to classical and traditional songs which they play beautifully. The music... Read More perfectly complemented our ceremony.
---
Beautiful
Reviewed on

10/27/2012
Alicia L
La Bella was attentive throughout our planning process, even accomodating a very late request without an issue. Our guests loved them and their beautiful music is the sound track to one of the most amazing memories of my life!
---
Played Beautifully at my wedding
Reviewed on

8/22/2012
Lee-Anne H
I was married on Aug 18th, 2012 and had La Bella Musica (a string trio) at my ceremony. They were amazing. I worked with Emily Chen for months before the wedding, determining what songs I wanted, when I wanted them played, for how long etc. She even was accommodating when I... Read More asked if a close friend of mine could play with them, to make it more personal. Everyone thought they sounded beautiful. I know they had myself and many others in tears (good ones!) during the ceremony!
---
Talented and Proessional
Reviewed on

8/19/2012
Elliott M
La Bella Musica were great at working with us and performing beautiful at the ceremony. They have a great repertoire, but we asked them to perform some new songs, and they were happy to arrange some new songs for a small fee. They arrived early and were very professional... Read More looking. They sounded great, and we were happy to hear the music we wanted performed right when we wanted it. You can't go wrong with this group!
---
GigMasters Verified Review - Bristol, RI
Reviewed on

11/08/2011
Emily was extremely helpful during the planning process. The music at the event was perfect and we received many compliments. I would highly recommend La Bella Musica for any event!
---
Wonderful musicians
Reviewed on

8/03/2011
Caity R
The musicians of La Bella Musica are some of the most talented and experienced musicians in all of Rhode Island. They are a joy to work with, and truly made our wedding day extra special!
---
June 2011 Review
Reviewed on

7/19/2011
Stephanie B
As our venue Oceancliff does not allow amplified music outside your only music options for your ceremony is to put a CD on or to have actual musicians, we opted for actual musicians. We found La Bella Musica through Gig Masters and were happy with their reviews and the fact that... Read More they had played at our venue multiple times so they were aware of and could comply with Oceancliffs rules on music. We had to pay a fee to book through Gig Masters so I would suggest contacting them directly. We hired a violinist and cellist and worked with Emily Chen who was great. Emily took the time to discuss song selections with me, as I am not musically inclined, and offered some great suggestions. They showed up on time, were dressed appropriately, and played great music. I would recommend them to anyone looking for ceremony musicians
---
Review for La Bella Musica
Reviewed on

10/17/2008
Lisa P
Helpful with selections for music played for us individually at no cost.
---