Home

La Raine's Boutique
About this Vendor
La Raine's Boutique
La Raine's Boutique has the most beautiful selection of wedding gowns in Atlanta! Come visit us in the Virginia Highlands to find your perfect wedding gown! Please give us a call to make an appointment!
Details
Wedding Dresses, Dresses, Alterations, Fashion
Contact Info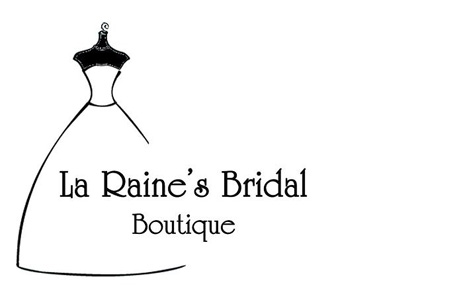 853 N Highland Ave NE, Atlanta, GA
wedding dress
Reviewed on

10/02/2013
Allison Caroline W
I admired dresses at various salons while looking for the perfect one, and my last appointment was at La Raine's. I picked out some, my mom picked out a couple, and La Raine's employee Leslie picked out one for me to try. Once I tried on the one Leslie picked out I knew i found the one, came out of the dressing room and my mom started crying. bought my Paloma Blanca dress that day and havent looked back since.
---
Ideal wedding dress shopping experience
Reviewed on

10/02/2013
Julie H
I felt like a princess from the moment I walked into the doors of La Raine's Bridal Boutique. I went in with the expectation that I wouldn't likely be able to buy my dress there since it's such a cute boutique, but much to my surprise they had an entire section of dresses in my budget! Leslie, the patient, energetic woman that helped me find my wedding dress, was a dream. She helped me figure out what I wanted very quickly, and was the one to find my dream dress. I absolutely recommend visiting this idyllic bridal shop!
---
Annoymous
Reviewed on

10/02/2013
Ali H
I had a WONDERFUL experience at LaRaine's Boutique. I loved their dress selection and all of the employees. Everyone was very relaxed and did not push a decision. I felt comfortable and at ease the entire time. Alterations were AMAZING. She is so detail oriented and fixed things that I didn't even see myself. Great, great experience!!!
---
Reviewed on

7/09/2015
Mallory O
I traveled from Oklahoma City to visit family in Atlanta. My sister found her dress here over 6 years ago, so I decided to go as well. I had an absolutely wonderful experience! Just as magical as I remembered it with my sister 6 years ago. I had Courtney Reimer help me out and she made the whole experience incredible! She knew I had other places I was trying on dresses and that I may not buy from them. She made me feel extremely comfortable and never once pressured me into trying to buy or decide on a dress, which was very refreshing from other places. She was honest with her opinions and made sure that I looked great in everything I tried on! Courtney had such a positive attitude that made my whole experience incredible!
---
Reviewed on

6/16/2015
Emily M
I tried 4 different places before I stumbled upon La Raine's. We had Sara helping us and she was fabulous. I felt comfortable the whole time and the fitting rooms were nice and roomy. I can't say enough about how much I love my dress. The whole experience was great thanks to Sara and La Raine's!
---
Dress Search
Reviewed on

5/11/2015
Erin C
I traveled to Atlanta from Nashville and decided to try on dresses at La Raine's after reading their reviews on Wedding Wire & The Knot. They have a GREAT selection of designer dresses at a fair price. My associate, Sarah, was a dream to work with. She made sure she knew what kind of dress I had in mind and picked accordingly -- and she let me know if a dress was over budget before I tried it on. She was also so patient with my two guests (my mom & her best friend) who have very strong opinions ;) The ordering and payment process went smoothly, but I couldn't give La Raine's 5/5 stars completely on service, because my dress came in exactly one month before the wedding, which was a little nerve-wracking. I know dresses take a long time to come in, but it seemed like it was "shipping right now" for a couple of weeks! Even so -- every time I called to check in they were very patient with me... and when my dress arrived La Raine called me personally and quickly set up an appointment time last minute for me to try in on & pick it up -- which was very professional and meant a lot! Thanks for my gorgeous dress!
---
Wonderful, Fairy Tale Experience!
Reviewed on

4/15/2015
Hannah B
La Raine's Boutique was absolutely wonderful from the first appointment to the very last fitting! My dress was the perfect style for me and they made it fit like it was made for only me!! I cannot imagine a better to place to have this once in lifetime experience! Staff is absolutely lovely from top to bottom! And Jack, La Raine's shih tzu, is the cutest mascot to greet you every time! I would HIGHLY recommend this one of kind wedding boutique! To the entire staff, Thank you so much for all that you did for me and our special day!
---
I would not go here
Reviewed on

2/07/2015
You are not supposed to expect that the dress you order will be the same as the sample you try on. The dress we ordered had the appearance of being two separate pieces The one we received was poorly made and just plain sloppy. La Raine just argued with my daughter and even my husband who wrote a letter and submitted photos.
---
Excellent Service, Perfect Dress!
Reviewed on

1/27/2015
The staff at La Raine's are exceptional - my stylist, Sarah, was incredibly helpful in making me feel relaxed, special, and looking through the racks to find the perfect dress in my price range. My wedding dress had "me" all over it while also being affordable. I also purchased a beautiful belt and veil, which I was extremely happy with. The alterations were spot on and they are willing to make last minute adjustments if needed. The staff at La Raine's made me smile every time I walked through the door. I couldn't be happier with my wedding dress experience.
---
Personal attention
Reviewed on

11/28/2014
La Raine's bridal made us feel like we were there only customers. They always remembered our names and our stories. Most important, they helped my daughter find the perfect dress for her wedding!
---
LaRaine's Review
Reviewed on

10/29/2014
Lindsay D
The Ladies (and Gent) at LaRaine's were absolutely spectacular. The staff went above and beyond to help us even going so far as helping us find a place for dinner (we were from out of state) and to getting my dress altered in a single day. The consultant that I was assigned to was absolutely perfect. She showed us the racks of the designer that I was interested in and just let us browse through it while answering questions that we had. There was absolutely no pressure what so ever. I would highly recommend this bridal salon to anyone and everyone.
---
EXCELLENT SERVICE
Reviewed on

10/27/2014
Whitney W
LaRaine's will make a bride feel like she should feel during the process of picking out a wedding gown- special and beautiful. They do not show you gowns outside of your price range. Staff was fabulous with their friendliness and positive attitudes. Would recommend this store to everyone.
---
Wonderful!
Reviewed on

10/23/2014
Taryn R
We are so thankful for Laraine's & the experience we had! My dress was beautiful and affordable! Leslie, my consoltant, was PERFECT! Corin, the seamstress, does some amazing work! The shop was always easy going and they didn't have rules (like putting on their jewelry, not seeing yourself before you go to show friends/family, or not letting you pick your own dresses---all of this happened elsewhere). Everything was EXCELLENT & I would reccomend Laraine's to anyone and everyone getting married!
---
Nancy was AWESOME
Reviewed on

10/15/2014
Lauren S
Nancy helped me find the perfect dress for me. Never did she pressure me about picking a dress or about the amount of time I took to try on dresses. La Raine came by multiple times to see how we were doing. Everyone at the shop was fantastic and friendly. My dress came in on time just like they said and I picked it up with no problem. I also bought a belt for my dress that was gorgeous. Nancy was the best to work with! Thank you La Raine's!
---
Beautiful Gown!
Reviewed on

9/14/2014
Brent S
La Raine's Boutique holds true to its name and service. I have been here several times with friends and was very pleased with my bridal experience. La Raine's was there to help and the alterations were perfect. I loved my dress and would not have changed a thing about it on my wedding day!
---
Wonderful experience!
Reviewed on

9/14/2014
Lauren C
I visited a handful of bridal salons in search of a wedding gown. Out of all of them, I had the best and most personal experience at La Raine's. Nancy was my consultant and she was absolutely so much fun to work with! I brought my mom, grandma, and a few bridesmaids to my appointment. Nancy took us upstairs and showed us each different section of dresses. We all went "shopping" and brought several dresses back to my room. I got to try all of the dresses on and never once felt rushed. Nancy told me about all the different features of each dress and even came back with a few of her own picks after listening to what I liked and didn't like. I thought dress shopping was going to be a very stressful experience, but Nancy made it a very fun one! Her attention was on my group the entire time we were in the salon. I never felt like we were her second priority (as I did in other salons). In other salons I also felt like I was just one of hundreds of groups being pushed through and hurried to make decisions. I never once felt like that in La Raine's. I felt relaxed and actually enjoyed searching for a dress. If you want a place where the people truly want to help you find the perfect dress, I would definitely recommend visiting La Raine's!
---
Found the Perfect Wedding Dress
Reviewed on

8/07/2014
Natalie G
After visiting several bridal boutiques I said YES to the dress. The owner worked with me for 2 hours and didn't complain. She also gave her honest opinion. The staff was sweet and alterations were amazing
---
Beautiful Dress
Reviewed on

7/21/2014
Sheridan S
I bought my beautiful wedding dress from La Raine's. I was extremely happy with my dress. The sales person Amanda helped me pick the right dress for my wedding. I was going more towards a mermaid and she saw what I really would look good in, and fitted me in a dress that looked amazing. Thanks so much. I hope to one day have it framed, so I can see it in all of it glamour.
---
They made me feel like a princess
Reviewed on

7/16/2014
Chantilla O
If I could do it all over again I would. I absolutely fell in love the with service and people at La Raine's. Not the typical chain store and my dress was amazing. I got it back way ahead of the original time line and Caron the seamstress can work miracles.
---
Great Shopping Experience
Reviewed on

6/06/2014
Lindsay A
I went to La Raines with one of my bridesmaids to look at wedding dresses. I didn't end up finding my dress here (might have had more to do with the fact that my mom wasn't with us on this trip then anything), but they were definitely worth getting a great review. The employees who helped us could not have been more attentive and made us feel completely comfortable. There was never a moment I felt pressured to make my decision on the spot and they did a great job of making the experience completely enjoyable!
---
Amazing Service
Reviewed on

11/15/2013
Corey W
I was a bridesmaid in a friend's wedding back in April. She got her wedding gown here, and we ordered our bridesmaid's dresses. The service was impeccable and we were all gorgeous for the festivities. I will be going back to shop for my wedding gown in the coming months!
---
Friendly and Convenient
Reviewed on

10/08/2013
Lindsay I
La Raine's is the first place I looked for my wedding dress. After visiting other overcrowded, disorganized wedding boutiques where I got no service, I returned to La Raine's. I narrowed my selection down to two dresses, and Sara and La Raine helped me pick the dress that was most flattering on me, even though it was the less expensive of the two. Their onsite seamstress is amazing and my dress fit perfectly. Sara was extremely helpful throughout the whole process and I genuinely miss talking to her now that my wedding is over.
---
Stress-free shopping
Reviewed on

10/06/2013
Lauren S
La Raine's was a FANTASTIC boutique that made me feel special and respected my price point. I had been worried about the pressure from sales people and had visited other places that made me feel that if I didn't have a high enough budget, I wasn't worth their time. La Raine's was AMAZING and the ladies there made me feel pampered and beautiful. I called and made a reservation. I was there for a little over an hour, had a salesperson with me the whole time, and never felt rushed! Thank you Sarah and the other ladies at La Raine's for taking the stress out of the dress! I recommend you to EVERY bride I come across!
---
Overall wonderful experience
Reviewed on

10/03/2013
Britton R
LaRaine's made sure every detail of my dress experience was perfect!
---
Wonderful Bridal Salon
Reviewed on

10/02/2013
Alison M
I went to La Raine's as my first stop in bridal gown shopping. I had zero expectations of finding a dress on my first visit to a bridal salon. Thanks to Michelle, not only did I find my gown, but it was the first one I put on. Sure, I tried other gowns after, but nothing compared to the dress Michelle picked for me. Everyone in the salon was so kind. Though there were other brides in the salon, I truly felt like the only bride in the building. That says a lot about how attentive the staff is. On my subsequent visits to the salon to pick up items, the consultants remember my name (not just my consultant, but others in the salon); They remember my dress, seemingly off the top of their heads. This level of personal service just makes me feel good. My dress, veil, and sash have all come in and they look exactly the way I want them to. I cannot wait until April to make that walk!
---
Send Message