Home

Lakeside Reflections Weddings & Events
About this Vendor
Lakeside Reflections Weddings and Events
Lakeside Reflections, just minutes from downtown Louisville, is one of southern Indiana's most desirable locations for weddings and receptions. We are next to a nine acre lake with a large pavilion and small gazebo that are perfect options for your outdoor ceremony. After the ceremony, come indoors for a fun and lively wedding reception. Lakeside has hosted hundreds of weddings. We are a full-service banquet and catering facility. We are your one-stop wedding shop. Seating from 100-400 guests. Elegant or Rustic, we have a Venue for you. Nick's Museum of Treasures is the latest addition to Lakeside Reflections!
Amenities + Details
Amenities
Handicap Accessible

Liability Insurance

Indoor

Reception Area
For more details about amenities, please message the Venue.
Bar + Drinks, Cakes + Desserts, Food + Catering, Planning, Rentals + Equipment, Service Staff
Contact Info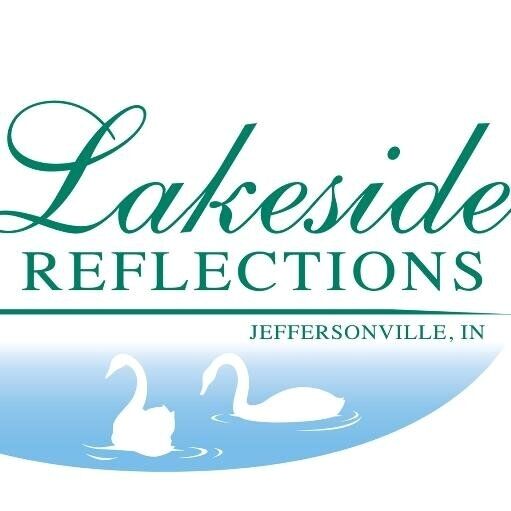 Reviewed on

10/31/2015
Aimee M
I cannot recommend Lakeside Reflections enough! If you're looking for a beautiful venue that will make your day stress free and fun, this is where you need to hold your wedding. Throughout the entire process Brenda was in touch with me on details of the wedding. She assured me... Read More over and over that everything would go smoothly, and she wasn't lying. Lakeside Reflections uses their own Djs and caterers, and you will not be disappointed! The dance floor was full all night. Everyone had a great time, and requests are encouraged! The food was also amazing. After our wedding we heard over and over how much everyone enjoyed Brad's delicious cooking. Also, Gary kept the wedding moving smoothly. The traditional wedding events went off without a hitch and he was a pro at keeping our guests in the loop of when we would be having our first dance to cutting the cake to doing the bouquet toss. My favorite thing about Lakeside is how stress free they made the entire day for my groom, family, and myself. They decorated, put out the flowers, made the venue look beautiful, helped us pack up the gifts at the end of the night, and made sure that everyone got home safely. When we had to move our ceremony from the outside Pavilion to inside due to weather, the staff switched everything over without a hitch and even added some of their own decorations to spruce the room up. The entire staff at Lakeside Reflections will go above and beyond to make your special day memorable and fun!
---
Dream Come True
Reviewed on

10/05/2014
Sabrina C
We had our ceremony and reception at Lakeside Reflections. They went over and beyond to help keep stress down and make the day beautiful. They are so accommodating and gave great focus to both the bride and groom. The site is beautiful! Outdoors is amazing with the lake and... Read More swans. We loved the firetruck! We did a winter indoor set up and it was gorgeous! The DJS were great, food amazing, and drinks were good! Thank you to Lakeside for all you did to make our day amazing and beautiful!
---
AMAZING!!
Reviewed on

11/26/2011
liz K
We had our reception at Lakeside Reflections and wedding at our church. We worked mostly with Brenda who was amazing!! As long as you tell them what you want and give them any favors, etc you want, they do everything! Brenda asked us what drink we would like waiting for us... Read More when we got there, put 2 plates of food on ice for us to take home after, and took care of all the set up. All we had to do was show up and enjoy ourselves which was worth every penny! They were also the best value for our money. Their overall cost was less than other sites we looked at because everything is done in house by people that are tried & tested. Yes it is more expensive then doing your reception in someone's back yard but Brenda and her team take care of all the set up and that is worth it's weight in gold!
---
Reviewed on

4/25/2016
Rebecca L
Lakeside staff were amazing. From payment arrangements, planning, to the wedding day, everything was perfect. Brenda and Mike were wonderful and quick to respond to and questions or concerns we had prior to the wedding. The entire venue was beautiful and just breath taking. I... Read More love that Lakeside took care of EVERYTHING besides a few extra decorations I wanted to add. They also helped me set them out the day before. The day of the wedding was perfect from the moment I arrived with my bridesmaids. Jim was fantastic. Jim and other staff made sure we had everything we needed while waiting and getting pictures and took care of the rest of our last minute decorations and video camera. I had no worries and was stress free the entire wedding day. They also cleaned up our decorations and helped load them and the gifts into our parents' vehicles, along with sending my husband and I home with left over food. Mike was a know amazing MC/DJ, directing everything so well. I highly recommend Lakeside Reflextions for any event.
---
amazing venue!
Reviewed on

3/23/2015
Terri H
My husband and I had our reception here because we had a destination wedding. The owners worked with our questions, provided good suggestions and created a comfortable and fun event. I was stress-free and enjoyed the entire day!
---
Perfect wedding venue!!
Reviewed on

3/18/2015
ashley p
I am so thankful that I found Lakeside Reflections through theknot! I had been to a few weddings there before and fell in love with the place. The staff is great! They treat you like you are part of their family and did everything to make my wedding perfect! They also have... Read More their own DJ's and I don't think I could ever imagine any other dj doing my wedding any better! I was married there in September, and the weather was perfect! I was a little nervous about it being too cold outside, but they made sure everything was just right. The location was a little far from me, but totally worth the drive & the amazing deal they got me!! My husband, myself, and all the guests are still talking about this place!
---
Wonderful All Inclusive Venue
Reviewed on

6/03/2014
Megan L
If you want one stop shopping for your wedding for 1 price this is your place. I was planning from afar and they made everything easy. They were so great the day of the wedding, leading us through every step. The food and drinks were great. The music was great. The gazebo... Read More and pavilion allowed us to enjoy an outdoor wedding despite the rain.
---
Great overall, but one bad apple.
Reviewed on

5/21/2014
Britani C
I truly enjoyed my wedding at lakeside reflections and the staff worked very hard to satisfy all my wedding needs. The staff was welcoming and friendly and the food was AMAZING. When we went to see the venue before signing a contract, the buffet manager was the only staff member... Read More available and he had us SOLD within seconds. He was sweet and accommodating and we fell in love with him and the place. BUT then we met another woman during our second visit (after we had signed a contract) and she was RUDE RUDE RUDE RUDE RUDE RUDE. I became so frustrated with her that I told her plenty of times I didnt appreciate her attitude. Thankfully she wasnt there the day of my wedding or I probably would have asked her to leave and bring in another staff member. My wedding was the weekend of the Kentucky Derby and this rude woman made sure that I knew "what kind of inconvenience" I was on her for having my wedding on that date. We even had to argue with her to even have a rehearsal the night before the wedding because she said that was 'inconvenient' for the staff considering it was derby. While my overall experience here was great, that one bad apple of a woman left me with a bad taste.
---
Wonderful Experience
Reviewed on

11/25/2013
Ashley S
The staff is amazing, Mike, our DJ, was so knowledgeable and helpful. Everything was taken care of and all we had to do was show up! I loved having an "all inclusive" wedding site with catering, DJ, ceremony and reception all included. Their decorations are beautiful as well,... Read More and I liked that I was able to add my own personal touches. My wedding was everything I'd hoped it would be and a lot of the credit goes to the wonderful staff at Lakeside!
---
Sharon (Bride)
Reviewed on

11/19/2013
Sharon F
Oh my goodness, I simply can not say enough about this amazing venue and incredible group of people! From our first meeting until we were loading everything in our car after the reception they went above and beyond to make sure everything was perfect. When I met with Barb, I... Read More described what I wanted our room to look like, she took that and surpassed my wildest dreams ten fold. All I did was drop off a few personal decorations and she did the rest, it was sooo pretty! The food was plentiful and delicious. Our guests were met at the door, shown restrooms, offered appetizers etc. Extremely welcoming! The DJ, Mike, did so much more than just play music. He lead us through the ceremony, making sure the timing was correct, and we all knew what to do. He kept everyone relaxed and sent us down the aisle smiling! As the reception started he did a great job of keeping everything moving. From that point on we enjoyed a FULL dance floor and many times Mike lead the crowd in dances, and interacted with our guests the whole night. We have been hearing how much fun everyone had ever since! When I look back on my wedding, there is not one single thing I would change, and what more could any bride ask for? Everything you need is right there, they made it so easy, all I had do was provide a photographer, my cupcakes and my guests! Their pricess are extremely reasonable also. Lakeside is a true hidden gem in Southern Indiana! I am so thankful we found them, and so grateful for all they did to make our day special. They treated us like family!
---
My personal review
Reviewed on

11/07/2013
Samantha M
We got married on 10/19/13 at Lakeside. Chose it because a friend was also getting married there in April. The bride cried to me at the reception, telling me she felt promises were not kept. I emailed Lakeside my concerns from that wedding, and was assured that our wedding... Read More would be handled with more organization and by the coordinator we were requesting. A different staff member responded to my email and responded in a way that I felt was handled unprofessionally. On another occasion, I called to speak to our "coordinator" and after 20 minutes was informed that I was actually speaking to another staff member despite being told it was our coordinator. I also felt like this was handled unprofessionally. During another phone conversation, I heard a Lakeside employee speaking about me in the background saying, "I am not waiting on this girl all night, I have other things to do." This was after I called to inform them that people were running late to the rehearsal because of a wreck on the interstate. I felt like I was treated poorly in that situation. During our reception, a friend asked to use one of the other rooms to change her sons diaper (since there are no changing tables) and another employee stopped her and asked her "what she thought she was doing?" That family left early. They complained to our other guests, saying they felt like they were treated poorly. I will add that the DJ service was great. The DJ we were assigned always treated us professionally, was a great help when we needed something, and made our night very fun. I will also add that the husband of our coordinator was friendly, nice, and I did let him know that our actual wedding day was great, and we had fun. This was prior to learning about the diaper incident. I just wish the planning part had been as fun as the night.
---
Bride
Reviewed on

7/08/2013
Amanda E
I absolutely LOVED Lakeside Reflections. They did a wonderful job and made my day absolutely fantastic! Everything was perfect, between the outdoor ceremony and my guests being able to walk right inside for the reception, down to every small detail. Everything is included in one... Read More price: catering, dj, table linens, center pieces, set up & take down, bartender, and everything in between. Barbara and Mike helped with making everything go smooth on the day of and I was completely stress free! I would recommend Lakeside to any and everybody who is getting married!
---
Nichols/Vaught Wedding
Reviewed on

5/14/2013
Brittany N
The Dj service was amazing, food very good, and value great! There were a few things the venue let me down on but overall good place.
---
Lakeside Reflections did a BEAUTIFUL job
Reviewed on

3/25/2013
Christina S
I had my wedding at Lakeside and they did a wonderful job! I am a military spouse who was planning from North Carolina which made me very nervous. However, they took care of everything. The officiant was wonderful, the caterer was delicious (I had buffet style and the food... Read More remained hot and CLEAN), the coordinators were beyond helpful and helped set up and clean up everything, and the DJ was wonderful- he got a feel for the kind of music we wanted, and did exactly that. I would strongly recommend this place to anyone whether planning from distance or close by as their organization and helpfulness kept me from becoming bridezilla. They also allowed us to bring in any decorations that we wanted to use which allowed us the opportunity to make it feel unique for our wedding. I couldn't be happier with the look and outcome of the wedding and all of my guests agreed.
---
You dont always get what you pay for.
Reviewed on

9/19/2012
Katie H
It is a nice place with much potential to be a grand or perfect place to celebrate a marriage. The stress and time taken off of a bride by having almost everything done, decorations, food, dj, and a beautiful atmosphere makes a brides time a lot more enjoyable and less... Read More stressful. However with a package like this and its price being executed several times a week/weekend you would think they could fix a few small things that would take it from "ok "to "great" and "pretty" to "beautiful". If your going to charge over 5k for this venue then get a pooper scooper to clean the goose poo. Its not that hard. If the manager says to the wedding party "yeah alot of our Brides complain about the goose poo', THEN CLEAN IT UP! Its a no brainer. For such a pricy package I would think the place could have a fresh coat of paint applied EVERY year. Plants and trees surrounding the gazebos and pavilions should not be plastic and the ones that are real should be alive. If they are not replace them. There is a beautiful view of the lake from the pavilion completely blocked by outdated lattice(that also needed a paint job). These are minor details that would make a huge difference. The DJ and Coordinator did a very nice job. He kept things on time and smooth. He added personality and fun when needed. The staff that attended to the wedding were wonderful and very nice. It is a lovely low stress place to have your special day. Just watch out for the poo :}
---
A fairy Tale
Reviewed on

7/17/2012
JESSICA L
We had our wedding at Lakeside Reflections and it was absolutely amazing. The staff was great with all preparations and the day of. I cant say enough of about the house DJ Mike Benson he made it truly great from rehearsal all the way till the end of our wedding day. If you... Read More want a magical wedding experience this is your place. The only thing I had a problem with is the menu was not what we had requested the person who finalized it didnt get it right. So advice double check everything but if you can make Lakeside the place for your wedding its worth every bit of money you will spend.
---
Amazing!
Reviewed on

7/02/2012
Jessica S
This place is fabulous! The setting is amazing and the owners took very good care of us. I couldn't have asked for a better wedding reception!
---
Every Girl's Dream
Reviewed on

5/10/2012
Jamie K
I had my wedding and reception here. There is a beautiful lake there with a sunset that leaves you breathless. I paid $5000 for everything. All I had to do was bring in a cake and photographer. I also brought in a florist because I wanted some color. Very clean and the people... Read More there go over and beyond to make sure you are happy. The D.J.s know how to get the guests involved and keep the party going at all times. You don't have to sweat anything or the timing because they take care of everything. They want to wedding to go as smooth as possible and don't let a glitch happen. They are able to change anything you want and make everything available to you. They don't mind anyone bugging them and keeping everything tight knit. I was so worried about everything going like it should, but the people at Lakeside kept me at ease and I didn't have to worry about when any event occured. I would recommend them to anyone and loved every minute of my wedding. Couldn't ask for anything better.
---
Caterer
Reviewed on

10/13/2011
Jennifer e
Lakeside reflections also catered our reception. We was very happy with our food. Just wished we could've had time to ate more than what we did.
---
My vendor
Reviewed on

10/13/2011
Jennifer e
Lakeside Reflections was a very nice place. We really was very happy with the place, staff and food.
---
Lakeside Reflections
Reviewed on

9/12/2010
Jessica R
I used Lakeside Reflections for my wedding 3 weeks ago, and they were AMAZING. Great price, wonderful people! The DJ/Coordinator Gary was awesome! He made the day run SO smoothly! If I could pick again, I'd pick Lakeside!
---