Home

Luxmore Grande Estate
Book Your Wedding with Luxmore Grande Estate
---
A BACKYARD IN WINTER SPRINGS, FL
About Us
If you seek a palatial estate with modern amenities for your wedding, look no further than Luxmore Grande Estate, on the banks of Lake Jessup in Winter Springs, Florida, about a half hour from Orlando. This plantation-style estate denotes luxury, with impressive columns and floor to ceiling windows, a grand foyer with twin circular staircases, antique stained glass windows and crown molding.
Luxmore Grande Estate was built in 2001 and served as a private residence until 2014 when its current owners purchased the estate and carried out extensive renovations. This venue offers spaces for both indoor and outdoor ceremonies and receptions, as well as a bridal suite and groom's room.
The Lux VIP Suite. The 1,250-square-foot Lux VIP Suite's antique furniture, gleaming wood floors and large walk-in closet are complemented by a gentle palate of soft blues and gilded accents. Here the bride will have plenty of space to relax while she primps and preps, along with enough room for her dress, veil and accessories.
The Lux Parlor. The Lux Parlor is equipped with plush leather furnishings, elegant antique tables, rich wood floors and a cozy fireplace. Bold patterns and dark hues give this room a distinctly masculine vibe and make it the ideal space to serve as a groom's room. The Lux Parlor can accommodate up to 18 guests.
The Grande Ballroom. The Grande Ballroom is an impressive space with Brazilian hardwood floors, sparkling crystal chandeliers and floor to ceiling Georgian windows that overlook Jessup Garden. The highlight of the room is the antique Brunswick style bar that was originally installed in a Chicago speakeasy. When using standard round tables, the Grande Ballroom can seat up to 160 guests.
The Estate Room. A suitable space for smaller events, the Estate Room accommodates up to 50 guests. Its decor includes elegant chandeliers, brilliant wood floors and a beautifully carved mantle.
Jessup Garden and Patio. Jessup Garden and Patio is an enchanting space for a ceremony or reception. Say your vows on these lush and verdant, tree-lined grounds, then celebrate in the romantic light of the patio.
What You Should Know
Luxmore Grande Estate rental fees include event management services, tables, chairs and house ivory linens. We have an exclusive on premise caterer and no outside catering is permitted. An outside vendor must provide your cake.
The venue has its own liquor license and does not allow outside alcohol. It provides servers and bartenders as well as other staff to help make your wedding day a most enjoyable experience for you and your guests.
Extra Perks
In addition to the well-appointed manor and the professional staff, Luxmore Grande Estate offers some extra perks such as:
Waterfront views
Gated access for greater privacy
Customizable accent lights
Event Manager
On-site parking
From the Vendor
Indulge in Luxury
Luxmore Grande Estate is a one of a kind facility nestled in the heart of Winter Springs, Florida. This picturesque lakefront estate offers elegant Brazilian wood floors, Austrian crystal chandeliers, and southern touches throughout.
Amenities + Details
Amenities
Bridal Suite

Handicap Accessible

Liability Insurance

Indoor

Outdoor - Not Covered
For more details about amenities, please message the Venue.
Backyard, Ballroom, Historic Venue, Mansion + Estate
Bar + Drinks, Destination Wedding Packages, Destination Wedding Planning, Destination Weddings, Food + Catering, Planning, Rentals + Equipment, Service Staff
Contact Info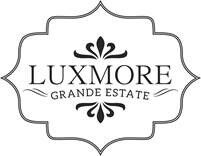 Reviewed on

12/07/2017
Samantha K
From the moment I stepped into the Luxmore Grande Estate, I knew that was where I would hold my wedding reception. The venue is absolutely breathtaking. It's full of charm and elegance while still being totally customizable for your event. After speaking with the staff, it made... Read More my decision that much easier! The staff there is incredible!! There was no detail of my wedding day that wasn't planned out. Everything went so beautifully and I am so thankful to have gotten married at the Luxmore!!
---
Reviewed on

9/20/2017
Jimmy H
Luxmore was the first stop for my fiancé and I. I didn't know what to expect on a venue tour, but as soon as we entered the estate my doubts melted away. I knew Luxmore was our venue as soon as we walked in. Right away we were greeted with the warmest welcome by the owner,... Read More Tamuel. She made our choice easy and let's just say, my wife's eyes glimmered with each chandelier she saw! It didn't take much convincing to book on the spot! I wanted a venue I knew my wife would love and well I happened to fall in love in the process. Immediately I noticed how well kept the facility was. Throughout each room there was so much character and it just made us feel like royalty. They even treated us like royalty throughout the entire process! No matter how many questions we called with, the staff at Luxmore was always accommodating. The best part of it all, our wedding day, went by smoothly! I've learned that weddings are hectic and i'm so grateful that we chose a venue who could adjust without any hiccups. As we approached ceremony time, it started to rain cats + dogs. Despite the rain, the staff quickly adjusted our cocktail hour so that our guests wouldn't have to go outside. The transition was so smooth, no one knew there was a change at all. I've attended weddings with subpar service but the staff here was phenomenal! Our food was delicious and consistent with our private tasting, the waiters and waitresses were professional, attentive and knew us by name (which was quite impressive). For weeks after our wedding, guests were calling to tell us our wedding was the best they've ever attended. I can honestly say, I am more than impressed with the level of service received by this venue. The level of professionalism, care and thoughtfulness we were shown has set the bar for luxury in our eyes. Thank you Tamuel and your amazing team for making our dreams come true!
---
Reviewed on

8/08/2017
Aniesa V
From the moment I pulled up to Luxmore, it took my breath away. With each room I saw, I remember just being in awe of the beauty. I knew immediately that it had to be the backdrop to our wedding. One of the biggest appeals to Luxmore is the fact that it's so beautiful and has... Read More so much character, I hardly had to do anything by way of décor. Every single room is a photo opportunity. I'm a strong believer in "less is more", so for the day of the wedding, I kept my décor minimal – beautiful table dressings, simple flowers and lots and lots of light – Luxmore's natural beauty provided the rest. Our wedding day was as beautiful as I imagined it to be and I felt like I was in a fairy tale. I had the pleasure of meeting Courtney for my initial visit and tour. Then when my mom visited from Canada, I really wanted to show her the venue and we got to meet Amaris and then for our tasting, we were able to meet Elizabeth who we were lucky enough to have as our coordinator the day of the wedding. These ladies are as amazing and beautiful as the venue itself. They made everything so easy and simple for me. On the day of the rehearsal, the car with my mom, flower girl and ring bearer got lost en route and were almost an hour late. Naturally I was a bag of nerves and I HATE being late to anything, so I felt a meltdown coming on. Elizabeth came over to check on me and she was so sweet and kind. I felt like I was wasting everyone's time with half my bridal party being absent, but she made me feel so much better. Her kindness will always be remembered, such a small gesture went such a long way. Luxmore absolutely brought my vision to life and I will forever be grateful. I especially knew I chose the most perfect venue when I saw and heard my guests reactions. Thank you a million times for making my wedding day the best day ever! xoxoxo
---
Reviewed on

5/10/2017
Charlotte T
We absolutely cannot say enough good things about Luxmore Grande Estate! From our first initial consultation right down to walking out of the front door after our reception ended, the staff at Luxmore were fantastic and flawlessly professional. Amaris and Elizabeth were... Read More constantly in contact making sure we were aware of every step being taken, as well as quick to respond to our hundreds of emails. If we had to do it over, we wouldn't change a thing. I would undoubtedly recommend to anyone in search of a venue to consider Luxmore Grande Estate. The venue is gorgeous, the catering is impeccable, and the staff is incomparable. Thank you for helping make our big day the best it could possibly have been! -The Bennetts
---
Reviewed on

4/17/2017
Sara N
From the moment we saw Luxmore, we knew it was where we were going to get married. The staircase, the library, the parlor, everything was just perfect with so much charm. The bridal suite was to die for, and it was so nice to be able to spend the day of the wedding getting ready... Read More on site. We loved this location because there are multiple indoor and outdoor options for ceremony and reception. We also loved that the majority of the vendors are included (food, beverage, linen, tables, chairs, etc.). That helped ease the planning process tremendously. The staff has been great, just a few communication errors when switching point of contacts, but everything was fixed went smoothly in the end. Overall, we had a great experience planning our wedding with Luxmore, and everyone there helped us create our fairytale wedding! I would highly recommend.
---
Reviewed on

2/24/2017
Love Love Love The Luxmore Grande Estate. I booked the venue sight unseen. The team at The Luxmore encouraged me to come and see the venue. The landscaping took my breathe away. I wanted a venue where I could have an outdoor ceremony and indoor reception. When I walked into... Read More the venue I was stunned! You get more than your monies worth. The double grand stair case and chandeliers are breath taking! It's a gorgeous, quiet location, and I loved that we had the whole place to ourselves! The communication with the team was everything I needed as a bride. I am very impulsive (as you can see I booked sight unseen :-)) and I wanted to purchase everything I saw. Our planner Tamuel made sure we stayed within our budget! All of our communication with the venue was helpful and prompt; I feel the entire process went very smoothly. Everything went perfectly on the day. Oh and did I mention the Bridal Suite! OMG!! The pictures gives it no justice. The gold fixtures and the tub. I felt like royalty!!! I would recommend The Luxmore to everyone! You have to book early because the spots fill up quickly. 5+ stars!!!!!!!!!
---
Reviewed on

2/24/2017
Anaya R
We were engaged in October and decided we didn't want to have a long planning process. Luxemore was the first place we visited and we secured it on the spot. Our wedding was much smaller than most but they treated us like royalty. I'm so glad our photographers mentioned this... Read More place. We couldn't be happier with how they helped us plan our dream wedding in two months. Thank you!!
---
Reviewed on

12/29/2016
Kathleen R
We used the Luxmore for our company holiday party. While the venue was indeed pretty, there was a lot left to be desired. The location is odd. It is located off the main street and tucked away. When you look out you see a school, town homes, and warehouse buildings. This was... Read More no fault of the venue but worth noting. Because you can only use their caterer, expect to pay top dollar. We paid $74pp plus alcohol. The food was delicious except the steak. At the tasting it was perfectly prepared: medium rare. At the event, most pieces were extremely rare. We were the first corporate event and there wasn't an option for dessert. They seemed perplexed when we asked about it. They came up with an Italian dessert display. However at the event it was different than described in a good way. There were several options and many of our guests went back for seconds. We never heard from our contacts on the day of the event. In the beginning, we were told we could have the venue starting at 10am then it was a bigger ordeal than it should have been to let us in before 3pm. When we signed, we were told 10 days before for the final guest count and then it changed to a month. Expect to pay top dollar for the southern charm because this venue is not cheap; in our opinion, overpriced. The lighting packages they provide are not worth the money. I cannot count each time we mentioned we wanted a cozy intimate feel. What we got was daylight. If you know that it will be too bright and against your clients wishes, tell them. Please do not ask them to block an entrance to help the flow of the cocktail hour. They offer you a $200+ option which involves them putting a curtain over the entrance. I asked several times what the exterior lighting package was and never got a clear idea of what cost $350+. We didn't know what the lighting would look like until we got there and to say the least, it was bright and not what we were going for. The bartenders and wait staff were friendly and pleasant. However, the blonde woman who runs the show on the catering side was downright rude and disrespectful. From the moment she arrived, we were getting complaints about her attitude including from our guests. She made several snarky remarks throughout the evening. Early on, they made the call that to move the cocktail hour inside due to weather. About 30 min. before our guests were to arrive; a committee member asked if they could move it back outside because it was clearing up. Instead of professionally explaining that it was too late, she degraded our member for even asking. It was embarrassing to watch. We deal with people all day long and their questions in which we have answered for a hundred times. Regardless, we are always polite and professional when we have to explain to them no. Her behavior was unacceptable. The space is small. During the venue tour, we were told the venue could fit 160max; however with 17 tables, it was extremely crowded. With the tables bunched together meant that people stayed sitting at their tables rather than mingling. It is doubtful that they could accommodate more guests in that small of space. Overall, the venue is beautiful. However it is not worth the money and did not meet our expectations. We put on holiday parties annually in the Central Florida area. After comparing the costs of our previous parties, we paid more in every way i.e. food, rental fee, lighting.
---
Reviewed on

8/17/2016
Beth H
A Florida wedding in July is not lovely when everyone is dying from the summer heat. Nick and I searched everywhere for a venue that had an indoor ceremony, cocktail hour, and reception. The Luxmore Grande Estate not only fit that bill but, exceeded our expectations in every... Read More other category. This venue is absolutely beautiful without any decorations, so anything you add just ups the class of your wedding. Courtney the Luxmore manager was a joy to work with and worked through every detail with myself and my event planner Erika Del Rio with Event District. The bridal suite is to die for and a dream to get ready in on your big day. I felt like the princess of the castle and all my girls loved having enough space to spread out. The ceremony room held our 70 guests perfectly and the reception area had lots of room for two dance floors and 10 tables. The plated dinner service was on point and the library was the perfect spot for the cocktail hour. If you are looking to have the wedding of your dreams like I did, I recommend you get a date asap at The Luxmore Grande Estate. Thanks Courtney for all that you did to make our day perfect!! Much love!! Mrs. Beth Hatfield Nick and Beth Hatfield July 15, 2016 70 guests Venue: Luxmore Grande Estate Winter Springs, FL http://luxmoregrande.com/ Event Planner: Erika Del Rio with Event District http://www.eventdistrict.net/ Catering: Big City Catering http://bigcitycatering.com/ Accommodations: Westin at Lake Mary http://www.westinlakemary.com/ Photographer: Charles Gautier http://www.charlesgautierphotography.com/Weddings Videographer: Corban with Love and Lustre Weddings http://www.loveandlustreweddings.com/ Florist: Vicki with Peddles http://peddles.com/ Band: The Leonard Brothers Band http://www.leonardbrothers.com/ Cake: Publix- Colonial Town Park Center http://www.publix.com/ Hair and Makeup: Krista Smith https://www.facebook.com/krista.hale.18 Rental: RW Events http://rwevents.com/ Save the Dates: Minted http://www.minted.com/ Invitations: Elegant Invites https://www.elegantweddinginvites.com/ Limo: Sunshine Limo http://sunshinelimousine.com/ Getaway Car: VIP Wedding Transportation http://www.vipweddingtransportation.com/
---
Reviewed on

7/19/2016
Marla S
Where do I begin? I can't thank RW Events and Luxmore enough for making our day PERFECT! They were there every step of the way to help guide me and make our dream wedding become a reality. From the late phone calls and texts, their planners were always there to answer questions... Read More and help in any way. Luxmore is absolutely beautiful! I highly recommend them!! :)
---
Reviewed on

6/18/2016
Katie P
Everything about our wedding was perfect all thanks to Luxmore! The staff was so helpful and accommodating and always one step ahead throughout the entire planning process. Each and every staff member that was involved on our wedding day went above and behind to make sure our... Read More day was one we would never forget. They all truly care about making the bride and groom feel special. Almost 1 week later and we are still receiving compliments from our guests about our venue choice! Highly recommend this venue to anyone and everyone :) - The Palmers
---
Reviewed on

2/04/2016
Audrey R
Amazing venue! Staff is awesome! Booked it the day we toured it.
---
Reviewed on

1/08/2016
Kim P
Loved this venue! :)
---