Home

Majesty Bridal
About this Vendor
Majesty Bridal
Majesty carries a variety of designers and styles that will allow you to find that perfect dress.We offer the once-in-a-lifetime experience of finding the dress of your dreams in an elegant and stunning bridal boutique. Exquisite veils and accessories. An experience like no other.
Details
Bridesmaid Dresses, Wedding Dresses, Dresses, Alterations, Dry Cleaning + Preservation, Fashion Services, Fashion
Contact Info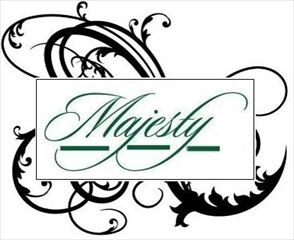 181 Main Street, Danbury, CT
Love this place!!!
Reviewed on

5/15/2012
Trisha B
I had gone dress shopping twice before coming to Majesty Bridal. They actually blew me away. First, the store is fantastic. It's beautiful with a gorgeous chandelier and sitting area for those who come dress shopping with you. They had a wonderful variety of dresses to fit every body type, and the dressing rooms were private and luxurious. Morgana really listened to what I was looking for and after a few dresses knew which one to pull for me. Sure enough, that was it. They care about your happiness and don't rush you through the process like other shops I had been to. I'd recommend them to anyone.
---
Highly recommend!
Reviewed on

2/01/2014
Michelle E
I cannot say enough good things about Majesty Bridal. The place and all of the gowns are beautiful and the ladies were so helpful and friendly! I got the experience I was hoping for and a gorgeous gown for my wedding. Highly recommend!!
---
friendly
Reviewed on

12/01/2013
Stephanie H
Morgana was my bridal consultant from start to finish. I had an idea of the type of dress I wanted and she was able to see the type of look I was going for and what looked best on me. She took the time to see what styles I was choosing that I was able to find my dress the first day I met her. I was so impressed with the personal service that we purchased my maids dresses there too.
---
Wonderful Experience
Reviewed on

6/09/2015
Maria T
I picked my gown from a catalog then called several salons to find it. Luckily, Majesty had it. The Maggie Sottero I picked out was the last gown I tried on. After deciding, Morgana paired it with the perfect veil. From then on, every encounter, every question I had was personable, professional and helpful. I loved working with Majesty; although it was a bit of a hike every time I went (45miles from my home), the service and experience was well worth it.
---
The Perfect Experience!
Reviewed on

4/06/2015
My experience at Majesty Bridal was exactly what I imagined shopping for a wedding dress should be like. Jackie helped us, picking out exactly the styles that I described to her and not pushing me on anything. They have a huge selection of really beautiful gowns of all different styles. I didn't want strapless; this is limiting at some bridal boutiques, but not at Majesty. They were so easy to work with, helpful, and made me feel great. I never felt pressured to buy anything, and the price point seemed extremely reasonable, especially compared to other Fairfield County shops (Majesty's typical range is $1000-$2000).
---
Wonderful!
Reviewed on

2/06/2015
Johanna N
I had dealings with other bridal shops as a bridesmaid in the past and as a result I was so reluctant to go dress shopping once I got engaged. Majesty put me immediately at ease. The atmosphere is absolutely stunning and a bride is able to try on dresses in a beautiful and private suite. They only handle two appointments at a time, and while I was there I didn't even realize another appointment was going on! I have dealt with both Morgana and Jackie and both were patient and accommodating. They were also the first in the area to get the new Spring collection dresses in (I know this because I wanted to try one on in a different size than Majesty had and when I called around, no other boutiques had it and weren't getting it in for weeks!). I can't recommend Majesty highly enough. No pressure, extremely reasonable, a pleasure to work with. I will be going back for my bridesmaids as well. Thank you Majesty!!
---
Amazing service!
Reviewed on

1/29/2015
Colleen S
I'm so excited about the dress I got from Majesty Bridal. My consultant Morgana was incredible. She knew what I wanted before I even did! We tried on dress after dress after dress of a certain style I had in mind- but once I tried on something she suggested- that was it! I'm so happy with my dress!
---
Best bridal shop
Reviewed on

12/17/2014
Claudia S
After visiting couple stores this one is the best! .The store is beautiful with a big selection of gowns and I have to say the prices are really fair. I bought my gown, earrings, even a fur because I am getting marry in february and I was really happy for all the help that I received from Morgana, she was awesome! Highly recommended! :)
---
The best!
Reviewed on

11/18/2014
Jessica P
I bought my dress for my 10/19/14 wedding at Majesty Bridal. It was the one and only shop I visited, and I actually bought my dress on my first visit. My entire experience, from trying on different dress styles, to the delivery and fittings, was flawless. Morgana and her team are friendly, professional, and take their time with you. I never felt rushed, and received the personal attention and honestly that every bride should receive when they are on the hunt for their wedding dress. Their selection was great, and also very affordable. I was looking for something under 2K, and was happy to see that all the dresses I tried on were under that budget. I used their tailor, Irene, who is conveniently located right next door, and is EXCELLENT. The alterations were perfect and the dress fit like a glove. Surprisingly (b/c I know this is rarely the case with brides) dress shopping was one of the easiest parts of my wedding planning process—thank you to Morgana and the Majesty Bridal team for making it so simple and stress-free! I'm still in love with my dress and couldn't be happier with how it looked on my wedding day. I'm sad that I have to start thinking about preserving it soon—I wish I could wear it again!
---
Great Service
Reviewed on

9/03/2014
Laura O
The staff at Majesty Bridal were so great to work with and made the process very easy for someone who got overwhelmed easily while dress shopping. They were great to work with!
---
Jackie is the best!
Reviewed on

7/13/2014
Cathy N
I went to 3 other bridal boutiques before going to Majesty Bridal. The experiences I had at these stores were less than exceptional. I was pleasantly surprised when I walked into Majesty Bridal. You pretty much have the place to yourself when you make an appointment! There is a gorgeous viewing room with plenty of seating for whomever you go dress shopping with. Jackie really listened in what I wanted in a dress. She brought out exactly what I described! I ended up getting to try on about 7 dresses. There is plenty of designer selection here! I ordered my dress and could not have been happier with the experience I had here. Jackie really made my dress shopping a positive one while making it stress free. I cannot wait to come back to order my brides dresses and for my fitting when the dress arrives!
---
So happy
Reviewed on

6/29/2014
Rachel F
Morgans and her team were AMAZING! I cried leaving the salon with my dress. I had made real connections with them and they treated us like family. Morgana went above and beyond to make us feel comfortable and was so accommodating.
---
Go to Majesty first!
Reviewed on

6/22/2014
Alexandra K
Majesty has the best prices and best service in the area! The staff gives you the attention and time you deserve while you make a very big decision and they are willing to work with you and your budget. What I liked most is that they have a large selection without being overwhelming for brides that aren't quite sure what they want. If you are in the Danbury area, go to Majesty first! You won't be disappointed :)
---
Must Go for Bridal Experience!
Reviewed on

6/11/2014
Amy V
Morgana and the whole staff at Majesty Bridal made my bridal experience so special. From the moment I walked into their space I knew this was the place I was going to buy my wedding dress. From the gorgeous chandelier and runway, to the beautiful selection of gowns, it was perfect. My dress came in earlier than expected! I bought my veil and belt there as well. Alterations were a sinch and since I lived an hour away in NY, they were able to do alternations in only 2 fittings! I was sad after my final fitting, that I would not be coming back to the shop to see Morgana and the staff. It was truly a pleasure. I would recommend Morgana and Majesty Bridal to any upcoming bride. You must go in and experience it for yourself. They will make you feel like a princess! Thank you 100 times!
---
Amazing!
Reviewed on

6/11/2014
Melissa D
I love Majesty! Morgana and staff are great and so helpful. I definitely recommend! My wedding was May 31st 2014
---
Absolutely fabulous!
Reviewed on

6/11/2014
Kristen L
I would recommend majesty bridal to anyone I know in the area. They are just fabulous. They got me in right away and helped me find the perfect dress (I actually changed my mind three times and they called the designer and changed my order for me with no complaints). You can tell how much they care and feel no pressure at all when trying on dresses! So incredibly accommodating and my wedding dress is just absolutely perfect. I love it and am so excited to wear it this Saturday.
---
Pleasure to work with!
Reviewed on

3/20/2014
Kate D
I found the perfect dress & then found it at an even better price at Majesty! Morgana was such a pleasure to work with! Every appointment I had, I had her full attention for the entire time - which does not happen in all Bridal salons. I would recommend Majesty to anyone!
---
Beautiful dresses
Reviewed on

1/13/2014
Christine H
Majesty has a great selection of beautiful dresses! They tend to be a little higher priced than some of the bigger "discount" type stores, but the quality shines through. Morgana is so helpful and such a sweet woman, that it really makes you feel glad to shop there. She isn't pushy and will give honest opinions if asked. I was so pleased with my dress and the whole experience. They also have a seamstress whose hours are minimal but worth changing your schedule around to see her. I had a very elaborate dress that needed a lot of attention to detail and she did an amazing job and was also very pleasant to work with. The only downside I could say about Majesty is the staff that helps with bridesmaids dresses. The were not helpful or friendly. We were not offered help and when we were trying on the dresses they neglected to tell us that some of the ones we were trying on were discontinued (so we couldn't get them). The only reason I did not take away from the score of my review for that experience is because if you only plan to get your wedding gown here, it is definitely the place to go. It is a small place so you get all the attention since they only do one appointment at a time, generally. The dresses and atmosphere are both beautiful. Hope this helps!
---
Great Service
Reviewed on

11/08/2013
Kathlene L
Majesty Bridal was the first and only store I went to to try on wedding dresses. I fell in love with the first dress I tried on and the customer service there is excellent.
---
The Best Around
Reviewed on

10/07/2013
Briana M
I just got married on October 4, 2013. I started shopping for a dress one year prior, and Majesty Bridal was my first - and only - stop. From the moment I arrived for my appointment, the staff was friendly and accommodating, and that continued once I purchased my dress and returned for my fittings. I also had my seven bridesmaids order their gowns through the shop. Most were from out of town and weren't able to try the dress prior to ordering, but the staff at Majesty Bridal knew exactly what they were doing, and everyone's dress fit perfectly. When the dresses arrived, the color of one was slightly off from the rest, so Morgana, the manager, quickly got on the phone with the manufacturer, and in less than three weeks, we had seven new dresses that matched perfectly. I really can't say enough good things about Majesty Bridal. They are the best!
---
Excellent in everyway
Reviewed on

10/06/2013
As I was preparing for my wedding, the search for the dress was one of the things I was most anxious about. I was nervous that I would have to go to countless stores and try on countless dresses and pay an exorbitant price for the perfect dress, but majesty bridal put all my fears to rest. Everything about this place is superb. It was the only wedding dress store I visited and I found my perfect dress in about 45 minutes at a more than reasonable price.....and don't let that make you feel that the place is cheap. Totally the opposite....the salon is beautiful with big chandeliers and the service, well let's just say they made me feel so special and were patient and attentive in every way. The seamstress, Irene was also excellent and so accommodating to my schedule. Really I can't say enough good things about Majesty bridal and its staff. Thanks to them for making my search for the perfect dress so easy and enjoyable!!:)
---
Excellent service and dresses
Reviewed on

10/06/2013
Rachael P
Majesty bridal had a great selection of dresses that I was looking for and in my budget. The service was great and my wedding attendant was very helpful. I plan on going back for my bridesmaid dresses.
---
The best bridal store
Reviewed on

10/06/2013
Flaviana P
I am very satisfied with Bridal Majesty. They helped me find my dreamed dress for my wedding, offering the best service and the best price. They also made me feel special and exclusive client. I very recommend this store. It is a 5-star bridal store around this area.
---
Excellent little shop!
Reviewed on

10/06/2013
Great family owned shop! Everyone was extremely nice and very helpful! Thank you for helping me find the perfect dress!
---
Allyson
Reviewed on

10/04/2013
Allyson B
If I had to go back and go through the wedding dress process again I would go to Majesty Bridal, and only Majesty Bridal! Every other bridal shop I went to I felt so pressured to purchase on the spot. I am not the type who can make a decision without careful consideration and deliberation. Morgana never once pressured me and in fact she encouraged me to come back a second time before making a decision because your idea of what you want in a gown and what you actually end up are often completely different. I am so thankful for Morgana and her staff. They were always so sweet, kind, and helpful. In fact, because of them, buying a wedding gown was the least stressful part of planning my wedding! I would recommend every bride go to Majesty for your first trying on experience because even if you don't find the gown of your dreams you will leave with a smile after feeling like a princess walking on the runway and being the only bride in the store. 9 days from now I will walk down the aisle in the gown of my dreams, all thanks to majesty bridal.
---
Send Message