Home

Mangia and Enjoy!
About this Vendor
Event Catering & Private Chef Services
Chef Sarah Chianese of Mangia and Enjoy! wants nothing else other than to provide the most flavorful, heart-warming, healthy and fresh meals for you and your loved ones, friends, colleagues....using local, organic and seasonal ingredients in a creative way - your experience, your palette's pleasure, and always..always...made with loads of love! Local, organic, seasonal, farm fresh and full of Flavor! We happily accommodate all dietary restrictions and preferences in an ultra-personal way. After all, it's YOUR desires...and we always want to assure you and your guests are not only happy, but thrilled with a memorable gustatory experience, in every way...from the delicious food, impeccable service and style to match your vision and all dreams to come to reality! We Travel Everywhere!
Details
African, Cajun, Northeastern, Southern, Southwestern, American, French, Greek, Indian, Italian, Japanese, Korean, Latin American, Mexican, Middle Eastern, BBQ, Fusion, Seafood, Specialty, Thai
Dairy Free, Gluten Free, Kosher, Nut Free, Organic, Sugar Free, Vegan, Vegetarian
Buffet, Catering Clean Up, Catering Delivery + Setup, Chef Stations, Family Style, Menu Tastings, Passed Appetizers, Seated Meal, Servers, Food + Catering, Service Staff
Contact Info

Reviewed on

6/08/2017
Sharisse G
Chef Sarah! Words can never express the happiness and love you're services brought my fiancé and I. The day my fiancé proposed to me she also surprised me with an intimate dinner, and if there is one thing that she knows for sure is that the way to my heart is my stomach. Chef... Read More Sarah made everything to perfection with fresh, colorful, and delectable dishes. Every course she brought out spoke to my heart, starting with some "nibbles" of a breath taking meat and cheese board along with a seafood salad along and some Spanish almonds. Cant forget the fresh baked pesto heart shaped bread. To follow she brought out a mouth watering seafood dish that included ALASKAN KING CRAB LEGS; and some amazing raviolis. To tie it all together she ended the night with a romantic chocolate toffee. Keep in mind this is just a short description. Out side of the impressive dishes we where taken back by the skills Chef Sarah has in regards to adapting to a new kitchen setting, and an old stove. She didn't let that scare her she cooked with such fluidity and passion. The icing on the cake is that she is a beautiful and loving soul. Thank you again Chef Sarah for being part of a very special memory we will forever hold close to our hearts. We will see you soon!
---
Reviewed on

10/29/2016
Catherine K
Mangia and Enjoy! truly provided the type of food and service that every couple dreams of having at their wedding. My wife and I were adamant from the get-go about having a fully vegetarian wedding that would also feature a handful of vegan options for a guest count of 150 and... Read More were nervous about finding someone who could not only cater a vegetarian wedding but could also deliver the type of dishes that were so delicious they would make our carnivorous guests forget the absence of their favorite proteins. Not only did Chef Sarah and her amazing crew deliver on all fronts, but we even had some of our most devout meat-eaters in attendance come up to us to let us know they will be giving a meat-free diet a try on the strength of Sarah's cooking and menu design. We can not stress enough how strong a chef Sarah is! She will custom design your menu based on your likes and dislikes and, for vegetarians especially, you will find no better chef to treat your guests to the meat-free meal of their lives. The food was hands down the number one thing at our wedding our guests couldn't stop raving about. Some advice, the more precise you are with Sarah on exactly what you want, the closer you will get to the food of your dreams so don't be coy and make sure to be as specific as possible. She can honestly do anything, and her passion for cooking is second to none, as is the quality of her amazing staff.
---
Reviewed on

10/29/2016
Jason S
Chef Sarah prepared an amazing dinner/experience for my dinner party. From the moment she walked into my house the energy level was elevated and we all knew the night was going to be special. The food that she prepared was truly special and delicious, In fact I will use the... Read More same 2 words to describe her personality as well. Special and delicious. She added so much to our overall experience. Sarah thank you for an amazing night and I look forward to seeing you again soon. Bravo!
---
Reviewed on

8/08/2017
John S
Not a wedding, but a birthday for my wife of 41 years. We asked Sarah to prepare a sea food dinner complete with nibbles, main course and desert along with a cooking class on how to prepare one of her signature dishes, Paella. Sarah, along with her son Kane, created a meal that... Read More defies description. The taste, the variety of items and detail of perfect presentation took this from a birthday dinner to an "event" that the guests are still discussing! Sarah and her team bring a passion and energy along with a professionalism that will turn your affair into a memorable event that will last a life time. My wife and I are conjuring up a party to invite Sarah and her team back.
---
Reviewed on

7/26/2017
Krista H
Sarah is beyond talented and cooked one of the best meals I have ever had. Sarah's attention to detail, creativity, and food presentation was impeccable. The food was amazing and her passion for food and cooking is evident in what she creates. I can't wait to come up with... Read More another excuse to have Sarah cook for us again!
---
Reviewed on

6/06/2017
Brittney B
We hired Sarah to cater our long weekend fitness retreat in New Paltz NY. Hands down amazing food, full of flavor and love! Large portions and again not lacking on taste when healthy menu required! Creative and fun dishes.
---
Reviewed on

5/15/2017
Shari K
Sarah cooked for me and 8 girlfriends when we rented a house in Woodstock NY for a birthday celebration. She was fabulous and her food was amazing. You can tell she cooks with a lot of love. She even saved the day when the house ran out of propane and she cooked the salmon on... Read More the wood burning fireplace... and it was delicious. Thanks for saving the day and a most memorable meal!
---
Reviewed on

11/15/2016
Ira N
We had the opportunity to hire Sarah and her helpers to prepare a major feast for 12 cousins in my house. Although we have a pretty high end kitchen, she brought all he own tools to cook with. The menu planning took place several weeks before the event, thereby giving Sarah... Read More time to get all the best ingredients that were available. Not only was the food all spectacular, the presentation of each and every item was off the charts beautiful. She was even able to satisy one crazy cousin as well as provide a vegetarian solution for another cousin. From the pre-dinner nibbles (@6PM) to completing dinner and cleanup, Sarah was here for 6 hours. My wife and I would not hesitate to call her for any future events that we hold, knowing that we need not worry about a thing. Sarah worked diligently and quietly while the rest of talked, drank wine and told stories. Her individually served plates were done as well as any very high end restaurant. Many of us have been privileged enough to eat in great restaurants around the world and this dinner was as good as it gets. Thanks Sarah!!!
---
Reviewed on

11/07/2016
Paul M
Sarah did an excellent job catering for our small film shoot. The food was great and she was above-and-beyond-the-call-of-duty helpful in every way she could be. She was also extremely friendly and fun to talk with and generally contributed hugely good vibes to our team.
---
Reviewed on

11/07/2016
Paul M
Sarah did an excellent job catering for our small film shoot. The food was great and she was above-and-beyond-the-call-of-duty helpful in every way she could be. She was also extremely friendly and fun to talk with and generally contributed hugely good vibes to our team.
---
Reviewed on

11/05/2016
Ariana J
Chef Sarah is INCREDIBLE! I hired her to cater our cast/crew for a film and was truly the best. She met all of our dietary requests while also making some of tastiest food I've ever had. It was so refreshing to work with someone so professional yet also warm and friendly. She... Read More became part of our film family! Would hire again in a heartbeat.
---
Reviewed on

10/31/2016
Linda M
Chef Sarah has created the most eye catching, delicious, freshest, and exciting food for events I have attended. Mangia and Enjoy - Enjoy very, very, much!!
---
Reviewed on

10/31/2016
rebecca s
Chef Sarah catered our event and had our guests are still raving about it. Her warmth and professionalism combined with delicious, local, organic, food, which is exquisitely presented made our event memorable.
---
Reviewed on

10/30/2016
The range of Chef Sarah Chianese's offerings is extraordinary, her dishes fresh, exciting and inviting. Too often a busy chef will fall back on a half dozen or more standard dishes when arranging a meal, but not here. Instead, the options are wide open and the focus on you.... Read More Most important, the food is sensational, rich and delicious, dish after dish.
---
Reviewed on

10/29/2016
Sara V
Chef Sarah is incredible. She has catered two events for me. An intimate Birthday celebration and an anniversary dinner party. Both greatly surpassed expectations. Sarah's food is fresh, delicious, beautiful and different. She listens to all requests and makes the events so... Read More personal and special. I look forward to our next event with Sarah.
---
Reviewed on

10/28/2016
Dawley C
Mangia has fresh and creative dishes. Special attention is paid to every detail to ensure a wonderful experience
---
Reviewed on

10/28/2016
Merle M
Mangia and Enjoy! is superb, and chef Sarah creates magnificent food. The presentation is visually beautiful, the food is totally fresh and wholesome, her recipes run the gamut from creative and original to traditional . And the flavors are amazingly delicious! I've had... Read More quite a number of occasions to enjoy her cuisine, including my own occasions, and those of others, and everyone I know shares my enthusiasm for her catering skills. We use her again and again. For instance, one unusual dish she created, when someone requested for a "non-traditional" brisket, was a Moroccan-spice-flavored brisket, and everyone was ecstatic. She has a flair with everything -- barbecue, ethnic foods, vegetarian and vegan menus, formal and informal settings.
---
Reviewed on

10/28/2016
terry d
Chef Sarah Chianese does indeed cook from the heart - you can taste the love in each and every bite. The guests at our events are always delighted with her personality, presentation, and passion. Sara is my go-to caterer for intimate soirees and large events. Reliable,... Read More professional and sooo delicious! I highly recommend Mangia and Enjoy.
---
Reviewed on

10/27/2016
eve b
We have had stunning dishes that were not only delicious and wholesome but plated and served with artistry. I have the highest praise for Sarah ' s food and service.
---
Reviewed on

10/27/2016
Renetta W
Sarah cooks not just food but an experience. Everything she does is done with love so it goes beyond good flavor and presentation. Every time she cooks for us, our family and friends we have the night of our lives. Thank you Sarah! We heart you :)
---
Reviewed on

10/26/2016
Karen P
Mangia and Enjoy is truly a dream catering service!! The food was beyond anything I could have asked for, blew my and my guests away. We hired them for my bachelorette dinner party which was more intimate and decided to hire them for the wedding as well which was of course a... Read More much larger scale event. Would recommend to anyone who has special dietary needs! It was delicious!
---
Reviewed on

10/07/2016
Venetia B
We've had the pleasure of sampling Sarah's cooking several times and have always been thoroughly impressed. She is a seriously hard worker and her dishes are perfection. Incredibly delicious and beautifully presented. We were lucky enough to have her cater a luncheon we were... Read More hosting and the guests were all delighted with the food and beverages. We highly recommend Sarah for your next event she won't disappoint!
---
Reviewed on

10/05/2016
Dawn E
I just had to go through all the pictures of all the delicious dishes you have created. It really is unbelievable how you put everything together. It will be almost X year since you catered my Halloween party and I'll never forget it. Everything was delicious...everything was... Read More displayed perfectly and it was honestly such a work of art. You rock Sarah!!!! I would highly recommend Sarah for your next event. You won't be sorry I promise!!!
---
Meet The Owner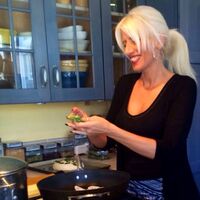 Sarah Chianese
Cooking with Love! Chef Sarah Chianese firmly believes in Harriet Van Horne's quote: "Cooking is like love, it should be entered into with abandon, or not at all!" Now, with Mangia and Enjoy!...it is available to those who enjoy healthy, delicious food made with local, organic ingredients, loads of flavor, and most of all, LOVE ♥ The passion of cooking is one which delights the need to nurture, create and spread health and happiness. Creating magical, personalized and memorable flavor experiences on the most celebratory days of your lives is my deep and utmost pleasure! Mangia and Enjoy!