Home

Mayra's Personal Touch Catering, LLC.
Details
Cajun, Hawaiian, Northeastern, Southern, Southwestern, American, Greek, Italian, Latin American, Mexican, Middle Eastern, BBQ, Fusion, Seafood, Specialty, Thai
Dairy Free, Gluten Free, Nut Free, Organic, Sugar Free, Vegan, Vegetarian
Buffet, Catering Clean Up, Catering Delivery + Setup, Chef Stations, Family Style, Menu Tastings, Passed Appetizers, Seated Meal, Servers, Food + Catering, Service Staff
Contact Info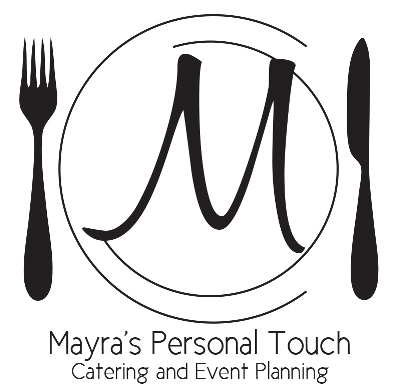 Reviewed on

3/29/2017
Steve P
The fact that I can give this vendor one star is unacceptable. If you want a caterer that will ruin your special day, she is top notch!!! We paid for white chairs, (had some white and black), not enough silverware, family had to clear tables, family had to bring out champagne... Read More for the toast. Everyday I hear something new from one of the 70 guests invited. Do not use Myra's Personal Catering!! I currently am filing a claim with the Better Business Bureau against her. Don't fall victim to this bad person!!!!! Aka, caterer, I am not a big advocate of bad reviews, however, if I can help someone from making a life changing mistake, its worth it. After everything was done and we notified her to share our concerns, she completely ignored us. So not right.
---
Reviewed on

11/28/2016
Alexandria C
I had the pleasure of working with Mayra for my wedding. I am so happy with my experience. Mayra has an awesome and friendly personality and it is very obvious that she loves what she does. I recommend her without hesitation. Mayra's Personal Touch is all in one. They provided... Read More my catering (which was delicious), referred me to my DJ, and also my florist who was Elites Flowers. Overall very pleased with everything!!! Mayra was very involved in the wedding process, I was very comfortable to contact her at anytime. She always responded promptly. She is very experienced and I trusted her and she went above and beyond to make my wedding perfect. She decorated my reception wonderfully, her servers and bartenders were professional and nice, the food was amazing. Thank you Mayra for making my wedding one of a kind!!
---
Reviewed on

3/02/2016
Christine G
Amazing experience!! Mayra's catering services were extremely attentive and my wedding party was incredibley happy with their service!! So happy we choice them for our wedding wnd the food was great!! Highly recommend!!!
---
wonderful wedding
Reviewed on

3/04/2014
Mayra was so wonderful to work with. She had many good ideas and was very responsive. She also had a great team that worked the event and a florist that assisted. The food was delicious, and she and her team made my backyard look magical.
---
Made my wedding day everything I dreamed of!
Reviewed on

10/03/2012
Tamara I
I am writing a review for Mayra's Personal Touch Catering & Event Planning, as she planned and catered my entire outdoor wedding with an attendance of over 120 guests. I can say for sure that this company is run by a woman who is sensitive to the needs of the bride and her... Read More family. I was very impressed by the amount of time she gave me, along with the level of personal professionalism I received. Mayra's team was in uniform, on time, they were very organized and their energy was noticeably upbeat. The food was fantastic and the bar was on task and able to provide all types of alcoholic beverages from beer to wine to martinis and mixed drinks. I feel that I received upscale treatment at a very fair price. My main reason for hiring an event company and not just a caterer was because I didn't want to be consumed with every detail of my wedding. I simply gave Mayra my list of requests and she made it all happen! The day of my wedding was perfect and stress free! My wedding day went according to plan, as I showed up, got ready, and everything was in place from the seating arrangements, food, cake, music, decorations, ambiance, and more! Mayra's Personal Touch Catering & Event Planning, truly lives up to its name! Since my wedding I have used her company to do several other events such as my baby shower, holiday & birthday , corporate events, and more. I have received the same level of treatment at each event. So, in my opinion, this company is "tried and true!" Tamara Irvine-Weston, FL
---
Great Experience
Reviewed on

6/15/2012
jazmin z
My husband and I live around Dania Beach area but were very fortunate to have found Mayra. We decided to contact her and see what services she was available to offer us without hesitation she was very attentive to our questions and needs and offered us to come to her home and... Read More speak with some of the vendors that she normally recommends. Without a doubt it was like finding a "one-stop shop" and it all depended on your budget for the wedding. For us being graduate PhD students and working full-time and having to plan/fund our special day. We were very enthusiastic in hiring her for our wedding needs. One of the things that we enjoy about working with Myra is her flexibility and the fact that she is very personable to the grooms and brides needs. There are so many things that you are able to do with hiring Mayra that there are multiple advantages for events. She not only provides catering services but for the day of the wedding she will coordinate the entire on goings during any bride's special day. One of the advantages of working with Mayra and her preferred vendors is that they already have an established relationship and understanding of their roles and responsibilities for that special day. For us working with in particular one of her preferred vendors Elite flowers was a pleasant experience and we received so many compliments on our beautiful flowers and decorations with the ceremony and the reception. As for catering the food is delicious Myra goes into great depths to create the best cuisine in town. Overall we are very satisfied and grateful to have found Mayra's Catering Services and all it has to offer for any occasion.
---
Not just an awesome caterer, also party planner!
Reviewed on

5/24/2012
Delia D
I just got married in Pompano Beach in 4/2012. I am from Chicago and wanted to get married on the beach, when i started planning my wedding I had my venue booked but that's all. I had no idea what i was in store for and had no contacts. I contacted Mayra after finding her... Read More online. And let me say from the first time I talked to her, I knew I wanted her to cater my wedding and rehearsal dinner. She was so helpful, sweet, and accommodating. She took my budget and went out of her way to help me create the perfect menu. Her options are never-ending! My guests are still raving about how good the food was! And Mayra is such a pleasure to work with. She is dependent and will do anything to make sure you are happy. She not only catered but also helped me find my florist, DJ, cake, and photographer. She has a unbelievable team. If I'm ever in the FL and need a cater, I will defiantly use her again.
---