Home

Michaela Frances Artistry - Louisville Makeup Artist
About this Vendor
Professional on-site airbrush & traditional makeup
Michaela Reeves is a professional makeup artist based in the Louisville, KY area with over 10 years experience in bridal, event, and editorial makeup. Offers airbrushing, lessons, on-site makeup and open to travel outside the Louisville area. Rates and additional reviews available on her website at www.michaelafrances.com
Details
Beauty Group Bookings, Hair + Makeup Trials Available, Airbrushed Makeup, Makeup, Makeup Artists, On-Site Hair + Makeup, Beauty


Contact Info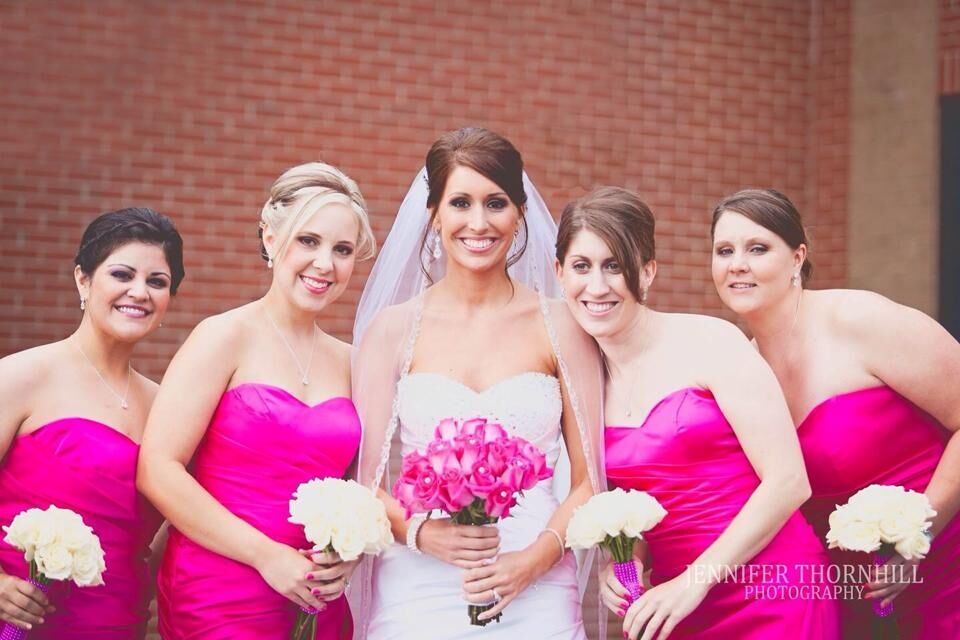 She's the best!
Reviewed on

1/05/2016
I used Michaela for my engagement photos and knew I wanted her for my wedding day immediately. She introduced me to airbrush makeup and I've never looked so flawless and it truly lasted all day (even in the hot summer). She is always a delight to work with. Very professional,... Read More punctual and courteous but a total hoot as well. I've used her for several events since and have always been pleased with her work. She makes me feel so pretty!
---
Reviewed on

1/11/2016
Liz C
I was referred to Michaela by one of my friends to do my wedding makeup and when I met her to do a trial run, I knew she was the one I needed for my special day. She does a fabulous job and she made me feel very comfortable knowing that my makeup would be exactly what I wanted.... Read More She's a wonderful package of fun and professional all in one person :) She did my makeup, my bridesmaid's and my mom's for the wedding. Anyone that asks for a makeup artist referral always gets Michaela's name and information from me. There is no question that she is the one you need to make you feel gorgeous for whatever event you're attending :)
---
Awesome Work
Reviewed on

1/05/2016
Michaela did my makeup for a wedding I was in last year. I had never had my makeup done before but I was very impressed. I was nervous at first because I don't wear a lot of makeup but I felt totally comfortable and beautiful with the result. I can't wait for her to do my makeup... Read More for my wedding!
---
Reviewed on

11/05/2017
Lauren P
Michaela did my makeup for my engagement photos and wedding day! Both turned out great! I would definitely reccomend her for whatever your make up needs may be!
---
Reviewed on

10/31/2017
Brittany E
She's the only person I trust doing my make-up for any special occasion I have going on!! Highly recommend Michaela!!! Thanks for always making me look amazing!! Client for life!
---
Reviewed on

10/31/2017
Heather L
Michaela was recommended by our wedding photographer for our engagement photos. She did a fantastic job on my makeup for our shoot that I immediately knew I would be booking her for my wedding! I got married in July and was pleasantly surprised that the airbrush makeup stayed... Read More in place through out the day! I had reservations about my timeline (8 bridesmaids) and Michaela made sure we stuck to schedule and were finished on time. I hope to use her in the future for events!
---
Reviewed on

10/26/2017
Molly W
From the minute you meet Michaela, she makes you feel like she's been your friend for years! She does amazing work-I hired her to do my wedding in April 2016. I felt so beautiful on my day and my girls loved their makeup so much that one hired her for her wedding 6 months later!... Read More She is professional and anyone she brings along with her does work that is just as amazing! I could not recommend her more!
---
Reviewed on

10/26/2017
Brittany G
I have had the pleasure to work in a salon with Michaela before she started her own business. I have always admired her abilities with make up. Being a hairdresser, I have clients that become brides and I want to recommend them to someone I trust will take care of them . I know... Read More when I recommend them to Michaela they are in good hands! I believe that Michaela is one of the best make up artists in the Louisville area. I love her work so much you better believe Michaela will be doing my make up for my big day, too!
---
Reviewed on

10/26/2017
Laurie B
I.LOVE.THIS.WOMAN!!! She was super patient with both of my trials, willing to work with my suggestions and changes. My entire bridal party was super thrilled with their looks. Already talked to her about a holiday party at work look in Dec! We had a great time gwtting ready at... Read More Slugger Museum, so mucb fun that we invited her to take a few pics with myself and my hubby!! Cannot give her enough praise!! Thank you for making us look flawless!!
---
Reviewed on

10/26/2017
Emily M
Michaela did my make-up and my bridesmaids for my wedding on 5/13/2017. She also did my makeup for my engagement photos. She was so easy to communicate with when I had questions or needed to confirm anything. She does an amazing job and she made my bridesmaids and I all feel... Read More beautiful. My makeup looked flawless and it stayed that way the entire day. I would recommend her for any event.
---
Reviewed on

10/26/2017
Lindsey P
Michaela is the absolute best! She did my makeup for my wedding and I couldn't have been happier. Her sweet personality is the icing on the cake! Love her!
---
Reviewed on

10/26/2017
Jennifer W
Michaela did a FANTASTIC job for my wedding. I live out of state and we coordinated everything via email! I did not have time to do a trial run and Michaela was able to pull my look together with ease and perfection!! I loved my look and it stayed on the entire day and evening.... Read More She did my sister's makeup also and she looked amazing!! I highly recommend Michaela for your wedding or really any event!
---
Reviewed on

10/26/2017
Taylor W
Michaela did the makeup for my entire bridal party including my mother and myself. She was absolutely amazing and all of our makeup was stunning. My makeup lasted all evening and still looked flawless at the end of the night. She was very professional and so much fun to work... Read More with. She even was able to schedule my trial for the day of my bachelorette party so I could enjoy my makeup both times I had it done! I loved working with her and would choose her over and over again to do my makeup for any occasion! She's simply the best and so talented.
---
Reviewed on

7/10/2017
Megan W
Michaela is the BEST! I knew after my trial that my makeup would look good the day of my wedding, but I was still blown away on my wedding day. She listened to what I said I liked and made me look perfect. I received so many compliments on my makeup that night and it's all... Read More because of her! She's also done weddings that I've been in and all of the girls end up looking great. She's also just fun to be around and easy to talk to. I would definitely recommend Michaela to anyone looking for wedding makeup!
---
Reviewed on

9/21/2016
Brooke R
I couldn't imagine my make-up being any more perfect for my wedding day! Not only is Michaela EXTREMELY talented, she is genuine and fun, and she made me feel beautiful and relaxed! My skin is super oily and I had very little shine the entire night even though it was hot and... Read More muggy. Michaela is the real deal! I will definitely call her the next time I need make-up services!
---
Reviewed on

9/16/2016
Melissa C
Michaela is wonderful to work with. I have used her several times and she never disappoints. Plus she is really cool, so that's an added bonus:-)
---
Reviewed on

9/16/2016
Tiffany B
Michaela's work was nothing less than perfect. I needed my make up done last minute for my engagement pictures, and she was more than willing to do it. I was so happy! She came directly to me, and her work was flawless. She was easy to work with and made the experience fun! I... Read More highly recommend her for your next event! You will not be disappointed!
---
Reviewed on

9/16/2016
Erin W
I have never felt as beautiful as I did when Michaela did my make up. My mother there and bridesmaids looked wonderful as well. I was severely broken out from all of the stress, but you couldn't even tell because of the airbrush makeup.
---
Reviewed on

9/15/2016
Samantha A
Michaela is doing my makeup for my wedding next weekend. The trial I had with her was amazing. She does awesome makeup and it very personable
---
Reviewed on

8/30/2016
Lauren R
Michaela was absolutely amazing!! She came to my house to do a trial and then came to me on my wedding day too. She did airbrush makeup for my bridal party, mother, mother in-law and sisters in-laws and they all love it. Highly highly recommend!
---
Reviewed on

1/19/2016
I planned my wedding myself and I'd have to say the easiest part by far was my makeup! Michaela helped me create a look I loved and also helped with my timeline for the day making sure we weren't rushed and could relax. Anytime I had a question she was quick to respond and very... Read More helpful! I love her professionalism and knowledge of products and always refer her to anyone looking for the same. She's the best!!
---
Gorgeous work
Reviewed on

12/30/2015
Courtney P
Michaela did my makeup for an event and I was so impressed with her work, that I have used her for several other jobs and references in the future. Her personality put me at instant ease, her work was gorgeous and quick. Some stylists take upwards to 2 hours, she listened to... Read More what I liked and didn't like and I was drooling over her collection of eye shadows and lip colors. i looked and felt beautiful
---
Reviewed on

12/30/2015
Awesome makeup artist!
---
Reviewed on

12/30/2015
Awesome makeup artist!
---
Reviewed on

12/30/2015
Awesome makeup artist!
---
Meet The Owner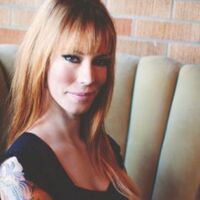 Michaela Reeves
Michaela Reeves is a professional makeup artist based in the Louisville, KY area with over 9 years experience in bridal, event, and editorial makeup. In her career she has done makeup for a multitude of weddings as well as gaining media and entertainment industry experience. Michaela uses a wide range of prestigious and celebrated cosmetics in her kit, focusing on mainly cruelty free and paraben free brands. She offers onsite airbrushing and traditional makeup.