Home

MSW Photos
About this Vendor
Artistic and Photojournalistic Wedding Photography
Hey there! Congratulations on your engagement! Thanks for your interest in my work! I specialize in capturing your love, your unique connection and personalities, your family and friends, and all the amazing, tearful, scream for joy moments of your day in a creative and fun way. It's a party! Lets have an awesome time! I'd love to hear from you!
Details
Artistic, Documentary, Modern
Day After Session, Engagement, Trash The Dress
Getting Engaged, After Party, Wedding
Destination Weddings, Digital Files, Online Proofing, Photo, Printed Enlargements, Second Shooter Available, Social Media Sharing, Wedding Albums
Contact Info

Reviewed on

2/25/2017
Tiffany K
Mathew caught some really opportune shots! He is one of our favorite vendors through our whole wedding experience. We will cherish these captured memories for a lifetime!
---
Reviewed on

2/07/2017
Leigh W
We couldn't have asked for a better wedding photographer to capture our day! Matt was super laid back and easy to work with for our engagement shoot as well as throughout our wedding day, and he has an amazing eye for breathtakingly artistic and original shots. He is quick to... Read More respond to e-mails and willing to be flexible with any last minute needs. We also decided to work with him and hire his Gif Booth, which was an absolute hit at the reception, and totally unique to us! Overall, I couldn't recommend Matthew Steed Wilson Photography more!
---
Reviewed on

11/01/2016
Happy G
No review will ever express how thankful my wife and I are that we chose Matt to capture our wedding. He and his team are simply incredible. Finding the right photographer was high on our list; second only to our venue. We considered a number of talented photographers, but it... Read More was Matt's creativeness and attention to detail that set him apart. Seeing as neither of us had ever been professionally photographed, it was a little nerve-wracking for us prior to our engagement shoot. However, working with Matt was incredibly easy, our pictures turned out wonderfully, and having that prior experience with him made our wedding day a breeze. When we ironed out the wedding itinerary, Matt offered suggestions on where we might want more or less time to make sure we weren't rushed during our critical moments so we could focus on each other and our big day knowing that he had everything under control. Matt coordinated with all of our vendors to ensure that every moment would be captured beautifully. Our wedding day went off without a hitch (everyone kept telling us something would go wrong, but we still haven't identified a minor detail!) and we know that Matt was a huge part of making that possible. The absolute best story I can share about Matt and his team occurred after I thought all of our vendors had left. Once my wife and I felt that the evening had died down enough to where we didn't need to professionally capture anything special, I gladly thanked and tipped each member of our vendor teams and informed them that they were free to stay or leave at that point. My wife and I spent at least the next 30 to 45 minutes visiting with all of our guests around a bonfire before Matt and his team popped out of the darkness and pulled me aside. Matt explained that they had been walking around the venue property trying to find the perfect shot and that if we were up for it, they had come up with a pretty good idea. My wife and I were in shock that they were still there, but we immediately said to each other that this is exactly why we hired Matt. They end up leading us through the dark woods surrounding the property and then to the edge of a pond, which brilliantly reflected the big night sky above. Matt explained that they had already tried a few practice shots with his assistant standing in as us until they had the tripod positioned exactly right. Matt said we would need to stand perfectly still for around 30 seconds as they captured the image with an open shutter so that it would capture us, the incredible landscape, and starry night without losing any of the detail. We gladly stood for multiple takes and tried to imagine what the final product would look like. Needless to say, we were absolutely stunned when we finally saw the final product! It is without a doubt our signature wedding photo and we would have never known it was possible had Matt not gone above and beyond for us. Once the photos are ready, Matt provides you with a beautiful, user-friendly and password protected online gallery to access and share your photos. If you want, your guests can even download photos and have them printed themselves. Matt even includes a release form in the gallery so no one will have any issues getting them printed. Oh, and be sure to ask him how he protects your photos in transit! Once you hear his process, you'll never question whether he truly goes above and beyond to ensure that nothing could ever ruin your photos. Thanks for everything, Matt!
---
Reviewed on

10/31/2016
Emily B
Short Version: Stop researching and hire Matt Long Version: My husband and I stumbled upon Matt while looking for wedding photographers online. His style is what caused me to contact him, and his responsiveness, professionalism, and easy-going nature are what caused me to... Read More hire him. He has been incredible to work with throughout our planning process, and for both the engagement session and the wedding. Plus, his pricing is beyond reasonable. Now to the best part: HIS PHOTOS ARE INSANELY GOOD. I can't tell you how many people have actually told me, "I'm obsessed with your pictures!" Having Matt photograph our big day was the best decision we could have made.
---
Reviewed on

10/28/2016
Faraz H
Matt did an excellent job with our wedding! Very professional, patient, and accommodating with our needs. The pictures also turned out fantastic, with great candids and creative framework. I would definitely recommend MSW photography for any and all occasions.
---
Reviewed on

8/28/2016
Alaine N
Matt was not only wonderful to work with; he was the BEST Photographer I could have asked for! He was patient when it came to traveling to my parent's farm for engagement photos…and when it came to adding our crazy four legged animal into the mix. I was impressed from the start... Read More with his work and fell even more in love with it​ when I saw our personal photos. I could not have asked for anyone better to capture this once in a lifetime event. He is professional while capturing the photos, he also makes you feel comfortable throughout the shooting. I cannot begin to count the amount of people that complimented us on the photos and wanted his information for their upcoming weddings. Thank you, Matthew Steed Wilson!!!!
---
Reviewed on

11/27/2015
Barb D
Hiring Matt was the best decision I made throughout my entire wedding planning process. In short: Stop your search here and book him ASAP. To elaborate a bit: Matt as a Vendor: I found Matt through Wedding Wire and he was very prompt to respond. His response rate never... Read More slowed anytime within the time I booked him to even after my wedding day (I think the longest he took to respond to an email was 12 hours). Even though he is based in Washington (outside Peoria), he was able to meet us in Chicago so we could chat - from Day 1 he was accommodating. After brunch, It wasn't hard to make the call to hire him. He was professional, positive, and clearly knew how to match up to our off beat personality as a couple. I had no doubt that he could translate the feel of our wedding into photos. Matt as a Photographer: his portfolio speaks for itself, so I don't have much to elaborate on here. I will say that circumstances for our engagement shoot changed the day of and Matt was forced to shoot us in the basement of a bar with little to no natural lighting and he STILL killed it. All of them turned out amazing and I was so impressed. It was also snowy and mucky outside. Regardless of the scenario, Matt makes it work. This made me trust him 110% with my wedding day. This guy can clearly roll with the punches. Matt on the day of the wedding: Matt was the absolute best (are you seeing a pattern here?). Something I never considered till the day OF the wedding: Matt is confident, experienced, and a professional, which as a bride, translates to zero stress. I know there was not a moment missed. He even came up with some really great shots in the moment that turned out to be some of my very favorites from the entire day. In short, I cannot speak highly enough of Matthew Steed Wilson Photography. He was a perfect vendor from day 1. Zero problems, amazing photographs, and wonderful to work with all around.
---
Reviewed on

7/29/2015
Megan B
We loved working with Matt! His prices were reasonable for the Chicago area, his style is GORGEOUS, and he stayed with us the entire day for a flat rate. Seriously about 12 pm to 12 am. If you enjoy vibrant, colorful, and candid photography you will like this photographer.
---
Moments that we will never forget!
Reviewed on

1/05/2015
Ann F
I met Matthew at a Vendor show and I can say that getting his card that day was one of the best things I did for my wedding. I have been told by a number of brides that if there is one thing that you want to spend money on, it's the photos. Matthew prices were comparable to... Read More most photographers I had reviewed, but his photos are worth so much more. My husband and I are not people who like to pose and standstill for very long, we wanted our photographer to capture the moments that we so quickly forgot about! From the first to the very last photo, I loved them all! Matthew thought of things I would never thought of. He truly saw what Nathan and I were about, what we loved, and he captured that. It's amazing how fast your wedding day goes, but knowing that Matthew and his team captured all those moments means so much to me. It's funny how many people complemented the professionalism and the overall personality of Matthew and his team. Although they were there taking pictures you never felt overwhelmed or that you had to take a photo. I honestly could go on and on about Matthew and his team, but I think his work speaks for itself. AMAZING!!
---
One Of A Kind!
Reviewed on

11/09/2014
Stephanie P
I cannot explain in words how thankful and grateful my husband and I are to have found Matt as our photographer for our engagement and wedding pictures. We were looking for someone who could capture moments and could do traditional but also photo journalistic photos and he did... Read More just that. From the moment we met with Matt and saw the previous work he has done, we knew he was perfect for us. Matt was so easy to work with and always responded quickly to my questions throughout the whole planning process. If we had specific requests, he met them for us and went beyond to make us happy. And he did not let us down! He captured every emotion and event that happened during my big day and I will treasure these pictures for the rest of my life. The photos are so different than what other photographers are offering and we could not get enough praise about them from our family and friends. I would highly recommend Matt as your photographer and are so grateful for all of his hard work!
---
Awesome Photographer!
Reviewed on

10/23/2014
Matt did an awesome job with all aspects of our wedding photography! He somehow changed a flooded parking lot into a gorgeous setting for engagement pictures. He had excellent recommendations, and we trusted him to pick places for our outside pictures with our wedding and... Read More engagement pictures. He is a great professional, and does an incredible job! He hired a full time photographer to act as the 2nd photographer at our wedding to get moments he missed as well as another assistant to help him with lighting (which helps a ton!). We loved the pictures he got to capture our day. He never got in our way or imposed during the wedding day, yet he somehow managed to capture all the important moments throughout the day. We were thrilled with the results and couldn't have asked for better! He makes it difficult to choose which pictures we wanted to get prints of because all of them were beautiful! His pricing is very reasonable when you look at all the expenses that go into a wedding too. We HIGHLY recommend Matt to anyone looking for a photographer!
---
Fantastic Photographer
Reviewed on

9/03/2014
Janel C
Matthew Steed Wilson Photography has the most unique style!!! He is so talented and he has a best eye for those more artistic photos! He is not your average wedding photographer! We had him for our second photographer at our wedding in 2013 and we couldn't have been more... Read More pleased! We were both in love with the photos he took and loved his style!!!
---
Can't say enough!
Reviewed on

7/07/2014
Matt did such an incredible job with our photos!! My husband and I were so impressed with him. He was professional, friendly, and respected our desires. The quality of the photos was amazing, and he captured every moment perfectly! I was so happy with all of our pictures,... Read More and a year later I still look through them regularly! One of the things my husband and I were most impressed with was Matt's generosity! He did an engagement shoot for us in my husband's home town for no extra charge! He provided us with all of the pictures for those via his website. Then for our wedding, he not only gave us online access to all of our pictures that we could download for free (none of that darned "stock photo" stuff across the pic), but he PRINTED off all 600 of our pictures and mailed them to us in a beautiful photo box that he fused one of our pictures onto! And then provided us with a professional-looking flash drive with our names that had all the pictures as well! THEN, get this! It turns out, he was leaving for vacation in Boulder, Colorado the same time we would be on our honeymoon in Estes Park, which was about 45 minutes away from him! He drove out early on our last morning there to take 3 hours of pictures of us for FREE!! (Well, in exchange for a meal at Taco Bell! haha). And then he provided us with those pictures. He went so above and beyond what we expected, especially when we only had a 3 month engagement! :) Needless to say, we were so happy to meet him and have him capture our big day!! Maybe we can convince him to take pics of our children some day :P
---
Meet The Owner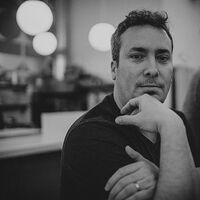 Matt Wilson
I believe moments matter. After the flowers wilt and the music is over, you'll have your spouse, a ring on your finger, and your photos. The kiss grandma gives you right after the standard formal portrait, dancing with your parents, your friends' crazy antics, the tears of joy, the ugly-face laughs, dance floor insanity, and the spontaneous thing your new husband or wife did when they became overwhelmed with love for you, those are the priceless images that you will hold most dear. Let's go on an adventure together to capture the strength and uniqueness of your love!