Home

Peak Entertainment Inc.
About this Vendor
Discreet, Personalized DJs serving VT, NH & ME
Discreet, Prepared, Professional DJs focused on Personalized weddings... without the DJ "cheese" factor. Recipient of Wedding Wire's "Couple's Choice Awards", The Knot's "Best of Weddings" and Modern Bride Magazine's "150 Hottest Bands and DJs in the U.S". Contact us for a quote for your Vermont, New Hampshire, Maine or Adirondack wedding. | 802-888-6978 | www.peakdj.com |
Details
Ceremony, Reception, Wedding
MC Services, Recorded Music, Sound Equipment, Music, Equipment, Rentals + Equipment
Contact Info

Reviewed on

9/13/2017
Nicole R
Peak entertainment just worked my wedding this weekend. Leading up to the big day, Newt was always responsive and very flexible, understanding that a bride has a lot on her plate and DJ deadlines were forgotten! ON my wedding day, the DJ that attended was patient and... Read More professional. He took requests that were only made by me (the bride) and played everything I had asked for. He worked with the groom's father to surprise us with a speech and song dedication, and was very patient with the 5 year old flower girl that wanted to touch all of his gadgets! Thanks for everything!
---
Reviewed on

8/31/2017
Kelly S
Peak was the DJ at our wedding and we were thrilled with the music they played. Their questionnaire was thorough and they made sure everyone had a blast!
---
Reviewed on

8/29/2017
Nicole H
Thank you so much for your amazing service. You and Dov were absolutely fantastic throughout the entire planning process and on the day of our wedding. All throughout the night and even after the wedding we were receiving constant compliments regarding how amazing you were. Your... Read More song choices and enthusiasm kept everyone on their feet all night and on the dance floor! It was a pleasure having you at our wedding and we will make sure to recommend you to friends and/or family that are looking for a DJ in VT in the future!
---
Reviewed on

8/23/2017
Sarah H
I had a great time working with Peak Entertainment. JD was a really amazing DJ. Everyone who worked with him at the venue only had great things to say about him. He was informative, polite, and above all else very fun! Working with Peak Entertainment was a very smooth process,... Read More and I was so pleased to have JD as our DJ for the wedding.
---
Reviewed on

8/09/2017
Danielle D
My wife and I were married on May 20th at the Mt. Washington Resort in NH. Since we are from out of state we asked the resort's wedding coordinator who she would recommend for a DJ, someone that has already worked with the hotel, has good reviews, etc. Without skipping a beat... Read More she recommended Peak Entertainment. Once I went to their site, I could see why. Their site is FULL of great reviews. From the moment we signed on with them and even after the wedding with follow ups, Newt was incredibly responsive. He would sometimes respond to my emails within hours. The site explained that Newt has a few DJs that work with him and that we were not guaranteed any one person in particular for our wedding. Because of this I was a bit nervous. I scoured the site for reviews on different DJs, hoping we would get assigned one of the ones folks loved. But honestly, had to leave it to fate since we wouldn't know who were were having until just a few days before. On the day of our wedding, we met our DJ, Mike, who was incredibly sweet, professional and great at his job. While my wife and I were waiting in the foyer of the dining room, waiting to be announced, Mike popped out to introduce himself and to review our paperwork we sent in. He wanted to be sure he had pronunciations right, special shout-out songs right, etc. We instantly felt at ease. Our wedding was really small, just 46 people. We had folks ranging in ages from my 3 year old niece to my 84 year old grandmother. Mike ensured that the music was loved by all. Since the room was small and had the dance floor directly in the middle, it would have been pretty awkward to have an empty floor, but he kept it full and most folks did not leave it for the entire night. Aside from our guests having a great time, believe it or not we enjoyed seeing Mike have a great time. Any time we looked over, he would be working with a huge smile on his face. We truly enjoyed having him. Thanks Mike!
---
Reviewed on

8/04/2017
Julia L
Bruce did an absolutely A+ job. I just cannot say enough good things. He was experienced, listened to my needs, always checked in over the course of the night, was respectful, and kept the awesome tunes going. He was just more than I could have hoped for.
---
Reviewed on

8/02/2017
Christine B
We had a fantastic experience with Mike! Everyone raved over the music and he had people dancing all night. Would highly recommend Peak Entertainment!
---
Reviewed on

7/05/2017
Lizzy A
If you're looking for an organized, professional team to make your day great, we highly recommend Peak! We initially chose Peak after talking with them at a bridal show, and after doing so heard great things from our wedding coordinator of years of great DJ experiences! Newt was... Read More easy to communicate with, and our day-of DJ Bruce was fantastic. He kept everyone dancing, read the crowd, and he checked in with us before the ceremony to confirm details. It was also great to have him check in with us throughout the night to see how things were going, and to let us know what to expect. We felt like we were in great hands, and our guests continue to compliment us on the music throughout the night!
---
Reviewed on

6/27/2017
Sophia B
Newt was perfect! There was a lot of forms to fill out and detail sheets which would have been perfect if we had a lot of specific requests and things that we wanted but we didn't and ended up not filling them out nearly enough. But Newt made it work perfectly, he was... Read More professional and relaxed and completely able to handle the somewhat unorganized, random nature of the party. Even though we barely filled out the forms we didn't need to ask him for anything. Everything was perfect and he was able to read the crowd for the right moments for everything. He was accommodating to the fact that our singer friends wanted to perform for our first dance and father-daughter dance. I recommend filling out the forms better than we did if you have a very specific dream of how you want it to be but since we wanted it to just be easy and relaxed and go with the flow we were delighted with how it turned out. I couldn't have asked for a better dj and I would hire him again in a heartbeat! Also... I know there is some concern by some people about a clause in the contract about public negative reviews. I had my concerns too but I cannot express enough how well Newt listened to our wishes and fit himself into our dream. Definitely a must-hire!
---
Reviewed on

6/08/2017
Nikki P
Mike was awesome and he did a fantastic job! Everyone was saying how much fun they had and he kept the dance floor packed the whole night! We really appreciate how smoothly everything went! Thanks again! We highly recommend Peak Entertainment!!
---
Reviewed on

3/14/2017
Jessica R
Peak did an awesome job and everyone loved the music. Newt was extremely organized, professional, and accommodating!
---
Reviewed on

3/08/2017
Oliver J. V
We were very happy with your services at our wedding a few days ago. The music was great! They even accommodated me and played Spanish music fora portion of our reception. Peak was the only DJ that was willing to go above and beyond to accommodate the client! We recommend Peak... Read More and Newt to anyone who needs a DJ!
---
Reviewed on

2/12/2017
Jessica V
John was fantastic; he was professional and pleasant, we received many compliments from our guests on the DJ and we couldn't be happier with the decision to go with Peak Entertainment. He even accommodated a couple of last minute requests the day of the wedding after we played... Read More phone tag for a bit. Really great service and we thank you all for making it a memorable occasion.
---
Reviewed on

1/10/2017
Nicole P
Everything was absolutely perfect. The music was awesome, the lighting, the professionalism, everything was spot on. I couldn't have asked for anything better.
---
Reviewed on

11/16/2016
Jeff W
The wedding reception went very well. Our DJ (John) had great energy and curated an excellent playlist, reacting well to the status of the dance floor. Thanks for everything!
---
Reviewed on

11/09/2016
Sarah M
Newt was great to work with! Customer service was top notch. Professional and on point with what we wanted, he was quick to respond and super accommodating to our needs. Our DJ John did a great job with our music selection. Everyone was on the dance floor! Go with Peak.... Read More You'll be happy you did.
---
Reviewed on

10/19/2016
Kate L
Peak Entertainment was incredibly easy to work with. They're very organized and really take pride in their work. They have a very detailed questionnaire that really helps you think about the timeline for your reception and gives you peace of mind about the event. Our DJ made... Read More sure we were on the same page about everything and kept the dance floor full all night! If you want to hire the pros, pick Peak!
---
Reviewed on

10/06/2016
Robert D
The DJ was fantastic. She was a huge part of keeping the wedding on track and was very nice and a pleasure to work with. Thank you for providing such a wonderful DJ and a great service.
---
Reviewed on

9/26/2016
Lindsay G
Peak entertainment is wonderful to work with. They are very responsive no matter how big or small the question. Very organized and timely with all aspects of planning. Our ceremony, cocktail hour and reception music was perfect. Our DJ was very helpful when it came to being sure... Read More intros went smoothly and our dances and speeches were timed correctly. He had our guests dancing all night!
---
Reviewed on

9/15/2016
Enrique R
We had a spectacular time and couldn't have had such a fun time without you guys. Between your flexibility preparing for the day and Yuri's work during the event everything went extremely well. We were thrilled with how everything played out and will definitely recommend Peak... Read More to others in the future.
---
Reviewed on

9/08/2016
Shannon M
Working with Peak was absolutely wonderful. From the start your communication was clear, detailed and proactive which made me, as a bride, feel extremely at ease. The DJ questionnaire and all the follow up made the process easy and fun! Our DJ, Andy, was great and kept our party... Read More going all night. I'd highly recommend Peak to anyone and am thrilled with your services. Thank you again for everything!
---
Reviewed on

9/05/2016
Scott S
Newt was fantastic! Great job with the itinerary ahead of time, and great accommodation for some last minute add-ons during the week of the wedding. He cares about making your day special, and doing it at an affordable rate. He even played for an extra half hour after his time... Read More ran out without billing us for it. Thanks again!
---
Reviewed on

8/30/2016
Melanie T
Mike was PERFECT! He listened to everything that I asked and even played an extra song at the end (with permission from our coordinator) because everyone was having so much fun. I really have no complaints whatsoever. He was beyond excellent.
---
Reviewed on

8/29/2016
Jessica H
We could not have had a better experience with our DJ! He was full of energy and really kept the crowd happy. I will never forget looking up to see him jumping to the music. It was wonderful to have someone so enthusiastic about his job keeping our friends and family entertained... Read More for the night. We also had a number of guests comment on how much fun he was. Thank you!
---
Reviewed on

8/28/2016
Jessie F
Our DJ Amy did a great job! She was so easy to work with and had us dancing all night long! Newt was also great to work with during the planning process and accommodated our special requests. Highly recommend!
---
Meet The President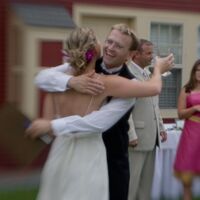 Newton Wells
I've been a DJ since I was a freshman in college. This really is the greatest job in the world! We get to work every weekend at the most beautiful wedding venues in Vermont, New Hampshire and surrounding states, helping our brides and grooms create the happiest days of their lives. I'm in our DJ office every weekday, working on event itineraries and our clients' playlists. We'd love to get started on yours! Give me a call at 802-888-6978 or fill in the contact form at www.peakdj.com. Happy Planning!