Home

Peak Entertainment Inc.
About this Vendor
Discreet, Personalized DJs - VT, NH, ME & the ADK
Discreet, Personalized, Professional DJs ~ elegantly orchestrated weddings... without the DJ "cheese" factor. Recipient of Wedding Wire's "Couple's Choice Awards", The Knot's "Best of Weddings" and Modern Bride Magazine's "150 Hottest Bands and DJs in the U.S". Contact us for a quote for your Vermont, New Hampshire, Maine or Adirondack wedding. | 802-888-6978 | www.peakdj.com
Details
Ceremony, Reception, Wedding
MC Services, Recorded Music, Sound Equipment, Music, Equipment, Rentals + Equipment


Contact Info

Reviewed on

11/13/2017
Katelyn B
As I was writing my thank you to Newt for our wedding, I ran out of room!! There are entirely too many amazing things to say about that night and I wouldn't be overselling it by saying that he absolutely made our wedding a success! The whole honeymoon, we just kept reflecting on... Read More how he read the group perfectly and played songs that not only kept people on the dance floor, but got the (very diverse!) crowd excited to dance. My husband can be a bit of a music snob (the only part of the wedding that he tried to micromanage was the music), and even he talks about how much of an incredible job Newt did - trust me when I say, there is no higher praise. We actually lost count of the number of people that commented on how the music was perfect and it felt Newt was a part of the party instead of "working" it from the side. It may also seem like a small detail, but I truly appreciate that he played the clean version of songs. We didn't discuss it with him, but with the young kids from the wedding party there, it was a really thoughtful move. Newt was also patient with us as we were late with our lists, and managed us texting updates the day of the wedding.... his relaxed demeanor was right on par for how we wanted the day to go. Peak Entertainment is amazing!
---
Reviewed on

11/09/2017
Kristen C
Everything was absolutely perfect. Our DJ was awesome and gave us exactly what we wanted. We had an absolute blast!
---
Reviewed on

11/05/2017
Maria C
We had Ryan for our DJ and he did a great job. He kept us dancing all night!
---
Reviewed on

11/04/2017
Marina F
You (Newt) were amazing!!! Everyone keeps talking about how perfect the music was and I even saw that my friends got a pic with you.... Love it! I was thoroughly impressed with your planning. As someone who is very type A and had to work with so many vendors I appreciated it... Read More so much! Lastly, thank you for helping me pull off the surprise for Mike. It was a top 3 favorite moment for me. Many thanks!
---
Reviewed on

10/21/2017
Haley B
Very efficient and everything was double and triple checked before Showtime! They were very personable and professional. Highly recommended!
---
Reviewed on

10/15/2017
Kathleen L
My husband and I recently got married and used Peak DJ as our reception entertainment. They were extremely professional and worked well with us. Newt was super friendly and promptly responsive. Our DJ, Amy, kept everyone (in an extremely eclectic crowd) dancing all night!... Read More She was friendly and easy-going and took big last minute changes gracefully and smoothly. Our only neutral thought was that our DJ in particular was slightly understated for our loud crowd, but all in all they provided an absolutely wonderful night for us and our guests. We would absolutely recommend them!
---
Reviewed on

10/04/2017
Jenni K
We were unbelievably happy with our DJ, Brian. The DJ-ing was literally perfect! He was professional and prepared, yet also went with the flow with our crazy best man who kept requesting different songs (hahah). Everyone had a BLAST—we could not have been happier!!
---
Reviewed on

10/03/2017
Tarunya G
Steve the DJ was awesome! People were dancing up a storm and he definitely had taken the time to look through the song list I sent to get the right vibe. Also he made few but important announcements (Fireworks! Gelato!) - exactly how we wanted. Thank you!
---
Reviewed on

9/28/2017
Carly B
Great experience working with this company! Newt is very organized and so on top of everything when it comes to making sure every detail is taken care of weeks before the big day. Our DJ Andy was very accommodating and helpful before and during the wedding day and kept the... Read More party going during our reception. We had really positive feedback from our guests regarding all the music.
---
Reviewed on

9/24/2017
Sarah C
Peak Entertainment did an amazing job at our wedding! The company was recommended by our venue and they did not disappoint! Newt was super helpful during the planning process and always responded to emails promptly. The company provides a very detailed form to complete leading... Read More up to the wedding so nothing can get left out or forgotten. And Nick was an awesome DJ! We had a fantastic time and everyone danced the night away. All of our friends and family are still raving about the music! We highly recommend Peak Entertainment!
---
Reviewed on

9/21/2017
Liam F
Steve did an absolutely fantastic job - above and beyond what we expected or hoped for! He was a consummate professional and really kept the dance floor packed all night! We couldn't have hoped for better, and he was such a nice guy as well! It was a pleasure working with Newt... Read More and Steve. I will enthusiastically recommend Peak DJ to anyone hosting an event in VT/NH!
---
Reviewed on

9/13/2017
Nicole R
Peak entertainment just worked my wedding this weekend. Leading up to the big day, Newt was always responsive and very flexible, understanding that a bride has a lot on her plate and DJ deadlines were forgotten! ON my wedding day, the DJ that attended was patient and... Read More professional. He took requests that were only made by me (the bride) and played everything I had asked for. He worked with the groom's father to surprise us with a speech and song dedication, and was very patient with the 5 year old flower girl that wanted to touch all of his gadgets! Thanks for everything!
---
Reviewed on

8/31/2017
Kelly W
Peak was the DJ at our wedding and we were thrilled with the music they played. Their questionnaire was thorough and they made sure everyone had a blast!
---
Reviewed on

8/29/2017
Nicole H
Thank you so much for your amazing service. You and Dov were absolutely fantastic throughout the entire planning process and on the day of our wedding. All throughout the night and even after the wedding we were receiving constant compliments regarding how amazing you were. Your... Read More song choices and enthusiasm kept everyone on their feet all night and on the dance floor! It was a pleasure having you at our wedding and we will make sure to recommend you to friends and/or family that are looking for a DJ in VT in the future!
---
Reviewed on

8/23/2017
Sarah H
I had a great time working with Peak Entertainment. JD was a really amazing DJ. Everyone who worked with him at the venue only had great things to say about him. He was informative, polite, and above all else very fun! Working with Peak Entertainment was a very smooth process,... Read More and I was so pleased to have JD as our DJ for the wedding.
---
Reviewed on

8/09/2017
Danielle D
My wife and I were married on May 20th at the Mt. Washington Resort in NH. Since we are from out of state we asked the resort's wedding coordinator who she would recommend for a DJ, someone that has already worked with the hotel, has good reviews, etc. Without skipping a beat... Read More she recommended Peak Entertainment. Once I went to their site, I could see why. Their site is FULL of great reviews. From the moment we signed on with them and even after the wedding with follow ups, Newt was incredibly responsive. He would sometimes respond to my emails within hours. The site explained that Newt has a few DJs that work with him and that we were not guaranteed any one person in particular for our wedding. Because of this I was a bit nervous. I scoured the site for reviews on different DJs, hoping we would get assigned one of the ones folks loved. But honestly, had to leave it to fate since we wouldn't know who were were having until just a few days before. On the day of our wedding, we met our DJ, Mike, who was incredibly sweet, professional and great at his job. While my wife and I were waiting in the foyer of the dining room, waiting to be announced, Mike popped out to introduce himself and to review our paperwork we sent in. He wanted to be sure he had pronunciations right, special shout-out songs right, etc. We instantly felt at ease. Our wedding was really small, just 46 people. We had folks ranging in ages from my 3 year old niece to my 84 year old grandmother. Mike ensured that the music was loved by all. Since the room was small and had the dance floor directly in the middle, it would have been pretty awkward to have an empty floor, but he kept it full and most folks did not leave it for the entire night. Aside from our guests having a great time, believe it or not we enjoyed seeing Mike have a great time. Any time we looked over, he would be working with a huge smile on his face. We truly enjoyed having him. Thanks Mike!
---
Reviewed on

8/04/2017
Julia L
Bruce did an absolutely A+ job. I just cannot say enough good things. He was experienced, listened to my needs, always checked in over the course of the night, was respectful, and kept the awesome tunes going. He was just more than I could have hoped for.
---
Reviewed on

8/02/2017
Christine B
We had a fantastic experience with Mike! Everyone raved over the music and he had people dancing all night. Would highly recommend Peak Entertainment!
---
Reviewed on

7/05/2017
Lizzy A
If you're looking for an organized, professional team to make your day great, we highly recommend Peak! We initially chose Peak after talking with them at a bridal show, and after doing so heard great things from our wedding coordinator of years of great DJ experiences! Newt was... Read More easy to communicate with, and our day-of DJ Bruce was fantastic. He kept everyone dancing, read the crowd, and he checked in with us before the ceremony to confirm details. It was also great to have him check in with us throughout the night to see how things were going, and to let us know what to expect. We felt like we were in great hands, and our guests continue to compliment us on the music throughout the night!
---
Reviewed on

6/27/2017
Sophia B
Newt was perfect! There was a lot of forms to fill out and detail sheets which would have been perfect if we had a lot of specific requests and things that we wanted but we didn't and ended up not filling them out nearly enough. But Newt made it work perfectly, he was... Read More professional and relaxed and completely able to handle the somewhat unorganized, random nature of the party. Even though we barely filled out the forms we didn't need to ask him for anything. Everything was perfect and he was able to read the crowd for the right moments for everything. He was accommodating to the fact that our singer friends wanted to perform for our first dance and father-daughter dance. I recommend filling out the forms better than we did if you have a very specific dream of how you want it to be but since we wanted it to just be easy and relaxed and go with the flow we were delighted with how it turned out. I couldn't have asked for a better dj and I would hire him again in a heartbeat! Also... I know there is some concern by some people about a clause in the contract about public negative reviews. I had my concerns too but I cannot express enough how well Newt listened to our wishes and fit himself into our dream. Definitely a must-hire!
---
Reviewed on

6/08/2017
Nikki P
Mike was awesome and he did a fantastic job! Everyone was saying how much fun they had and he kept the dance floor packed the whole night! We really appreciate how smoothly everything went! Thanks again! We highly recommend Peak Entertainment!!
---
Reviewed on

3/14/2017
Jessica R
Peak did an awesome job and everyone loved the music. Newt was extremely organized, professional, and accommodating!
---
Reviewed on

3/08/2017
Oliver J. V
We were very happy with your services at our wedding a few days ago. The music was great! They even accommodated me and played Spanish music fora portion of our reception. Peak was the only DJ that was willing to go above and beyond to accommodate the client! We recommend Peak... Read More and Newt to anyone who needs a DJ!
---
Reviewed on

2/12/2017
Jessica V
John was fantastic; he was professional and pleasant, we received many compliments from our guests on the DJ and we couldn't be happier with the decision to go with Peak Entertainment. He even accommodated a couple of last minute requests the day of the wedding after we played... Read More phone tag for a bit. Really great service and we thank you all for making it a memorable occasion.
---
Reviewed on

1/10/2017
Nicole P
Everything was absolutely perfect. The music was awesome, the lighting, the professionalism, everything was spot on. I couldn't have asked for anything better.
---
Meet The President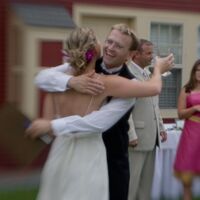 Newton Wells
I've been a DJ since I was a freshman in college. This really is the greatest job in the world! We get to work every weekend at the most beautiful wedding venues in Vermont, New Hampshire and surrounding states, helping our brides and grooms create the happiest days of their lives. I'm in our DJ office every weekday, working on event itineraries and our clients' playlists. We'd love to get started on yours! Give me a call at 802-888-6978 or fill in the contact form at www.peakdj.com. Happy Planning!