Home

Perfect Hair & Makeup
About this Vendor
Best Wedding Hair and Makeup Packages in Las Vegas
With more than 17 years of experience in Wedding Hair and Makeup we can bring our quality service to you. You deserve a Makeup Artist and Hair stylist who will work to understand your style and create the perfect you. Perfect Hair and Makeup team strive to be the best at Hair and Makeup by constantly changing with fashion and being progressive, but at the same time never losing sight of the classic style of a beautiful bride
Details
Hair + Makeup Trials Available, Hair Stylists, Airbrushed Makeup, Eyelash Extensions, Makeup, Makeup Artists, Nails, Beauty
Contact Info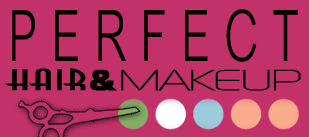 Reviewed on

12/09/2016
Sara C
I cannot praise Michelle and Irina enough. They replied to all emails extremely quickly, were flexible, showed up on time, were very quick, professional and lovely! In 30-40 minutes I had a great updo and airbrush makeup and went on to have an amazing wedding day. :) It is... Read More really hard to choose a wedding vendor when you live on another continent - choose them and you will be in safe hands. Thank you, ladies!
---
Reviewed on

10/27/2016
Molly B
Perfect Hair and Makeup are AMAZING! These 2 ladies really know what they are doing. They came to my house for a trial first and I knew they would be great. On my wedding day they got me and my 5 bridesmaids ready in about 2.5 hours. They do airbrush makeup which looked... Read More phenomenal. They really listened to each of us and made us all look beautiful! Highly recommend!
---
Reviewed on

1/26/2016
As the mother of the groom I somehow found myself in the unenviable position of arranging the hair and makeup for the bride, the maid of honour and myself. Travelling from the UK I really didn't know where to start. I Googled "hair and makeup in Las Vegas" and Perfect Hair and... Read More Makeup came up on screen. After seeing the photographs and reading the reviews I hoped I had made the right decision. I did! After several emails back and forth the appointment was made for 21st January. The bride had her hair and makeup done, the maid of honour makeup and myself my hair styled. The girls looked amazing and I was so pleased with my hair (it looked so much better than the style my usual hairdresser does for me!). Irina and Michelle were very professional and took care to make sure everyone was happy, making slight adjustments to get the right results. I cannot thank them enough and would have no hesitation in recommending their services. They really did help to make the perfect wedding day!
---
Reviewed on

4/14/2018
Jennifer S
Michelle and Irina were fantastic! These two work so well together, it is nothing short of amazing! They did such a great job on my hair and makeup for my big day. They are very efficient, friendly, and helpful. My three bridesmaids and I couldn't have been happier. I highly... Read More recommend Perfect Hair and Makeup.
---
Reviewed on

2/24/2018
Kristy M
I loved the way my hair and make up turned out!! I had a few different ideas for hair and make up and couldn't make up my mind, showed the few photos I had and Irina and the hair lady made me picture perfect for my wedding. My bridesmaids all loved their hair and makeup. The... Read More team was quick and organized and it worked perfectly with my busy day. Thank you so much 😊 2/17/18
---
Reviewed on

12/09/2017
Jocelyn H
Michelle and Irina did an incredible job for my bridesmaids, mother in law, mother, and myself. They finished all of our hair and makeup in about two hours. And we all loved the quality of their work. The makeup was very natural looking and long lasting - just what I wanted! And... Read More the hair was beautiful. Michelle even taught one of my bridesmaids how to place the veil in my hair, as I didn't want to wear it all day before the ceremony. They made planning my wedding from out of town a breeze. I didn't know what to expect because I wasn't able to do a trial with them (since I'm from out of town). But they exceeded what I was looking for. Would 100% recommend to anyone.
---
Reviewed on

9/11/2015
Katrina W
Loved these women! They did an amazing job on my hair and makeup on my wedding day. They arrived on time, were very professional, and quick. One of the smoothest processes I went through on my wedding day. I would recommend them to anyone. Thank you again ladies!
---
Perfect Hair and Makeup
Reviewed on

1/15/2015
Lauren S
I booked Perfect Hair and Makeup for my December 2014 wedding. The entire bridal party looked amazing once Michelle and Irina had worked their magic. They were friendly, professional and they worked really quickly. I highly recommend them and would definitely book them again.
---
Best Hair Ever!!
Reviewed on

9/27/2014
Toni B
Michelle and Irina are amazing. I had two other hair and makeup trials with other companies which were a complete waste of time and money. Then on my third try it was with Michelle. She was by far the best at hair that I have ever seen or had. She looked at my dress and new... Read More exactly what style of hair to do and I loved it. My hair stayed up all night and I never had to worry about it at all. She also placed my veil and shows the bridesmaids how to remove it for the reception. Perfect hair!
---
So Beautiful!
Reviewed on

5/05/2014
Carolyn W
These ladies can make anyone look amazing! I had my bridesmaids, MOG, MOB, and myself get their hair and makeup done. Everyone looked so beautiful and wouldn't stop raving about how much they liked how their hair and makeup turned out. They are VERY fast! Keep that in mind when... Read More booking your appointment.
---
Loved my Hair
Reviewed on

5/01/2014
Janetta N
These ladies were fabulous to work with . They came directly to my hotel suite and got 5 of us all together ready with hair and makeup. I loved the looks they gave everyone and they followed pictures that were given to them very well. I loved how the makeup stayed on pretty... Read More well all night along with the eye lashes. Highly recommended.
---
Wonderful!
Reviewed on

2/22/2014
Tracey P
They were wonderful. Perfect is an understatement. They were very prompt and showing up. Fast. Did an amazing job. I can't believe how beatufl I was!
---
Fabulous!
Reviewed on

10/19/2013
Marissa C
These ladies did a fantastic job with my and my bridal party's hair and makeup! They were late showing up, but that just meant they had less time to do their job. They still had all four of us completed in an hour and a half. Our hair and makeup lasted ALL day long, which... Read More was a long day spent inside and out! The hair even held up against the wind. It was extremely helpful and convenient that they came to our hotel room and the price was definitely right! Really beat the hotel's prices. Thanks ladies for making me and my ladies feel beautiful on my wedding day :)
---
Great work!
Reviewed on

8/29/2013
Erica
I used perfect hair & makeup for my wedding as the bride, & also for my maid of honor. Irina did an amazing job on both of our makeup. The airbrush look was awesome for my photos. I also loved the look of the fake eyelashes. Both of us were also very pleased with our hair. I... Read More felt like the most beautiful bride on my wedding day. I would definitely recommend this place for any brides looking in the Las Vegas area.
---
Excellent
Reviewed on

11/13/2012
Liz B
Irina and her team did an excellent job on our wedding day. We couldn't have been happier with the service.
---
So Pretty!
Reviewed on

9/29/2012
Josie D
The two ladies came to my room to do my hair and make up. They were so much fun and energetic! I looked amazing! The make up helped to pictures turn out great! I loved it!
---
We all looked beautiful
Reviewed on

6/12/2012
christine n
They came to my hotel room and did all of our hair and makeup so quickly. Melissa did an amazing job on our hair and our airbrush makeup by Irina was absolutely flawless.
---
Beautiful
Reviewed on

4/14/2012
Tamara K
Irina and Michelle did a wonderful job on my Wedding day. They showed up to my room on time and ready to work. They had my daughter and myself looking fabulous in no time at all. I am so glad I chose them!!
---
Love my hair and makeup!!
Reviewed on

12/07/2010
Miriam G
Irina and Michelle were amazing!! They arrived 5 min before time, setup all their "tools and equipment" in the bathroom suite and started working right away! I was not sure, actually had no idea about how I wanted my hair to look like other than up -didn't have pictures and I... Read More am terrible with hair, but Michelle decided on a beautiful style that stayed all night up. Look young and fun…beautiful!! I had the airbrush makeup (first time for me) and looked really natural. It lasted all nights and a few tears so that is a success. Irina is very sweet and understood exactly what I wanted! Oh and by the way they finished super fast, they worked at the same time so when you are done you are really done! They did also my mom's hair, just styled it. Simple but elegant. I paid about $220 and included my hair (with veil), airbrush makeup, eyelashes, my mom's hair and in my suite at Mandalay Bay….I think is an amazing deal for Vegas. Ladies, keep Irina and Michelle in mind for your wedding or event…totally worth it!!!!!! Thanks Ladies!Miriam
---
The do a PERFECT job!
Reviewed on

11/03/2010
Ashley B
Irena and Michelle were perfect! They got to my room on time (and for no extra charge)and did airbrush make-up (flawless), fake lashes, hair, placed my veil, and left extra lipstick for right before the wedding! I wanted to bring them home with me!
---
Hair & Makeup
Reviewed on

8/09/2010
Erica B
Irina and Michelle of Perfect Hair and Makeup were AMAZING! They did my sister first, who was matron of honor, and after seeing what a great job they did all the rest of my bridesmaids decided to have both hair and makeup done when originally had wanted just hair. They listened... Read More to what each girl wanted and put their own spin on it so their was still some similarity amongst them all. I LOVED both my hair and makeup, they made it all come together so beautifully so that I still looked like me but 100x more glamorous.
---
Meet The Owner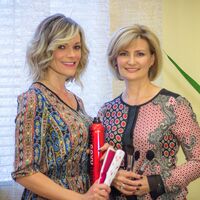 Michelle, Irina
We have over 17 years experience as a licensed hair designer and makeup artist working on the Las Vegas Strip, the wedding capital of the world. We have become an expert at listening to a bride's concerns and creating a wedding hairstyle and makeup to accentuate a bride's facial features, personality, wedding theme, and style of gown. Our goal is to highlight your features and the look that matches your individual needs.