Home

Professional Makeup Artist Stacey Frasca
About this Vendor
Professional Make up Artist Stacey Frasca
Celebrity make up artist Stacey Frasca is an experienced and creative make up artist. She brings over twenty years of experience to her profession with true creativity and beautiful make up. She is known for her airbrush work with full lashes and her attention to detail. Her work is flawless.
Details
Hair Stylists, Airbrushed Makeup, Eyelash Extensions, Makeup, Makeup Artists, On-Site Hair + Makeup, Beauty
Contact Info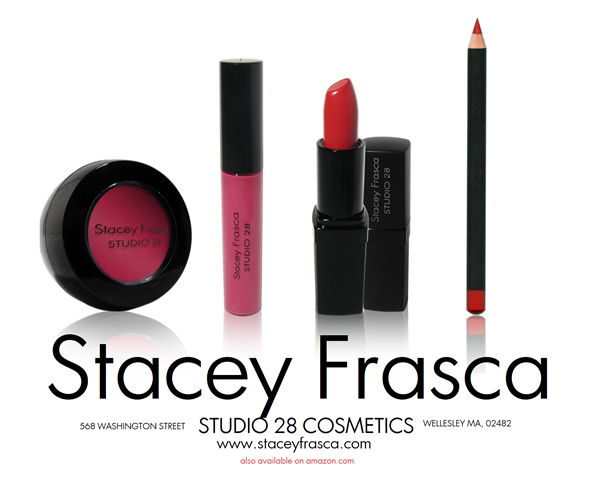 568 Washington St, Wellesley, MA
Book Stacey & Jill!!!
Reviewed on

5/13/2014
Michelle R
Stacey and Jill did the makeup for myself and bridal party - 7 makeup applications and 11 updos!! I knew I made the right decision the second I met Stacey and had my trial. I had my hair trial with Jill at a later date, and she wad equally as awesome. The bridesmaids had traditonal makeup applications. All of my girls looked so beautiful! Stacey did such a wondeful job. She truly brought out the natural beauty of each girl. I did the airbrush makeup and it was fantastic! I got so many compliments on my makeup. I loved it. I looked like the best version of myself! Jill did an amazing job on all off our updos. We got lots of compliments on our hair. They both worked quickly and we were finished ahead of schedule. I 110% recommend Stacey and Jill. You will not be dissapointed!
---
Stacey rocks!
Reviewed on

3/18/2014
Alejandra S
I loved having Stacey and Jill working on my look on my wedding day! So did my bridal party! The did an amazing job and we all fell very comfortable with their work and personality. They are sweet. fun and professional. My make up and hair were flawless and I fell so beautiful! Thank you thank you thank you!
---
Awesome!!
Reviewed on

7/20/2015
Danielle B
Stacey & Jill were amazing!!!! :) I knew the day of my trial that I wanted to work with them! My make up and hair were flawless. I brought pictures to my trial of what I wanted and they both gave me exactly what was pictured. I couldn't recommend them more! The day of my wedding Stacey had given me a timeline of who gets hair & make up at one time which was super helpful since I had 6 people getting hair done and 5 for make up. She was very organized which allowed me to relax. Everyone looked gorgeous! I had some bridesmaid with light make up and I had others who wanted heavier make up and all looked great! We all got airbrushed which was awesome! By the end of the night my make up still looked fresh like she had just applied it and my hair was still perfectly placed!! I couldn't have asked to work with a better artist!! - Very Happy Bride
---
Stacey Frasca is the bomb!!
Reviewed on

7/07/2015
I got so lucky that Stacey was available on my wedding day, she and Jill (hair stylist) was everything that I hoped for. I showed Stacey a picture of my ideal make up finish and told her what I wanted in a sentence or two. At the end, she got it and delivered!! My hair and makeup was perfect. I couldn't ask for more. Stacey and Jill were very professional, attentive, and kind. Thank you so much, Stacey. To those who are looking for make up artist, Stacey is the best!! She's very talented and knowledgeable about her profession. Thanks again Stacey! ❤️April
---
best make up I have ever had
Reviewed on

6/23/2015
lauren c
Stacey was beyond amazing. As a bride, you want to feel the best you possibly can on your wedding day. Stacey not only kind and great to work with, she is beyond amazing at her job. Her work speaks for itself. I received so many compliments on my make up and all my bridesmaids could not believe how good everyone came out! It is hard to let someone else do your make up, especially for your wedding day. I know as a bride, you get nervous. With Stacey, you don't feel any nervousness. I trusted her completely and was so happy with the results. It was truly the best day of my life and Stacey helped me feel the most beautiful I have ever felt. She enhances the best part of you, but yet it still seems so natural and beautiful. Thank you Stacey! I highly highly highly recommend her!! I wish she was available to do my make up daily :)
---
Stacey is amazing!
Reviewed on

6/14/2015
Danielle D
I loved working with Stacey and Jill. They are so professional, yet friendly and fun. They listened to what we envisioned looking like and then gave helpful suggestions. The airbrush makeup stayed on the whole day and night, despite many tears of joy and lots of dancing. I highly recommend them.
---
Best Hair/Makeup Duo Ever!
Reviewed on

5/26/2015
Amanda T
One word. Wow. Stacey and Jill are absolutely excellent at what they do! I was so thrilled with my hair and makeup (as well as the rest of my bridal party). They were able to execute on the exact look that I was going for with ease. Not only do they do amazing work, but they're both such a pleasure to be around. They definitely added to the big day with their fun, enthusiastic personalities, attention to detail and overall organization. If you're looking for an extremely talented hair/makeup duo, look no further. You'll be very pleased with the work they do!
---
The Only Choice For Makeup
Reviewed on

5/26/2015
Jessica B
I cannot say enough great things about Stacey. Working with her, Jill, and the rest of the team was in one word, wonderful. They made my whole wedding party (10 bridesmaids, my mother, and mother in law) all look flawless. As for me, I don't think I have ever felt so confident and beautiful. They were on time for each person and even managed to squeeze someone in during the day, which helped this type A bride manage my nerves. There really was a sense of calm as I knew everyone was in good hands. They were all very professional, and managed to interact and help make the day that much more special. I recommend working with Stacey to every bride out there, you won't be disappointed!
---
Reviewed on

5/26/2015
stacey is amazing! she does beautiful makeup that enhances your own beauty - not too heavy and perfect for photos! She was also great about listening to my wants which made everything very comfortable! Most of all - she made the "getting ready" process so much fun. She has a wonderful and easy going personality that we all enjoyed! Thank you Stacey!! I felt so amazing the night of my daughter's Bat Mitzvah and so did my mom, daughter and sister!!
---
A more beautiful version of myself ;-)
Reviewed on

5/26/2015
Rachel W
Stacey is absolute perfection. I'm a total type A personality and hadn't had my makeup professionally done before, so I gave her lots of direction at my wedding makeup trial. She listened to me, but also politely guided me in the right/different direction, including a slight tweak to how I was shaping my eyebrows that I've gotten so many compliments on since. She also convinced me to try airbrush makeup, and I'm SO glad she did as it helped to cover up my horrendous under-eye circles and really sealed the overall look. I realized she was definitely a pro and I should let her do her thing, so when it came time for my wedding, I sat back and did just that. All I can say is WOW. She made me feel as beautiful as a model while still looking like myself. She also worked her magic on my bridesmaids and both mothers and everyone looked stunning as can be. Besides all that, she had a very chill demeanor and was a pleasure to have around as we were all getting ready for my big day. Thank you for everything, Stacey!
---
I looked like a movie star
Reviewed on

5/25/2015
Stacey Frasca and her teammate Jill Colwell are nothing short of AMAZING! I called on Stacey to do my makeup for my engagement party in March of 2014...after speaking with her I just felt comfortable and booked her immediately. I didn't know what to do for hair and asked Stacey, she suggested Jill and I went with it. Fast forward to the engagement party, I met the dynamic duo. Jill did my hair first and then Stacey started with her makeup. I ended up looking like a barbie doll. I had so many compliments on my hair and makeup it was unbelievable. For the wedding, I wanted to make sure I knew whom I wanted to do my makeup for all 3 days of my wedding. Stacey was always in the back of my mind, but I needed confirmation. I did some research and had a few makeup consultations, well many. Trial after trial no one was as good as Stacey and Jill - so I went back. Stacey was already half booked so it took a while to figure out if she could do it but she made it work. In the end Stacey and Jill made me look like a movie star NO JOKE - if you could only see the pics!!! They are the best hair and makeup team around....I was lucky to have them for my wedding.
---
wedding makeup
Reviewed on

4/02/2015
Sherry Y
Stacey was extremely responsive to my inquiry for makeup/hair for my wedding. Although I am not local, Stacey scheduled to talk with me over the phone, and was flexible with my schedule. I had looked at photos of her work on the website and was confident with her, so I placed the deposit and scheduled the trial session a day before my wedding. Stacey was very welcoming and listened to what I wanted for my makeup. She did two halves of my face different so I could see the effect and choose how heavy my eye makeup would be. She was very personable and talked me and my bridal party through her makeup progress. I looked like a princess after her work. She made everyone feel comfortable and is such a lovely person.
---
Absolutely perfect
Reviewed on

3/23/2015
Cassie M
Stacey is such a talented artist. I had three makeup trials and no one was as talented as Stacey. She is so professional and really made everyone look so incredibly beautiful for my wedding day. You will never look better! Book her. You will not regret it!
---
Amazing!!
Reviewed on

2/18/2015
Sarah R
Stacey and Jill are unbelievably talented and fabulous to work with!! I could not have been happier with my makeup and hair for me, my mom and my wedding party. I had a few changes with my makeup after my consultation with Stacey and without a flinch she knew exactly what I wanted. My makeup was absolutely perfect and flawless!! I also had chosen a hair style that was a little out of the ordinary and not only did Jill nail it, it looked gorgeous! They are both so easy to work with and so much fun to be around! To add to the excitement of a wedding day, the weather the morning of my wedding was to say the least, challenging, and they were there early, calm and totally ready. I had a great time working with these lovely ladies and I HIGHLY recommend them for any bride, mother of bride/groom and wedding party!!
---
The best!
Reviewed on

1/14/2015
Amanda H
Stacey and Jill were the BEST! When looking for a makeup and hair artist for my wedding, it was important to me to not only find 2 people who could make me and my bridesmaids look stunning (which they did, flawlessly!), I wanted to find 2 people who would add fun, laughter, and ease to a long day of getting ready which could otherwise be very stressful. My wedding day was completely stress free, and I know that is in large part to the confidence I had in them. From the moment they walked into my hotel suite, they were the most professional make-up and hair artists while remaining one of the girls. They helped everyone pick hair and make-up styles that were right for them and literally made everyone look like superstars. I couldn't have imagined a more perfect day. Thank you, thank you, thank you!
---
You will love Stacey and Jill!
Reviewed on

1/07/2015
Pam J
I would highly recommend Stacey to anyone! She did an incredible job on my make-up for my wedding! My bridesmaids and I all opted to do the airbrush foundation and it came out flawless! AND it lasted all day! I was really worried I would have to touch up during the day (I'm a crier), but my make up looked perfect from the ceremony to end of the reception, even through the tears! I don't usually wear a lot of make-up and Stacey was conscious of that when doing my make-up. She made me feel like an absolutely gorgeous bride without being TOO made up. My fiance and I did a first look before the ceremony. He had never seen me in anything other than a BB cream and mascara before and he was absolutely floored at how beautiful my make-up was. Jill did an awesome job on everyone's hair. My whole bridal party got so many compliments. I will definitely be using Stacey for any future events I will need a make up application for. She is seriously a make-up god.
---
Great jop!
Reviewed on

1/07/2015
Laura R
Stacey did an unbelievable job on my makeup. She made me look natural and my skin glowed. She worked with me to make sure we had just the write vision for my wedding, and I appreciated her taking the time to talk with me through my thoughts, as well as to provide her expert knowledge on how I would look my best. She is also charming and fun, and was a delight to spend time with on my wedding day. Jill did my hair and she was similarly wonderful. We went through a couple of options in advance, and she pulled off my vision perfectly. She was fun and thoughtful, and my hair lasted all day without a stray (and without it feeling like a helmet!). I urge all brides and bridal parties to use Stacey's services. They really were excellent.
---
Stacey is fantastic!
Reviewed on

11/18/2014
Katelyn M
Stacey and her team did an amazing job on my hair and makeup along with my bridesmaids! Stacey's airbrush application really makes you look flawless. She is a real pro who is really personable and nice! I couldn't have been happier with my overall look on my wedding day thanks to Stacey.
---
Stacey Will Make You Look and Feel Like The Most Beautiful Bride Ever!
Reviewed on

10/29/2014
Jenna A
Working with Stacey was amazing! From our very first meeting at our trial, I knew she got the look I was going for. On the wedding day, not only did Stacey do a wonderful job on the makeup for me, my girls and mom, but she had us all laughing. It felt like she was an old friend there for the party- I loved getting ready with her! Stacey made me look and feel the most beautiful I have felt in my entire life- I was absolutely elated with my wedding day makeup! Jill who works with Stacey did all of the girls hair and my hair as well- Jill was amazing and same thing can be said about her- she was singing along to Beyonce with us while giving us the most beautiful hair styles!
---
Stacey Frasca knows her bridal!
Reviewed on

10/27/2014
Jessica V
Stacey Frasca has a true gift.. She is an unbelievably talented makeup artist, who made me look and feel so beautiful on my wedding day! My makeup was outstanding along with my mom and bridesmaides. She knows bridal! After I got engaged, Stacey was the first appointment I booked! I've seen Stacey's work over many years and she was the only one I was calling for my bridal makeup. Not only is she great at what she does, but she's personable, likable and a true professional. My brother is getting married in August of 2015 and I'm looking forward to seeing Stacey again. The bride to be who is my very good friend is having Stacey provide the makeup for her big day. I would 100% recommend Stacey Frasca. I will always look back and remember how amazing I felt, how we all felt.. Thank you Stacey, I look forward to seeing you again! Love Jess
---
Stacey is the BEST!
Reviewed on

10/15/2014
Ashley M
Stacey did an absolutely spectacular job making my wedding day make up perfect. She was attentive, honest, and talented. On meeting with her originally, she listened to what I was going for and gave me her honest feedback. She was able to take the image I was going for an make it work for my face and style. Not only did she do a wonderful job with my makeup, she also made my wedding party look fantastic. When i ran into difficulty after having a horrible hair trial with another salon, Stacey quickly got me in the books for a trial with Jill Colwell. Her timeliness and understanding of my concern with this was thoughtful and eased my stress. I really was pleased with the way both my hair and make up came out, and would gladly suggest Stacey Frasca for others who are looking for a great make up artist to help them with their dream look for their event! I felt like the most beautiful version of myself on the day of my wedding, which is what i was going for! When I look back at pictures, I still love how I looked and only wish that I had Stacey to make me up on a daily basis ... or at least for weekends :).
---
Loved my make-up!
Reviewed on

10/06/2014
Stacey did my make-up for my wedding (as well as my mother's and a friend's make-up too), and she did an amazing job. We hired her at the recommendation of my photographer, and I'm so glad we did. Before my wedding we did a trial, and she showed me how things would look on the actual day. She listened to what I wanted, and did fantastic work. On the day of my wedding she showed up early; she was professional, very kind, and clearly talented. My make-up stayed in place all night, even long after my dress ripped and my shoes came off. The false eyelashes she used were amazing, very natural looking. I'd recommend her without hesitation.
---
Wedding Makeup ARTIST
Reviewed on

9/27/2014
Amy S
Stacey did an AMAZING job last weekend. Stacey made a schedule to account for the amount of time it would take to makeover each of my 5 bridesmaids, my mother, and me. She adhered to the schedule and all of my bridesmaids were in awe of how beautiful they looked by the end. (One of my bridesmaids has already booked her for her upcoming wedding in Boston this April, and another offered to fly her to Detroit in July). Stacey is the real deal. She even stayed to do "touch ups" for everyone in the final moments before we walked down the aisle. There's enough to worry about on your "big day" without the added stress of how your makeup will turn out. I wanted to look like myself, and Stacey made me look like the very best version I have ever seen. Her consistency is unmatched, as she did that for all 7 of us, to rave reviews. Some people "do" makeup, but Stacey is a true make up artist. She is as sweet and personable as she is talented: no challenge is too great, no blemish is too red. Assuming you've already got the man and the dress, Stacey is the last piece of the puzzle.
---
Amazing hair & makeup
Reviewed on

9/25/2014
Stacey was a joy to work with leading up to & on the wedding day. We did a trial run to figure out what looked best, and she took pictures and extensive notes to make sure that on the wedding day, she did exactly as we had planned earlier. Not only was she professionally on her game, but she was also a pleasure as a person - affable, fun, and did a good job of putting me at ease on the big day. She even showed up to my house about 15 minutes early! The makeup itself was everything I wanted, and it lasted throughout the entire wedding day & night. The hair stylist she works with, Jill, also did a fantastic job with my hair; she specializes in finger waves, and is a master at it. I highly recommend Stacey (and Jill) to anyone looking for excellent makeup & hair at a reasonable price (considering how inflated the market for wedding hair & makeup is). Can't sing Stacey's praises enough!
---
STACEY IS AMAZING!!!!
Reviewed on

9/17/2014
Any bride looking for flawless makeup on their wedding day should book Stacey ASAP! Stacey nailed exactly the look I was going for and made me look like the best version of myself. I had a larger party so I also booked Jill as a second makeup artist and she was fantastic as well. Both ladies are super talented, professional and just a pleasure to work with. Myself and my bridal party were all extremely happy with our makeup and it stayed beautiful the entire night. I am so happy with my decision to have Stacey as my makeup artist for my wedding day!!
---
Send Message