Home

Robyn Tornabeni Productions ~ Glamorous. Sexy. Hair.
Details
Hair Stylists, On-Site Hair + Makeup, Beauty
Contact Info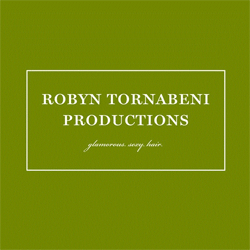 Reviewed on

12/08/2016
Julie S
Robyn did a rockstar job on hair for our wedding. We hired her to not only do my hair but also the bridesmaids and my mother. Everyone looked gorgeous! Even at the end of the night, after partying all night long, we all looked fabulous. She did a great job being creative on... Read More the bridesmaids styles, and was very professional! My planner had her arriving to start hair at 6:15am and she was knocking at the hotel door 6:00am. My mind was at ease knowing she was going to do some amazing things. I will be keeping her in mind for any and all hair needs for years to come :D
---
Reviewed on

9/18/2016
Amanda J
Robyn did an amazing job styling my hair for my August 2016 wedding (and wedding rehearsal). She is an incredibly talented stylist and takes the time to listen and understand your desired look, and then elevates that style into something even more special and gorgeous than you... Read More originally envisioned.
---
Robyn Rocks!
Reviewed on

11/20/2015
Anna S
Picking your glam squad can be a difficult decision. Let me put your mind at ease by telling you Robyn is the right pick! I changed up the style of my hair the day of the wedding (different than my trial) and Robyn did a flawless job! She set us shop at my house (which is SO... Read More MUCH better than having to go somewhere). She did a modernized version of a French twist - not only did it look amazing, it stayed in and perfect the entire night! She also did all of my bridesmaids and my mother's hair - a mix of half up, updos, and some down. Everyone's hair looked and STAYED amazing! I HIGHLY recommend Robyn!
---
BOOK HER RIGHT NOW!
Reviewed on

9/02/2014
Patricia B
Stop reading this review and call to book Robyn Tornabeni for your wedding hair right now - she is AN OUT OF THIS WORLD AMAZING SYLIST. Robyn is beyond talented. I knew this as soon as I went in for my trial. She was curling and pinning and teasing my hair into a beautiful do.... Read More Day-of, she transformed my hair and my bridal's party's hair with such ease. We had people with short hair, curly hair, impossibly straight hair - yet everyone ended up with hair fit for a royal wedding. And it stayed. My wedding up-do DID NOT MOVE for the entire day and night (and I danced my ass off at my wedding). I'm talking not a strand out of place. And my hair never does that! I can't tell you how many compliments I got on my hair. And every compliment was followed up with a comment on how well it was staying in place without looking hard or fake. Day-of, Robyn arrived early to our venue. She remained on time for hair (which in my experience as a bridesmaid had never happened before). She was flexible. She never complained. Day-of, I had a mother and mother-in-law who were making weird demands about where my veils should go ---quite unexpected--- Robyn remained entirely professional and respectful. Robyn also had this wonderfully calming presence about her that certainly helped keep me calm and relaxed. One of the best things about Robyn is her attention to detail and service. Robyn made me feel like I was her ONLY bride all year - and she was the only vendor that did this. She was so quick to respond to emails, so personal, and so attentive. She answered all my questions and had great advice. She texted me the night before the wedding, telling me not to worry, that she'd be there early to set up, and reminding me to hydrate (which was perfect because I admittedly was not doing that). She never talked about her other brides or weddings. She made me feel like the center of her world. And that really stood out. I could not have been happier with my hair on my wedding day. Thank you, Robyn.
---
Robyn Tornabeni - Excellent!
Reviewed on

11/17/2013
Tracy S
I got married October 20th, 2012 & after 3 trials with other hair stylists, I was getting to the end of my rope. I continued my search for a good stylist, someone who really knew hair, but I was starting to give up hope. Then I came across Robyn's website, I was so impressed... Read More and I thought finally this is a hair 'artist'. This is my big day, I had to try one more person! I emailed Robyn, she was quick with a response and we set up a time for a trial. Oh, am I glad I did! It was like the clouds parted ways and the sun shone through! She did exactly what I was looking for and it turned out beautifully. Robyn truly knows hair and is an amazing stylist. Not only that, she is very professional and was top notch every step of the way. She is a nice person too! If and when I have the chance to use Robyn again, I most certainly will! Sincerely, Tracy (Tracy & Matt)
---
Absolutely the best in Chicago!
Reviewed on

9/09/2013
Kristen
I have been married 2 years now and am STILL getting compliments on my wedding hair! I have referred Robyn to over a dozen of future brides because everyone who sees pictures of my hair and my bridesmaids' hair are very impressed. Not only is Robyn extremely talented, she is... Read More also a good listener. I'm VERY picky about my hair, and she went above and beyond what I had expected my hair to look like. She is up to date on styles and masters the classic updo that will never go out of style. I loved her so much that I decided after 15 years to leave my regular hair stylist and am so happy I did. Hands down, Robyn is the best in Chicago!
---
Look no further - She is the BEST!
Reviewed on

8/20/2013
Alexandra B
I was lucky enough to have Robyn for both my rehearsal and my wedding (and moving forward any other event I have). She came highly recommended not only for her expertise but also because of your personality. Let's face it a wedding can be a bit of an emotional time and making... Read More sure you have positive, wonderful people surrounding you is exactly what a girl needs on her wedding day. Robyn did just that and some. Her passion for hair shows in all she does, she is an exceptional listener and has the ability to adjust according to the feedback given. For me, I loved that I was able to come to her and let her do what she does best, make you look beautiful. She is truly a fantastic person whom I am so thankful to say was part of my special day. Thank you Robyn!
---
Amazing!
Reviewed on

8/07/2013
Erica P
Not only is Robyn amazing she is a fabulous stylist!! I loved my wedding do and she already knew what I was trying to convey with the style of my dress and wedding decor - it turned out perfect!
---