Home

Rush Photography and Video Productions
About this Vendor
Making Extraordinary Affordable
Rush Photography and Video is a traveling, Chicago-based company that thrives on creating innovative concepts for couples who want their wedding to have an exclusive appearance. Our signature concept sets us apart from everyone else. Check out our Schaumburg and Naperville locations as well!
Details
Digital Files, Wedding Albums
Contact Info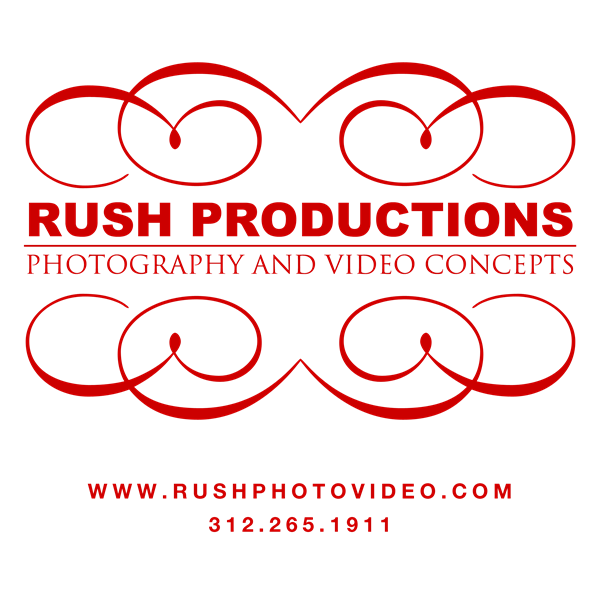 1610 S Halsted Street, Chicago, IL
A Little Bit Envious
Reviewed on

10/01/2013
Safia E
I was my best friends GO TO person on her wedding. I woke up by her side and had her back during every moment of her wedding. I was able to see Rush Photography work it's magic all day--they worked harder then me...which is almost impossible. I watched all 6 members of the crew seamlessly capture her wedding without a hitch, each of the photographers or videographers worked invisibly capturing all the moments of her 600 person wedding. I have to say as I stood there and watched Rush take the lead at her wedding and direct the bride and groom during these precious moments I felt a pang of jealousy. I got married the year before and I wasn't able to book Rush Photography. Rush gives you the guarantee that they will take care of you on your special day, they give you the confidence to enjoy your special day and not focus on all the details because they're more keen on detail then you are. I've never seen more professional photographers then I have with this studio. I always tell my husband that when I get re-married...I'm using Rush ;). I remind him every time someone pops in our wedding tape that he should have listened to me when I wanted Rush. I'm sure he feels the same way now.
---
Exceeded expectations!!!
Reviewed on

10/02/2013
Pam J
I heard so many great reviews about Rush photography and video while planning my wedding. My first thought? Nothing can be so great. I have had my fair share of dissapointment while wedding planning. I have to say Rush and his team saw to it that everything I had dreamed of turned into reality. Me and my husband are a fun couple and we really wanted that to be a prominent feature in our wedding. We kept thinking of different ways to entertain our guests during dinner. Rush helped turn our vision into reality by creating a skit that perfectly depicted who we are together . We loved it and so did our guests. We just received our photo book. We knew we would love the photos. We didn't know that our expectations would be completely exceeded. I highly recommend Rush and his team for any couple that is looking for a very creative and professional team.
---
Photography and Videography
Reviewed on

10/02/2013
Latecia W
When planning our wedding, one of the most important things to us, was having great memories of our day. We knew we could only have this captured with a great photography and videography company. We met with several companies and we did not get a good feeling. Once we met with Rush photo and video we knew that they were the ones we wanted to work with. They worked within our budget and no hidden cost. They were on time, professional, and very courteous. We utilized their services for our engagement session, our wedding, and reception. The results are very beautiful pictures and video that our family will be able to enjoy for years to come. My husband loves the video so much that he watches it weekly. With the exceptional service of Rush Photo and Video you will be able to relax on the most important day of your life knowing that your special moments are being captured and a quality product will be delivered on time.
---
Rush Photography and Video - Wedding Review
Reviewed on

7/06/2015
Words cannot do justice to the amazing work Rush and his team did for us to make our wedding weekend so special. From beginning to end Rush have been nothing but helpful. We definitely noticed all the hard work and effort that was put in by Rush and his team. All the photographers and videographers did an amazing job each day to their best abilities. Rush Photography truly goes above and beyond to give you the wedding you desire. They fulfill your wish to the most of their abilities and we couldn't ask for anything more. We wanted to give a special shoutout to Roberto and Jesus for creating such lovely memories for us with the shots he has us pose for and the props he brought along. We will definitely be recommending Rush Photography and Video to our friends and family for the future.
---
Best photographer/videographer in Chicago
Reviewed on

4/14/2015
Amazing videos and photographs. We were absolutely blown away by how fantastic and HD our video was👌🏻. The attention to detail was phenomenal. They made our days super relaxed and enjoyable yet staying very professional. We loved loved loved everything❤️❤️❤️❤️. The highlights were a dream, exactly what we wanted. They are the best video/photographers out there. We would recommend them in a heartbeat and have so, many times.😀 Cannot appreciate them enough, they captured our special day enchantedly! 😍 Bilal & Marium
---
Great experience!
Reviewed on

11/20/2014
We met Miranda in the David's Bridal in Schaumburg and couldn't haven been more blessed by this encounter. My then Fiancé and I decided after two years of being engaged to fianally get the ball rolling on our wedding. we had spent weeks looking for a photography/videography company, but with such short notice no one was avaliable. Miranda found the time for us right away. She was so easy to work with! Miranda was kind enough to accommodate our very busy schedule and was very personable and kind. We used there photography and videography services and we got a great deal for the quality and friendly service they provided. Our photographer was so creative and patient. At one point he quickly brought us over to the window because the lighting was perfect for a shot he wanted us to do. That picture is by far our favorite. Rush Productions gave us more than we thought we would get and I would recommend them for any special occasion. I hope to one day to worked with them again! Oh, and Miranda took the time to come to our reception to make sure everything was flawless! This women went above and beyond for us. We're so thankful! -Mr. & Mrs. Suarez
---
Captured Every Moment
Reviewed on

10/31/2014
Diamond I
I absolutely loved working with Rush and his team from the moment I stepped foot in his office for a consultation. Rush was very professional, had examples of his work and really captured my experience to fit my personal needs. He treats everyone as an individual and gives excellent creative direction, as a first time bride I had no idea what poses I wanted or how the day of flow would work with pictures and video being taken. He was able to work with me within my budget by offering different packages to best fit my needs. I haven't seen the finished product yet but based on what my friends have said he and his team truly CAPTURED EVERY MOMENT! I would recommend any bride to work with him!
---
Perfect choice
Reviewed on

10/29/2014
Andrea A
I was looking for a photographer who could give me great quality when it came to the memories of my special day, with out costing me half of my budget! Rush did just that. My husband and I had two separate events we needed covered and instead of just telling us these are our packages we offer... He worked with us to customize an option that worked more than perfectly! We appreciated the package he created so much, it put me at ease for both of our events. And, when the time came our photographer was fantastic and the pictures were exactly what we asked for!! I have already recommended Rush Photography to my engaged friends and will continue to do so. Thanks so much Rush!
---
Rush & Team are top notch!
Reviewed on

10/28/2014
Melanie C
We hit it off with Rush in our first meeting. He's a down to earth guy, with a keen sense of what his clients are looking for. He has surrounded himself with a team of amazing people that have a unique eye and capture all the details. He is always available to answer any questions, and always provides a timely response. Aside from being a true professional, he and his team were a blast to be around on our actual wedding day! We had so much fun with the photography and videography team!
---
Our photos are AMAZING.
Reviewed on

10/27/2014
Yazmin N
Our photos are simply flawless! People often comment that they are the best they have ever seen of a wedding. Our photographer was Jesus who was prompt, professional, directive (in a great way) and very talented! We just followed his directions and our photos turned out no short of amazing. We highly recommend Jesus! Our only critique would be that of customer service before the wedding. The studio seems pretty busy and we didn't hear anything from them until a few days before the wedding when I contacted them. Otherwise, we are very satisfied with our service from Rush and highly recommend them for your special day! Bridal suggestion: Brides, write down a list of specific photos you want taken during the day to ensure they are captured!
---
Great Service! Great people!
Reviewed on

10/21/2014
Sophia G
I had such a wonderful experience with rush photography. Rush was great in helping us stay within our budget we had a large wedding two photographers and videographers. Any time I needed anything rush was there for me and easy to get a hold of immediately. We used rush photography for our engagement session and those photos came out beautifully and captured really sweet moments of us. We also used those photos for our save the date as well as for our rehearsal dinner invitations. The day of the wedding Jesus and Davis were a pleasure to work with very kind and made the experience so much fun! They were punctual the day of the wedding. They took beautiful photos of me getting ready as well with my parents. After the ceremony we took photos in pilsen. Jesus had such great ideas and made the shoot so fun for all of us. He was very patient with us and open to any ideas and places that we had in mind. Luis was our photographer for the reception and he did a great job in making sure we took enough photos with all my family and friends. The wedding day can become so hectic and luis was great with that. He captured a ton of great moments all throughout the evening. I can't recommend rush photography enough! I had a great experience with everyone. I can't wait to see the final product.
---
Loved them
Reviewed on

10/03/2014
Shabana K
Photographer: Luis He was amazing at everything -- and we loved working with him. The pictures aren't in yet, but we loved the service. And even now they keep in touch so we know when the pictures will be done. Would definitely love to work with them again for whenever I would need them. Great service and talent. The photographer showed us some preview pictures through text and we are way too excited to see all of them :)
---
Wonderful experience
Reviewed on

6/29/2014
Sarah A
For our traditional Indian / Pakistani wedding we had Rush Photography for all 3 days of our events. We worked with an amazing team that was clearly passionate about their work, which showed through in their photography and work ethic. We would highly recommend Rush, as they work with your budget and capture amazing memories through their photography.
---
Book with Rush!
Reviewed on

6/15/2014
Karina D
I would like to give the greatest thank you to Rush and his team for making my wedding day extra extra special! A very professional and great team to work with! They were always around to capture any extra special moments that were going on. The week before my wedding I decided I wanted a highlight video playing at my reception. Rush went above and beyond to fulfill my needs to give me my highlight video and let me just say my guests were extremely WOWED!! It gave my wedding that extra pop!!!!! I would also like to give a special thanks to Luis, one of the amazing photographers. He was very creative in capturing all our special moments from our engagement session and most important to our wedding day between my family, bridal party, and Myself . From the morning, evening, and until the night Rush video and photography was working consistently to ensure this day will be remembered forever. If you want someone great to work with, Rush and his team are the ones to go to! Thank you Rush, I could not thank you enough for making me the happiest bride ever and feeling like a rockstar!!!!
---
WOW!!! - Rush Photo & Video
Reviewed on

6/04/2014
Where to start... We were a bit skeptical because we from the same ethnicity are used to using the same vendors (two or three notable ones) and we don't like change. We came across Rush and we walked in. He greeted us and made us feel at home right away. From the moment we sat down, he showed us his services and what he can do and fast forward a year and half later....... NO REGRETS!! From the planning to the communication, everything was excellent. He is a man of his words. Whatever he says, it happens and happens with complete perfection. He promised us that he would not disappoint and it showed. The crew is absolutely amazing and they are the nicest people and are willing to work with you. We took engagement pictures by the sky line and it was phenomenal. It was absolutely gorgeous and not to mention very windy but the crew made it work!! The hinnah, which is a common "event" is a mini wedding party just for the women. The crew showed up on time and actually early, snapping photos of everyone and anyone that we wanted! They were so nice and complimentary, it was just right. The best of the best is for last, the wedding and slideshow. WHERE TO start!! The wedding was so beautiful and it started with Rush & his crew. From the morning, to taking wedding pictures to the banquet. The crew was with us every step of the way and boy did they take pictures!! Also, the "JIB", which is a must get with RUSH.. had so many people amazed and wow'ed. Who needs those still cameras that keep falling when you now have the JIB! All in all, Rush Photo & video so awesome from start to finish. At the wedding, many individuals asked about RUSH and his number/address and we did not hesitate to give them what they wanted to know!!! GO RUSH AND THANK YOU SO MUCH!!!
---
B-maid zilla
Reviewed on

10/02/2013
Nesreen A
As one of the bridesmaid for one of my best friends wedding. I was very impressed with the Rush Productions staff. They came across very professional and appreciated the time they took to take pictures of me and my family. When I saw their highlight video on facebook, I was blown away.
---
Excellent photo and video service!
Reviewed on

10/02/2013
My wife and I used Rush Productions for our video and photo needs for our 2 day wedding as well as engagement photos. The entire team was excellent to work with from the day we started discussing what we would like to do in our engagement shoot, to the actual shoot (our photographer was very accommodative to our location/pose requests), to planning for the wedding weekend and the editing after the wedding. The entire photo and video team was flexible to allow us to be as little or very involved we wanted to be. I highly recommend them!
---
My Big Fat Greek Wedding
Reviewed on

9/30/2013
Rush Photography and Video Productions truly captured the magic of our wedding day experience! Their quality, professionalism and vision are unmatched! The best were the private and/or candid moments that you get to see after the fact - the photos and video really make the memories come to life! Thanks Rush!!!
---
Wonderful!
Reviewed on

9/28/2013
Fatima S
I got married in July and had the traditional 3 day Indian wedding. Rush and his team did an amazing job with the photography and video. They captured all the intricate details that are so important in Indian weddings. They truly cared to learn and do their best. Overall I felt like Rush treated me like family and his team made my wedding dreams come true!
---
Excellent Service!!!! Would highly recommend!
Reviewed on

9/27/2013
Lili S
SO we used Rush photograpy for my bridal shower and our wedding. Everything turned out absolutely amazing. We had a large wedding which called for 3 videographers and 2 photographers. Everyone was so friendly. They made my day go smoothly. Even though we had quite the wedding party size, they did a great job capturing many candid moments as well as getting just about everyone in a photo. It was the one aspect of my wedding that I didn't have to stress about. My guests even complimented on how professional and organized my photographers and videographers were. When I got my pictures, albums, and DVDs, I couldn't have possibly been more pleased.
---
Rush photography did a phenominal job at my son's wedding
Reviewed on

9/27/2013
Tasneem o
We wanted the photography to reflect our multiple identities, ie. American, Muslim and Indian (Hyderabadi), Rush and his team met with us and asked the right questions until they knew exactly what we wanted. Since this was the first wedding in our family, we did not know how the whole process worked, but Rush walked us through very patiently and magically made it happen. They had more photographers on site than they had committed to, thus providing the coverage that was needed. We engaged Rush for both photography and videography and both turned out amazing. Rush, thank you so much for capturing the special moments at my son's wedding and delivering a product that we will cherish for many generations.
---
AMAZING Photography!!
Reviewed on

9/27/2013
Nura J
My husband, and I recently got married June 2nd. Rush photography did our photos/video for our two day event, and we also got engagement pictures. We were blown away by the their work!!! They are professional, patient, always on time, polite, and most of all Talented in every way! We had the pleasure of working with Rush, and Jesus. The team members that I have dealt with through email are also very helpful, and willing to do what ever it takes to make their customer happy! Could not have asked for a better experience, or quality of work. We now have amazing photos to last us a lifetime of memories. :)
---
Photography and Video
Reviewed on

7/12/2013
Yara H
This company was referred to me by a close friend and I have seen their pictures and videos and they were amazing. For those of you that are muslim, hijabis and want to have a trusted photographer and videographer this is the place to go. They are highly professional and accommodating. The photographer Cathy was just so sweet and highly dedicated. And the deal is great as well.
---
Extremely happy!!! Highly recommend!!!!
Reviewed on

2/28/2013
genie t
I used Rush photography for my wedding..I got the whole package with pictures, video, photobooth, thank you cards and shower invites they were wonderful...the staff, was very friendly and helpful..fast service also...The design of my shower invites and thank you cards were awesome, they did such a great job..I was extremely happy with everything and highly recommend them...I compared prices and they were the best overall...I recommend having The photo booth it was lots of fun, my guests loved it..The owner was very nice he accomodated me so much..
---
BEAUTIFUL!
Reviewed on

10/22/2012
Niki P
The photgraphy and video team at Rush are not only professioanl and experienced, they know how to capture the BEST and MEMORABLE moments that you will treasure forever! Punctual and organized...you will not even notice their presence as you are preparing with your wedding party or even during the reception. Rush did our engagement photo session as well as our wedding...fabulous photos! The Wedding Magazine is very unique and of high quality for a reasonable price. Best idea for wedding invitation...people are still talking about it!
---
Send Message