Home

Saguaro Buttes
About this Vendor
Saguaro Buttes offers an all inclusive, elegant wedding and reception venue nestled against the world famous Saguaro National Monument. Our newly constructed air conditioned banquet room has 360 degree views, which offers multiple opportunities for your romantic sunset pictures.
Amenities + Details
Amenities
Handicap Accessible

Indoor

Outdoor - Not Covered

Reception Area
For more details about amenities, please message the Venue.
Contact Info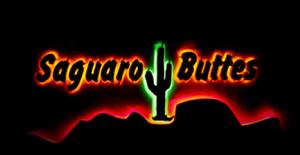 5825 S. Old Spanish Trail, Tucson, AZ
Saguaro Buttes is Great!
Reviewed on

5/10/2014
Jamie W
From the initial tour of the facility to our actual wedding date, the staff at Saguaro Buttes was warm and friendly. They worked hard to meet our needs and walked us through the entire wedding process. We loved their DJ, Rashid. He was funny, quick on his feet and excellent at his musical selections for our audience! The grounds are absolutely lovely and the food was very tasty. I would highly recommend this facility to anyone having a large party and/or wedding.
---
We had the best experience!
Reviewed on

10/08/2013
Stefanie M
The staff made the wedding process as stress-free as possible and were extremely helpful every step of the way.
---
A Night the Salgado Couple Will Never Forget!
Reviewed on

8/12/2013
Lisa V
My wedding day, night is a moment I will never forget. Paster Dave made my service beautiful, funny, and memorable with every detail from the moment I caught eye of my husband, to when he proposed, to setting the scene of our first tour at the Buttes to all the bible passages to just a beautiful service. Saguaro Buttes is beautiful and romantic. The true beauty of the desert during the day and the lights at night and sounds the place to the amazing monsoon sunset that evening it was just breath taking and not to forget a never invited guest a rattle snake. D.J Rashid set the theme of the whole evening. he is amazing and we loved his energy and enthusiasm. We had the fajita mexican buffet it was delicious. The whole room set up for the bride to get ready and groom was perfect. Natalie, Cindy were very understanding and patient, everyone else who helped made my wedding night the most amazing day of my life. If I had to say one thing they need to work on in the future would be during the heat or monsoon season and the bridal party wanted butter cream cake and 100 cupcakes that the venue temperature be set to the appropriate settings and not placed in front of the sun and the window opened near it! I have to say this is the place to marry or just throw a fun party check them out you will be happy you did.
---
Good Venue
Reviewed on

4/23/2015
This venue is beatiful and everyone there is very friendly and helpful. I went with the conscierge package (included my flowers, cake, and photographer). I wouldn't recommend this only because of the service I got from the flower and cake. The flower person forgot what I wanted and had to call and she still got it wrong the day of the wedding! Awful. The cake person gave us the wrong flavor of cake on the wedding day! Awful. However, the venue was great and always got back to me quickly and it was beautiful.
---
Saguaro Buttes Review
Reviewed on

4/21/2015
Megan F
I got married at Saguaro buttes in April 2015. I was on my own as far as planning went, without the help of any family or friends so I felt the pressure! I really relied on Cindy to help, and she was very nice. However she seemed to be very unorganized. She over-charge me twice, and it was hard to get a meeting with her. I think she needs to hire an assistant for the office part of it because her and her husband take it all on themselves. I'm very organized so this part drove me crazy... Other than that the venue was absolutely beautiful! On the day of the wedding, all of the workers were super helpful and organized and made me feel at ease the day of the wedding and everything went smoothly! The DJ was so fun and made it fun for all the guests. I received so many compliments on everything I was very pleased! I am happy I chose saguaro buttes to get married. It was just the beginning chaos that I dealt with that made it more stressful than it should have been, but overall a great experience and I highly recommend this venue. One more thing that did put a damper on things is the food tasting for their catering company was not as I expected. We wanted to do an Italian menu and they only had lasagna to try and not any of the pastas or other Italian options so in the end we just chose chicken since we were unable to try the other food.. Just a heads up! Also, many of my guests at least half of them got very sick the weekend after my wedding and we believe it was food positioning.. Nothing anyone can fully control but it was horrible hearing how many people got sick! The food was however very tasty it was just an unfortunate thing that happened! Otherwise great experience. Dave the officiant did an amazing job of making the ceremony very personable and special I received many compliments about that as well!
---
12.13.14 Wedding 100% Stressfree:)
Reviewed on

3/05/2015
Our Wedding was Beautiful & stressfree.The Pastor's Dave & Cindy are the owners they are amazing at what they do & they truly love what they do.From the Moment we chose them for our wedding venue the preperations were completly stressfree & Our wedding was Beautiful and relaxing we didnt need to worry about anything at all.Our out of State guest Loved the Beautiful Views, they said they were Breathtaking. Im always sharing with my Co-workers if i can do it all over again i would atleast once a year:) They even provide you with Pre-marital Classes which are highly recommended. Sincerly MR&MRS Mauricio&Jessica Gutierrez Chavez God Bless You and Your Marriage Until Death Do Us Part.
---
Amazing but avoid the 2k concierge package!!
Reviewed on

3/04/2015
Kirstin S
The couple who runs this place was fantastic and you could tell that they really love what they do. Pastor Dave is the one who did our ceremony and he was light hearted, and customized the ceremony to be completely "us." We got SO many compliments on it! The natural beauty of the area was a great backdrop and being in the middle of nowhere ensured privacy! It is very pricey but the food was amazing (we had the italian menu with lasagna and chicken fettucini.) They will offer you a $2000 "concierge" package which will include flowers, cake, and photographer. This is the only thing I could really downgrade them on and is why I can't give 5/5. I would suggest NOT purchasing this package because the florist and cake company they use are a pair of sisters who are complete idiots who messed up my flowers AND my cake and left us scrambling last minute to make fixes. The DJ who is included with this venue (Rashid) is AMAZING at keeping the reception rolling after the manager Cindy has left for the evening. The night manager also was helpful but Rashid really took over and wrangled everyone to the dance floor when they were congregating outside, and he kept things moving. He played amazing music and was very intuitive based on what we told him we liked. Overall this venue is amazing. Any bride who gets married here is guaranteed to feel like a queen. They will treat you well, cater to your needs, and do everything in their power to make your day special!
---
Saguaro buttes
Reviewed on

1/06/2015
Kara N
My wedding was perfect! I honestly did not encounter one major problem with the service of Saguaro Buttes. The dj was not able to play our first dance song at first and was very apologetic. He worked diligently to get it to work after dinner instead of before dinner. That was the only problem we encountered, and it was promptly corrected! We got married on 12/20/14. We chose the gold package with the additional concierge package. Everything was exactly how I wanted it to be!
---
All around awesome!
Reviewed on

11/02/2014
Kimberly C
We got married at Saguaro Buttes in May 2014. Our out of state guests enjoyed the beautiful desert backdrop, and the ability to move around the property throughout the evening. From a wedding planning perspective, Cindy and Dave are awesome. They have taken the guess work out of planning weddings for their couples. They were respectful of our wishes (sometimes parents chime in a bit with conflicting thoughts!), always professional and prompt with communication and information requests. If we had to do it all over again, we would absolutely get married here again...hands down. Some out of state family members indicated concern when they saw the map, saying "it's so far out". Due to the large amount of out of state guests we arranged for coach transportation to and from the hotels with no issues or concerns. Overall, can't say enough about Cindy, Dave and their awesome team.
---
Perfect wedding venue!
Reviewed on

10/21/2014
Caitlin S
My husband and I had a long engagement – about 2 years and we started searching for a venue over 18 months out. His parents live in the Phoenix area and wanted to be a part of searching for venues so I arranged about 5 appointments with various wedding venues around Tucson. Saguaro Buttes was the first we visited and it left a lasting impression with us – there was no doubt in my mind, my husband's, my parents', his parents', etc. where we would get married. Since we knew we'd be moving out of Arizona after we were both done with grad school we wanted a venue that held all the beauty of the desert that we would miss --- Saguaro Buttes backs up to Saguaro National Monument East and you cannot ask for greater views of the southwest landscape! The staff at Saguaro Buttes was easy to communicate with and a pleasure to work with. Their caterer was AMAZING and our guests thoroughly enjoyed all the appetizers during cocktail hour and the entrées. They allowed us to bring in our own desserts and pre-ceremony treats (Eegees!). With them you can completely customize your dream wedding! On the day off, the ceremony went off without a hitch. The staff was extremely professional and we never had to worry about a thing. DJ Rashid was energetic, fun and tailored our reception to what we wanted. We couldn't have asked for a better, more perfect wedding day!
---
Beauty in the Desert
Reviewed on

8/01/2013
Leanne S
This is a great venue with breathtaking views. One of the things I really liked about this venue is that there are no hidden costs or extra fees that you will have to pay. The staff were very helpful and attentive to my needs as a bride in the planning process and also for my big day. I would recommend Saguaro Buttes to any future couples for their big day.
---
A Dream Come True
Reviewed on

7/15/2013
Krystel Q
I just got a wedding highlight video of my wedding last night and as I watch it, I am transported to that beautiful night I had a Saguaro Buttes! I had so many compliments on my wedding and the location was perfect! The gorgeous scenery, the details, the food, and the staff were all amazing and made my wedding a dream come true!
---
Love at the first sight!
Reviewed on

6/11/2013
Linda T
I just moved to Tucson and Desert is a new things for me, that's why we decided to have it as our wedding theme. Checked couple of venue, nothing was really impressed us, but the moment we drove through the Saguaro Buttes site, our breath was taking away, It was gorgeous and I am really sure my family (they are from out of country) will have a new experience with beautiful view like that. After talking with Cindy, we knew we want to get married here and decided to book our date. Cindy was really sweet, helpful when we got stuck on decision, patient even we changed the plan couple of times, care and very professional. You will get your email replied back on the same day you sent it out, that's how responsive they are. It was raining on the day but Cindy and the crew could handle everything. They had second or even third plan on every situation occurred. We also got Pastor Dave as our Officiant and no regret He is the best. From the counseling session to the day, He always could get the fun and happy moment around but maintain the sacred moment of the Ceremony itself. The value we paid is beyond on what we got. If I have a chance to celebrate anything again, I'd love to find a reason to celebrate it at Saguaro Buttes.
---
Wedding Venue
Reviewed on

5/02/2013
Brent H
Fantastic view, wonderful facility, great staff. Loved every aspect of the venue.
---
Can I do it Again??
Reviewed on

4/22/2013
Natalie C
If I could get married all over again I would! Everything was perfect!!!!! Especially the staff!!!! Don't go anywhere else to have your wedding! =-)
---
Beautiful wedding
Reviewed on

4/11/2013
Jessica O
My wedding was absolutely beautiful! The service provided was excellent. I really felt like everyone who works there went above and beyond to make my day extra special. Cindy and her girls were always responsive to my needs and walked me through the process every step of the way. I couldn't reccommend them highly enough!!
---
Amazing
Reviewed on

9/07/2012
julia g
We had such a beautiful experience at Saguaro Buttes. The concierge service was fantastic. In one meeting we were able to meet the vendors, make decisions, and have the entire event planned. Cindy and the staff were so professional and accomodating. Pastor Dave officiated for us and we couldn't have been more pleased. He is engaging, funny, and very professional. We have received so many compliments on the entire event! Everyone involved and everyone that attended seemed very impressed. Thank you so much for making my day so memorable!
---
Best setting for a desert wedding!
Reviewed on

8/27/2012
Melissa G
We couldn't have asked for a better setting for our desert-themed wedding! Our outdoor ceremony overlooked Saguaro National Park, complete with towering saguaro cactuses and the beautiful desert landscape! The staff was more than helpful, very knowledgeable, and genuinely wanted to make sure that our special day was just that - special! I especially liked that we had a staff member specifically assigned to us during the entire event. It took a lot of the stress off. They made sure I always had a drink in my hand, brought us food from the buffet so we didn't have to get it ourselves, and made sure that we got to eat a piece of our own wedding cake (which I'm told a lot of couples are too busy on their wedding day to enjoy). Saguaro Buttes had reasonable price options and worked with us until all our questions were answered. I was not stressed out in the least on my wedding day because I was confident that SB took care of everything. They even allowed us to bring in Eegee's - if you're a Tucson local like me, Eegee's is near and dear to your heart. And it was a delightful addition to our hot, hot, hot summer wedding!
---
in love with this place
Reviewed on

8/04/2012
Dyanna H
the moment my fiance and i showed up to tour saguaro buttes, the people were so welcoming, excited to see us and took the time to get to know and our story, which we didnt get from most other wedding site's. the feeling we got while we were there made us feel so happy and giddy we knew that it was the place. they make everything so easy and stress free. they are so easy to get ahold of and always available to answer questions quickly. they made my wedding day beyond perfect. everything looked amazing, there is nothing i would have changed. i just want to relive that day over and over again. pastor dave is the funniest, most down to earth person as well. this place includes everything and its such a great deal! we have already gotten so many compliments on our wedding and the venue itself!
---
Saguaro Buttes
Reviewed on

7/19/2012
Monica W
great place to have a wedding/reception
---
Amazing!
Reviewed on

5/15/2012
Stephanie B
Saguaro Buttes was amazing! They were very helpful through the entire process. They made the wedding day stress free and enjoyable! They have an amazing facility with beautiful scenery! I would highly recommend them!
---
Dream wedding
Reviewed on

5/08/2012
Dayna S
I had the most magical wedding at saguaro buttes! The only downside is the venue is far! But we solved that problem with party buses. The staff was amazing and very helpful. The grounds are so beautiful especially for out of town guests'
---
Wedding
Reviewed on

4/07/2012
Kristin T
Saguaro Buttes was great. The venue had nice views and very comprehensive and structured staff. Amazing with details and my guest loved it. We had a night to remember. The only issues were our coordinator who we loved and the reason we went with Saguaro Buttes moved away. Also we requested a gluten free kids meal and my little cousin was served a regular plate. He became very ill. Overall a great experience I would recommend to all!
---
Best venue in Tucson
Reviewed on

3/15/2012
Lauren A
The people at Saguaro Buttes were amazing. They made sure that our wedding day was perfect. We were married last month and people still tell us how beautiful our wedding was and compliment the food and decor.
---
Beautiful but not
Reviewed on

1/31/2012
Yenniffer P
We visit this venue and was amazing how beautiful the desert looks from here but we didn't have a nice treat from the stuff. seems like they have too many weddings that they don't care about another one more.
---
Send Message