Home

Shaded Soul Band
About this Vendor
Shaded Soul Band
Shaded Soul Band is based in Connecticut and performs anywhere in New England at Weddings, Corporate events, outdoor concerts or any place there is a party to be had. Our music spans many different decades and our repertoire includes R & B, Motown, Funk Soul, Jazz, Reggae, Swing, Rock, Pop, Disco and Top 40. If you are looking for a high energy, fun, versatile band with a flair for style and sophistication you have found us!
Details
Flute, Guitar, Keyboard, Organ, Percussion, Piano, Saxophone, Trumpet, Vocals
Classical, Country, Dance, Disco, Hip-Hop, Jazz, Pop, R&B, Rock, Caribbean, Latin, Polka
After Party, Rehearsals + Parties, Ceremony, Reception, Wedding
Live Music, MC Services, Sound Equipment, Music
Contact Info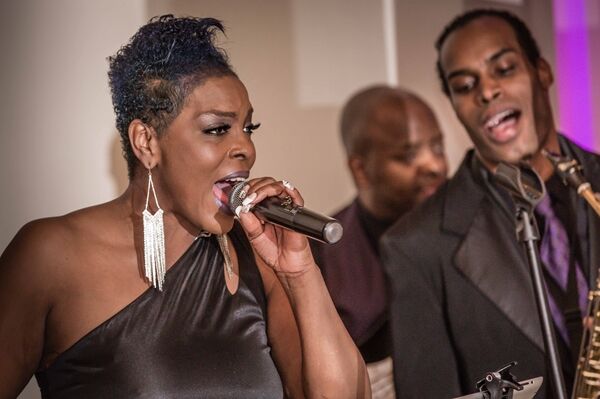 Reviewed on

10/18/2017
Joseph S
The Shaded Soul Band were absolutely incredible at our wedding. My wife and I never left the dance floor, and the dance floor was packed with people smiling, dancing, singing, and having the time of their lives, the entire night. As a musician and music lover, I put a lot of... Read More time selected songs I wanted from their website repertoire, and I even politely asked Renee and the band to learn a few that were not in their repertoire. They absolutely delivered, and made our wedding the magical, insanely fun experience it was. I even got to sit in on trumpet with them, and the saxophone player and I were nailing some horn section parts before I took a trumpet solo. Shaded Soul Band are very reasonably priced, but most importantly, they really turned our wedding experience into one for the books. All of our guests came up to us and could not get over how amazing our band was. I would recommend Shaded Soul Band to any future bride and grooms looking for a band. Having a band was so important to us, as a DJ jsut can't capture the same energy and magic, and Shaded Soul are the perfect wedding band. Their band-leader and keyboard player, Renee, is lively, energetic, charismatic, and even raps! Their singers are all fantastic, particularly Adrian, who has incredible range and power. The sax player is incredible, as is the bassist. Really, all 8 of them are amazingly talented musicians. I actually plan to see them again a future shows of theirs, they are THAT good. You should all definitely book them for your wedding or event.
---
Reviewed on

7/19/2017
Beverly F
As the mother of the bride everything has to be top notch and fabulous...Shaded Soul Band did not disappoint! Unbelievably fantastic! Could not have imagined any other band for our daughter's special night Everybody was raving about them and everybody was on the dance floor!... Read More Such a variety of music.! Renee and Shaded Soul are so talented, pleasant and easy to work with. Thank you for making our special night so fabulous!!! We would give you a billion stars!!!!
---
Reviewed on

1/20/2017
Lucas S
We got so many compliments how amazing the band sounded at our wedding! We had a trio perform for cocktail hour and the full band for the reception. Our first dance song was 'All of Me' and they nailed it! They also learned a special song that my father had requested for the... Read More father daughter dance song which sounded excellent as well.
---
Reviewed on

10/27/2016
Roxanne I
To say Shaded Soul is a great band is an understatement . . . they're fantastic! I first heard them years ago at a wedding where the couple's first dance was "At Last" and never forgot them. My son's wedding was this summer, he and his bride were looking for a band, and I... Read More said Shaded Soul was the one. Renee was wonderful to work with, even arranging for a last minute back-up for a band member who had a medical emergency. The band performs classic standards, to blues, jazz, pop, and current hits. Everyone was dancing from the bride's grandmother to the flower girls. Each musician and each singer are absolute knockouts! And, Renee remembered and saved the last song for me . . . At Last.
---
Reviewed on

10/24/2016
Terry V
Thanks to Shaded Soul Band our wedding reception was fantastic and our guests danced nonstop! We received numerous compliments on the performance and song selection. They are by far the best local band I have heard and its members know how to get a crowd moving! The band... Read More members are exceptional musicians and vocalists and perform a wide variety of songs. They even learned and played a special song for our parents that we requested. Renee is excellent to work with and made planning our reception easy. I can't say enough about Shaded Soul Band. Hire them, you won't be disappointed! We enjoyed them so much that we attend local events when they are performing and can't get enough of their positive energy and talent.
---
Reviewed on

10/24/2016
Amanda M
We hired Renee and Shaded Soul for our reception, and a year later our guests are still raving! The absolutely made our day. They have a huge catalogue of music that they know, and are incredibly talented. Renee was very easy to work with while organizing our timeline and day of... Read More details. We highly recommend them, and can't wait until the next event where we can dance to their music.
---
Reviewed on

10/18/2016
Christine O
Best band around! Shaded Soul played at our wedding last October and helped make our wedding the perfect day we had always dreamed about. They were prompt and professional, and if you've heard them play, you know they are also extremely talented and a ton of fun. My husband and... Read More I had seen them perform on multiple other occasions before our wedding and were impressed every time. Once Shaded Soul starts playing, your guests will start dancing, and they will not stop until it's over... and if your guests are anything like ours, they will start chanting "ONE MORE SONG! ONE MORE SONG!" when the end of the night rolls around! I highly recommend Shaded Soul to anyone and everyone. Thank you again for making our wedding SO MUCH FUN!
---
Reviewed on

10/18/2016
Bonnie Rose S
I wish I could give Shaded Soul 500,000,000 stars for their review!! I cannot say enough glowing things about Shaded Soul. They are absolutely masterful musicians who infused our whole reception with joy and happiness from beginning to end -- every single guest was up and... Read More dancing with giant smiles on their faces for the entire night (and I have the photos to prove it!). It was such a wonderful and incredibly easy experience to work with them to set up our first dance song, as well as the father/daughter and mother/son dance. I honestly didn't have a singly worry or care about any of it -- they are so flexible, professional and talented that working with them was an absolute delight. All we had to do was show up, everything else was handled beautifully! The songs were amazing, and the energy from the whole band was incredibly positive and joy inspiring. I know most of my friends would get married again just to have an opportunity to wear their wedding dress again -- not me! I would get married again just for another chance to hire Shaded Soul!! They are the BEST. On a side note, we just had our first baby and we can't wait to take her to hear Shaded Soul at one of their future events. As I said, 5 stars is not enough! They are deserving of so many more.
---
Reviewed on

10/11/2016
Heather E
Most Awesome Band Ever... The band was absolutely amazing, all the songs they played sounded great, as well as a great variety, from older songs to modern. Phenomenal singers and musicians - not something every band has. Renee was awesome to work with, and very... Read More detail-oriented. She sat with us ahead of time and took the time to make sure we got all the songs we wanted in the correct order. On the day of the wedding, while myself and the bridal party were at the venue getting ready, she kept on touching base with me before the ceremony to make sure everything was going according to schedule. Since it was raining and POURING that day, and the ceremony was supposed to be outdoors, a few things had to be tweaked in the program for it to happen indoors. Renee talked to me and made sure this went smoothly as well with regard to the music. She even played a special surprise song at our request for a couple of special friends of ours, and added that seamlessly into the program as well. We just celebrated our four year anniversary and people STILL talk about how great our wedding was, particularly the band! Heather and Hugh E.
---
Reviewed on

10/10/2016
Amy R
Shaded Soul made our wedding night amazing! Our guests were dancing the entire night! They played a variety of songs that everyone enjoyed. We would highly recommend them as a wedding band. We are so glad we went with them!
---
Reviewed on

10/05/2016
Kim L
I do not have enough amazing things to say about this band!! Renee Prescott was phenomenal and made the day so special! She sat down with us and made sure all our wants were covered and made sure that the night went how we saw it. During the ceremony, she set up speakers to... Read More play some custom tracks that we wanted during the ceremony and she flawlessly integrated them within the readings and vows. She was also able to set up music during the cocktail hour as well. During the reception, everyone was on their feet! The 8 piece band sounded amazing in our venue. They were not too powerful for the place, yet the sound filled the room. The saxophone, the drums were incredible! As I danced the first song with my wife to "At Last", I could have sworn that I was listening to the real track, yet it was the incredible vocals of the lead singer and her back-ups. They played all our favorites, from Stevie Wonder to Bruno Mars. I was so happy we were able to have a band at our wedding and she made it affordable and top of the line. If you don't give them a listen you will be missing out!
---
Reviewed on

10/05/2016
Kara L
The Shaded Soul kept our guests out on the dance floor all night long. We couldn't have asked for a better band to have at our wedding.
---
Reviewed on

9/26/2016
My daughter's wedding was cancelled. I was so looking forward to having Renee and The Shaded Soul Band at our wedding. The band was highly recommended to me and I had only heard them on their website, but I was very impressed with what I heard. I was also very impressed with... Read More Renee, the band's manager. I knew she was going to do everything she could to make my daughter's wedding a memorable event for my family & friends. When I called to cancel the wedding, Renee was genuinely sorry. What's more, she even refunded my deposit! Her comment to me was' you are suffering enough, you shouldn't have to lose a ton of money too.' Renee's heart matches her talent and if I ever have occasion to need a band, Shaded Soul Band is the first one I will call.
---
Reviewed on

8/10/2016
Paige S
LOVE this band!!! Renee and The Shaded Soul Band made our wedding reception the party of the year! All of our guests enjoyed themselves...and yes, the band's high energy, crowd interaction and amazing talent got EVERYONE on the dance floor! Working with them was... Read More effortless...Renee saw to every detail and made sure we had nothing to worry about. The band is so personable, we felt like they were long-time friends and we truly enjoyed working with them. Three years later, we still keep in touch and follow them on Facebook. We currently live in Florida and have actually gone back to Connecticut to see them perform at a public event in Hartford! I would highly recommend hiring The Shaded Soul Band for your wedding if you want to ensure your guests will be raving about the incredible music and how much fun they had! I guarantee we will be having an anniversary party in CT, just so we can have The Shaded Soul Band entertain our family and friends again!
---
Reviewed on

7/31/2016
Jennifer B
These guys were unbelievably phenomenal. We could not have asked for a better band for our wedding. Renee was professional and accommodating, and had no problem handling the changes we needed to make the day of the wedding. And the band itself was so talented... Many... Read More people came up to us after the wedding ended and said how great they sounded. Would highly recommend them!
---
Best Wedding Band in CT
Reviewed on

12/01/2014
Ana L
Shaded Soul was such an amazing band to have play at our wedding. It's not every day that you get 8 talented musicians who are incredible at entertaining as they are. Renee was fantastic. She meet with us several times before hand to prepare us and review all the details.... Read More She's also the lead singer and knows how to read a crowd. She was right out there with my crazy family and in-laws on the dance floor having a ball. We truly feel blessed to have Shaded Soul play at our wedding and we highly recommend them. Thank you Renee! Kevin & Ana
---
I can't say enough good things...
Reviewed on

10/25/2011
Sarah R
Shaded Soul Band was the main reason why our wedding was so spectacular. They know how to read an audience and figure out what music they want to listen to. They know how to deal with children and adults alike, and know how to get a party started! People are still raving about... Read More how much they loved the band! Their music is also quality as well. They are a very talented band that knows how to play their instruments beautifully. Working with them was an extreme pleasure, and they try their hardest to make sure that you are getting exactly what you want.
---
Review for Shaded Soul Band
Reviewed on

5/10/2010
Jennifer M
Great band, wonderful music, had the dance floor packed all night
---
Meet The Owner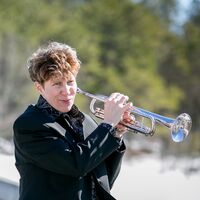 Renee Prescott
In this day and age of automation Shaded Soul Band remains grounded in the philosophy of establishing a personal warm and professional relationship with each and every client in "real time". We listen to your ideas, concerns and desires and make it our mission to create the event of your dreams!