Home

SoCal Christian Weddings Officiant
About this Vendor
Christian Wedding Officiant & Premarital Counselor
Together we fully customize your wedding/vow renewal ceremony to reflect the uniqueness of your relationship in a way that engages and inspires your guests! My many years of pastoral experience reassure nervous couples to help you enjoy your day; my detailed planning with you ensures the very best photos of your ceremony to enjoy for years to come, and safeguards against unwanted surprises. Relax, share the love, and enjoy the day, I've got this for you! Able to speak portions of your ceremony in Spanish or German. Serving all Southern California. SEPARATE OPTIONS: --Premarital Counseling: 3 sessions of 90 minutes using insights from America's #1 Relationship Assessment tool "Prepare and Enrich." In person or via FaceTime/Skype ($400) --Music, sound equipment, photography
Details
Elopement, Religious Ceremony, Second Wedding , Vow Renewal Ceremony
Catholic, Orthodox, Adventist, Anglican/Episcopal, Baptist, Congregationalist, Holiness, Lutheran, Methodist, Nondenominational, Pentecostal, Presbyterian, Restorationist, Protestant, Quaker, Christian, Spiritual
Newlywed Life, After The Wedding, Premarital Counseling, Ceremony, Wedding
Reviewed on

3/05/2018
Johnathan R
My wife and I have been married before and we just wanted to get married and not have to concern ourselves with the burden of a large wedding. We simply knew we found the right person for the rest of our lives. We needed to tie the knot and our original plan for a pastor fell... Read More through. We were in a pinch and needed a fill-in fast. My wife contacted a reverend through an app she found. She made contact and moments later I called and was talking to the Reverend Jeff Saville. I am a retired Navy Chief and a doctoral student and I learned the reverend was a retired Navy Chaplain and a Doctor. Moreover, the location we chose was an on base church Rev. Saville had given sermons in before. I have to say, the Lord was at work and put Rev. Saville in touch with us and he seemed too good to be true. Rev. Saville was very nice, great sense of humor and as a messenger of the Lord, he was LOCKED ON. He explained how it all works and reminded us of what paperwork we would need to bring to the ceremony. He followed up after our phone conversation with emailed documents and assistance with our vows as we chose to create them ourselves. On the day of the wedding, my wife and I were running 30-45 minutes late as life would have it. Rev. Saville was already at the location and he was very patient. He opened the church and had it ready for us when we arrived. Once we arrived I had to explain that my shoes were not the proper shoes for the dress blues I was wearing because my shoes literally fell apart upon a test walk around the house. As it turned out, Rev. Saville had a similar incident happen with his shoes and he arrived in his camouflage uniform. He brought his dress blues and put them on but had green socks. Feeling better about my mistake, we agreed to just wear socks for the ceremony and this gesture brought levity. Rev. Saville walked us through the entire plan of what we would do and gave us options to conduct the ceremony. We followed his plan as it was great! Rev. Saville made not only my wife and I feel at ease but also our kids as well. He gave us words to live by during the ceremony and made our entire ceremony professional, meaningful, eloquent, and sincere. When the ceremony was completed, Rev. Saville took pictures for us and again included our children and made the picture taking, which can be boring for kids, a fun and memorable time. Our photos came out very professional and we appreciate him helping us with pictures. Overall, Rev. Saville's humility made our wedding memorable, professional, and in touch with what was happening with our tardiness as well as the shoe mishap. He rolled with each issue and turned it into a positive fun part of our memories. He went above and beyond to help us with all the things we thought were major and he made them seem not so bad which allowed us to focus on getting married. The last thing I wanted to thank him for was being accessible. He was always available and responded fast. Very impressed!! Thanks Rev. Dr. Saville!!
---
Reviewed on

10/25/2017
Michelle G
I actually found Jeff from Yelp. He had great reviews so my fiance (at the time) and I decided to give him a call. We were so happy we did! Jeff was AMAZING! Jeff married us on October 14, 2017. He was very easy to talk to and I appreciated that he wanted to meet us face to face... Read More 1st before the wedding. There he took notes about our relationship and my husband and my interactions with each other. He then put all this in our ceremony which made it very personal and special. He then went over the ceremony with us and we both loved his attention to details. He positioned us and instructed us on a few key elements that were beautiful in pictures! Jeff presented himself very well during the ceremony and broadcasted his voice very well! We included a cord ceremony and a wine ceremony in which we wanted to included in our ceremony and Jeff did such a beautiful job in both ceremonies! I had many guest came up to me saying Jeff lead a beautiful ceremony! I had others say this was the most beautiful ceremony they have ever seen. I would highly recommend Jeff to anyone! He was amazing and made our special day so much greater. Thank you again for everything Jeff!
---
Meet The Owner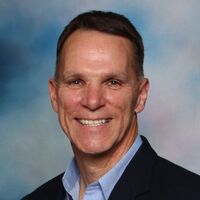 Rev. Dr. Jeff Saville
Hi, I'm Reverend Doctor Jeff Saville (call me Jeff!) and I have a passion for helping couples express their love and commitment for each other in a celebration that recognizes the importance of God in their relationship. Originally from SoCal, I have earned bachelors, masters and doctoral degrees, all in the field of ministry. I have served as a church pastor and a chaplain in America's national parks and for 26 years as a chaplain in the U.S. Navy. I've been married to the love of my life, Rebecca, since 1988 and together we have three grown children.