Home

Special Day Entertainment DJ Services
About this Vendor
Your Wedding DJ is our specialty!
Our mission statement is simple, We will go as far as it takes to make sure your day is spectacular! Your wedding is a once in a lifetime experience. There are too many DJs who lack the expertise for such an occasion. The wedding industry is filled with impostors that are long on promises and short on delivery. We treat each event as if it is the most important event that you and I will ever have. We believe in a consultative approach and make sure that all aspects of your event are considered. Make Special Day Entertainment your professional wedding DJ and have peace of mind when it comes to the entertainment.
Details
Classical, Country, Dance, Disco, Hip-Hop, Jazz, Latin, Polka, Pop, R&B, Rock
Rehearsals + Parties, Ceremony, Reception, Wedding
MC Services, Recorded Music, Sound Equipment, Music, Audio/Visual Equipment, Equipment, Rentals + Equipment

Contact Info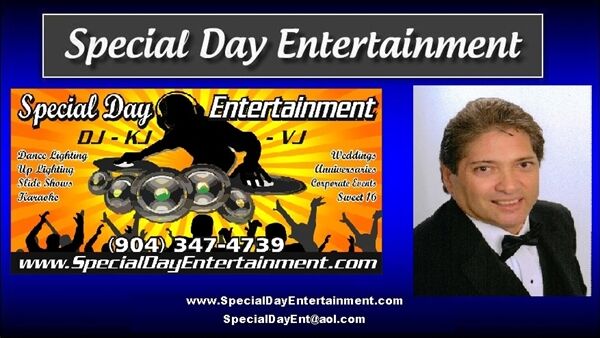 Reviewed on

10/16/2017
Suehyun Q
DJ JOEY IS THE BEST OF THE BEST! All we could talk about was how awesome our DJ was! He went above and beyond and exceeded our expectations! You will not regret booking him! He definitely knows his stuff and he made us feel so calm and comfortable! Thank you again for a... Read More night to remember!!!
---
Reviewed on

10/01/2017
Kaitlin D
Very happy we went with Joey as our DJ! He did such an awesome job and was so easy to work with! He helped so much and definitely kept people on the dance floor! Everyone had such a good time!
---
Reviewed on

8/13/2017
Shelby J
I am so happy with our choice of using Joey as our DJ for our wedding! He was available very last minute, so flexible, and so polite! My wedding was planned to be outside but it rained and Joey was the main one to relax me and change things last minute without a problem!... Read More Everything went so perfectly. Prices are amazingly fair, also. He is the best and I would give him a billion stars if I could!!!
---
Reviewed on

7/24/2017
We are thrilled that we chose Joey from Special Day Entertainment to be our wedding DJ ! From our first meeting, we knew we were in great hands. He was warm, passionate about his work, and totally flexible. Joey was open to any and all suggestions we had (songs we wanted played,... Read More special genres, etc.) and wanted to make sure our wedding music truly reflected our tastes. His prices were very reasonable, and he was always quick to respond to e-mails before the wedding. The wedding exceeded our expectations! He had our guests up and dancing all night with their awesome music selection. My husband and I loved every song he chose, and were excited each time a new song came on. We also heard from many people how much they loved the music! We would recommend Special Day Entertainment to everyone!
---
Reviewed on

6/20/2017
Mike P
Joey was fantastic. We wanted to do a dance at our renewal and had a list of songs we needed mashed together. Our son put together something to start with but Joey cleaned it up. When we wanted him to change the songs around he made them work better and it came out awesome.... Read More Joey was patient with us and made our plan a reality. His pricing is fair and he helped us out when we weren't sure what we wanted. We really appreciated his help.
---
Reviewed on

6/13/2017
Rebecca S
Joey was amazing from start to finish! His prices were so fair and we accidently only booked him for 6 hours and I realized we would need him for another hour and he gave it to us for free. He also gave us a good deal on lighting. He was very experienced and played the music... Read More exactly how we wanted it. Our wedding was an Indian and American fusion and he knew all the right songs to play to get everyone having a great time. His setup was so nice also, I was shocked at the nice table he brought to set up. I was just expecting something basic. He also took some nice pictures of our guests and key moments in the mean time which was really sweet. Thank you so much Joey for everything! We will hire you again for sure if we ever need a DJ! Highly recommended!
---
Reviewed on

4/17/2017
Heather K
Joey made our night super special! He played exactly what we wanted and made sure all of our minor requests were fulfilled. Our guests were on the dance floor the entire night. Our only complaint for the night was that our dance floor was not big enough. I couldn't have asked... Read More for anything more! We went a step further and asked for the live feed and pictures. This was the greatest decision. We now have pictures from Joey's point of view, which is awesome because it shows our guests having the time of their life from a different perspective. Love this touch and so did the guests!! Our guests were raving about Joey the night of the wedding! Not only that, our wedding was over a week ago and I still have people talking about him (even last night)! If you are looking for a DJ, look no further! This is him!!! Thanks, Joey, for everything you did!
---
Reviewed on

3/25/2017
Shannon A
We were able to experience Joey at Special Day Entertainment first hand with my sister-in-Law's wedding a year prior to ours and he was so much fun! A year later when I came onto the Knot I hadn't even realized it was the same company until I saw his picture and thought it was... Read More so hysterical. It was easy to book with Joey and our first meeting he sat down with me and broke apart his packages, the statistics of what guests will remember about the wedding, and even suggested a package that was budget friendly(which we were looking for), but one that was able to cover all bases that we needed. The day of the wedding was even more incredible. He was originally to be stationed outside, but the temperature had dropped throughout the week and called up to my room to ask if I would prefer him to be inside. Best. Decision. Ever. Joey made it extremely easy and fun to change his location the day of. His music selection is top notch and is all about making sure he uses the version of the songs you pick with the artist you want it to be. Joey and I spoke a few days before the wedding to confirm some of the songs on his checklist that I had added to make sure they were the right ones and asked when I might want some of them played due to the slower nature of the song. I would suggest Joey from Special Day Entertainment to anyone who needs a fun, friendly, and professional DJ!!
---
Reviewed on

2/21/2017
Nabori P
I could not have asked for a better DJ. Joey you made our wedding night so special! You were more than just a DJ you helped the wedding run so smoothly and we did not stop dancing the entire night because of you. I would suggest Joey 100x over for any event! Once again thank you... Read More for everything you did at my wedding! Love Nabori and Rory Pangelinan
---
Reviewed on

1/31/2017
Kacie B
We couldn't have asked for a better DJ ! Joey made everything so easy for us and was very professional. He was so good at getting everyone on the dance floor and all of our guests loved his music selection. I highly recommend Special Day Entertainment!
---
Reviewed on

1/24/2017
Danielle C
Thank you Joey at Special Day Entertainment for making our wedding so much fun! Joey had a very professional demeanor throughout the entire process. He was responsive to emails and put the time in to make sure we felt reassured that our wedding day would come together as... Read More desired. We had a very specific timeline and music asks and he listened to our desires, offered suggestions, and made our guests dance the night away. He brought to our attention a lot of things we may not have thought of that made the day that much better. My guests couldn't get enough of the dance floor. So much so we needed extra space. That tells you something! He listened to our guests and played their requests. He listened to my requests and incorporated aspects of the ceremony and reception not so commonly done. I did not have a wedding coordinator, but it wasn't need. He did a great job moving the party along. We are very happy we choose Special Day Entertainment for the event!
---
Reviewed on

10/13/2016
Chelsea P
We worked with Joey at Special Day Entertainment, and what a wonderful experience! Joey has a lightning fast response time, and always at minimum confirmed receipt of emails. He helped with a lot of details of the wedding as well that I had not thought of. He was nothing but... Read More professional, and was a great DJ! Joey has clearly been doing this for a long time , he can definitely read a room to keep the energy going. All of this at a very reasonable rate. Thank you!!!
---
Reviewed on

5/03/2016
Kaiti J
He did such an amazing job! I was so busy I barely got to speak with him, but he took care of everything. He helped guide things when needed which was a big help! My wedding ended up starting 30 minutes late, but Joey helped move things right along. What I truly appreciated was... Read More that my wedding day was his 21st wedding anniversary. His wife joined him and I just couldn't believe they took a part of their special day to make my special day happen. Thank you so much to the both of you!!!
---
Reviewed on

3/30/2016
AWESOME AWESOME AWESOME!! Joey was such a great DJ! He was able to play music that I provided for him and played all the best music throughout the night. He was great with the guests and I would absolutely recommend him to anyone who needs a DJ! Thank you so much for everything!
---
Reviewed on

12/28/2015
Ashley H
There are no truly no words to describe how amazing DJ Joey made our night! Our guests are STILL talking about how much fun they had! He really made the evening flow well and was very attentive to every little detail. He had everyone up and dancing, even our grandparents who... Read More danced so much they woke up sore the next morning! LOL! In truth, he went above and beyond the traditional role of a DJ. He approached us several times throughout the night making sure we were ok and having fun, and that everything was how we had envisioned. He had conversations with multiple family members and happily played any requests that guests had. His overall demeanor and personality was so pleasant and upbeat! He was there early in the day setting up and testing every little detail to make sure everything rolled smoothly. His set up was very professional in appearance, and very up to date with the latest technology. His song bank was RIDICULOUS! Believe me, if he doesn't have it already-he'll get it for you in the snap of a finger! He had two lengthy conversations with us, one a few months before the wedding when we booked, and one a few days before the wedding. He reviewed everything with us in detail and made it his personal mission to give us the night of our dreams! As an added bonus, he sent us almost 75 pictures the week after the wedding. It was so cool to have a different perspective of pictures from his point of view. DJ Joey gets beyond 10/10! Our night would not have been the same without him. I would HIGHLY recommend his service if you are looking for a stress-free, fun night! THANKS JOEY! WE WILL NEVER FORGET HOW SPECIAL YOU MADE THIS DAY!
---
Great Job!
Reviewed on

11/20/2015
Joey, Thank you so much, It was a magical evening, and we are so happy for choosing Special Day Entertainment. We can't thank you enough for your flexibility in working with us with the set up down on the beach, the speaker/mic on the patio, the main setup inside, and for... Read More allowing me to plug in my guitar for the 2 songs I performed with my brother-in-law. We were truly happy with everything. Kristin was also terrific with her singing and intros. I know it must have been a long day for you, with some logistics, setup, and requests you normally do not get but everything went wonderfully. It really meant a lot to Erica and I to get married on the beach, and to have music down there since it is such an important thing in our lives. Please feel free to use us as a reference in the future. And we'll also be sure to refer your services to anyone else we know that is looking to hire a DJ or band for their "special day." Keep in touch! Robbie and Erica Mcvay
---
True professional
Reviewed on

11/19/2015
I was so busy on my wedding day that I didn't meet Joey until I was about to walk into my wedding, pretty crazy considering the DJ Can make or break the party. Joey was perfect! Everyone had an amazing time and he even surprised us with a dance with my grandparents! I am so glad... Read More to be married and I'm glad it is a once in a life time thing but if I had to plan a wedding again I would 110 percent choose Joey! Abigail Fedie
---
Meet The Owner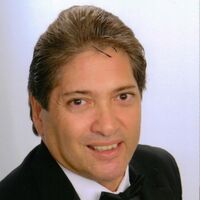 Joey DeSena
Born and raised in New York, Joey has been an entertainer at a very young age. Upon graduating from College in 1983 he joined NYC law enforcement and was still performing every weekend in dance party bands. Later in 1986 – 2005, Joey performed in a number of wedding bands and formed a DJ company with a friend carrying many crates of vinyl records for countless weddings and private parties and clubs. After retiring from Law enforcement and moving to St Augustine FL in 2005, Joey continued his DJ business and opened Special Day Entertainment which he is now doing full time.