Home

Stallone's Formal Wear
About this Vendor
Best Tux Shop
Top quality tuxedos for sale or rental, a staff of trained specialists, local inventory and attention to detail make us the clear choice for your formal wear needs. We are small enough to value every order and large enough to provide global service to our customers and their wedding party.
Details
Alterations, Private Appointments Available, Rentals, Fashion Services, Bow Ties, Cummerbunds, Shoes, Ties, Tuxedos + Suits, Vests, Menswear, Fashion


Contact Info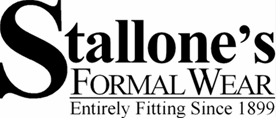 Great!
Reviewed on

12/17/2015
Kristen P
Stallone's made choosing a suit for our groomsmen so easy! Our groomsmen were coming from three different states, but it was so convenient. The guys called with their measurements and the suits were ready at Stallone's when they came in town for the wedding. It was such a relief... Read More not to have to worry about the suits - Stallone's took care of it!
---
Great service, great suits
Reviewed on

7/29/2013
Amanda H
My wedding was in February and we had a lot of people out of town in our wedding. Some in Canada, Florida, etc. being from Illinois, it was great that Stallones has multiple locations.. The out of town guests were able to call in their measurements and they for them perfectly!... Read More Thank you so much for the great quality and great customer service to make out wedding go as smooth as possible.
---
Best formal wear store ever!
Reviewed on

11/07/2012
Suzie G
Stallone's was so nice. They helped us get the exact tuxes we wanted, and made it so that my husband's was free! They even had little tuxes for the ringbearers. Great selection, great quality, great customer service. If I ever get married again, I'll use them!
---
Reviewed on

11/15/2017
Rosemary B
We did not have the best luck with Stallone's. Our best man's tux was sent to the wrong store, the father of the bride did not get his jacket until the day of the wedding! He went on the Thursday before, it was wrong, went back on Friday morning like he was told to, it was still... Read More incorrect, then we finally got the owner involved to get it correct the morning of the wedding. The jackets were poorly made! My grooms jacket didn't have any buttons left before the wedding even started. They took "getting ready" photos and all of the buttons fell off. Luckily one of his groomsman was the same size as him. There were numerous times during the planning process where we got phone calls saying that guys didn't get their sizes in. But really, none of the stores actually talk to one another, even when you specify where you are picking up. The whole process was a nightmare and we will not be using Stallone's ever again.
---
Reviewed on

10/25/2017
Leah R
Was looking for unique and gothic style tuxes and Stallone's definitely pulled thru. Someone had accidently scheduled our appointment on a day that was originally closed and instead of rescheduling the owner just came in and helped us anyway. Completely awesome!
---
Reviewed on

10/30/2016
Kaitlyn H
We had a great experience with Stallone's. All of the guys looked so great in their tux's. The only issue we had, was that our original order was lost and when the first guy in our group went to get fitted, they didn't have our order. We were kind of freaking out. But the... Read More manager of the store quickly stepped in and handled the issue. Ultimately, it was all fixed and the original tuxes we ordered were ready in time. My husband is military, so we only needed a few tux's for the non-military memeber's in the wedding. Stallone's is a great shop to consider for your groomsmen tux's!
---
Tux rental
Reviewed on

9/10/2014
Allison H
Nearly all of the tuxes were the incorrect size when we went in to try them on and pick them up. Some out of town guests couldnt pick them up until the day of the wedding and therefor did no have time to be fixed. We were not discounted or compensated in anyway for the... Read More incoveneience/incorrect sizes. That being said, they did bring my father in law's vest to the church with a correct size shortly before the ceremony. Just not what you should have to deal with on your wedding day.
---
Great selection!
Reviewed on

10/01/2013
Breana B
great company to work with!
---
BEST TUXEDOS EVER.
Reviewed on

8/14/2013
Leslie S
I had the BEST experience with Stallone's. The tuxedos were immaculate. The fit was great. I was worried about our out-of-town guests, but EVERY, SINGLE ONE OF THEM LOOKED AMAZING. My father-in-law had gained some weight since sending his measurements in, but Stallone's... Read More saved the day. They re-measured him and made alterations ON THE SPOT. No other mall store/chain store would ever do that. I cannot recommend Stallone's Formal Wear enough.
---
groom
Reviewed on

6/24/2013
Jennifer H
extremely professional
---
pretty good
Reviewed on

11/18/2012
Kimberly M
the only real complaint I have is that we had each groomsmen in a different color vest and tie to match the girl they were walking with, but 2 of the guys colors got mixed up. Luckily they realized and switched, but it would have been nice if we didnt have that issue at all.
---
Suits and Tuxedos
Reviewed on

9/11/2012
Sarah G
We were looking for suits for our groomsmen to wear, not tuxedos. This was the only place we could find that had suits for rent. Ryan from the Stallone's shop in Ladue was very patient with all my phone calls and extremely helpful. The suits fit the groomsmen well and looked... Read More fabulous. We were very happy with Stallone's. I'd definitely recommend them.
---
everything fit well - good service
Reviewed on

8/24/2012
Joanna J
My husband is an atherlic cut and hard to fit - and he and his groomsmen looked great, it all fit perfectly. A good value and good quality tuxes.
---
Dressed In Style
Reviewed on

5/22/2012
Casey M
My husband looked extremly handsome dressed up in his suit from Sallone's Formal Wear. They offer a variety unlike any other Men's formal wear shops. We were very please with how accomodating they were with our wedding party and family!
---
Easy to work with
Reviewed on

5/15/2012
Becky S
The people at Stallones were very helpful in accommodating our partially-out-of-town wedding party, and made sure everything went smoothly with the tuxes. They also offered us better prices than other tux shops in the area.
---
I do not recommend
Reviewed on

11/02/2011
Lori W
Where to begin. My husband's vest and tie were the wrong color. 3 of 4 groomsmen outfits were the wrong size. They tried to put my husband in a different jacket than I selected because the colors were not the same on the pants and jackets. When I dropped of the tux the girl... Read More working there told me that "Maybe I should have picked up his tux and I would have noticed it was wrong" excuse me, I didn't know it was my job to do that and didn't see the tux until I walked down the aisle. I was not happy and when I requested to get my money back for the tux being wrong...well have not seen that yet and I talked to the owner of Stallone's. If that is the service you like then go ahead and use them but my friend was going to and now that I told her the problems we had they are not.
---
Helped when no one else could
Reviewed on

10/13/2011
Kimberly S
We went to Stallone's after Saavi and Men's Warehouse told us they couldn't rent what we wanted. We were looking to rent non-tux pants, button down shirts, suspenders, and non-shiney shoes. They rented everything to us for $80 a person! The other businesses in town told us... Read More that we would have to buy all of these things.
---
Quality tuxes and great customer service.
Reviewed on

9/04/2011
Stephanie A
We really liked working with Stallone's, they were very patient with our color selection process and had samples sent over from other locations for us to see different options. The only complaint is that the groom's shoes were left off the order- not sure if we forgot to... Read More mention it or if they forgot to include them, but they quickly resolved it in plenty of time for our early afternoon wedding after we only realized it that morning. The suits all turned out perfectly for our large bridal party, including out of towners.
---
bride
Reviewed on

7/13/2011
Ann K
the staff was very helpful with selections
---
Measurement conversion
Reviewed on

5/19/2011
Megan M
Stallone's was great to work with because my husband is Spain and all his groomsmen Stallone's was very organized and very good at getting all the metric measurements converted. They were very organized and very easy to work with for our wedding.
---
Nice
Reviewed on

9/29/2010
Adrienne P
The sales staff was quite helpful and patient. Few issue with finished product that has yet to be resolved.
---