Home

Sweet Delights Wedding Cakes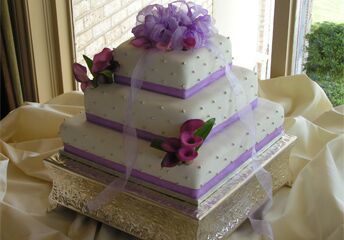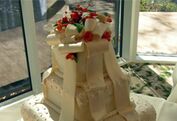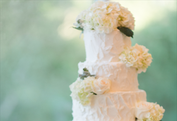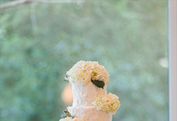 About this Vendor
"We provide 5 star Service, Quality, and Style."
Sweet Delights provides custom-designed wedding and groom cakes. Our cakes are made from scratch, baked fresh -- never frozen. We provide superb service, a beautiful cake that looks great and tastes great. Seen by appointment only. Call to set up a cake tasting. Cake-jewelry sold here.
Details
Cake Accessories, Cake Tastings, Groom's Cakes, Cakes + Desserts
Contact Info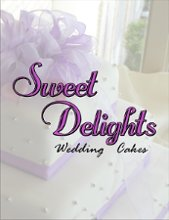 4622 Nolda Street, Houston, TX
'A SWEET and DELIGHTFUL experience for a 1st-time groom.'
Reviewed on

12/24/2013
Ashley J
If you'd like a gentleman's perspective, let me tell you that I thoroughly enjoyed working with Sweet Delights. From the first consultation to the final day, Roslyn held mine & my wife's hands the entire way, resulting in a wedding and groom's cake that were as delicious to... Read More taste as they were visually impressive. Even more, her personal touch made the experience fun and stress-free. When it was all said and done, we'd not only chosen a quality vendor, but developed a friend as well. While Sweet Delights' speciality is cakes, their 'attention-to-detail' is truly the icing.
---
Best cakes ever
Reviewed on

11/28/2010
Jeanie J
I will never use another bakery again. The best tasting cakes I have ever had and the best owner you could ever meet.
---
All about the taste and service
Reviewed on

10/31/2014
Christian E
We met them at a bridal show and we were hooked after tasting their butter almond cake. The staff was helpful and patient. They made us feel like we were at home and were with family. I can't wait to eat our top tier.
---
Love at first bite!!
Reviewed on

10/31/2014
The butter almond is to die for and I love the owner. She is so patient!!!
---
Loved my cake!!!
Reviewed on

10/31/2014
The best cake in town! ! Service was great. Love them..
---
AMAZING!!!
Reviewed on

10/31/2014
Dyniedra M
Where do I start!!! My husband and I got married October 18, 2014. I had been to several cake tastings and when I went to Sweet Delights there was no need to look any further! If you are looking for an delicious wedding cake come here!! Sweet Delights did an amazing job on my... Read More wedding cake. Mrs. Roslyn is such a sweet heart an absolutely wonderful to work with! She definitely knows her cakes! She helped me create a beautiful cake for my big day and I wouldn't have wanted anything better! I had different flavors on each tier and to say the least red velvet was my favorite! Again I want to thank Mrs. Roslyn for being apart of my special day! My cake was absolutely PERFECT!!!
---
Let Them Eat Cake!
Reviewed on

10/30/2014
Harumi Roo A
Rosalyn was the most joyful and passionate cake ARTIST I have had the honor of working with! She truly listened to my husband and I's vision of our cakes and made it into a reality! She is really good about communicating which makes it a stress free experience! So enough about... Read More the company, let's talk CAKE!!! Wow DAMN! The cake is so so SO good!! I had the paradise cake (coral colored mango pineapple cake! Coral was one of my colors so it went perfectly! But I chose it more for the flavor yummmm) I also had one tier of the cake be chocolate since we had some chocolate cake lovers in the family :) OH!! And her frosting!!! Oh man!! I could bathe in a tub of that icing!! So light but so sweet and delicious!! My husband had his grooms cake made with the University of Michigan logo! It looked awesome and it was DELICIOUS!!! I absolutely HATE fondant and when I expressed that to Rosalyn, she assured me that her fondant was THE BOMB. Boy, was she right! That was the BEST fondant I had on a cake! I actually ate the entire sheet of fondant that was on my piece of cake!! I absolutely love the story behind her bakery and love that this business is run by family and friends. It is a honest, fun and amazing bakery! I'd recommend it to any bride any day! I will definitely keep going back to Sweet Delights for future cakes!!
---
Gorgeous & Tasty Wedding Cakes
Reviewed on

12/10/2013
Joyce M
It was a pleasure working with Roslyn at Sweet Delights!! She designed our wedding cake and grooms cake. The wedding cake become the centerpiece of room with white fondantand, silver accent, and cascading flower. Our grooms cake featured of his love for music; an authentic DJ... Read More turn table with personal table decor. If taste, style and unique detail are what you need, this is the vendor to use!
---
Wedding
Reviewed on

11/12/2013
KaCynthia P
I was very very pleased with my wedding cake. Ms. Rosalyn you really did your thing with the almond butter cake with the lemon curd filling.
---
The Best Cake and Service in Houston
Reviewed on

10/06/2013
jordan a
Sweetdelights provided us with great service I came in and sat down and I felt like at home. our wedding cake was beautiful and all of our guest said they had never taste cake like that before. I sudgest all brides use sweetdelightsweddingcakes.
---
Moist and Delicious!
Reviewed on

10/03/2013
NICOLE A
Sweet Delights was truly a pleasure to work with. I first met Roslyn and her Sweet Delights team at the Houston Wedding Showcase with my mother and aunt. We tasted a sample of the Butter Almond cake and new that would be the flavor of choice. We then attended an open house at... Read More Sweet Delights where I brought my parents, brother, aunt, and uncle for the tasting. Sweet Delights graciously accommodated all of us. Roslyn's husband helped with the initial design of the wedding cake, was very patient and personable, and then Roslyn added her special touches to the final design. I later submitted ideas for the grooms cake and Roslyn created her magic. The cakes were delivered and set up on time. Everyone at the wedding enjoyed both cakes and said how moist and delicious they were. I almost didn't freeze the cake topper because I so wanted to eat that as well. My husband and I will definitely be returning customers for all future events, like our first anniversary, for the amazing cakes at Sweet Delights!
---
Sweet Delights Wedding Cakes
Reviewed on

10/03/2013
Sweet Delights cakes are AMAZING!! The cakes are BEAUTIFUL and taste GREAT!!! Her cakes are fresh and moist, not frozen! We had to organize a last minute wedding within 48 hours, and Sweet Delights was able to provide us the most BEAUTIFUL bride and groom cakes! Sweet... Read More Delights cakes are affordably priced also. She is very personable and kind (an angel), which helps making these events so much easier and fun! She also goes beyond the call of duty in just baking cakes, she offers assistance in providing other great contacts for other items, such as flowers, wedding decorations, etc. if you are in need of someone. Her contacts are affordable and amazing as she is. We were able to pull off a fairy tale wedding for my daughter. I would not have been able to do it without Sweet Delights help. If anyone deserves an award, it is definitely SWEET DELIGHTS!!
---
Unprofessional and unreliable
Reviewed on

9/19/2013
Jennifer A
I sat down with the owner of Sweet Delights for hours and talked about my cake vision for my wedding day. She sketched a perfect design and promised she would get back with me the next morning regarding pricing. I didn't hear from this women for 2 days, I finally decided to... Read More call. She gave me a million personal excuses and said she'd work on a quote later that night and send it to me. Again, I never heard from her. Although the cakes at Sweet Delight were tasty and pretty, the owner showed a lack of interest, professionalism and was unreliable. These are major RED flags for a bride! If you don't want my business, no problem. I'll go to another vendor! That is exactly what I did. I went to another cake vendor where at the very least I was able to get a quote. I wouldn't recommend Sweet Delights Wedding Cakes. There are plenty of better options in Houston! Try Edible Cakes by Jessie!
---
The Best Cake Ever Wedding Day 05.12.12
Reviewed on

8/06/2013
Brenda M
I remember seeing Sweet Delights at the Bridal Show and wished we could have chosen them but our Venue had a contract with another vendor. Since my husband and I were displeased by the Service and quality of Venue cake vendor, we terminated their services. The first thing... Read More that popped in our minds was Sweet Delights. Since the first phone call with Roselyn we had a connection. The day I met her and her staff they made us feel like family. The cake tasting part was delicious. My husband and I agreed on their signature cake Almond Butter Cake with Raspberry Filling, Vanilla icing. We are addicted to the cake. Sweet delights made the wedding cake of my dreams. Everyone in my wedding enjoy this moist and delicious cake. :) It has been a year since my husband and I celebrated a new year. We called our girl Roselyn to make our first tier cake for our anniversary. It still tastes like the first bite I had on my wedding day. All I can say from the bottom of my heart is Thank you Sweet Delights for making my Wedding cake and anniversary cake. We will be loyal customers for all special events. I ♥ Sweet Delights!!!!
---
Absolutely delicious!
Reviewed on

5/09/2013
Vanessa S
I found out about Sweet Delights from the Houston Wedding showcase and fell in love the moment I tasted their cake. They were very friendly and kind and Rosyln's husband was the one who helped me and he was soooo friendly, I loved it! They basically took care of everything and... Read More I did not have to worry one bit! I had cupcakes instead of a traditional tierd cake and it was no problem at all. There may have been a bit too much frosting on the top of the cupcakes (though my little nephews definitely weren't complaining!). Regardless, they were a hit!
---
Best Cake in my Lifetime! Loved Sweet Delights and Roslyn!
Reviewed on

1/19/2013
Vicki B
We chose Sweet Delights for our wedding cake and could not have been more satisfied! Roslyn was so fun to work with! She spent extra time with us to answer any questions we had (I ask a lot of questions) and did such an amazing job that the cake looked exactly like the final... Read More drawing on paper! The details came out better than I imagined and my cake was so beautiful. BUT THE BEST PART was that not only did our cake look good, it TASTED DELICIOUS! My cake had 5 total layers with a different flavor for each layer! I chose french vanilla with vanilla butter cream, chocolate with chocolate butter cream, raspberry lemonade and her signature butter cream, and the top layer was also French vanilla with vanilla butter cream for us to keep! The cake was so fresh and moist that it melted in our mouths! I was expecting 250 guests and ordered cake for 260 total slices – we ended up with only 150 guests on our big day and had over 100 pieces of cake and it was pretty much ALL GONE! We brought cake boxes and the family took home a few pieces, but several of our guests took 2 or 3 pieces each to try the different flavors or went back to get more because it was just so delicious! I recommend ordering extra slices of cake for your guests if you choose Sweet Delights because they just won't be able to get enough! I cannot say enough great things about Roslyn and Sweet Delights and will look to purchase more cakes for future celebrations. I will never forget the first time I met Roslyn she said she "makes her cakes with butter and love" and now I'm a believer that's all ya need!
---
The good and the bad...
Reviewed on

10/30/2012
Gigi L
The cake turned out great... thank goodness. Very moist! I received quite a few compliments. The service was NOT so great. As I had read in other reviews the service at this place is terrible... but the price is very affordable compared to most places I tried. Roslyn does... Read More not respond in a timely manner and was quite rude during a couple of email exchanges and phone conversations. This created unwanted stress. To sum it up...Great CakeGreat ValueBad service
---
Wonderful cake, wonderful service!
Reviewed on

10/04/2012
Johanna C
Based on previous experience with Roslyn and her staff at Sweet Delights (cousin's wedding), we used her for our own wedding. The design process was easy and Roslyn delivered all that we wanted for our wedding cake. The cake was delivered on time and she even took time out of... Read More her busy schedule at the end of the evening to pack up our wedding cake top for freezing. A year later, it was still wonderful. Since that time, we've been using her for birthday cakes and she just completed an amazing Noah's Ark cake for our son's 1st birthday. Roslyn and Sweet Delights never disappoints! We won't serve cake from anyone else!
---
"Let them eat cake"--let it be the best cake!
Reviewed on

1/12/2012
Comeka A
I absolutely love Ms. Roslyn and Sweet Delights cakes! Ms. Roslyn is very creative in her cake designs, and her cakes are scrumptious. Marie Antoinette of France would not have wanted to share them with anyone! Ms. Roslyn was a pleasure to work with, she listens well, and she... Read More worked diligently to ensure that my wedding cake and groom's cake were perfect.
---
Lovely Cakes
Reviewed on

11/06/2011
Kristian S
I didn't give 5 stars because she showed up 2 hours late. However, she did refund some of my money without me requesting it and was very apologetic. Extremely beautiful bride and groom's cakes and just as delicious. We got many compliments on the cakes. Pricey however.
---
Delicioius
Reviewed on

11/04/2011
Jessica R
The cakes were delicious and beautiful, just as we had discussed. The delivery was on time. At times it took awhile for Roslyn to respond to emails and calls but she did respond. The cakes were fantastic.
---
SWEET!
Reviewed on

10/04/2011
Jaz W
The cake was delicious. It was perfect in appearance and taste. It wasn't too sweet, it was just right. Moist. Fluffy. Light. And most importantly delicious. We had none left over. The price is affordable and the cake was awesome!!! Can't wait til my anniversary to taste it... Read More again!
---
AMAZING CAKES!
Reviewed on

7/22/2011
Alyssa C
Roslyn and her team are all GREAT! I got the butter almond flavor cake, it was delicious! My husband got chocolate cake with peanut butter icing, it was delicious! We also got cake balls, amazing, cheesecake, amazing, mini cupcakes, all amazing. Highly recommend Sweet... Read More Delights. The cake was so moist and tasted great. The fondant was very good as well!
---
bling cake
Reviewed on

7/14/2011
elizabeth A
Mrs. Roslyn I loved my cake you did a wonderful job. Thanks so much!! my bling cake was really a eye catcher liz
---
Cake was good
Reviewed on

6/07/2011
Terran K
The cake was EXCELLENT!!!! However, she showed up really late to drop it off. She was supposed to be there at 3:00 pm. She didn't show up until around 5:30 pm - when the ceremony was starting. NOT COOL!!!! It was overpriced for what we ended up getting for the groom's cake.
---
Send Message