Home

Tarrytown House Estate On The Hudson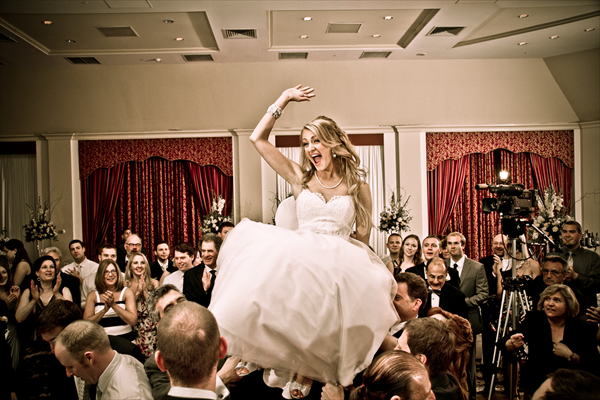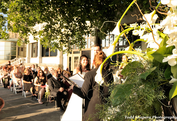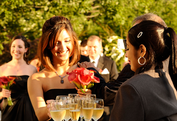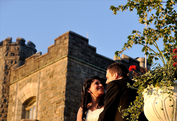 About this Vendor
What's your idea of perfection?
The special events in your life deserve an exceptionally special venue like the Tarrytown House Estate. For 165 years, Tarrytown House Estate has overlooked the majestic Hudson River—maintaining a legacy of prominence, elegance, and prestige. Today, after an $11 Million restoration, our perseverance
Amenities + Details
Amenities
Handicap Accessible

On-Site Accommodations

Indoor

Reception Area
For more details about amenities, please message the Venue.
Ballroom, Estate, Historic Venue, Hotel
Destination Weddings, Food + Catering
Contact Info
49 East Sunnyside Lane, Tarrytown, NY
A Local Destination Wedding Resort
Reviewed on

2/20/2012
Laurie E
From the moment my fiancé and I drove onto the grounds of Tarrytown House Estate, we were smiling from ear to ear. The winding drive up to the estate gives you the feeling of a destination wedding, without having to board a plane. The buildings are wonderfully different and... Read More architecturally beautiful. The sprawling grounds overlooking the Hudson River are gorgeous. And our first visit was in January – we could only imagine how much more spectacular it would be for our Fall wedding! Since most of our wedding guests were from out of town, TTH was perfect, as everyone stayed on grounds for the entire weekend. Throughout the process, our wedding coordinator, Dave Smith, was fantastic. He was extremely friendly, professional, accommodating, and responsive to all of our very specific needs. He was always quick to return a phone call or email, even on his days off. He, along with the rest of the staff, provided 5-star service from the moment we first visited Tarrytown House until the time we drove off to our honeymoon. We were lucky enough to get married outside in the Rose Garden. With green grass, flowers blooming, and the sun shining overhead, it really was a fairytale. From there our guests proceeded down the walkway to the Winter Palace, where they were greeted by servers holding champagne. Our cocktail hour filled both floors of the Winter Palace as well as the outside terrace. With multiple stations and plenty of food at all of them, most of our guests told us they thought there was no formal dinner, or they thought cocktail hour was dinner! Unfortunately my husband and I missed almost all of cocktail hour, but because we had asked Dave ahead of time, they saved us all the leftover food and brought it to our honeymoon suite. Both the variety and quality of the food was just exceptional. Our reception was held in the Mary Duke ballroom, which has old conference-style chairs and heavy velvet curtains; but once it was set for us, with flowers and lighting from our DJ, it looked beautiful and awesome. The bridal suite is up a staircase right outside the ballroom, which is very convenient before, during, and after your wedding. The dinner service was again perfectly executed, and the Maitre' D was constantly monitoring the event to make sure it went off without a hitch. Things were run so smoothly that we were able to just relax and enjoy the great meal and party. We continued the party at the Cellar Bar underneath the ballroom, which only overnight guests are allowed at – they are strict, and they do check! We also had a brunch the following day for all of our overnight guests in the Library/Sun Porch/Music Room, which was warm and comforting with a lot of delicious food. All of our guests raved about TTH, saying it was one of the nicest places they've ever been to for a wedding. I can't say enough about the staff at the Tarrytown House Estate - from start to finish, they were all wonderful. Everything about our wedding weekend exceeded our expectations and I can't imagine getting married anywhere else!
---
Fabulous venue, terrific staff
Reviewed on

12/18/2011
Marita P
Having my wedding at the Tarrytown House Estate was pretty much a fairytale. We had a beautiful Saturday day wedding in November and were able to have the ceremony outside, which allowed a view of the Hudson River. The hotel is gorgeous and the staff is fantastic. Their... Read More professionalism and attention to detail exceeded my expectations.
---
Review for Tarrytown House Estate & Conference Center
Reviewed on

5/10/2010
Debi Y
the beautiful setting, view of the Hudson River and Tappan zee bridge. Pretty grounds, gorgeous mansions, newly renovated accommodations, bar with bowling alley after reception
---
Reviewed on

8/11/2015
Ally S
It's almost a year since our wedding at the Tarrytown House and we still have family and friends raving about the venue. The location is obviously beautiful and historic, and, for us, it had the added perk of being conveniently located for both of our families. Here are some... Read More main takeaways, in hopes they can help you with your selection: Outstanding: - Staff that helped plan our wedding (notably Antonio and Liz). They were accessible via email ahead of time and very accommodating the weekend of. - Options; the folks at the Tarrytown House are pros at making sure your wedding is suited for you (For example, I was worried about getting married outside because of temperamental weather in August and there was always an indoor option. Also, the flow of our wedding from area-to-area worked out exactly as we hoped for.) - Food (I eat salmon now because of the salmon served at my wedding). Constructive Criticism: - I found the event department easier to work with than the accommodations department for our room block. - There was one policy that changed after our contract was signed and I was disappointed the old policy wasn't grandfathered in. (To be fair, staff worked with us for another after-hours option). - Because the location is historic, there are more stringent rules about vendors, outside food etc. Overall, I would recommend the Tarrytown House and am very happy we decided to get married there.
---
Beautiful setting and excellent food!
Reviewed on

8/06/2013
Christine G
We had our ceremony and reception here. The setting is beautiful and guests raved about the food! We were planning the wedding from out of state and the staff was very accommodating. They have lots of experience with their recommended local vendors so the whole day was... Read More seamless.
---
AMAZING!!!
Reviewed on

9/01/2011
Lauren R
The Tarrytown House Estate is truly amazing,we had our dream wedding! The Tarrytown House Estate offered all the we were looking for and more, beautiful views and grounds, option for cocktail hour outside on a gorgeous terrace or inside in the many quaint rooms, a two level... Read More reception area surrounded by windows over looking the beautiful landscape and an amazing catering manager to work with with the bonus of a hotel on site for our guests. They catered to our every need and more, staff was extremely professional and made our wedding the perfect day we hoped for. We HIGHLY recommend!!!
---
Fairy tale wedding
Reviewed on

5/29/2011
Jessica Y
This venue is not only beautiful, but the staff is amazing and helpful, especially Dave! We got married a month ago and are STILL getting compliments on the venue!
---
Wedding bliss in Tarrytown
Reviewed on

11/17/2010
Katherine K
my husband and I had our wedding reception in historic Tarrytown House Estate in May 28, 2010. A beautiful estate, my guests were immediately impressed the moment they first drive throug the curved uphill driveway. The staff were wonderful, giving me and my husband plenty of... Read More attention. A big hug to our weding host, Dave S., who acted as our reception coordinator. The food was delicious and in large amounts, everyone was full before the cake was served. Cocktail choices included from varying types, to list a few...such as hotdogs (to show my out of towners a NY side), roastbeef sandwiches, deviled eggs with caviar, taste of Sangria, lemonades and open bars. There is a whole lot more that I could not list here, but check the menu and you'll go crazy just choosing all those mouthwatering foods! We had the cocktail reception at their outside garden area, and moved the party indoors at the large ballroom for dinner. Everyone raved about their meals, it was indeed 2 thumbs up! The only beef my guests had about the meals was that the wait staff were quick in taking the plates away while they were not yet done but were out on the dancefloor dancing. We continued the party way after the event to the Cellar which is located beneath the Mansion. Only guests that were staying in the estate hotel can get in though. They were also very strict regarding noise due to the estate located in a residential neighborhood. Overall, I had a wonderful experience having my wedding reception at Tarrytow House. From the first meeting with Dave to the last day we left, they have given us their full attention and service to the hilt. We even forgot the top of our cake and called them 2 days after, they have the cake in their freezer and kept it till we got the chance to pick it up. :-) My husband and I are already planning on staying there on our anniversaries. We stayed at the King mansion and it was gorgeous. Till now everyone still talk about our wedding and how Tarrytown Estate provided a beautiful backdrop to a wonderful day!
---
Amazing
Reviewed on

9/24/2010
Jennifer G
I loved having my wedding here. It was a fairytale wedding. More then I expected. They were amazing. They understood me and my guests. They rearranged dinner to give us plenty of time to dance. They took care of me when I was overheating in my heavy dress. They were above and... Read More beyond. I was happy. It was expensive, but worth every cent! And more.
---
All went Smoothly on my wedding day!
Reviewed on

6/29/2010
The grounds and space are lovely, the service attentive, and everyone had a delicious meal. My only complaint is that we had a number of plates that were paid for (at a considerably high price), that they insisted they would Not put aside for us. It would have been nice for a... Read More few of us to not to have to worry about dinner the following night and to be able to enjoy a meal we didn't have time to the night of. Or, at the least to know that these plates and other left overs were donated. Same with our flowers, none of which were to be found the next day. I don't think it's too much to ask for us to be able to enjoy that which we paid for. Also, I found it tacky that we were charged for our full meal when deciding on the venue (since we would otherwise be tasting their food only a month or two before the wedding). I feel that putting the dinner towards the wedding would have been a nice token of appreciation. So, on the whole a wonderful experience, but the establishment would do well not be so penny-wise with patrons who are spending 10s of thousands of dollars at there location.
---
Review for Tarrytown House Estate & Conference Center
Reviewed on

5/10/2010
danielle r
We loved that the venue had a deent amount of guest rooms available for our guest to stay at, with out too much of a corporate hotel feel;the bar closes early :)
---
Review for Tarrytown House Estate & Conference Center
Reviewed on

5/10/2010
Tricia S
We got married at Christmas time so the venue was already decorated beautifully for that time of year. During our cocktail hour, guests mingled throughout the small rooms of the mansion with fires going which was very warm and intimate and then the reception opened to the main... Read More ballroom which was fantastic!;The hotel and the reception venue are separate so we had some difficulty with guests booking rooms at our rate. This seemed to be due to an off site reservations firm that I believe they may have stopped using, but just make sure your guests get your rate.
---
Review for Tarrytown House Estate & Conference Center
Reviewed on

5/10/2010
laura e
From the moment we got there everything was taken care of. The staff was excellent and professional, the food was amazing. Everyone who came to the wedding had a great time and was impressed by Tarrytown's beautiful location, food and service.
---