Home

The Little White Dress
About this Vendor
Where happily ever after begins.
Experience a new level of personal attention and style at Myrtle Beach's first full-service bridal boutique. Let our specialized bridal consultants help you find the dress of your dreams, perfectly priced for every bride.
Details
Bridesmaid Dresses, Wedding Dresses, Dresses, Alterations, Bridal Stylists, Custom Designs, Dry Cleaning + Preservation, Plus Size Available, Private Appointments Available, Fashion Services, Fashion
Contact Info

Wedding Dress
Reviewed on

10/22/2013
Johanna W
The staff at The Little White Dress could not have been more helpful! They had a sample delivered of the dress I wanted to try on, and after trying on a few others, I knew it was the one. They have many options and styles to chose from, as well as price points. The boutique is... Read More very charming and the surroundings/decor is exquisite. Emily and Nichole were wonderful!
---
Love The Little White Dress!
Reviewed on

7/11/2013
Beth M
My whole experience with The Little White Dress was wonderful! They helped me find the perfect dress for my big day and were helpful with any questions or needs I had. I couldn't have imagined getting my dress anywhere else!
---
Amazing!
Reviewed on

5/09/2013
Lauren W
The ladies at LWD were wonderful from my first appointment until I picked up my dress for the wedding. They helped me find the right shape for my body type, pressed the dress for my portraits and the ceremony and spot cleaned the dress after portraits. Lauren even helped make... Read More sure my hair accessories were the right shade to match my dress. I can't say enough about these wonderful ladies!
---
Reviewed on

3/19/2018
J H
I had the absolute best experience at LWD. They gave me my magical bridal moment and were so attentive. Thank you for helping me find "the dress".
---
Reviewed on

10/20/2017
Erin A
The first day I walked in I loved it! They had snacks for you, really made you feel special and had this enchanted feel for when you tried on dresses! You only try on white fluffy dresses once in your life so it better be special! Everyone was personable, they measured the... Read More dress exactly to your body and did an extraordinary job of making it exactly to measurement. They were on time and even a week early from when the dress should have arrived. They are very communicational to where you aren't wondering for days what is going on. Overall, they maintain themselves at a high standard and knew I didn't have to worry about anything because they genuinely care. There's a HUGE difference between a Franchise and boutique and hands down I would refer people to a boutique. You are a person not a number and that really sold me here!
---
Reviewed on

7/17/2017
Lindsay Y
Lisa did an excellent job helping me find the dress of my dreams the shop is beautiful and has a huge variety
---
Reviewed on

1/30/2017
Deava H
absolutely love these ladies! willing to do whatever they can to accommodate. My dress was perfect and so were the bridesmaids dresses. Everyone is so friendly and helpful in all areas.
---
The Perfect Place to Find Your Wedding Gown
Reviewed on

9/29/2015
Sarah R
Emily and everyone at The Little White Dress were so wonderful to work with. I had no idea what I wanted in a dress, but they made the process a fun and exciting one. With Emily's help, I found the most unbelievably gorgeous dress that was perfect for me. Emily and the staff are... Read More very supportive, patient, and the sweetest group of girls. They have a great selection of dresses and jewelry. Also, Debbie who does the alterations is fabulous! I would recommend the Little White Dress a thousand times over.
---
The Best Place in Town
Reviewed on

6/02/2015
Kenyatta M
This review stems from at least three years ago when I first went to look for a dress from Little White Dress. I originally was going to go to a place in Conway but their lack of customer service I decided to call the Little White Dress. From the first phone call the Emily was... Read More amazing. At my appointment (I'm a tomboy so it was uncomfortable to even try on dresses) my party of ladies were picking out dresses and I just could not agree on one and so Emily found one that kind of fit all three that my ladies chose for me and it was perfect. After purchasing the gown the unthinkable happened months later, the engagement and relationship was called off. I was devastated and when I called the ladies they were supportive and very caring in the situation but I still wanted the dress. When the dress came in early they worked with me to come pick it up when I had my support system of ladies. After picking it up little did I know that I would soon be not just dating but getting married to someone who had been a friend of mine for a while. When this awesomeness happened the ladies got me right on in to get fitted and when it was ready I picked it up. Unfortunately the ceremony had to be postponed due to me having emergency surgery (at this point I thought my luck just sucked and they would be tired of me) and the ladies were still empathetic with me and let me know that when we did have the ceremony all I had to do was bring it back in to be steamed. Finally we picked the dress up a couple of weeks ago and after all this the ladies were still helpful, still smiling and still caring. If these ladies can work through this and still have that professionalism and compassion than they are definitely top notch in my book. The gown was absolutely beautiful, and I just got our pictures back and I am so thankful for the little white dress for all of their help. I would and do recommend them to everyone I know even if they live out of town. The experience, the gowns and the ladies that work with you are awesome and it is worth it. Thank you ladies for making this tomboy feel like a princess even in the midst of chaos. My husband even had tears in his eyes and I am pretty sure it was from the gown. :-)
---
Great!
Reviewed on

11/27/2012
Abbie R
Everyone at the bridal salon were extremely nice and helpful during my dress selection process!
---
The best experience ever!
Reviewed on

10/24/2012
Amy W
I was lucky enough to win a $1000 credit with them but they treated me as if I was spending the full price out of pocket. Each time I needed alterations it was done quickly and with a smile. The customer service at the salon and after the purchase was perfect. I would highly... Read More recommend that every bride visit this salon first!
---
Great Experience
Reviewed on

8/02/2012
Allison C
I had an awesome experience choosing my dress. I was the only one in the store and the changing area was beautiful. My consultant chose several dresses for me and the first one I tried on was it. They worked with me to do the adjustments very near to the wedding date and helped... Read More me when the adjustments had a few problems. I got so many compliments on my dress. Of course it ended up being a little more than I anticipated, but they gave me my veil for free in order to help with the budget.
---
Had my dress!
Reviewed on

6/30/2012
Nicole O
I found my dress through a local bride's guide magazine. The price was great and the people were a joy to work with at The Little White Dress.
---
Amazing Experience!
Reviewed on

6/27/2012
Lindsey R
The Little White Dress has beautiful dresses! The service is unbeatable! They make you feel important and personalize your experience! They are also very easy to work with and get along with!
---
Dream dress
Reviewed on

5/15/2012
Manuela C
The dress I found there was perfect! It looked like it was made for me. The best part was that it was a sample dress and the price wasn't bad either. The only issue I had was alterations and getting the fit just right. I also had straps added and was not able to use them because... Read More they were not altered correctly.
---
Very helpful; Great service
Reviewed on

11/03/2011
Anna W
The staff at The Little White Dress are so nice and helpful. Working with them was a great experience. I highly recommend them to anyone!
---
Perfection!
Reviewed on

6/28/2011
Marla W
The ladies at The Little White Dress made sure I looked perfect on my wedding day. They went above and beyond. They even let me borrow a piece of furniture from their beautiful store for my bridal portraits. Debbie Gunnell, their in house seamstress, is amazing! She made sure my... Read More dress fit just the way I wanted. She even re-worked my dress so that the whole bottom part came off for the reception. They made sure I had my dream gown and we didn't even go a dime over budget...a very small budget.
---
Loved this shop!
Reviewed on

6/27/2011
Lindsay W
Beautiful shop, gorgeous gowns, the royal treatment for sure!
---
Meet The Owner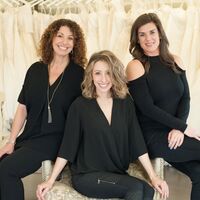 Brenda, Nichole & Emily
We are a family owned and operated business that prides ourselves on making sure every bride feels like the most special bride. All of our brides receive our personal attention throughout the entire process of buying their gown. From their first appointment, to alterations, to walking down the aisle, our team will make their experience very special and memorable.