Home

The Paxton Ballroom
Amenities + Details
Amenities
Handicap Accessible

Indoor

Reception Area
For more details about amenities, please message the Venue.
Rentals + Equipment, Service Staff
Contact Info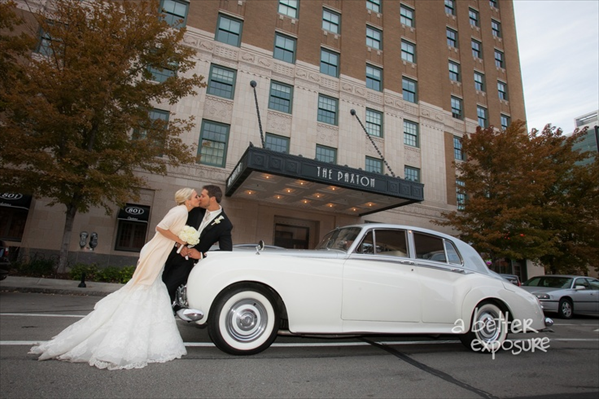 1403 Farnam Street, Omaha, NE
Stress-free reception at beautiful location
Reviewed on

10/27/2014
Angela G
I knew that Chad, the manager of the Paxton, was going to be awesome to work with when he responded to my initial information-gathering email within 5 minutes. We were in contact all throughout the wedding planning, and he was always great about answering questions and providing... Read More suggestions for my husband and my wedding reception. At the wedding reception itself, Chad greeted us, offered his congratulations, and helped the DJ coordinate everyone getting in line for the wedding party's entrance. When it came time to eat, the Paxton representatives made sure my husband and I got to get in line first for the buffet, and even carried my plate back to my seat so I wouldn't get food on my dress (which was a life-saver). They made sure the rest of the night ran smoothly and if there were any hiccups, I didn't know of them! To give a bit of advice to future brides and grooms, I would definitely recommend having your wedding reception at a place (like the Paxton) that pretty much handles everything (tables, chairs, linens, catering, bar, security, parking). That way, the only stuff YOU have to worry about is just anything extra you want to bring (decorations, centerpieces, guestbook, etc.). I can't stress enough how nice it was to work with Chad and his team. Overall, our wedding reception was everything we could have hoped for and was as stress-free as possible. :)
---
Classic
Reviewed on

8/15/2013
Vera S
Beautiful place, couldn't ask for a better reception hall/ Make sure you make us of the projector to do simulcast, it makes the crowd go crazier lol. Chad is a sweetheart, patient and kind. He is a good guy!
---
The perfect place!
Reviewed on

9/16/2012
Katie S
We were absolutely thrilled to have our reception at the Paxton Ballroom. From our first meeting to the big day, Chad & all the staff were wonderful to work with. They made sure we got what we wanted & the prices were very reasonable. I would highly recommend checking it... Read More out! Hap Abrahams catering was divine, we got so many nice remarks about the food & the venue from our guests. It was so nice not having to worry about renting tables, chairs, linens, etc. Choosing the Paxton was definitely one of the best decisions we made while planning & the beauty of it set the tone for our reception!
---
Reviewed on

5/31/2016
Stacey A
The Paxton as a venue was great. We received so many compliments. The staff with catering, bar, and security staff were amazing and made sure they took care of my husband and I. There was not a single person that wasn't willing to help us with anything we needed. After... Read More originally deciding on the Paxton we were happy. As the wedding got closer we found it more and more difficult to get simple things done. It would take several days a multiple attempts to get a response via email and every time I called it went straight to voicemail. The week before the wedding was stressful. (like it could be anything else) It took a string of over 20 emails to try to get an accurate invoice so we could pay the remaining balance in full. We are going on 3 weeks from the wedding and are still waiting on the refund we are owed. We are not sorry or upset that we selected Paxton Ballroom as our venue for our reception, day of everything went off without a hitch. We just wished that leading up to the wedding that communication was clearer.
---
Paxton Ballroom
Reviewed on

10/09/2015
Amanda B
Everything was perfect on our wedding day! Chad and his team are excellent to work with. Very pretty venue. Would highly recommend to anyone!
---
AMAZING!
Reviewed on

9/29/2015
Amanda S
I do not have enough words in my vocabulary to say how great our experience was with The Paxton. Chad and Elizabeth were the coordinators who helped us set up everything, from recommedning DJs, to their favorite foods with the caterer, to being on site all day to make sure we... Read More didn't have to worry about anything. We held our ceremony and reception here and they let us come in early the day before to set everything up as well as opening early on Saturday for our florist, cake and last minute things. The staff was so friendly not only to us but to all of our guests as well. Everyone love the bartenders and went out of their way to say how nice everyone was. Since the main room needed to be switched from ceremony seating to tables, they gave us an hour to take pictures on the roof with the beautiful skyline and our guests hung out on the mezzanine with cocktails and snacks. They did all of the work with the tables and we had two people follow to put centerpieces on the table. I never had to worry about anything and my day was entirely stressfree, they even let us keep the decorations overnight so we didn't have to move everything out as soon as the reception was over. I am so happy with the choice of going with the Paxton for the entire night, I would HIGHLY recommend it!
---
Reviewed on

9/16/2015
Jessica H
I would definitely recommend The Paxton for your wedding reception! They were great to work with, the space was beautiful, and the food is so delicious! Its a great price for all you get! We had about 280 guest and everyone fit nicely in the space!
---
Fantastic!
Reviewed on

7/30/2015
Kristina T
Chad is so helpful, patient, and flexible! I loved my wedding at the Paxton. Not only are the people great to work with, but the venue is great for pictures. It has a lovely art-deco feel. The only minor problem we had was that a number of our guests got stuck in the parking... Read More garage. I told Gary (the on-call person) and he took care of it.
---
Reviewed on

7/23/2015
Brittany W
We loved working with Chad at the Paxton Ballroom! He was wonderful and flexible. The ballroom was perfect and I loved how open it felt as well as the historical details throughout the building. Thank you so much for such a beautiful wedding reception!
---
Spectacular
Reviewed on

6/15/2015
Laura A
This is a beautiful venue with a vintage feel. The coordinators are very helpful. We are going to have amazing pIctures from the rooftop.
---
Absolutely flawless!
Reviewed on

12/16/2014
Laura T
Cahd was awesome fro the beginning, helpful, quick to respond, and made the whole process so easy. The staff the night of the wedding were so professional while very personable! It was an absolutely beautiful ballroom and had so many people comment on the location.
---
Awesome all-encompassing Venue!
Reviewed on

11/05/2014
Michelle S
The Paxton is amazing, beautiful, and ornate. I have enjoyed working with and utilizing this venue. I cannot say enough positive words regarding Chad, the general manager. He is responsive, flexible, and honest. He left no stone unturned and everything was very upfront -... Read More nothing hidden. Working with Chad and the Paxton eases your mind, and makes the wedding day (almost) stress free! In addition, the the overall price for food, beverages, and the venue rental is great when comparing the value and service you receive. I know Chad has several other venues he manages as well - 1316 Jones, the Pella at Blackstone, and Lucille's. Really, any of them would be amazing to work with! Highly Recommended!
---
Simply Amazing and Elegant!
Reviewed on

10/20/2014
jacque g
The Paxton Ballroom staff, manager Chad, and the venue was simply amazing and elegant! Every detail was attended to and they went above and beyond our expectations! Chad is a pro--he knows what needs to be done and keeps everyone calm. The food by Abraham Catering was absolutely... Read More delicious! Everyone raved about the beef and the salmon--crazy they can serve that many people and not sacrifice on the quality!! It was a dream come true for Jess and Tom (and us)! Thank you thank you!! :)) Jacque Grabouski
---
Beautiful Space, Great Customer Service, Party of a Lifetime!
Reviewed on

10/26/2013
Tiffany S
Without hesitation, I recommend the Paxton Ballroom to any couples looking for a venue for their wedding reception. The venue is elegant and classic. The customer service was tremendous. Our reception was everything I could have hoped for and more. My husband and I held our... Read More reception at the Paxton Ballroom in early October 2013. The General Manager, Chad, was incredible to work with. He provided helpful suggestions and direction but was flexible and open to our ideas. He met with us several times prior to the wedding. He made the process very easy and stress-free. At the reception, he greeted us as soon as we sat down, got us drinks and offered to bring us food - excellent customer service throughout the entire process! The catering and bartending staff were very professional and competent. The catering staff kept tables clear, but I hardly noticed them working the room. They flawlessly prepared 200 guests for a champagne toast. They seamlessly transitioned the cake from the center of the room to be cut and served. The bartenders were fun and engaging, yet professional. Our DJ was Jerome Kenkel of Complete Music, the company with which the Paxton has an exclusive contract. Jerome was so great! He met with us twice before the wedding. He truly listened to what we wanted, and he created the atmosphere we were hoping for by his music choices. He also played many of the songs we requested, and he handled guest requests very well. The food at the Paxton was good (so I hear - I didn't get to eat much of it). We served heavy hors d'oeuvres at 7pm, including a roast beef carving station with buns. We had some concerns that there wouldn't be enough food, but this was not a problem at all. Everyone had plenty to eat. We also served late night pizzettes and burritos, which people really enjoyed. There is nothing I didn't love about the Paxton. It was the most beautiful celebration we could have imagined. Thank you to Chad, Abraham Catering, Jerome Kenkel and all those with the Paxton who helped make the evening so special.
---
Perfect Location for a Perfect and EFFORTLESS Day!
Reviewed on

9/15/2012
Brooke E
What an amazing location!! We had our ceremony and reception at the Paxton and I would recommend this venue to anyone planning an event. The service was impeccable!! The food was AMAZING!! The location is gorgeous!! My guests loved it!! They seamlessly transitioned the room from... Read More ceremony to reception while my guests enjoyed cocktails, cheese, and fruit in the mezzanine area. Hap Abraham Catering operates the Paxton so you don't need to worry about finding a separate caterer or drink service. They are amazing at what they do from beginning to end. The cheese tray at cocktail hour was delightful. It is priced per person, however, we were encouraged to only order cheese for about 1/2 of our guest count since many people would be busy with cocktails and others would be taking family pictures. It ensured we did not have a lot of leftovers that went to waste. For dinner we had the roast beef, chicken veronique, thunderbird salad, roast potatoes, and green beans almondine. All were FANTASTIC!! The roast beef was truly amazing!! The chicken had a lovely creamy sauce with little grapes in it. The thunderbird salad is divine! We had the blue cheese on the side!! Several guests threatened to take the whole bowl of salad home. Even the potatoes and green beans were delicious. The drink service was prompt and incredibly friendly. The staff were ready with coffee after dinner and they cut and plated our cake after we did the official "cake cutting" pictures. They even boxed up the top tier so we could freeze it and they cleaned and wrapped our cake topper. Communicating with Chad was amazingly easy. He always responds promptly and is a tremendously nice guy!! Working with someone so organized makes planning very easy!! Chad orchestrates things like this everyday and his feedback was always spot-on (for example, I am so glad he suggested renting the stairs for the ceremony)!! You will not regret using this gem of a facility. I would not hesitate to recommend Hap Abraham catering or event facilities to anyone EVER. They were perfect!!
---
Beautiful Deco Interior!
Reviewed on

8/20/2012
Alesha H
Chad, Ben, and the rest of the gang made sure everything was perfect for my reception at the Paxton Ballroom. The interior is beautiful and was just what I was looking for. I did not feel the need to rent other chairs, linens, etc. and just used what they had which was perfect.... Read More We chose to do an all inclusive special for everything that was $40 per person. The price included parking, use of all their items, a buffet, and unlimited beer and wine. We didn't really do any decorating either because the space is beautiful in itself which is the point to me! The food was not super special as they have an exclusive caterer so if you are a foodie then this may not work. However, people raved about the lemon herb chicken on our buffet and I heard no complaints nor do I have any about the food. Great deal for everything that was included in the package!
---
May Wedding
Reviewed on

7/01/2012
Alex C
We were very pleased with our reception! Chad was amazing, he was so helpful and did whatever necessary to accommodate us. The room looked beautiful and the food was great- we received quite a few compliments on it.
---
Very Pleased
Reviewed on

5/25/2012
Ashley H
we had a wonderful time at the Paxton. Excellent food/ beverage and place to hold a 250+ wedding recepetion. Thanks for EVERYTHING!
---
The perfect wedding is at The Paxton
Reviewed on

4/11/2012
Stephanie M
I recently had my wedding at The Paxton ballroom. We were looking for something classy but indoors. I love the art nouveau-style of the building. Chad and Hap Abraham catering - The Paxton's catering partner - were great! The food was delicious and Chad was truly so flexible and... Read More accommodating. We got married on the stage, and our wedding party of 9 plus us, a huppah, and our Rabbi fit on the stage easily. We had about 250 guests and the wedding and reception were both in the ballroom. Our cocktail hour was on the balcony outside of the ballroom and it worked well. I would absolutely recommend The Paxton and their staff.
---
Just What We Were Looking For
Reviewed on

12/02/2011
Sara C
The Paxton was the perfect venue for our ceremony and reception. Chad and the staff did an amazing job. The transition from ceremony to reception was done in a flash and the room was beautiful. The food was amazing and everyone was so very nice. Chad was very easy to work with... Read More and I would recommend The Paxton to anyone. What a great experience!
---
Just what we were looking for!
Reviewed on

7/21/2011
Julie N
The Paxton Ballroom is stunning and the history of the building fit in well with the "old Hollywood glamor" theme we were going for. Chad, the event coordinator there did an amazing job and met with us several times so that he knew exactly what we wanted and made the day go... Read More very stressfree for us! Abrahams Catering is always amazing and the food was delicious!!
---
Reception Review
Reviewed on

5/17/2011
Erica B
Chad (the manager) and the staff at the Paxton Ball room were great! Communication was quick and easy, they were able to pull off everything I wanted and the ballroom was beautiful! It was so beautiful that I didnt want to decorate it much! I just put centerpieces on the table... Read More but I didnt even have to do that! I would HIGHLY recommend this place to ANY bride!
---
Awesome Venue
Reviewed on

12/19/2010
April K
It was absolutely beautiful and the staff made everything run smoothly the day of the wedding. It was a little expensive, but it was definitely worth it.
---
Beautiful Venue
Reviewed on

11/30/2010
Meghan T
We loved our wedding at the Paxton. Chad was very nice and met with us whenever we had any questions about rentals, music etc. They were VERY accommodating and the ballroom is gorgeous.
---
Simply Amazing
Reviewed on

10/26/2010
Chelsea R
The Paxton is such a beautiful and intimate setting for a wedding! The staff was very professional and articulate. Chad, the manager, took care of everything and was great to work with. He responded to all inquiries within a timely manner. I couldn't have asked for better... Read More people to work with and when I saw the ballroom setup for our reception I teared up - it was gorgeous and just what I wanted.
---