Home

The Pennsylvania Bakery
Details
Dairy Free, Gluten Free, Nut Free, Sugar Free
Cake Accessories, Cake Delivery + Setup, Cake Tastings, Cakes + Desserts
Contact Info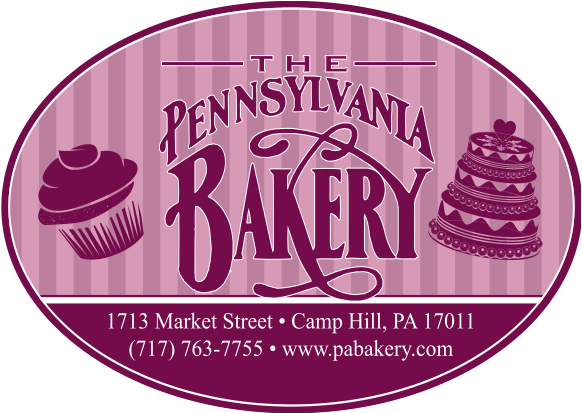 Address
1713 Market St,, Camp Hill, PA
Serving Central Pennsylvania & the Surrounding Areas.
(717) 763-7755
WEBSITE
Reviewed on

12/05/2017
Kristina V
Our experience with meeting, designing and the day-of aspect for the wedding cake was wonderful. The look and taste was fabulous and we got rave reviews about it!
---
Reviewed on

10/18/2017
Robin F
We requested a classic white wedding cake and the Pennsylvania Bakery created the most delicious confection for our October 2017 wedding reception! White cake, vanilla custard filling, and a French buttercream icing made for a deliciously simple cake that had our guests thanking... Read More us for dessert!
---
Reviewed on

8/02/2017
Mairead F
We were so happy with our PA Bakery wedding cake. We went to several tastings, and this was the only place we tried that produced a cake that tasted like something you'd want to eat. The flavors - amaretto cake with cannoli filling - were exactly what we wanted when we first... Read More brainstormed wedding cakes, and they were right on the list of standard flavors. Vendors who exclusively do wedding cakes don't normally offer that range of flavors, and if they do custom flavor combos, it's at a huge upcharge. Not so with PA Bakery! I also loved that I had so much creative control over the look of my cake - it turned out exactly how I imagined it would look! In summary, if you want a wedding cake that tastes unique and delicious, and you have a vision for what you want it to look like, PA Bakery will make your ideas reality. Note: This is an incredibly popular bakery, not a wedding cake boutique. Your tasting will be self-guided, and when you go to order or make changes, make sure you call ahead, go in person, and aim for non-peak hours.
---
Reviewed on

7/02/2017
Carrie L
I used to go here for years, but never again!! I have never been so upset with a vendor. I had to change my wedding cake tasting due to a family member funeral and they treated me like I dirt under their feet. Both to schedule the appt and change it the lady was rude, kept... Read More huffing at me and gave me a major attitude. After the second call and attitude again, I decided to cancel the cake tasting due to the way I was treated and the lady said she was the person I talked to both times and that she was always nice so it had to me. She wouldn't give me the fee back either. The lady on the phone told me it was to hold my appointment.....then they charged it days in advance and never even provided me a receipt. I thought I was alone and then heard from 4 other brides that they were rude or screwed up their cakes. It's obvious to me that they don't care about the customer....they just want your money.
---
Amazing wedding cupcakes!!
Reviewed on

8/04/2015
Kelly F
Instead of a traditional wedding cake, my husband and I decided on ordering cupcakes so that we could have a variety of flavors. On a visit to Harrisburg, we stopped by the PA Bakery and picked up some cupcakes - delicious!!! We set up a cake tasting to try different flavor... Read More combinations. When we arrived, the cupcakes were ready to go and the staff allowed us time to taste them before discussing what we wanted to order. We selected 5 different cupcake flavors and chose an Italian rum cake for our topper to cut. Sarah provided suggestions and guidance but allowed us to be as creative as we wanted with the flavors. On our wedding day, the cupcakes and cupcake tower were delivered on time and set up at our venue by PA Bakery staff. All of our guests were impressed by the variety of flavors and raved about their deliciousness. When we returned the cupcake tower the next day, the manager was not available to refund our deposit but returned the money to our credit card within a day or two of return. We can't wait for our next trip out to Harrisburg to pick up some more cupcakes!
---
Exactly what we wanted!
Reviewed on

7/29/2013
Angela C
The Pennsylvania Bakery was great at fulfilling my vision of our wedding cake. Having wanted cheesecake bites, with a smaller cake for us to cut, I wasn't sure how it would all come together. The Pennsylvania Bakery is affordable, good with communication, and open minded in... Read More accommodating their customers. They thought of every detail, down to the trays the bites would be presented on. The end product was GORGEOUS and tasted delicious. Overall, it's hard to stop in there and not find something delicious, glad to see their wedding cake is no exception! :) Special thanks to Julia and the manager for working with us. Well done, PA Bakery!
---
Stay Away from here!!
Reviewed on

7/02/2013
Amy N
I went to PA Bakery for my wedding cake. I knew exactly what I wanted on the cake and how I wanted it to look. I took pictures in to show them (some were even off their webiste). The day of my wedding came and the cake showed up without flowers!! I was suppose to have a ton... Read More of pink flowers all over the cake and there wasnt even one. The center tier was not in the diamond shape like I had asked for and showed a picture of. We had to called them to fix it. The only thing they did was put a few little flowers on the cake and they werent even the right color!! Their only saving grace is that the cake tasted great, however I do NOT recommend using them. I called in to talk to Pam (the so called manager) who was very rude with me and told me it was my fault. Yeah you are right, its my fault I thought my cake would look the way I asked and its my fault for picking a bakery that I thought was good. Never again!!
---
Delicious and beautiful!
Reviewed on

5/21/2013
Sara E
We ordered a 2-tier white cake with chocolate filling and raspberry icing and a sheet cake of chocolate with peanut butter icing. Both were so good! Our guests appreciated the different flavors and complimented on the pink hue of the raspberry. The details of the design work fit... Read More perfectly with the topper I purchased separately.
---
Delicious
Reviewed on

5/07/2013
Stephanie T
The most delicious cake.
---
Beautiful and Yummy!!
Reviewed on

10/20/2012
Kimberly B
We chose a smaller style two tier wedding cake and assorted desserts because we did a dessert table. We wanted our guests to be able to have many options about what dessert they wanted. We had everything...cannolis, gourmet cupcakes, cheesecake, assorted cakes. Everything... Read More looked and more importantly tasted great! Have used them before and will use them many more times to come. :)
---
Dedicated and Delicious!
Reviewed on

7/31/2012
Amy Z
The PA Bakery was one of the best parts of the wedding. They were able to take our vision of having whoopie pies, rather than a cake, and developed a beautiful arrangement for us. They were also able to make a fun groom's cake as well. My husband and I always wanted whoopie pies... Read More but found that other vendors were pricey when it came to this delicacy. We thought we weren't going to be able to have them until we went to the PA Bakery, who was very accommodating and wrapped the whoopie pies in saran wrap and then put them individually into bags tied with ribbons. We were worried about it looking tacky, but it was the exact opposite. Our guests loved them because they were absolutely delicious--one cousin ate four of them! We would highly recommend PA Bakery for its reasonable prices and excellent service.
---
We never thought of going anywhere else..
Reviewed on

7/31/2012
Jessica M
Byers is our local bakery, and we would always go there for delicious treats, so it was only fitting that we got our wedding cake from here as well. Diahan we so much help and really worked through everything with us to be able to design our dream cake. It turned out great, and... Read More family and friends keep telling us how tasty of wedding cake we had. Go for the lemon and raspberry cake, you won't be disappointed!
---
Great cake!
Reviewed on

7/07/2012
Christine D
Had a three tier cake made for 100 people. They delivered on a Sunday with a 40 charge. Overall a great cake. However I was a little disappointed after taste testing because I wanted the whipped icing on my cake and they told me only buttercream would work.
---
Mrs. Holmes
Reviewed on

6/27/2012
Nicole U
I ordered a very small wedding cake from the bakery and then served my guests homemade cup cakes. The cake we received from PA bakery was decorated exactly like the photo I had given them and tasted wonderful even when it had been shoved up my nose!
---
My cake was the centerpiece of my reception! :)
Reviewed on

10/24/2011
Rachelle S
I could never have dreamed of a more beautiful cake for my wedding day! When I arrived at my reception and saw it for the first time it took my breath away. The decorators incorporated all the intricate details that I had visualized and it came together perfectly. The cake was... Read More also moist and flavorful, and we chose to have each tier a different flavor. If you're trying to decide where to get your wedding cake, the Pennsylvania Bakery is the absolute BEST pick! :)
---
Wedding cake
Reviewed on

8/14/2011
SANDY P
Our wedding cake turned out beautiful (and DELICIOUS) and Pam was a joy to work with! We would highly The Pennsylvania Bakery for any special occassions.
---
Delicious
Reviewed on

7/01/2011
Ashley R
They did our wedding cake not only was it beautiful but it was the best cake I have ever had. Several of our guests kept asking us where we got the cake, it was delicious! Each of our 3 tiers was a different flavor, Yellow cake with strawberry mousse, White cake with raspberry... Read More filling, Marble cake with chocolate mousse. Our florist left the flowers for them to place onto the cake once it had arrived. They did a great job and even called me the morning of the wedding to confirm the time and location to deliver our cake. I highly recommend.
---
Yummy
Reviewed on

5/13/2011
LaQuashja J
Our cake was very delicious, and the cake looked exactly how I expected. The price was a little steep for the size cake we got, but overall we were satisfied. Great customer service as well.
---