Home

Uniquely Chic Vintage Rentals
About this Vendor
Timeless Rental Furniture & Vintage Décor
Uniquely Chic Vintage Rentals offers antique and vintage furniture rentals for all your special occasion needs! We specialize in unique vintage and custom furnishings for weddings, wedding venues, photographers, and all other events! We offer an extensive collection of chaise lounges, settees, sofas, loveseats, chairs, custom benches, backdrops, arches, sideboards, buffet tables, end tables, vanities, arbors, and display dressers. Additionally, we offer detail elements such as frames, mirrors, mantels, chandeliers, and antique accessories. Uniquely Chic Vintage Rentals can help bring your visions to life. Whether you need a few details for the final touches, or have no clue where to start (other than wanting a memorable event) - we are here for you!
Details
Lighting, Decorations + Accents, Benches, Chairs, Dinnerware, Flatware, Glassware, Lounge Furniture, On-Site Delivery + Setup, Stages, Cocktail Tables, Dining Tables, Tables, Tear Down, Rentals + Equipment
Contact Info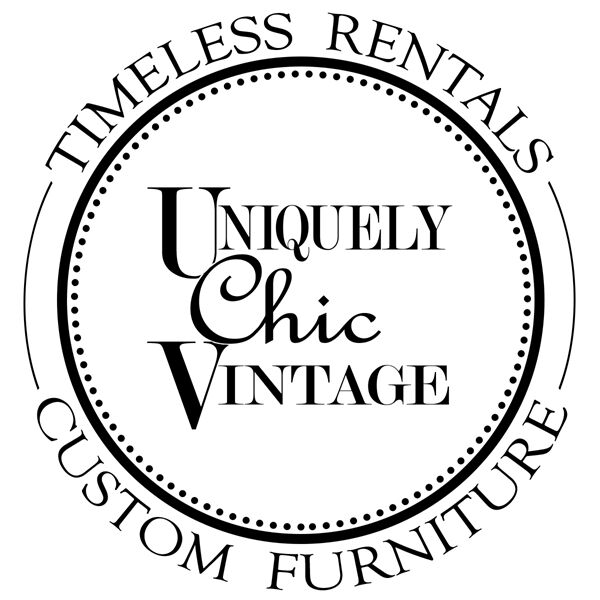 Reviewed on

5/28/2017
Jennifer S
The very first vendor I booked! Briel is such a great person to work with. Her amazing business ethic and personal approach will calm and excite you for any event you are planning. She helped me create an untraditional table to dance floor experience for my guests. She created... Read More different lounge areas for people to sit and feel comfortable at both outside and inside my venue. Our ceremony had the most amazing Arch! it was the best last minute add on and truly made our ceremony look and feel so magical. I never thought I would feel so happy about such small details having such a huge impact on the entire vibe of our day. Guests are still talking about all the amazing details and I'm still getting pictures from my guests raving about it. Don't even hesitate just book her! Briel is truly an artist and a refreshingly fun business woman that is game for any vision. Thank you again!!!!!xo
---
Reviewed on

10/20/2016
Nina I
I searched long and hard to find a vintage furniture rental company in the RI area before coming across Uniquely Chic. When I finally found Briel's company, I immediately knew that I had to work with her for a vintage lounge set up for my wedding! Her furniture inventory is... Read More constantly being updated and improved with newer and even more beautiful pieces. There are truly no other companies like Uniquely Chic in our area! Briel was an absolute pleasure to work with. She stayed in contact with me throughout the whole wedding planning process, always informing me of new pieces added to the inventory. We worked together to build a custom lounge set up with furniture that I chose and I could not have been happier when I finally saw it all together on the big day!! It looked absolutely amazing..even better than I had envisioned! I would highly recommend Uniquely Chic if you are looking for beautiful, high quality vintage furniture for any event!! Thank you Briel!!
---
Reviewed on

10/19/2016
Jackie S
I can not tell you enough praising words to describe how wonderful Briel is! She was one of the best and (spunkiest) might I add of our vendors. She was professional yet so personable. She was able to design our dream loveseat for our wedding. And now we have this keepsake for... Read More our future children to see as well! Her attention to detail and color is amazing and the amount of effort she puts into finding just what you want shows how much she really cares. This won't be the last time we use Uniquely Chic Vintage Rentals to say the least. Thanks Briel!
---
Reviewed on

6/15/2017
Nicole M
We rented the throne love seat for our wedding. It was placed at the end of a 40-foot head, tuscan-style table. It took the table and our decor to another level! Absolutely beautiful piece! Briel was super easy to work with! She took care of everything effortlessly :)
---
Reviewed on

12/01/2016
Chris D
From the first day we met with Briel until the day of our wedding, she made us feel like our wedding was always a priority. In addition to existing pieces, she reupholstered new pieces to match the theme of our wedding. Our guests were in awe and felt like they were in a... Read More different time period, and Briel's furniture was one of the main reasons we were able to bring our vision to life. Her work is really incredible! If you are looking for furniture for your wedding or event, contact Uniquely Chic . Briel is easy to work with, personable and extremely talented.
---
Reviewed on

11/20/2016
Jess M
Uniquely Chic was very easy to work with and their prices reasonable. We used them for vintage lounge furniture for a tent party and for seating for the head table for our wedding. Lot's of good options to choose from and they delivered and set up on time with no issue.... Read More Highly recommend.
---
Reviewed on

11/04/2016
Barbara F
Last summer I had the pleasure of doing a bridal photo shoot with some amazing vendors...Briel from Uniquely Chic Rentals brought beautifully restored pieces of furniture that added the perfect touch to the shoot. I was so impressed with Briel and her Vintage Rentals that I... Read More immediately gave her information to my office mate who is an event planner! Briel has a creative eye and wonderful sense of design. On top of that she is wonderful to work with. If you need that perfect touch for your event don't miss out calling Uniquely Chic Vintage Rentals!
---
Reviewed on

10/19/2016
Amy S
My best friend since kindergarten got married this past August. I was her maid of honor and wanted to do something special and fabulous for her bridal shower. After a bit of browsing I found Uniquely Chic vintage rentals. I contacted them and had the pleasure of speaking with... Read More the owner Briel. She was so helpful and insightful with ideas for her gorgeous vintage furniture. I decided to do an out door bridal shower and with Briels help created a fantastic seating area. On the day of the shower everything went so smoothly the furniture was there and set up when we arrived and picked up after we had left. We got so many compliments from the guest and it was the perfect surprise for my friend. I would recommend uniquely chic to anyone looking for something special.
---
Reviewed on

10/19/2016
Gina G
LOVE this company. I've collaborated with Briel on a number of photography projects, recommend her to ALL of my Brides & Grooms and use her for my personal needs as well. Custom furniture and accents can really add the finishing touch on your big day and will leave your guests... Read More talking about it for years! Not to mention what these PIECES can do for your pictures! Talk about gorgeous! If you're looking for a custom piece of furniture for your wedding or event, Uniquely Chic is definitely the way to go. Briel's talents are truly unparalleled. She takes creativity to a whole new level, her attention to detail is ridiculous and she works harder and more passionately than anyone I know. She can turn any piece of furniture into your dream come true! If you have a vision...she will make it happen. I can't believe some of the masterpieces she has designed! Briel is always a true professional, goes above & beyond for her clients, delivers on time and her inventory is unlike any other you will find. ***HIGHLY RECOMMENDED!
---
Reviewed on

10/19/2016
Sabrina F
Briel CAME THROUGH for me and my husbands encore wedding photo shoot. It poured the day of our wedding so our photographers (Massart Photography) coordinated with Briel and made magic at the dunes in Coventry for our 2nd special day. Her pieces are AMAZING in photos but even... Read More better in person!! We can't thank her enough for her time and talent, and will definitely be using her services in the future!!
---
Reviewed on

10/18/2016
Richard S
What else can you say about Briel other than amazing! We knew from the moment that we met her that she was the woman to bring our vision to reality. Not only is she very attentive to her clients, but she truly knows her stuff. Don't be fooled by other vendors who serve food and... Read More provide uplighting etc and HAPPEN to have some "vintage" furniture they can provide. Briel knows her stuff so well because she lives and breathes it....she actually refinishes the stuff herself! Go with Briel if you want nothing but the best for your special day!
---
Reviewed on

10/18/2016
Christina D
I couldn't have thanked Briel any more I contacted her last minute wanting the perfect sweetheart table love seat to finish off to our glam wedding theme & she came through ! When I saw the finished piece it was perfect! She also was very professional & definitely treated... Read More you like a client should feel :)
---
Reviewed on

10/17/2016
Rhode L
Briel is so great to work with! Uniquely Chic provided furniture for my June 2016 wedding. She stayed on top of things from beginning to end and always kept me updated. I wish I could've had every single piece she has because everything is gorgeous and she works with you to find... Read More exactly what you need for your occasion. Rental prices are very reasonable and the chairs added the perfect touch to my big day. I would give her more than five stars if I could! Definitely recommend Uniquely Chic Vintage Rentals!
---
Reviewed on

10/17/2016
Joan F
Briel is absolutely amazing!!!! She drove all the way to New Hampshire just so I could have a few special pieces to make our day special. It was the perfect touch to our wedding.
---
Reviewed on

10/17/2016
Laurie M
Our company was just able to use Uniquely Chic for the first time on October 8th for a beautiful three day event at The Dunes Club We were so happy with the quality and service. The antique couches provided added just the touch we were looking for.
---
Reviewed on

7/07/2016
Stephanie S
I loved my love seat for the wedding it was perfect!!! :) Thanks so much Briel!!
---
Beyond my expectations!
Reviewed on

1/22/2016
Dayna M
I was looking for something really unique for my wedding, and Briel delivered that in spades! I got 5 total pieces from her - 2 chairs and a couch that were used as a lounge area at the reception and a stunning custom made headboard bench for behind our head table. She was so... Read More helpful with selecting materials, colors, style, etc. The finished pieces came out way beyond my expectations! Since then I have seen more of her work and every piece is stunning. I would definitely recommend Uniquely Chic - she has lots of pieces you won't find anywhere else, and if she doesn't have exactly what you want, she will custom make it for you!
---
Reviewed on

9/08/2015
Jessica E
Out of all the wedding vendors I hired, Briel was my favorite! She went above and beyond to deliver exactly what I envisioned for my wedding decor. I was looking to create a Great Gatsby/ vintage glam feel for my Providence Public Library wedding. I knew I wanted to... Read More incorporate a lounge area for after dinner, and when going to my venue with the idea, they referred me to one of the larger New England wedding furniture rental companies. While the pieces they had were very pretty, they weren't quite vintage enough, or the right colors. On top of that, they were very expensive. That is when I stumbled upon Uniquely Chic, and found exactly what I was looking for at half the cost. If you see one of Briel's pieces that you love in the wrong colors for your event, it's no problem- she will repaint, reupholster, and recreate the piece into exactly what you want. I rented a chaise, a couch, 2 chairs, a coffee table, 2 end tables, a vintage typewriter, and a love seat for our sweetheart table made out of a headboard. Each piece looked amazing, and everyone raved about it all. I don't think these seats were empty at any point in the night. Everyone wanted to sit and take pictures on them. Everything was delivered and picked up in a timely fashion, without a hitch. On top of all that, Briel was nice enough to also take all the decor and props that belonged to me, and deliver them all to my house later that week. I had ALOT of stuff and was staying at a hotel that night. The venue required that it all be picked up that night, and I was stressed about where I was going to put it all, so it was a HUGE help, and a clear example of how she goes above and beyond for her clients. I highly recommend renting your wedding furniture from this wonderful company!
---
Gorgeous vintage decor that pulled our theme and vision together!
Reviewed on

7/06/2015
Tara B
The rentals provided by Uniquely Chic Vintage Rentals added the finishing touches to our Gatsby themed wedding. Briel and my planner Dayna set up gorgeous period detail chairs, lounges, side tables and props next to the dance floor that added a touch of elegance and made me feel... Read More like a princess as we sat there listening to the speeches from our bridal party. We got numerous comments from our guests about the ambiance and decor and feel that the rentals from UCVR pulled our whole theme and vision together. On top of it, Briel is super sweet and great to work with. 5 stars isn't enough- she deserves 5+++++++ Thank you!!!!!!
---
Meet The Owner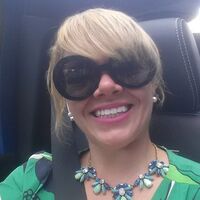 Briel L. Delmonaco
Uniquely Chic Vintage Rentals began with a spunky and fashionably eclectic tomboy with a knack for reviving unloved decor and envisioning greatness in otherwise boring surroundings. Always comfortable covered in paint, playing with power tools, and making the ordinary extraordinary, our creative and unique "boss lady" Briel is always on the hunt for furniture to transform from "crappy to amazingly credible." Her passion for antiques and uniquely chic style is what keeps our rental collection on trend and always changing! Reach out today and let us bring your vintage visions to life!