Home

Valleygreen Flowers & Gifts
About this Vendor
Helping Brides Since 1986!
Our professional consultant will understand your wishes and provide creative designs to make them come to life. We are familiar with all venues in Philadelphia and the surrounding areas. We look forward to making your day special. Visit our website for general wedding estimate information.
Details
Aisle Decorations, Centerpieces, Flower Girl Baskets, Pedestals, Vases, Chuppah, Wedding Arch, Decorations + Accents, Bouquet Wraps, Bouquets, Boutonnieres, Corsages, Flower Delivery + Setup, Flower Arrangements
Contact Info

Reviewed on

10/20/2017
Jessica G
Fran and the rest of the staff at Valleygreen were amazing from start to finish! Just as they did for my sister's wedding two years ago, they made the process of picking out floral arrangements for our wedding easy and fun. They listened to what I wanted and provided guidance... Read More and suggestions for the parts that I was unsure about. They made me a beautiful flower crown that came out just the way I envisioned, and was probably my favorite part of my look for my wedding day! We are still hearing compliments from our guests who took the gorgeous centerpieces home and said they got to enjoy them for over a week after the wedding. I would HIGHLY recommend Valleygreen to any future brides looking for beautiful and affordable flowers for their wedding day!
---
Reviewed on

1/08/2017
Susan S
Our daughter was married the end of July, but we waited until now to write a review because we thought the euphoria of the day would slant our opinion - no such luck, the pictures came back and the floral arrangements were even more beautiful than we remembered. During our... Read More first meeting with Fran at Valleygreen Flowers & Gifts he truly listened to our daughter's thoughts and ideas for what she wanted. He made suggestions that met with her vision, while staying within the budget. Fran pulled up pictures on the computer of the flowers so she could see exactly what he was recommending. He even checked with Heather several times to be sure she was still happy with her selections. When we saw the bouquets and boutonnieres the day of the wedding we were in awe – they were all so beautiful. Then we saw the centerpieces . . . . . they were absolutely stunning, and added the perfect touch to the day. About two weeks after the wedding we received a check from Valleygreen because the flowers did not cost as much as they estimated. Needless to say we would not hesitate one second to recommend Valleygreene to family and friends. We are confident they would get exactly what they wanted.
---
Reviewed on

9/30/2016
Jessica H
Fran at Valleygreen flowers went above and beyond my expectations for our wedding. He is SO creative and such a visionary. Fran took everything I had in my head and made it a reality. He is so fun to work with and passionate about what he does which is really what you want in... Read More someone working on the biggest day of your life! We had Fran do all the flowers for the wedding party, tables, etc then he also decorated the vintage items I used in my wedding. We also created a tree trunk table that we used as the cake table and Fran did an unbelievable job of making it look beautiful and organic. I can't tell you how many compliments we got from our guests about all the beautiful flowers. When I was about to walk down the aisle at the church and they opened the doors, my first thought was "OMG look at the size of those flowers! They're gorgeous!!!" and then I cried happy tears down the aisle lol. Truly though, Fran and his amazing team are the people you want doing the flowers at your wedding. They go so above and beyond for their brides and you truly feel like you have someone who's going to make your day everything you dreamed of and more. I'm so glad we decided to work with Valleygreen Flowers.
---
Reviewed on

10/31/2017
Melissa M
Thank you Valleygreen for the wonderful job you did.
---
Reviewed on

10/27/2017
Michelle F
My son AJ and his bride Ashley had a wedding at the Abington Art Center. Valleygreen flowers and gifts presented us with the most stunning flowers for the event. Fran Hammond's ability to create the vision the bride described to him was truly amazing. His artistic eye and his... Read More patient skill of simply listening to what was Ashley's idea for that day went above and beyond, and was a true gift. The wedding was to have been an outdoor event. However, mother nature did not cooperate. It poured the whole day. Fran and his staff adapted quickly to the situation and created the magical dream that could not had been more breathtaking. The prompt , unobtrusive delivery and the kindness of the staff just made the day complete. We would definitely recommend Valleygreen Flowers & gifts fro any event and would most definitely use them again for any future milestones we are celebrating.
---
Reviewed on

9/09/2017
Stacey H
Fran was very professional and has a great vision. He is so knowledgeable and accommodating. I would highly recommend him to anyone who is looking for a florist for their wedding or other event!
---
Reviewed on

8/22/2017
Maddyson F
Fran and the folks at Valleygreen did an incredible job with all the floral arrangements for our wedding this past June. One meeting was all it took to convey our vision and for Fran to bring that vision to life. My bridal bouquet, bridesmaids flower, boutonnieres, etc. were... Read More absolutely gorgeous and exceeded my expectations. They were delivered to the venue and arrived right on time. Would absolutely recommend Valleygreen Flowers & Gifts to others as they helped to make the day as smooth as could be.
---
Reviewed on

8/22/2017
Natasha F
Valleygreen florist was amazing. They sat down with me to discuss what my vision was for the floral part of the wedding and helped me decide on flowers that would work with that. The bouquets turned out exactly as hoped for and looked fantastic.
---
Reviewed on

8/14/2017
Megan Q
I cannot say enough about Valleygreen...they did my bridal party flowers and they were above and beyond what I had expected. We sat with Fran and we went through everything. I was a bit concerned because my now husband wanted orange flowers included in our wedding and I thought... Read More that was a bit over the top, but Fran completely put me at ease. He explained that cobalt blue and orange would look lovely and boy was he right! The flowers really popped with the dresses! I always wanted a cascading bouquet but I am on the shorter side...Fran measured me and made sure it wouldn't be overbearing. I also am very pleased with the cost of my flowers..we had a medium/large bridal party and the price was less than what I was expecting to pay for everything we received. The delivery was right on time and easy! I highly recommend using Valleygreen!
---
Reviewed on

6/15/2017
Emily W
The flower arrangements were beautiful-- really appreciated our meeting with Fran where he went over our different options!
---
Reviewed on

12/12/2016
Christa V
Valleygreen did the flowers for our wedding and I am so glad they did! Fran and team was SO easy to work with from start to finish! He helped make my vision of exactly what I wanted fit my budget. When I walked into my Reception I had tears of joy, they truly made my dreams come... Read More true and much more! It was more than a pleasure working with everyone and their artist talents are unbelievable !
---
Reviewed on

11/20/2016
Lauren H
We used Valleygreen Flowers & Gifts for our October 2016 wedding. Fran, the owner of the shop was wonderful to work with. He is open to looking at photos that you have saved on your phone but also takes the time to talk you through many suggestions and ideas for flowers that... Read More will be in season around your wedding. He has so many previous wedding albums that serve as great examples of his beautiful work. After my first meeting with him I knew we wanted to work with him and I was not disappointed. The flowers that arrived at on our wedding day were 100x better then anything I could have pictured. Valleygreen provided flowers for our Church Ceremony, Bridal Party bouquets, boutonnieres and flowers for our reception venue center pieces. He is wonderful - do yourself a favor and go meet with him. You will not be disappointed. He also did my sisters wedding in 2011 - so he has a great track record!
---
Reviewed on

10/30/2016
Amanda M
Excellent experience! Working with Fran was incredible. He brought my thoughts to life and my wedding bouquet and center pieces were perfect!!! Thank you!
---
Reviewed on

10/24/2016
Kiki K
They nailed the look we wanted, and Fran was a wonderful, knowledgeable, patient expert on flowers!!
---
Reviewed on

10/17/2016
Marissa F
Valleygreen Flowers came as part of our wedding package, and we were so thrilled it introduced us to Fran and his team. Fran was so knowledgable about the flowers and led us through the process easily. He was honest about what we did and did not need in terms of floral accents... Read More for the church and other parts of the reception space. Loved working with them!
---
Reviewed on

10/03/2016
Nicole L
I can't begin to say enough about how awesome Fran and his staff are. They listened to my vision and made my dreams come true! They were honest with me too about pricing and what they could and could not do. For example, we had a fall wedding and wanted to incorporate... Read More pumpkins... the price we would pay for the pumpkins from Valleygreen would be a premium so they suggested we get on our own which we did and we saved a ton. We will use Valleygreen for all of our events in the future!
---
Reviewed on

9/07/2016
Sarah H
I decided to look into Valleygreen for our wedding because my husband's company works closely with them. As soon as I met with Fran to go over what I had in mind I was sold. While I had problems with other florists, Fran instantly knew exactly what kind of look and feel I was... Read More going for. He offered suggestions that amplified what I envisioned or suggestions on things he thought we could cut. All while making sure I stuck to my budget. When I walked into our reception space I was floored. Valleygreen nailed it. The bouquets were gorgeous, the centerpieces and garlands were stunning, and all the little details were perfect. There were conscious of our budget and our vision through the entire process and they far exceeded what I pictured in my mind. It was so much more perfect than I had hoped it would be. Fran and the Valleygreen Team, you guys are my hero!
---
Reviewed on

8/23/2016
Lia J
PERFECT!!! The flowers for my daughters wedding were beautiful. she had a elegant rustic look with lantern centerpieces. They turned out better then we could ever imagine. Fran and his staff did an awesome job on the flowers. I would not go anywhere else for flowers.
---
Reviewed on

6/27/2016
Colleen F
Fran at Valleygreen was very accommodating and easy to work with. He had great suggestions at our appointment, the flower delivery came on time, and everything was beautiful! I would highly recommend Valleygreen flowers.
---
Reviewed on

6/05/2016
Julia D
Flowers were beautiful and service from valleygreen was amazing! We had peonies and roses that stayed great all day.
---
Reviewed on

5/31/2016
Kristen
It was truly a joy working with Fran and the team at Valleygreen. Prior to meeting with Fran, I had a few ideas for my flowers, but felt strongly about adhering to my budget as we required a lot of centerpieces. To stay within our budget, we seriously considered doing the... Read More flowers ourselves but chose to meet with a few florist to get an idea of the cost. I cannot stress enough how happy I am that we decided to work with Valleygreen. Fran and his team brought my ideas to life just below our budgeted amount, and all of the flowers looked exceptional! On the day of the wedding, everything was delivered to the house, church, and reception area on time and was set up exactly as planned. It was so great to have one less thing to worry about on such a busy day. Thank you Fran and team for a wonderful experience!
---
Reviewed on

3/01/2016
Kimberly
Absolutely amazing! I had the best experience with Valleygreen Flowers for my wedding. The consultation was great and we went over a lot of details, especially with flower choices and arrangements. I loved the recommendations Fran gave to me as I did not have a very detailed... Read More idea of what I wanted when I first visited. We were married in October and the flowers we decided on were absolutely breathtaking. We received many compliments! I would definitely recommend Valleygreen to any bride looking for a wonderful, relaxing experience. Thank you!!
---
Reviewed on

2/05/2016
Kendal F
Our flowers were stunning! They worked with us to stay in budget and never made me like I needed to spend more. Truly Plus One Customer Service!
---
BEAUTIFUL Flowers!
Reviewed on

12/27/2015
Meghan L
We used Fran and Valleygreen Flowers and Gifts for our wedding and could not have been happier! I am a total flower novice and Fran helped us throughout the entire process. He knew exactly what would work in our church and at our venue. He also helped with what flowers would be... Read More available during the time of year (December) and was able to put together BEAUTIFUL arrangements. I was so happy with the way all of the bouquets turned out and we received so many compliments on the centerpieces. We could not have done this without his help and suggestions along the way. He was also able to keep us well within our budget. We would absolutely recommend Fran and Valleygreen to anyone!
---
Gorgeously designed bouquets, corsages and boutonnieres
Reviewed on

10/25/2015
Nicolette B
I worked with Valleygreen Flowers for our wedding bouquets, wrist corsages and boutonnieres for our wedding party, grandparents, etc. Because I know absolutely nothing about flowers, I wasn't sure how to describe what I was looking for and was nervous that I'd end up with a... Read More generic bouquet that didn't really suit me. Boy, was I WRONG - Fran knew just what to ask to get a sense of my style, and the final products were absolutely stunning. The colors, flower choices and overall shape and style they suggested and delivered complimented everyone's outfits perfectly, and I couldn't be happier with my flower choice. Highly, HIGHLY recommended!
---
Meet The President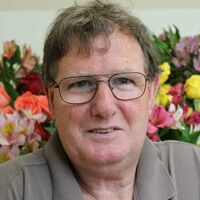 Francis Hammond
Francis Hammond, President, has been involved in the floral industry for over 45 years starting his career with Robertson's Florist in Chestnut Hill in 1967. He specialized in weddings and events and was taught well by his mentor, Jackie Gallagher. Since 1986, Fran has been personally involved with all wedding consultations and has supervised the Valleygreen staff to make each bride's day special. Fran is also a lover of the great outdoors. He enjoys hiking and biking along the Wissahickon trails with his six grandchildren. You can also often find him gardening in his back yard.