Home

Wedding Hair and Makeup by Jean Muldoon
Details
Hair Stylists, Eyelash Extensions, Makeup Artists, Spas, Beauty
Contact Info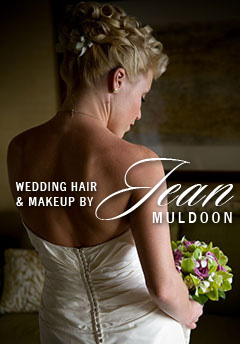 Hair and Makeup
Reviewed on

6/29/2015
Cannot say enough about Jean Muldoon. Her skills are beyond amazing!!! My hair lasted all day in the hot Maui sun and breeze. She knew exactly what products to use in that weather. My makeup was beautiful and exactly what I asked for. Jill Leduc
---
Very satisfied Bride!!
Reviewed on

6/20/2015
Tammy H
Jean was very nice and professional and she did an amazing job with my hair! She did what others said they couldn't and she was a fraction of the cost of everyone else I quoted in Maui.
---
Maui beach wedding
Reviewed on

12/09/2014
Maggie F
As someone who does not typically wear makeup or even 'do' my hair, I was nervous about getting both done professionally by someone I had never met. Jean was great! She listened to me and concerns and helped me feel comfortable on my wedding day. Definitely recommend!
---
Highly Recommeded!
Reviewed on

12/26/2013
Casey C
Jean and her associate came to our rental home and did 7 women's hair and makeup. I can't even begin to tell you how many compliments I have gotten on everyone's hair from the photos. They did such a great job and were great company the day of the wedding. They did such a great... Read More job and I would highly recommend them to anyone!
---
Beyond Fabulous
Reviewed on

6/03/2013
Karli S
Jean is gifted. I mean this in so many ways. She put me at ease, she made me look like the best version of myself and she made it all look effortless. Jean loves her job and so her time with you feels like a gift. A co-worker said "I think that you should wear your hair like... Read More that every day" which proves just how natural Jean's work looks and how clueless my co-worker is about hair. During our time I was able to laugh and look forward to our ceremony. If I have anything to complain about it is that Jean couldn't have held my hand for the rest of the day. It was like having a good friend there to see me through. She is a real gem.
---
Merci beaucoup Jean!
Reviewed on

12/04/2012
Claire D
Let me start of by saying that I am not the type of girl that spends much time on her hair, even less on make up, and that the whole wedding preparation was a totally surreal situation to be in for me. Which is why I feel so lucky that Jean was my makeup and hair artist. She was... Read More not only very personable, but also extremely talented and professional. I showed her a picture of something I liked and she did a wonderful job at reproducing it. She also did my mother and my bridesmaid's hair, and could not have done a better job. Everybody was very impressed by the result, including my mother who had tried to get the same hairdo from another professional hair artist for my sister's wedding six month before without success. Jean also shines in the makeup department. She managed to make me look very natural (which I wanted), with just the right accents in the right places. Whatever product she used against sweating worked like a charm, and I was very glad to still look fresh after dancing the whole night long. Many, many guests complemented me on my hair and makeup. You really cannot go wrong with Jean. Thank you so so much for making that day so perfect, and for your nice words right before the ceremony. Aloha.
---
Professional Artist!
Reviewed on

10/08/2012
Jean Venus Y
Jean did my hair and makeup for my wedding in Maui and did a phenomenal job! She took the time to listen to me and really understand what I wanted. Planning a wedding over 3000 miles away is hard and she met every expectation that I had. Jean is an artist but on top of that,... Read More was professional, prompt, and personable all in one. I am not one to wear a lot of makeup and she made me look and feel so special without having to wear a lot of makeup...even my husband loved it and he doesn't like makeup! Overall, Jean is a master at her craft and is someone you can trust to be a part of your special day! I highly recommend her.
---
Just Fabulous
Reviewed on

10/06/2012
clare a
I recently got married in Maui. Jean was recommended by my wedding planner. I had no idea what to expect as I have never been so pampered in all my life. My fiancee and I were eloping so I had no other 'girls' with me to help me get ready. Jean was like my maid of honor without... Read More all the fuss! Not only did she make me look and feel more beautiful than I have ever been in my life, she helped me put on my dress and jewelry! Nothing is too much to ask of her. If you want amazing hair and make-up for any occasion, call Jean Muldoon. Her skills are rare and fantastic!! My wedding pictures confirm the excellent job she did on me as well!
---
Incredible!
Reviewed on

10/06/2012
R L
"Incredible" is a true understatement of Jean's skill and beyond-wonderful personality and exceptional service! I planned my Maui wedding remotely from Los Angeles and was referred to Jean by my wedding planner, so I was a bit nervous before my trial with her, which happened to... Read More be our very first meeting. As soon as she walked through the door, I immediately felt so comfortable - as if I was getting together with an old friend! :) She is so personable and friendly and just an overall great person. On top of that, what she did for my makeup and hair was AMAZING. All I did was show her photos of what I wanted, and she went to work, creating the exact look for which I was going! She was completely open to suggestions for changes I wanted and then took any ideas I had and made them even better. Jean really helped me to look my best on one of the most important days of my life. I just felt so beautiful! I had no choice but to "own my beauty", just like she told me to right after finishing up and giving me a big hug and kiss on the cheek. I couldn't have had a better person for my hair and makeup on my wedding day. Thank you so so much, Jean!!! Xoxo
---