Home

Wedding Painter - Chrissie Dowler
About this Vendor
Artist for wedding painting & for artistic gifts
What sets Chrissie's work apart from other live event paintings is her ability to not only render the likeness of the subjects, but she also brilliantly captures the spirit, heart, and style of the people and the setting. Clients look to Ms. Dowler to create the love and liveliness they want in their artwork. With ingenuity and an audacious edge to her style, she brings the artwork to life on an unexpected level. Sentimental, joyful, and alluring, her work celebrates family, friends, expression and fun.
Details
Bridesmaid Gifts, Gifts for the Bride, Gifts for the Groom, Parent Gifts, Personalization

Contact Info

Reviewed on

7/24/2017
Lucy K
I can't recommend Chrissie and her beautiful artwork enough. She was amazing and the pieces of art were so well received by my bridal party. Such a unique and special gift to give your nearest and dearest. It was a delight to see the paper come alive with cherished memories.
---
Reviewed on

8/02/2017
Leigh W
If you are considering getting a live wedding painter for your wedding, do not hesitate. Chrissie is INCREDIBLE. This piece of art is something you will have forever and completely unique to you and your day. Chrissie spent so much time before the wedding making sure that she... Read More got all the details of this painting right. She asked for pictures of the wedding party, important people, and all of the little details, like the flowers and the centerpieces. She made sure she talked to us about how we wanted the painting to look overall, so we kind of had an idea of what the final product would be, but it was even better than we could have imagined! She captured our day and even incorporated our beloved dog into the painting. This was also very engaging and interesting for the guests--everyone came up to me after to say how much they loved seeing it come together!
---
Reviewed on

10/28/2017
cj o
I love her artwork! It's so sweet, sophisticated and stylish at the same time. We have it hanging on our dining room wall.
---
Reviewed on

10/27/2017
Robert D
Chrissie is a wonderful artist. Her paintings are wonderful and capture the joy of the moment.
---
Reviewed on

10/23/2017
Christina J
As a gift for my best friend, the bridal party all chipped in to hire Chrissie to come and live paint at her wedding. I had seen some of Chrissie's work online and loved her colorful party scenes and renderings, and thought it would be a really special and unique gift. I could... Read More not be more pleased and frankly blown away by the work she delivered. She captured the energy and joy of the room so beautifully, her painting is truly magical! My friend and her new husband LOVED the gift and they are hanging it in their new home. I would recommend Chrissie to anyone who really wants to give a special and really personal gift. She is a lovely person to work with, and an extremely talented artist.
---
Reviewed on

10/08/2017
Tisha H
Wonderful artist! Our guests loved it and we love the painting. So fun!
---
Reviewed on

9/30/2017
Michelle T
Chrissie is a phenomenal artist with an eye for tiny details. She created a painting that depicted our work together in Haiti as well as catching every important detail from our wedding - a handcrafted bench by my husband, the necklace I was wearing that is a family heirloom,... Read More even my bouquet, which I loved, was captured correctly. She manages to evoke the feeling of the event in a playful and creative fashion. The painting is incredibly charming and I can't believe I have all these memories caught in a single frame in my living room. It's absolutely priceless.
---
Reviewed on

9/11/2017
Alaiyo B
Chrissie was great to work with. I gave a wedding painting to my friend as a wedding gift. The response from the family was worth it. They thought it was an original idea and a beautiful outcome! Her style is fun and very detailed. She painted the entire wedding party and guest.... Read More I would definitely recommend her to others wanting to give an original gift.
---
Reviewed on

8/19/2017
Mary D
Chrissie's wedding paintings are amazing. I can't think of a more thoughtful gift to give the wedding couple. Everyone at the wedding enjoyed watching the work in progress. The live painting event added so much to the evening and the finished painting will preserve the... Read More memories of that night for the bride and groom to cherished forever.
---
Reviewed on

7/27/2017
Ann C
Chrissie created custom art pieces from my wedding. She captured moments from the ceremony to the reception that came alive with such vivid color and perfectly captured the excitement of my big day. She was also able to create custom drawings of my bridesmaids that captured... Read More their personality to a tee and such a unique gift! I'm so happy I will forever have this artwork to remind me of the beauty and fun of my wedding day!
---
Meet The Owner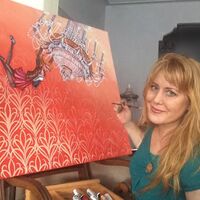 Chrissie Dowler
Chrissie Dowler is well-known in the fashion world, having created artwork and designs for several fashion companies including Henri Bendel, Ralph Lauren and Tory Burch. Ms. Dowler has also illustrated several children's books, including "Madison in Manhattan". Other clients include private art collectors who regularly commission paintings and purchase art from Ms. Dowler. She is an active member of her community, involved in local art groups, and a supporter of equal rights. She is in love with city life, inspired by people, the lively culture, and the endless possibilities.