Home

Weddings by Debra Thompson LLC
About this Vendor
Full - Partial - Wedding Day Plan
Our role is to make your life easier as you plan your special day. We oversee the logistics of your event, including all the planning and legwork. We keep track of the thousand little details, so you're free to relax, enjoy your guests, and savor every unforgettable moment!
Details
Day-Of Coordination, Full Service Wedding Planning
Contact Info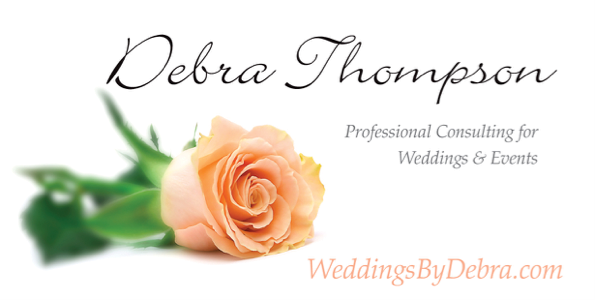 The absolute best
Reviewed on

12/02/2010
J G
Debra Thompson is one of the most special people I have ever met. She planned my wedding with more care, and detail than anyone could have ever done. She felt like a member of the family. Not only did she listen to all my plans and visions, but she executed and managed my vendors with an unprecedented efficiency. She also made some fantastic introductions though she never pushed any vendors on me. She helped me decide what parts of my budget mattered the most and I got the most for my money by following her advice. All things considered, she is the best wedding planner I could have ever imagined, and someone with whom I hope to remain life-long friends.
---
Could not have done it without her!!!
Reviewed on

10/24/2013
Jen C
Planning a wedding was the most difficult thing I have ever done. My husband and I had a very clear idea of what we wanted, not another cookie cutter wedding, but something very personalized that spoke to both of us and our distinct personalities. We presented all of our thoughts and ideas to Debra and she helped make our vision into the most amazing reality. Our special day cannot even be described in words. I have been complimented by guests since the event on everything from the decor to the dj. The best compliment I continue to receive is that I looked absolutely at ease and carefree, and I have all the pictures to prove it! For any bride you can imagine how important that is on your wedding day!
---
She Made My Wedding Beautiful!
Reviewed on

10/04/2013
Jeanne Marie H
I am in the DC area and was getting married in New York. I was getting overwhelmed because I spend a ton of time on the road for work and was trying to coordinate everything with the wedding too. The thing I was most worried about was decor. I didn't really know what I wanted and I didn't have time to think about it! Theme? What theme?! Then we hired Deb and everything was smooth sailing from then on. She had me use pinterest to "pin" items I liked from other weddings. She looked at my pinterest board and contacted a florist who fit the feel of things I was pinning. Turns out I had a theme in my head the whole time--all the photos pointed to the same things! I had relatives and friends coming from out of town, a huge room block, and lots of different vendors and she handled it all from then on. For her fee, she spends a LOT of time with you. My dad even remarked at how involved she was in every step, and how whenever we saw her, she wasn't interested in getting away as quickly as possible. Our vendor meetings ended up turning into long chats, and everyone felt very close to Deb by the time the wedding came. I am totally serious when I say this--if anything went wrong at the wedding, I don't know about it because everything was perfect. A piece of my dress was missing, and Deb was immediately ready to sacrifice a pillow to sew a new piece for me. Luckily, we found the piece of the dress, but I wasn't worried the entire time because I knew Deb had a back up plan. A lot of people warned me going into the wedding that I wasn't going to get a chance to enjoy it and that I'd be running around so much it would be lost in the whirlwind. Deb's team did the running around for me. Anything I needed, they anticipated. Deb also made sure we ate. And boy was I full! It was the little things that made things great--helping me swap my heels for flip flops and back and forth as my feet started hurting, coming up with a solution when I was getting way too hot in my dress, and for making sure my parents had a great time (And didn't miss the cocktail hour! Which has happened to them before :) ) Our wedding was a wonderful, seamless experience. I didn't spend the week before stressed. I didn't have to deal with last minute details. Instead, I spent the days before the wedding at the spa while Deb and her team took care of details. I cannot recommend them enough!
---
Debra is amazing!!!
Reviewed on

11/22/2014
Kaitlin P
The night we got engaged, my mom said she did her research and found us the best wedding planner in Westchester. It didn't take long for Debra & her team to prove they deserve that title. From beginning to end, Debra went above and beyond to make our wedding even more than I have ever dreamed of. Over the past year, she's become part of our family and was there morning, day, and night, to help us with planning our wedding. Her experience and connections in the industry were extremely helpful and made planning so much easier. If you are looking for someone to help you plan your wedding, Debra is the one to go to.
---
Deb Thompson is the BEST!
Reviewed on

6/10/2014
Weddings by Debra ensured that my wedding day was the best day of my life. The personal attention I was shown by Debra and her entire team throughout the entire planning process, and on the day of the wedding, was extraordinary and cannot be matched. Every detail was attended to, every member of my family felt heard and taken care of, and guests commented on how seamless the rehearsal dinner, ceremony, cocktail hour, reception, and brunch the next morning were for everyone. Debra's ideas and recommendations were spot on all the time, and her team was well-trained and professional. Planning a wedding is a lot of work, and can be really stressful for a lot of people. I NEVER felt stressed, overwhelmed, or unhappy during the process. Debra took care of everything! She made me and my family feel special, she my husband and his family feel special, and she made sure all of our guests were having one of the best weekends ever. I could go on for days about the extraordinary talent of Debra and her team. We will have only the best memories of our wedding because of Weddings by Debra.
---
Weddings by Debra
Reviewed on

6/07/2014
Pretima P
Debra and her team worked with my husband and I at least a year in planning before our wedding. The entire team was excellent and professional. We emailed them multiple times per day and they kept in constant contact with us. The value that you get with Debra's team is great. Debra tries hard to please all members of the bridal party, not just the bride and groom.
---
The Calmest Wedding Planner Ever!
Reviewed on

12/17/2012
Shahona G
Debra and her staff were amazing! They calmed me down everytime I was about to lose it! They are great and highly recommended.
---
Thank you Debra and Team!
Reviewed on

6/01/2012
Apryl B
As soon as I spoke with Debra I knew that she was "The One". I had been planning our wedding for just about 8 months at the time and really felt I needed additional support with all of the finer points, timeline management, and details that make the day truly special. Being a bit of a type A bride, I knew that I wouldn't be able to enjoy our wedding day as much as I should if I didn't have someone there that I trusted orchestrating the day - and I'll admit, holding my hand a little too! With Debra & her team our day was SEAMLESS, beautiful, and as close to perfect as it gets! Debra is a master of organization and wedding day management. She coordinated with all of our vendors to ensure that all were on the same schedule and everyone was where they needed to be at times they needed to be there. Any issues that may have arisen were immediately handled by Debra & her team and still weeks later I still know nothing about! Debra was an absolute pleasure to bounce ideas off of from décor to managing relationships with our vendors, which was sometimes a challenge. She has wonderful working relationships with the top vendors in Westchester which made our experience even more positive – definitely utilize these contacts! People are still commenting on the beautiful set up that Debra's team created for us using all of my specifications, followed to a T! When I did the final walk through of our reception room before the guests came in it was like I had set it up myself. The support that we received from the first consultation to the day of our wedding (and beyond) was PRICELESS. Our family and friends also enjoyed working with Debra & her team – my father is STILL talking about Debra and the amazing day she produced for us. It is an understatement to say that Debra goes above and beyond what her contract outlines. She is a true professional with a heart of gold and it is clear that she has a passion for what she does, which is also reflected in her amazing team. Weddings by Debra Thompson is truly the best that Westchester has to offer and we are so blessed to have had Debra and her amazing team as part of our wedding day!
---
Send Message