Home

---- GLOW ----
About this Vendor
Great FUN - wide variety, fantastic vocals & music
It is all about FUN, FUN, FUN and non-stop dancing. GLOW is the only band in the Southeast with three front singers of this quality - best vocals & harmony in the NATION. GLOW is AMAZING, SENSATIONAL, PHENOMENAL, engaging and packed with energy. Check out the LIVE video. Ask for electronic press kit.
Details
Fiddle, Guitar, Keyboard, Mandolin, Organ, Percussion, Piano, Violin, Vocals
Country, Dance, Disco, Pop, R&B, Rock
After Party, Rehearsals + Parties, Reception, Wedding
Best Wedding/Special Event Band EVER!
Reviewed on

10/11/2013
Kimberly H
I hired Glow to perform at my April 6th wedding in Athens, Georgia and they were a Class Act from the get go. Glow was the easiest vendor to deal with during the stressful process of planning a wedding and they put on an incredible show! They are not just the Best Wedding Band... Read More in Georgia but the Best Wedding Band ANYWHERE. They learned a song for us and kept the dance floor at The Hill packed all night - no one wanted to leave! My favorite moment with Glow was a rendition of "The Devil Went Down to Georgia" that they played better than The Charlie Daniels Band (the original song writers). Book them as soon as you can!!!
---
Awesome Party Band!
Reviewed on

10/07/2013
We reviewed many local bands and chose Glow because of their reputation and also their energy. I was able to see them in a concert venue and they were fabulous! If you are looking for a high energy band that can deliver tight vocals then look no further...Glow is your band.... Read More From a business perspective Mark was very engaging, stayed in touch and even had the band learn a new song that my son and his fiancé' used for their first dance. In a nutshell, this is one awesome band!!
---
A night to remember forever...
Reviewed on

10/04/2013
Scott F
They say that live music can make or break your reception. You are in good hands with "Glow" Our daughter's reception, held on September 28, featured these extremely talented individuals who kept the party going. Their vocals are amazing and the musicianship is unparalled.... Read More We crashed alot of weddings trying to find just the right band and we are so thrilled that we chose the right one. Our friends are still calling us to talk about the band. They tailored the set list specifically for us and even learned new music that the wedding couple requested. Thank you Glow for an evening we will never forget.
---
Reviewed on

6/15/2015
Julie B
Glow is the best wedding band you could possibly have! They played at my daughter's wedding reception on 6/13/15. They played the right mix of music for our guests - really current songs and also timeless classics. The dance floor was full as long as they were playing! Also... Read More everyone enjoyed the fun atmosphere that they created! And they sound great, too! Hope we can book them again in the future!
---
Reviewed on

5/13/2015
Samantha Q
This band was absolutely the best band! They made my wedding wonderful and my family all danced and had the best time. I cannot recommend them highly enough, they are absolutely fantastic and so accommodating! Truly an amazing band and a wonderful group of talented musicians!
---
Great Wedding Band!
Reviewed on

11/12/2014
Tyler H
The Glow Band is a perfect wedding band! They know how to get people up and dancing. I had several people tell me that this band was the best wedding band they had ever heard. The Glow Band plays a wide range of music that will appeal to all wedding guests.
---
Incredible band!!!
Reviewed on

9/03/2014
Sarah W
The GLOW Band was absolutely amazing at my wedding! They kept the dance floor packed the entire night, and all of the guests raved about how great they were!! They played music that guests from all generations knew. They were fun, upbeat, and really knew how to work the crowd.... Read More They answered all of my questions and made sure that all of the details were perfect before the big day. They even matched their attire to the "theme" of my wedding. I highly recommend them!!
---
Great Wedding Band
Reviewed on

8/13/2014
Megan D
GLOW had people on the dance floor all night long! We wished that they could have played longer!The manager is very personable and professional and the band members are talented! Great night- great band!
---
Amazing Band - Glow Band
Reviewed on

10/03/2013
Cecil P
The GLOW band is excellent. Many people during and after the wedding reception came up to me and said "...I don't know what you paid for them, but they are worth it....They are amazing..." Cecil
---
GLOW BAND IS THE BEST!
Reviewed on

10/03/2013
We celebrated our daughter's wedding on June 29th with a reception at Country Club of the South in Alpharetta, GA. The GLOW BAND did an amazing job with the music - they asked us what we wanted, and we stated "songs spanning the decades" and WOW did they deliver! Everyone in... Read More attendance - young and old - was on the dance floor having the time of their lives, and we have gotten SO many compliments from our guests since then. I am one Happy MOB seeing how pleased my daughter and new son-in-law were with the wedding! It was so lively and exiting, First Dance was so romantic and the band's interaction with guests was really fun, too. I HIGHLY recommend The Glow Band, and I will continue to recommend them to friends! We could not have been happier with their performance - GLOW BAND IS THE BEST!!!
---
Glow Band rocks Siddens/Skelton Wedding
Reviewed on

9/25/2013
When one reads reviews about bands (and just about anything else), the reviews must be taken with a grain of salt, in most cases. Super high and super low ratings must be tossed out, and one must read between the lines a lot. That being said, my fiancee and I hired Glow... Read More Band after only about 30 minutes of searching for bands. From that moment on, the booking, scheduling, working out our dance routine, and the music selection could not have been easier. Mark and Robert made the experience SO nice. And once they came to our venue, they were top-notch professional in the set up and relationship with the venue and our wedding party. The band used our digital music mix for our bride-groom dance and then went into a KICK-ASS music set, and everyone danced for almost 5 hours!!!! Every one of our 225 guests raved about the quality and variety of music (REALLY!), and I did not overhear nor was I told one negative thing about the band. Just awesome comments! I recommend the Glow Band without hesitation, and know that they would make your wedding as fantastic as ours!
---
incredible!!!
Reviewed on

8/26/2013
andrea k
Glow did an incredible job at my reception!!!I had the good fortune of attending another wedding they did a few years ago but the groom, my mom and the groom's family did not know what they were in for. Since the wedding, we have received nothing but positive feedback and rave... Read More reviews about how amazing the band was from our friends and family. The band was able to get everyone up and dancing. We even ended up extending the time the band played but we are certain our guests could have danced until 3:00am. My husband and I are so appreciative for the amazing job the band did and for making our wedding reception so memorable!
---
GLOW - fun, flawless, high energy & professional Best wedding our guests attended
Reviewed on

3/25/2013
Gerald K
GLOW played for my daughter's wedding at the Biltmore Hotel in Atlanta on 3/10/13. We could not have been more pleased. From the first note to the last GLOW was high energy, fun and flawless – resulting with an absolutely perfect event. We were constantly stopped by our guests... Read More letting us know how much they loved the music, not to mention the numerous phone calls and emails letting us know that this was, by far, the BEST wedding they had ever attended. GLOW's professionalism was evident from the outset with great customer service and attention to detail. Not only were they helpful, approachable and flexible, the vocals and musical selections were beyond anything we could have imagined. They are superb. I am delighted to offer my highest recommendation. Gerald "Jack" Kearse
---
Fantastic Band!
Reviewed on

11/27/2012
Kayt S
GLOW is absolutely everything they are rumored to be - phenomenal. The vocalists and musicians are top-notch, and they made the entire process easy for us. They were very flexible to our needs, learned a special song just for our first dance, and kept the dance floor full all... Read More night. Our guests traveled from all around the country and have not stopped talking about GLOW and what a great time they had at our reception. The staff is very helpful and really helped us organize our reception, thinking about things we had not previously considered. They are worth every penny - you will not be disappointed! P.S. Have them play Devil Went Down to Georgia if you want to see the roof blown off the place!
---
Great music!
Reviewed on

6/11/2012
leah s
This band was the best! Never once did the guests stop dancing, smiling and celebrating! Thanks so much for helping make it a truly memorable wedding Leah Statler
---
GLOW was the BEST!!!!
Reviewed on

5/31/2012
Kristy R
"Hello GLOW/Mark & Robert, I wanted you to know how absolutely fabulous you were this weekend at our daughter's wedding!!! You guys definitely made it a party to remember and we really appreciate your excellent efforts. Kristy and Peter and all of their friends were all... Read More talking at the brunch on Sunday about how great the band was on Saturday night, and GLOW made it such a memorable event for them. We appreciate the fact that you never took a break, kept the party going, and volunteered to play an extra ½ hour. We were having a BLAST!!!! Kristy and Pete will always remember their first dance...you did a GREAT job on "Are you gonna kiss me or not???" Everything was perfect. Again, we couldn't be happier with GLOW and the performance on Saturday night....you guys are simply the BEST!!!! Thanks, and we will definitely see you at the Ritz at Lake Oconee next month. - Nancy & Bill Lewis"
---
The Glow Band
Reviewed on

4/26/2012
Susan K
As father-of-the-bride, I received numerous compliments throughout the wedding reception. The top two cited my beautiful daughter and the fantastic band. Of all the dollars spent, the best investment was the music. Few people, if any, will remember the food, the flowers,... Read More and the decorations, but ALL will remember The Glow Band. Their interaction with the bride & groom, family and friends set the tone for a magical and energetic evening. The volume was perfect – not too loud or too low. The play list crossed all generations with universal appeal – something for everyone. They could read the crowd knowing when to raise the beat or tone it down to unwind. Most of all, the talented vocalists and interactive musicians brought everyone to their feet either clapping or dancing. All of this is not by accident. It's their well-oiled behind-the-scene management and technical expertise. They are truly professionals who love their craft. My only advice to those planning a wedding is to hire The Glow Band. Your dollars will stretch, bringing a lasting memory for your guests and love ones.
---
Excellent in every respect
Reviewed on

4/25/2012
Terry B
"GLOW performed for my daughter's wedding at Country Club of the South on April 21st. We were extremely happy and they deserve RAVE reviews. Our guests showered us with compliments and wanted to know how we found such an "awesome band." From the very first song the dance floor... Read More was completely packed and our guests spilled out onto the carpet. Our guests wished the band could play all night. Everyone wanted to keep dancing. The atmosphere was electric, fun, and all smiles. GLOW's performers started Congo lines, got everyone singing, jumping up and down, and provoked an amazing amount of excitement and energy. In the months preceding our reception, the band leaders helped with the schedule and nailed down the dozens of details. I give GLOW my highest recommendation. " – Terry Backer
---
BETTER THAN AWESOME!
Reviewed on

4/20/2012
Leslie S
The GLOW Band did an awesome job at our daughter's wedding. We could have not been more pleased. We knew how good they were, but they exceeded our expectations!! So many people have told us what we already knew - that our band was FANTASTIC!! My 5 year old nephew and my 87... Read More year old father were on the dance floor having a great time. I have gotten so many calls from friends and relatives saying ours was the best wedding they had ever attended, and GLOW was a large part of that success. Tim's rendition of "I Loved Her First" was so wonderful - I didn't want it to end.
---
Outstanding wedding band
Reviewed on

4/19/2012
Debra K
From the moment of my first contact with Mark at Glow I could not have been more impressed. This band was incredible. Each individual is truly a gifted musician. The band harmony and solo acoustics are fabulous. The music mix reaches out to all ages and from the beginning... Read More everyone was up and dancing. Glow played well beyond the time we had hired them to play and were happy to do it. We could not have picked a better more talented group. Do yourself a favor and listen to them. You will not disagree with my recommendation. And, feel free to call me. We had about 165 people at an outdoor lake wedding. Glow entertained all.
---
Meet The Owner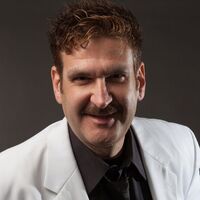 Robert Taylor
A band-leader through more than four decades, Robert is a wealth of experience. Robert's music education is equal parts classroom and real-world application. He ensures a musical and entertainment experience at the highest level! From the front row in a symphony orchestra to the backstreet barrooms, the last twenty years has seen Robert leading successful bands in the Corporate and Wedding markets. In addition to leading the band, Mr. Taylor specializes in most string instruments, including Guitar, Violin/Fiddle, Mandolin and Bass Guitar.