Home

A Day Made for Us
About this Vendor
Life is full of moments. This one belongs to you.
I perform virtually every type wedding imaginable, and I am completely flexible to meet the faith/secular needs, the theme, colors and wedding budgetary needs of the couple. I make no moral, religious or value standard for the couple. Whether it is your first, or you have been married before doesn't matter. Personal perspective of faith doesn't matter. Gender doesn't matter. Age doesn't matter. All that matters is that you are in love and can legally marry in the state of Texas. In fact, I am among the few that is authorized by the State of Texas to perform weddings in prisons. I have performed dual faith weddings, same-sex weddings, themed weddings and jail weddings. My ministry is one of service. I am here to serve others and make your day truly amazing.
Details
Civil Union, Commitment Ceremony, Elopement, Interfaith Ceremony, Non-Religious Ceremony, Religious Ceremony, Same Sex Ceremony, Second Wedding , Vow Renewal Ceremony
Anglican/Episcopal, Baptist, Nondenominational, Protestant, Christian, Interfaith, Secular, Spiritual, Unitarian
Premarital Counseling, Ceremony, Wedding
Contact Info

Reviewed on

3/22/2018
Kyle R
Rev. Fricke was our Officiant and Denice Harris was our Day Of Coordinator from A Day Made for Us. You couldn't describe the name of the company any better. It felt as if they tailored our wedding day just for us. Rev. Fricke, from the very beginning was kind, open and honest.... Read More He made the day of our wedding so comfortable for both Jessica and I, I think we forgot to be nervous at some points. Each detail was laid out for us and we felt like we could not be cared for any more. He even adjusted when it started to rain just minutes before our ceremony. And Denice was great every step of the way. She thought of details that Jessica and I have not thought of the whole time we planned the wedding. On the day of, she was calm and cool as we had to move from outside to under the tent when it started raining. She had all of the vendors in line and everything went off without a hitch. By the end of the night it felt as if they were part of the family. They both went above and beyond to ensure we and our guests felt comfortable and enjoyed our time. I would recommend them to anyone who is getting married. If i could give them a higher rating than 5 out of 5, I would!
---
Reviewed on

9/22/2016
Hollyanne S
We couldn't think of a better person in this world to conduct our wedding than Steven Fricke! I mean do a wedding without Steven? No Fricken way! When we first met Steven at a local Starbucks we were blown away. He not only believes and views the world the same way we do in a... Read More religious standpoint, but he has a personality that makes you feel like you are with your best bud. We had a fantastic 4 hour conversation and didn't even look at the time. We instantly made a great connection with Steven. We walked to the car and looked right at each other and smiled because we knew we found the one. Steven is down to Earth, quirky sense of humor, and just straight up real. He isn't trying to sell you anything. He just wants to make people happy and loves God. He created a beautiful ceremony that I'm still getting 8262674 text messages and phone calls daily about. He said all the right things and made it all about us. He made sure he didn't cross any boundaries, included all we asked, crossed all his t's and dot all his i's. He truly made our day special. We seriously could not have done it without him. Not just because we of course needed an officiant...but because he made it special. We absolutely Fricken love Fricke!
---
Reviewed on

4/14/2018
Holly K
Reverend Fricke was early to both the rehearsal and the ceremony. He was so calm and polite and always had my husband and I laughing. We received so many compliments on his beautiful service and it was everything we had hoped for!
---
Reviewed on

4/09/2018
Maddy R
We had a family member that was planning to marry us, but about 25 days before our wedding, we decided to go a different direction. Rev. Fricke and Rev. Goodwin were so kind and we felt completely comfortable with putting our very special day in someone's hands we had not met... Read More with yet. When we spoke with Rev. Goodwin on the phone, we immediately felt at ease and knew we would be happy we made the switch. Rev. Goodwin did such an amazing job and was incredibly sincere and helped calm me when I got a little emotional during the ceremony :) Would definitely recommend!!
---
Reviewed on

12/20/2017
Joselyn M
Initially we were very nervous about finding a reverend to officiate our wedding, however our first meeting with Rev. Steven gave us confidence in our non traditional wedding and ceremony. He took time out of his busy schedule to get to know us personally prior to the wedding,... Read More and his friendship felt genuine. He went over specific details to earn our trust and made sure he was a right fit. He even gave us information for other reverends if we were not satisfied! We aren't religious and he was willing to draft a service based on our on preferences as well as make last minute changes with no hesitation. All with only 2 weeks notice!! We absolutely loved having Rev. Steven as part of our ceremony and we couldn't imagine anyone more perfect! We made a good friend on 12.15.17.
---
Reviewed on

12/04/2017
Lindsay M
I'm so glad we found Reverend Steven Fricke when we did, our first meeting was great. He took the time to explain everything and really got to know us as people and a little bit about our story. It was refreshing to meet someone like him who genuinely cared and has such a... Read More passion for what he does. Leading up to the wedding he gave me great advice when it came to writing our service. When wedding day came he was on time, dressed professionally and allowed me to pick out his tie for the day, which seems so small but it's a great touch to have. The service was amazing and beautifully written, he really couldn't of done a better job. Thank you so much Steven, we loved working with you and are so happy that you are the one we chose for our special day! One more thing... during our first meeting, Steven gave us some great advice. He said "wedding planning is hard, it will get stressful and you'll want it to be over with already. But cherish every moment of it, because this only happens once so have fun with it!" Every time things got to be too much, those words replayed in my head and allowed me to take a step back and look at the bigger picture and allow myself to not stress about the little things, and like he said.. to have fun with it! It really helped me get through the hard times of wedding planning. You never know how much simple words can have such an impact, so thanks for that too!
---
Reviewed on

12/04/2017
Tyson S
I don't think I or my wife can overstate how much having Steven added to our experience. When we first met to discuss our options he was warm, welcoming, considerate and personable, all attributes which carried through to the wedding service and after. From the minute you meet... Read More Steven Fricke, he is your advocate and a man in your corner. He was always available for discussion when necessary, good with response time, and he was genuinely interested in how we wanted our service performed, every step and every word. He was always available as a resource for support and assistance with any aspect of the ceremony when called upon, and we always felt secure that the whole process was well-managed. At the wedding rehearsal and on the day of our wedding, he was on-time and prepared. The rehearsal went off without a hitch, it was an easy and stress-free run-down of what was planned, and on our wedding day he attended to both of us, ensuring we were calm, happy and ready. The service was amazing. We cherished it ourselves, and we received compliments all night from friends and family who said the service was unique, beautiful and well-officiated. In particular, they all mentioned his open and honest manner, and his genuine care in what he does. Through it all, he never allowed us to get lost in the ceremony; it is very easy for the night to run away from both the bride and groom, until they both are left wishing they had more time to savor that once-in-a-lifetime moment with one another. He always made it about us, and ensured we would remember every second for the rest of our lives. In short, Steven Fricke made our wedding day as special as it was by keeping our focus on each other. We knew he cared, and so did everyone else!
---
Reviewed on

11/03/2017
Samantha S
I can't express how great of a job Steve did on our wedding. It was personable and memorable, he definitely went above and beyond making it the best day of our lives. He is not only an incredible human being, but an amazing officiant. He is passionate for what he does, and it... Read More completely showed in our wedding. Everyone was over the moon with our ceremony, and we can't thank Steve enough for making that happen!
---
Reviewed on

10/24/2017
Tara M
Reverend Fricke performed a great ceremony, based on getting to know us in the initial meeting, and added unique features. Several guests commented on the uniqueness of the ceremony!! The problem is that he did not respond to emails or texts for weeks and provided no guidance... Read More past the first meeting. At one point, because we hadn't heard from him, we thought we would have to hire someone else to marry us!!!! It all turned out well, but just be aware you may have to send multiple messages to get a response.
---
Reviewed on

10/22/2017
Jessica S
I am so glad we ended up with Reverend Fricke for our wedding officiant. We ran out of options when the few churches we talked to either weren't available or had stringent requirements to abide by. 'A Day Made For Us' was much more affordable than other officiant services in... Read More the area, and he literally customized the ceremony to our liking. Steven met with us a few times early on to hang out and get to know us, which was a nice gesture before what would be such a huge, sentimental occasion. We made several changes to the ceremony script and Reverend Fricke was so accommodating and responded quickly to all my questions throughout the entire planning process. At rehearsal, he really took the time to make sure we were comfortable with how everything was going to happen. He covered so many small details we wouldn't have known to think about. We actually invited him and his wife to both our rehearsal dinner and wedding reception, and they really appreciated that gesture and had a great time! Our ceremony was flawless and I'm so thankful we had Reverend Fricke there to make it happen. He is friendly, personable, experienced, and so easy going. We could not be happier!
---
Reviewed on

4/11/2017
Mai V
Reverend Steven crafted a beautiful and personalized ceremony that was just perfect for our wedding. He really took the time to get to know us in order to write something meaningful and unique. We had several guests tell us how much they enjoyed and were touched by our... Read More ceremony. Thank you Reverend Steven for everything!
---
Reviewed on

10/18/2016
Diane F
Reverend Fricke was absolutely amazing. He met with us and took the time to get to know us and get a real feel for what we wanted. He designed a personalized service for us that was everything we wanted and more. He added all my special requests and provided us with the whole... Read Moreauyfcbefvrafaxtfuutwwtrufxwrzdburayxxw service early enough to make any changes we wanted. We didn't need to make a one! It was perfect. He arrived on time. Spoke to both of us and even matched his tie to our decor. Don't choose anyone else. You will not be disappointed. If I could give more than 5 stars I would😍
---
Meet The Owner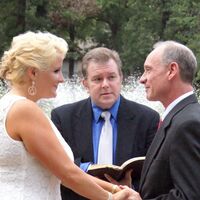 Reverend Steven T. Fricke
I am an ordained non-denominational minister. I enjoy what I do and I enjoy going above and beyond the expectations of all of my couples!