Home

A - List Limousine and Luxury Coach Service
About this Vendor
Your #1 Wedding Limousine Specialist!
A-List Limousine Provides nothing but the Best Quality Limousine & Luxury Limo Bus Manufactured today! We strive on making sure its the one day you will always remember! Come in and see for yourself why A-List is #1 and separates us form the rest ....
Details
Limousine + Sedan, Transportation
Contact Info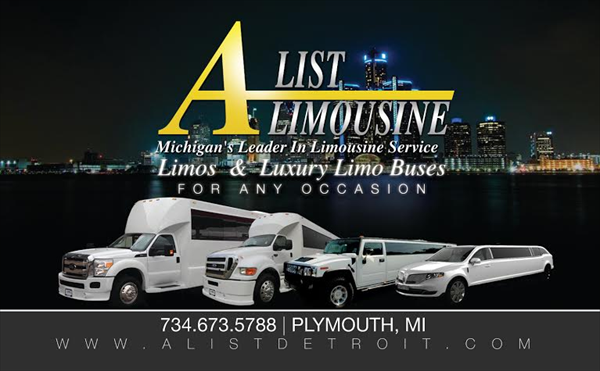 Great vehicles
Reviewed on

9/04/2013
LaRonda G
Paul was great to work with and the vehicle selections are amongst the best you can ask for in style, comfort, and quality.
---
Good Service, Good Price
Reviewed on

6/20/2013
Jennie H
We rented a party bus for our wedding. It was clean and comfortable. The driver was professional and prompt. This was part of our day that I did not have to stress about. I would recommend A-List for your wedding or event.
---
GREAT SERVICE!!
Reviewed on

5/09/2013
Tiffani S
A-List was a great choice for my wedding day transportation needs. The limousine looked great and the price was affordable. On the day of the wedding, the driver arrived on time and was professional.
---
Reviewed on

2/03/2018
Paul G
Best Limo Service In Michigan Hands Down! Showroom Speaks for itself!
---
Reviewed on

1/09/2018
Jamie Q
From beginning to end the process was quick, easy and Paul was very helpful! Our driver was awesome and the bus was immaculate. Thank you A-List Limo, we will totally be using you again!
---
Reviewed on

1/09/2018
Amanda R
A-List Limousine has some of the nicest party buses, and limousines available. Their drivers are friendly and their customer service is second to none. I would highly recommend them.
---
Reviewed on

1/09/2018
Shannon S
I needed a limo very last minute, and A-List Limo Limo & Party Bus came through better than I could have ever imagined. Our driver, Kevin , was amazing and ensured everyone enjoyed themselves. They were on time, reasonable, and went above and beyond to make sure we had a great... Read More night. I will definitely be using them again!
---
Reviewed on

8/08/2017
Nicole H
Nice party bus not accommodating to time issues that arise with a wedding!
---
Reviewed on

7/08/2017
Christa F
My family has used this company in the past but never again. Supposedly going under new ownership and hopefully they will be more professional. My mother contacted them with the date for a price for my wedding. The price was good so she asked them to send a contract to reserve... Read More the date. They never did. I contacted them and he gave me a completely different price $200 higher! I explained my mother has in writing a much different price. Paul explained if they misread the date for 2017 instead of 2018 and we have the price in writing that is their mistake and they will honor the quoted price. Sent him them email and he called my mother lying and told her they cannot give us the quoted price. I called him and he lied to my face saying he never told me he would honor it. As a business owner, when I make a mistake with pricing that is my mistake and I will honor it and Paul told me he would! We gave them the right date. It is not my fault he sent in writing an incorrect quote. Manager was supposed to call me and never did. Now they won't answer any calls from me. And they are selling the business. Hopefully the new owner will be more professional and stand by their word!
---
Reviewed on

5/08/2017
Samantha R
These guys were the best to work with! They were so polite, organized and responsive and made the process so easy. With the best looking, newest, cleanest cars on the market A-List was a no brainer!
---
Reviewed on

3/02/2017
Wendy W
We rented the New 2017 Lincoln Continental for my Wedding and everyone couldn't stop talking about how nice it was. Kevin the Driver was amazing. Paul was a pleasure to work with and assured us no worries on our special day. Highly Recommend!
---
Reviewed on

10/21/2016
Carolyn W
I don't even know where to start!!!!!!!!!!!!! well I got married September 10 I signed a contract with a list and I've been dealing with Paul since day one. I paid my service in full two weeks before my wedding and on my wedding day Dee limousine Inc. came to pick me up who I... Read More did not have a contract with. Paul promise us a red carpet and we never received it. I was told by Dee limousine that A-list contracted them out for my wedding day. I was never informed by A-list limo that they was not going to pick us up so after Detroit limousine came to pick me up he asked me for itinerary which when I signed my contract with A-list I was told I didn't have to have an itinerary and the bus will be my for 10 hours to do whatever I wanted to do with it . Not so.......!!!!!!!!Detroit limousine asked me to type up itinerary cause he could not leave without it so of course there was some stops that I was not able to put on the list because we were running late . Anyway A-list supposed to came to pick us up after the banquet at 10:30 and we waited I emailed Paul he said he call me but he never left a message so we ended up calling someone to pick us up and then Paul call my phone and say that the our ride was waiting for us at 12:30 very very bad service . I will not be recommending A-list to anyone and Paul told me that is in the contract that he can contract another company out which I never seen it in the contract. so A couple of weeks went past I called Paul to explain to him what bad service I had and he said well you can't talk to me about that because I gave your contracted out to Detroit limousine you need to call and talk to them which i called and talk to Detroit limousine and they told me I need to call Paul. It was a lot of back and forth. I will not recommend it at all unless you want it for Halloween. also the groom was picked up late barely made it to the church on time, thanks to A-list for terrible terrible terrible service. The best day of my life turned out to be a terrible day thanks to A-list . Thank you Paul for nothing!!!!!!😡
---
Reviewed on

10/20/2016
Ann R
Paul was great to work with and the bus was exactly what we needed.
---
Reviewed on

10/14/2016
April B
Terrible, terrible communication from Paul. Would only text my husband and 90% of the time wouldn't even reply. My husband booked the wrong bus initially, so had to text Paul, who then changed it by scribbling it our on the receipt, then sending it back as a text. Thank God the... Read More week of the wedding I had my husband confirm with them...they somehow had the wrong bus still coming for us. They had Paul TEXT back saying he "forgot" we changed...then about 20 minutes later text again saying the new bus wasn't available so he would give us an "upgraded bus"- the Zeus I believe-for the original price of the initial bus (stay with me if you can)...wedding day comes and the bus is late, forcing me to be driven to the ceremony by my mom. Once the bus finally arrived to pick up the guys, the driver Tammy had the WRONG PRICE confirmed. So another 20 minutes later of calling Paul to confirm the price told via text, the bus finally leaves for the ceremony. Tammy was fabulous though-she held an umbrella for me, gave me a towel, was SUPER friendly. She gets 5/5 stars. The business however needs better management to get them organized like a professional service.
---
Reviewed on

8/23/2016
When I booked with A-List, Paul was very accommodating. It was a great rate, and we were happy to book the 34 passenger bus. The day before the wedding, Paula called me to inform me that there was had been an accident with the bus we booked, and that they were going to swap it... Read More for a smaller bus. Unfortunately, the smaller bus was not quite enough space. Our photographer was sitting on the steps, and we had some people sitting on laps, and one on a cooler. The air worked, but it was not enough to keep me cool in a wedding dress. Our bus driver, 'Captain' Ron, was great! He was very flexible, arrived early, and was extremely professional. He handled every situation with tact and quick decisiveness. Overall, I would recommend A-List to any metro-Detroit bride who is looking to have their transportation handled professionally and courteously.
---
Reviewed on

3/29/2016
Gary was the best. Professionalism at it's finest. One thing I noticed about the ratings was that it was based off the driver - but the driver shouldn't be the sole reason you rate a business a 1 star. What about the quality of the vehicle? The service of the owner, Paul? Both... Read More were very attentive to our needs and we had a great night. Even had little water bottles in our bus provided for us! Wouldn't go anywhere else. Plus, he's the only one with a suicide door option in the Detroit area. Best in town.
---
Reviewed on

7/15/2015
Sara G
At first the company was wonderful. We went to check out their party buses and they were nice, Paul was very attentive and professional about the entire meeting. Then....the big day finally comes. The party bus was not what we expected at all!!! The radio did not work, I... Read More swear we could not get thru a full song at all, it seemed that almost every time the driver turned on the air that the radio seemed to cut off needless to say we got to our destination in just pure conversation no music at all. Then we get to the reception hall, and realized that we had forgotten a bag that contained my marriage license along with other important items in it, so we call the company and the driver refuses to return (it had only been about 15 mins since he had left) stating that he wasn't returning because we didn't tip him!!!! I had made my final payment along with a 20% tip in advance on 6/30/15 the wedding was on 7/11!!! It was not my fault that whoever is in charge of giving him his tip didn't give it to him. Needless to say the bus driver and the dispatch lady named Rima were both extremely rude. So thru all of this at my reception I am texting Paul Gil to let him know what is going instead of enjoying myself. I then called and spoke to Paul on the next day so that we could discuss everything that happened, Paul then proceeds to tell me that on Monday when he gets to work he will talk to the dispatch lady and to the driver to get to the bottom of everything and give me a call back to follow up.....well here it is Wednesday and still haven't received a call from Paul or anyone at A-List. I find it very disturbing that here I am thinking that I am doing a good thing by paying all of my balance and tip in advance to make sure everything is taken care of and I get shitty ass service!!! I will NEVER do any kind of business with this company again and will make sure I let everyone know. Funny thing is that when we first met with Paul he was telling us about a lady that had just given them a bad review on theknot.com and he was saying how she was just crazy and outrageous but now I can probably see why she gave them a bad review. I guess that was a sign that I should have took and just not done the business but boy oh boy was he so charming and knowledgeable the first time we met him I had no idea I was going to deal with that at all!!!
---
Reviewed on

6/10/2015
Kristen C
Great company to work with. Paul is super friendly and easy to chat with. The limos are clean and comfortable. We had a unique situation and Paul was very helpful. Thanks! :)
---
Reviewed on

6/10/2015
Paul from A List Limo really helped us out. I am the Maid of Honor in my best friends wedding. The bride booked a party bus for her wedding and when I went to look for a party bus for the batchlorett party Paul gave me a discount because the bride had already booked. The bus... Read More was beautiful!
---
Reviewed on

5/13/2015
Monica S
Canceled our bus for our bachelorette party the night before at 6pm as well as canceled for our wedding 3 weeks later. Paul talked to moh an hour before he canceled and said he would get back with her about confirmations, then emailed me that they canceled. HORRIBLE CUSTOMER... Read More SERVICE!!! Do not waste your time!!!!
---
Wedding
Reviewed on

1/05/2015
Alexis L
Overall, this was a very good service. We went downtown to take some pictures before the wedding on a Friday night during rush hour. There was a ridiculous amount of traffic and the bus driver found a detour to get us to the wedding on time and as quickly as she could. She was... Read More very nice and did her best to keep us on our time schedule, so we would not be late for our wedding and our reception. She was a very safe and good driver. This is a very good service and I would definitely recommend this company!
---
The Best Limo Company Around!
Reviewed on

12/26/2014
A-List was so helpful on my wedding and provided us with exactly what we needed . On the wedding day the driver went above and beyond to help everyone in the party. A-List I would highly recommend and is the only way to go !
---
A-List was Awesome!
Reviewed on

12/06/2014
Carmon B
We loved A-List. They were prompt, friendly, and easy to work with. The limo was beautiful--inside and out. Our driver was very accommodating and helpful! We would definitely use them again.
---
Beautiful Limo, Great Value
Reviewed on

8/11/2014
Candace J
Working with A-List Limousine was so easy! Paul was easy to get in touch with, and he'll quote you a price over email or the phone. Viewing the vehicles was a cinch, and you can actually get inside and inspect the vehicles for yourself. They keep all of the vehicles indoors... Read More so that they don't get weathered by nature. We went with the stretch H2, which was spacious and classy. They also have traditional limos as well as party buses. They also included a bottle of sparkling apple juice. The only downside was that my husband felt that the driver had a poor attitude. He was picked up first along with the groomsmen, and said that he was unenthusiastic about showing them how to use the radio, putting out the red carpet, and asking to eat at the reception. From my experience everything was fine. He did everything he was supposed to do, and our day still went off without a hitch. Overall I'd still recommend A-List Limousine for your special day. It was such a painless process and so affordable for such a beautiful limo that any downside is negligible. Just make sure you ask for a driver with a positive attitude. :)
---
look elsewhere
Reviewed on

7/18/2013
Jessica H
We were excited to use this company for our wedding, but sadly became very disappointed with the "service" we were provided. I will start with some positives. The limo we had was beautiful- a Hummer. The driver arrived on time. Now, I will list the negatives. The limo... Read More wasn't air conditioned before it arrived (it was a hot day- 88 degrees; the air should have been on during the 30-40 minute drive to pick us up). The driver asked one of my bridesmaids for a bottle of water from my parents' house (water should have been provided for us!). He needed help with directions, even after being given a list of addresses and a time schedule (his GPS wasn't working?). He also needed to stop at the gas station for snacks. He hardly helped us with loading or unloading our belongings. My husband needed to put some items in the limo and the driver handed him the keys and told him to "lock up;" my husband had trouble opening the trunk because of the big tire on the back so he had to use the side door instead. The driver didn't roll out the red carpet or put the "Just Married" sign on the limo- he said it was stolen, but my husband saw it in the trunk. After our ceremony, we were all in the car and were wondering why we hadn't left yet; the driver was texting on his phone. My mom had to tell him we were ready so we weren't late for taking pictures or our reception. After taking pictures downtown (for 10-15 minutes), we were expecting the driver to get the limo door for us. He was nowhere to be found. Eventually, he exited from a restaurant with Chinese food. Then, he proceeded to eat it while driving us. He drove off the road because he was eating; our flower girl was in the limo. I had to yell at him to pay attention. He was hired for 5 hours. He didn't stay the full 5 hours because frankly we wanted him to leave. He could have eaten lunch before picking us up and eaten dinner after dropping us off. Our photographer was hired for 10 hours; he ate a granola bar in his car because he was a professional and wanted to make sure he captured every moment for us. After calling this company to voice our concerns (which I never do), we were offered a few hundred dollars off of a limo for our anniversary. I don't want to give this company any more of my money. They should be giving us some, if not all, of our money back. This is not what I was promised and is not worth what I paid. For $725 for a limo and a mandatory 20% tip ($145), this company almost ruined our big day- but we wouldn't let it. It was like the driver knew he didn't have to be professional- he received his tip as soon as he arrived (which was mandatory) and so he knew he didn't have to work for it. Last time I checked, you earn a tip, not just receive one. What a huge disappointment. Please learn from my mistake.
---