Home

A Touch Of Class DJ's
About this Vendor
Luxury Entertainment For Amazing Weddings
A Touch Of Class DJ's provides luxury entertainment for superior weddings through their nationally award-winning entertainers, computer sound systems, and unsurpassed client services. Over 25 years of experience and over 95,000 songs, clients choose A Touch Of Class for expertise and funky options.
Details
Classical, Country, Disco, Hip-Hop, Jazz, Pop, R&B, Rock, Klezmer, Latin
Ceremony, Reception, Wedding
MC Services, Recorded Music, Sound Equipment, Music
Contact Info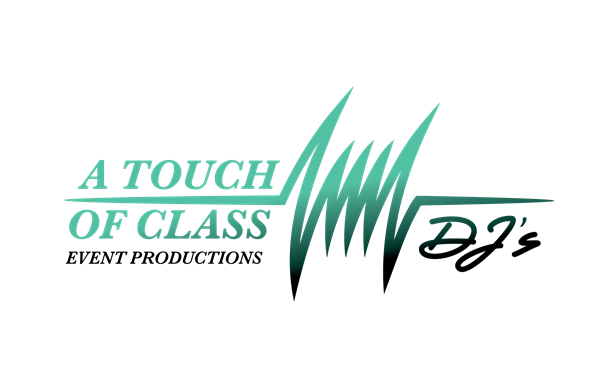 318 Stearns Road, Marlborough, MA
A Touch Of Class DJ's
Reviewed on

8/29/2013
Theresa C
In looking for a DJ for my wedding, I wanted someone who I knew was going to make my ceremony and reception perfect. I mean beautiful, fun, upbeat and well the word I used each time I was asked, "bumpin". I know that may sound childish or immature but it's what I wanted. What I needed was someone that could also guide us through all the steps on our crazy day and not become impatient with us. This is EXACTLY what Ken delivered. From the first day I spoke with Ken I, well, fell "in love". I could tell by the way he spoke of his business and explained, in great detail, what would happen that day, that he was the one. This gentleman is a man who knows exactly what he is doing and is someone that can be trusted to make your day perfect. He left no stone unturned and on our special day, I worried about nothing, just as he had promised. He made our ceremony and our reception the most beautiful and the most fun (bumpin') day, just as he had promised! To this day my family and friends still talk about him and when I am asked who that DJ was at my wedding I proudly say Ken Cosco from A Touch Of Class DJ's and tell them that they are absolutely crazy if they do not hire him for any event!
---
A Touch of Class DJ services - absolutely wonderful!
Reviewed on

5/29/2013
Elizabeth R
Our wedding was at the Squantum Association in East Providence and had about 105 guests for an indoor ceremony and reception. I was so incredibly happy to have A Touch of Class and Ken there helping with everything the entire day. I had zero stress and worry. Everyone told me that the night would go by so quickly, and it really did. Without Ken I think I would have been having to stress over when everything needed to be done. Instead, I got to enjoy every single moment with my family and friends while he kept track of the details. I could not have asked for a more perfect time. Everyone danced the night away. I would hire A Touch of Class again in a heartbeat.
---
A Touch of Class is awesome!
Reviewed on

4/04/2013
Lorena C
I had originally planned for an incredibly simple wedding, but last minute, it changed to something a lot bigger and fancier two weeks before my wedding date! I had an awesome venue with room for a dance floor, but no DJ. I was desperate, and looked everywhere for a great DJ with no luck. I saw A Touch Of Class on theknot.com, and they had great reviews, so I went on their website and filled out the "request more information form" and I received a call from Ken literally two minutes later. He was extremely helpful, especially considering that we had two weeks to get everything ready! He did everything possible to ensure that my last minute request was fulfilled! A few days before the wedding, I spoke with Chris, who was my DJ, and he was extremely helpful. I had specific songs that I wanted to be played, and he made it happen. On the day of the wedding, he was very accommodating to our needs, making sure everything went smoothly. We had guests of all ages, and his song selections were great for everybody. I would definitely recommend A Touch Of Class to anyone! Ken and Chris, thank you for taking me on last minute, and thank you for helping me make my wedding incredible!
---
Wedding DJ
Reviewed on

7/21/2015
Jaclyn L
We cannot begin to say how much we loved Ken Cosco as our DJ. He was absolutely amazing. He played a huge role in our wedding from behind the scenes, to setting the tone, to just being all around great. He is extremely professional, gets back to you in a timely manor, pays great attention to detail, and is an excellent emcee! Throughout the wedding he was always checking in with us to make sure everything was going our way. A week before our wedding he went through everything in great detail to make sure our wedding went exactly the way we envisioned, and it truly went that way from the ceremony, bridal party entrances parent dances, cake cutting, and last dance! The music selection was everything we could have hoped for and the dance floor was PACKED the entire night. All of our guests thoroughly enjoyed themselves! We would recommend A Tough of Class to anyone!
---
Fantastic Wedding DJ
Reviewed on

6/03/2015
Jill B
My wife and I heard about A Touch of Class through a friend and based on that recommendation we booked them. We are very glad that we did because it was a great experience. Even though they have a ton of songs in their catalog Ken went out of his way to locate specific versions of songs that we wanted. For the actual wedding we had Jim as our DJ and he was incredibly friendly and was great at keeping the dance floor going the entire time of the reception. He was also completely unfazed by a quick change during our ceremony from outdoors to indoors due to last second rain. If doing it all over again we would without a doubt book A Touch of Class again.
---
Dance floor was full all night!
Reviewed on

11/24/2014
kathryn b
I can't say enough good things about A Touch of Class. Ken really made my daughter's event special. The red uplighting he supplied gave the room a warm glow and intimate feel. I was so pleased. And the playlist was great - Ken kept everyone dancing until the last minute. Thank you!
---
Excellent DJ and So Much More!
Reviewed on

11/24/2014
Kira C
Ken was absolutely terrific from start to finish! He made it very clear when we spoke to him on the phone the week before the wedding that my husband and I wouldn't have to worry about anything once we saw his face, and that was absolutely true. Apart from providing a fun and lively atmosphere (and excellent music, of course) he made a point to help my husband and I in many other ways throughout the evening. Whenever food hit the table, he would come and find us to make sure we made time to eat our food. He even showed me some tactics for throwing the bouquet without falling over! He also seamlessly incorporated traditions that we wanted to include in our day (including the Hora). I would recommend A Touch of Class to anyone who is looking for an excellent DJ and some peace of mind on their wedding day knowing that things are in excellent hands :)
---
Awesome!
Reviewed on

10/30/2014
Christine S
ATOC was great! Ken was very quick to respond to all of my questions throughout the entire wedding planning process. Jim, the actual DJ the day of the wedding was also great, all I wanted was a packed dance floor the entire night and that was exactly what I got.
---
Great vendor!
Reviewed on

10/25/2014
Stefanie G
Ken took a lot of time with us before the wedding to ensure that he knew exactly what we wanted so we didn't have anything to worry about. Even during the whole event he was right there making suggestions and ensuring that everything was going smoothly. It was a pleasure to have him at the event and his enthusiasm was contagious. He really enjoys his work, which matters a lot when you are enjoying the best day of your life. Ken made our wedding perfect!
---
wedding music
Reviewed on

10/17/2014
Melanie L
Great job. Ken went over everything in great detail before the wedding and the day of kept us involved on what was going on and what we wanted to do next. Would definitely recommended to anyone.
---
A Touch of Class A+
Reviewed on

10/15/2014
Brenna C
Chris was a huge asset at our recent wedding. He was there from cocktail hour through the 5 hour reception playing great music. He kept our guests dancing all night, both younger and older guests. He was very flexible to changes in schedule and offered suggestions to make things run smoother. A Touch of Class was a pleasure to work with prior to the wedding as well. They answered all questions promptly and honestly, which made planning so much easier. In general – a great company to work with and we highly recommend them!
---
Amazing Experience
Reviewed on

10/07/2014
Julia M
I am so glad we went with A Touch of Class and Ken specifically. My husband and I are not good at being the center of attention or speaking our minds. Ken kept checking in with me to make sure I was happy. He also spoke with our families and discovered we love country and are Disney fanatics. He made our wedding so much fun. I would recommend him to anyone. Everyone came up to me to say he was great and made the wedding.
---
Touch of Class
Reviewed on

9/26/2014
Touch of Class Ken Costco was wonderful to us. We had a problem with the DJ that was to MC our wedding and 1 month before our wedding we had to cancel his service. When I sent out a plea for help, Ken answered immediately and accommodated our every request. Chris, the DJ that MC'd our wedding was awesome. Our quest were a more mature crowd and his choice of music was perfect. All of our guests commented on what a terrific job he did. They were especially happy with the volume of music that was played as they were able to enjoy the music choices, dance and converse comfortably. Thanks Touch of Class, you are the best
---
Best DJ ever!
Reviewed on

9/22/2014
Sarah B
A Touch of Class is honestly the BEST DJ Service I have ever come across! They were great with keeping in touch with me when approaching the wedding, confirming emails received, reviewing details, etc. My husband and I had no worries the day of the wedding. They periodically made sure we were happy with how things were going and asked if we needed anything. I wish I could give ten stars instead of just five! I wouldn't go back and change my decision to hire them for our special day.
---
Perfect!!
Reviewed on

9/21/2014
Maggie W
Ken served as our MC and helped coordinate everything! He made sure everything ran smoothly from the time the first guest entered until the last left. Ken made us feel so comfortable and stress free by being there and keeping us informed about everything that was happening and making sure everyone in our bridal party was aware/alert and on time. We could not speak more highly of our experience with him!
---
Really enjoyed working with Ken
Reviewed on

9/02/2014
Grace W
We really enjoyed working with Ken. He was an amazing MC and really helped us make the wedding go smoothly and adapted nicely if we fell behind schedule. After the wedding we got a lot of compliments about how polished and professional he was. We got a package with the DJ, AV equipment and photo booth. The DJ played all our requests and generally kept the guests happy and dancing. We got a lot of compliments about the photo booth, and the booklet we got at the end of the night was a great touch; we highly recommend it. The TVs for our slideshow were slightly dated due the use of the DVD player (which has low resolution), but it ran seamlessly and we were happy with the result. Overall, we strongly recommend Ken and the rest of A Touch of Class DJs. From the planning stages to the event, they kept things simple and stress-free, and we are very happy to have worked with them.
---
Best DJ ever!
Reviewed on

9/02/2014
Jennifer P
Ken did my friends wedding as well as mine and he is awesome! I saw his work as a guest and as a bride. He goes out of his way to make your wedding a blast! He is organized and professional but fun and entertaining! Highly recommend!
---
They deliver!
Reviewed on

7/28/2014
Katherine C
We were so happy with the service Ken and Brad provided on our wedding day. I was most impressed by the way Ken treated us- like we were his #1 client. As a would-be bride, I talked with other vendors who let me know they were very in-demand, and treated me like just one of many brides. I emailed Ken and he responded within five minutes. We talked on the phone and he invited me to meet with him. Ken dedicated a lot of time to listening to my vision. He was genuinely interested. I could tell he had a passion for his work. Ken told me "When you see my face, you will know you don't need to worry about a thing." He delivered on his promise! We went with the two MC package since we had a relatively large crowd. When my husband and I arrived, Ken had already been entertaining the guests. He familiarized himself with all important people. He got the crowd and bridal party excited for the introductions. He helped me personalize a special dance with my dad that included short bits from four different songs. He was respectful of everyone. He took requests and also honored our "please play" and "please don't play" lists. He was available each time I needed something, including a minute to grab a drink before throwing the bouquet. He helped me locate the photographer, various family members, and even guests throughout the night. He even kept things running on time. The dance floor was full after dinner, and even guests who hadn't met before were dancing together, having a great time. Our day was so special thanks in a large part to A Touch of Class!
---
Great DJ Service
Reviewed on

6/29/2014
A Touch of Class DJ's was the perfect service for our wedding reception. They made It was easy for us to enjoy our day. They were very professional and flexible and responsive to our needs. DJ Chris was great and kept the party going. Better than I could have ever imagined. Highly recommend!
---
Good price, good service
Reviewed on

6/11/2014
michelle w
the DJ was easy enough to work with and nice however, after lining us all up to review introductions into the wedding reception, he messed up the names while my wedding party was entering and then he played the wrong first dance song too. All which I thought were forgivable/no big deal, but it was also really hard for me when I had our DJ, wedding planner, and photographer were all asking me questions throughout the reception and all the vendors were planning to do things (group pics, cate cutting, dances) at different times and the flow of the reception became odd/choppy/drawn out. At one point I said there are too many cooks in the kitchen and i dont know how to answer the questions and dont know why this was already decided btwn DJ and wedding planner. I honestly feel like if the DJ is going to line us up to review names for entrances in to reception (that i provided him with a few days prior) that he could have gotten it right when then walked in! oh well, (were all human) makes for funny memories, right?! He did play our "fire fighter song" and was good at getting all the guests on the dance floor.
---
Awesome DJ's
Reviewed on

6/05/2014
Originally I was going to use a iPod for my wedding. I went to another wedding 3 weeks before and instantly regretted my decision. I also figured that I wouldn't be able to find a DJ for my wedding on 5/31/2014. I looked at reviews online and sent out some e mails and surprisingly there were DJ's available. Ken Cosco was one of them to reply saying they had availability. He replied within 10 minutes of me sending my e mail, and all future communications with him were prompt as well. We met with all the DJ's that replied and then decided to go with A Touch Of Class DJ's. When we met with Ken he told us that Chris Loshbaugh would be our DJ. He had videos and clips of him from other venues to show us so that we would have some idea of his personality. A few days before the wedding I received a call from Chris to go over final details. Chris arrived on time and was set up in time. He was also dressed appropriately. Chris did a good job with everything. The music was just want we wanted and were looking for. He played the songs that we wanted as must play, and we had discussed him doing trivia for the giving away of the centerpieces. I was supposed to have the questions for him on our wedding day, but I had forgotten with everything going on. Right away Chris came up with 3 ideas that we could do instead of the trivia. That took some stress off me, and he did a great job with that and it seemed like the guests really enjoyed him as MC. Overall Ken and Chris were a pleasure to work with and I highly recommend them for anyone looking for a DJ for a party.
---
Great wedding entertainment
Reviewed on

5/31/2014
Laura H
Ken and ATOC were just what we needed for our wedding reception. He was very responsive to my questions ahead of time and made sure all the music we wanted would be available for the day of. He checked in with me and my husband throughout the reception to make sure we were having a great time. He also had some unique and fun ideas for giving away the center pieces. Everyone at our reception had an awesome time dancing the night away. Thank you for making our day so memorable!
---
Highly recommend
Reviewed on

10/29/2013
I highly recommend a touch of class DJ's. They were great. Ken and Jim really took the time to work with me to find out what I wanted and did not want at my wedding. They are very outgoing and friendly. I recommend them to everyone I know. I will be using them again.
---
Great DJ
Reviewed on

10/08/2013
Jessica C
ATOC DJ's were great to work with. Ken was extremely helpful and responsive throughout the entire process. We selected songs for our wedding ceremony that weren't in their library but Ken made sure he found them for us for our wedding. Jim was our dj for the day and was great. He made sure we were happy and made sure to ask us if any songs were requested that he thought we might not want played even if they were not on our do not play list. He kept everyone up and having a great time all night. I would absolutely recommend A Touch of Class DJ's to anyone!
---
DJ Chris
Reviewed on

10/07/2013
Ashley
Good range of music for our wedding reception. Our space had a noise limit and Chris did a great job working around that. We did not have him speak a lot but when he did he was excellent.
---
Send Message