Home

AAMusicians
About this Vendor
South Florida's Premier Weddings Bands
AAMusicians is the company choice for music and entertainment solutions. We design and provide music and entertainment for many of South Florida's finest weddings and unique special events. Offering our most requested string ensembles, harpists, jazz ensembles, wedding bands and DJs.
Details
Accordion, Bagpipes, Banjo, Cello, Flute, Guitar, Harmonica, Harp, Keyboard, Mandolin, Organ, Percussion, Piano, Saxophone, Steel Drum, Trumpet, Violin, Vocals
African, Arabic, Caribbean, Celtic, Classical, Country, Dance, Disco, Flamenco, Folk, Hip-Hop, Indian, Jazz, Klezmer, Latin, Mariachi, Persian, Polka, Pop, R&B, Rock, World Music
After Party, Rehearsals + Parties, Ceremony, Reception, Wedding
Live Music, MC Services, Recorded Music, Sound Equipment, Music, Equipment, Rentals + Equipment




Contact Info

Amazing jazz band!
Reviewed on

9/24/2010
Eva C
Alan was wonderful to work with. I was planning my wedding from New Orleans and he made the whole process very easy. When I started talking to Alan about my wedding, I told him I wanted to surprise my husband and my guests during the reception with a New Orleans style jazz... Read More band, since we live in New Orleans and many of our guests were traveling from there too. I was hesitant at first because I either wanted it to be truly authentic or not have it all. Alan knew immediately what I wanted and he worked with me and my budget to accomplish everything I dreamt of. The jazz band was amazing and they took the time to really put together a performance that was authentic to a new orleans wedding. We loved our DJ too and he created the perfect ambiance for our sit down dinner and still turned it into a fun dance party that lasted the rest of the night!
---
AMAZING!
Reviewed on

7/19/2012
margarita a
We were very fortunate to have AA musicians to take care of the music on my daughter's wedding. They were phenomenal. the DJ and the mariachis did a great job.All our guests enjoyed the music and were up and dancing until the last song. We had guests from different countries... Read More and different states and we all had a great time. They are the best!
---
Excellent
Reviewed on

1/19/2012
Cristina T
We hired AA musicians for our wedding this past November at the Miami Beach Botanical Gardens. They were great! EVERYONE LOVED THEM!!!!! Allan was extremely professional and was always available to any sort of question that we had. We highly recommend AA musicians. You... Read More won't regret it
---
Reviewed on

7/24/2016
Alan was great to work with. His musicians were great and courteous and professional. I used them for my 40th bday celebration.
---
Reviewed on

7/21/2016
Nicole F
EXCELLENT company!! Super responsive throughout the entire planning process. Great day of - very professional and played stellar tracks. DJ could really read the mood of the crowd. Highly recommend.
---
Reviewed on

7/19/2016
Josh F
Wide range of musical choices. Amazing musicians and vocalists.
---
Reviewed on

7/19/2016
Very reasonable, professional and reliable.
---
Reviewed on

7/18/2016
Alan Andai and the team were great. Especially the light and the guitarist at our wedding. He is very reliable to work with and the team did an amazing job.
---
Reviewed on

7/18/2016
Alexa H
AA musicians did all of the music for my wedding ceremony. They were fantastic. I told Alan I wanted all modern music for the ceremony. and he was super accommodating. He was very helpful and helped me picked all of the songs. AA Musicians even offered to learn a song that was... Read More not on the list of songs. I highly recommend AA Musicians!
---
Reviewed on

7/18/2016
Samantha R
Alan and his team are so talented, professional, and easy to work with. The string trio we hired to play during our ceremony and cocktail hour was a special touch, and the DJ we hired for our reception was amazing! Alan and his team of musicians can play ANYTHING! Highly... Read More recommended for any size wedding - big or small!
---
Reviewed on

7/18/2016
Rosita R
I hired a string sextet, a saxophone player and a mambo band through AAMusicians for my wedding ceremony/reception at the Soho House and it was perfection. The musicians were incredibly talented and professional. The saxophone player even coordinated with my DJ during his sets... Read More to create some pretty incredible moments. Alan was super easy to work with and very knowledgeable. He worked well with my wedding planner and me to get the sound right. The entire process was completely hassle free which I have to say was most welcome given that wedding planning can get pretty stressful at times. I'm so happy I decided to go with AAMusicians. I honestly couldn't be happier with the end product.
---
Reviewed on

7/18/2016
5 star company !! I had a dream wedding at the Biltmore Hotel in Coral Gables FL. And it was a huge success thanks to the variety of music and musicians I requested. My wedding was top notch with some tough critics and their still raving about the music which was absolutely... Read More perfect just like I was promised. The musicians are all professional and super friendly they where all on time and just flowed one to another with out a flaw. Alan, the owner took care of me like a friend, answering my endless messages and phone calls every day for many months. I can say he was part of the wedding team from the beginning and made sure my wedding was priority. The price is reasonable and do able for any one, I felt taken care of and was very pleased with the service and the quality of the performers they made the wedding a huge success. Thank you and I am sure we will do business again in the neat future.
---
Reviewed on

7/18/2016
carol s
The musicians were very professional and their music was beautiful. I highly recommend these musicians.
---
Reviewed on

7/18/2016
Carolina V
I absolutely loved working with Alan! He was incredibly helpful, responsive, and collaborative. The night of was flawless and the quality of the musicians, sound, and lighting was exceptional. I couldn't be happier and would recommend AA again and again.
---
Easy to work with, fantastic results
Reviewed on

10/14/2015
The quartet completely nailed all of the songs we asked them to play, from Flo Rida to Modest Mouse to Smashing Pumpkins. We sent them the sheet music less than a week before the ceremony and it still wasn't a problem for them to perform the songs perfectly.
---
Musicians
Reviewed on

6/23/2015
Kayla H
loved them!
---
Rocked our Wedding!
Reviewed on

6/14/2015
Mary M
AAMusicians brought the energy and excitement to our wedding, and we are so grateful! We have been to many weddings and were unsure whether to get a band because we weren't that impressed with the musicians our friends had booked. But when we saw the talent at AAMusicians, we... Read More knew we had to splurge, and they did not disappoint. It was like having a concert at your reception. They rocked!
---
Wedding Music
Reviewed on

6/12/2015
Megan J
AAMusicians provided musicians for our wedding ceremony. They were professional and played flawlessly. They have a vast repertoire to choose from and are accomodating.
---
Very pleased!
Reviewed on

6/12/2015
Kristen C
They were very professional and the music sounded beautiful. Alan was very helpful when I was deciding which music to choose. Very happy with this company!
---
Great ensembles and DJs for our beautiful wedding
Reviewed on

6/12/2015
Marissa C
My husband and I were extremely happy with AA musicians. The played exactly what we asked for in the ceremony and the musicians played beautifully. The DJ they provided was professional and fun for our party. Overall seamless. We would definitely use them again :)
---
A musical evening to remember
Reviewed on

6/12/2015
Choosing music for your wedding is very scary it can make or break the whole evening. AAMusicians eased the trauma. We met with them several times before discussing songs, how loud should it be, special announcements. What a night, the band kept the party going. The songs pulled... Read More you on the dance floor and kept you there. During dinner they played beautiful soft relaxing music. Then they really got us going. I can't imagine my wedding with out AAMuscians I would recommend them to everyone.
---
Amazing!
Reviewed on

6/11/2015
Alexis R
They are absolutely amazing! Did a wondering job with the music and the musicians during the ceremony! A definite must!
---
Amazing!
Reviewed on

5/20/2015
Melissa B
AA Musicians are the best! We are so happy to have worked with them and had their band perform at our wedding. I strongly suggest you get them they will make the evening! We love them and are looking forward to plan our next party with them!
---
Best Band Ever!
Reviewed on

7/14/2014
Maureen G
AAMusicians provided a great wedding music experience! They are great musicians and were extremely receptive to our wishes! I would use them again in a heartbeat!
---
Review of Alan Andai
Reviewed on

7/14/2014
Overall a great experience.
---
Meet The Manager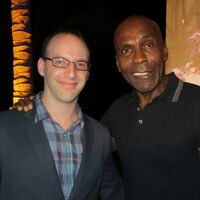 Alan
Thank you so much for visiting us. We know you have many options to choose from when it comes to your wedding, our process has made it convenient and stress free to secure all of your live musical/dj/and lighting needs from one source. A little about me: come from a musical family, started playing classical and jazz drums. Performed in Carnegie Hall at 14, Lincoln Center NY at 18 & Latin Grammy's @ Madison Square Garden at 19. Have performed over 500 TV shows with Latin Artists before managing AAMusicians. We began this concept 8 years ago and to see the trust in our brides is truly amazing.