Home

Aberdeen's Wedding Florist
About this Vendor
Making Weddings Beautiful since 1958
At Aberdeen's, we understand what an important role your personal flowers, ceremony arrangements, reception centerpieces and décor have on your special day. Aberdeen's, is a weddings-only floral service provider. From conceptual design to flawless execution, our goal is to make your day beautiful.
Details
Contact Info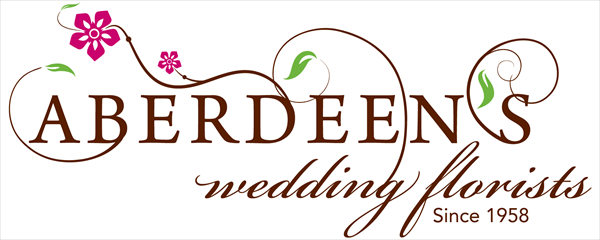 1109 Tower Road, Schaumburg , IL
Great Experience!
Reviewed on

9/23/2013
Lindsay B
The flowers for my wedding were absolutely beautiful. We had many different arrangements and they all looked great! We really enjoyed working with Aberdeen's; the people are extremely helpful, friendly, and quick to respond to any questions I had. The flowers were delivered on time and set up perfectly. The flowers easily lasted all night and beyond. My guests loved the arrangements so much, many of them were taken home to enjoy.
---
Awesome
Reviewed on

8/20/2013
Sara L
I offered to give my sister her flowers for her wedding. I contracted with Aberdeens, and they really blew our minds away. We were all at my mothers home, getting ready, and when the fowers showed up, it was like we were at a concert - all the girls started screaming. They were fantastic, I highly recommend them. Everything was fresh and on time. Great experience.
---
Flowers were Amazing
Reviewed on

8/01/2013
Trish B
A little sketchy on follow up and communication, but once the day came - everything was perfect! If you're looking for a florist, do NOT go to your local FTD - use a WEDDING florist...Aberdeens is the only one in our area!
---
Excellent service & quality!
Reviewed on

12/07/2014
Michelle L
We hired Aberdeens to be our florist for our wedding in downtown Chicago in June 2014. Living in California, it was extra challenging to plan our wedding in Chicago. Joe at Aberdeens did everything he could to make the process as smooth as possible. We met with him two times during our visits to Chicago, and Joe was extremely accommodating by driving to meet us and going out of his way to help us with the planning! We had a vision for our flowers and Aberdeens absolutely made it come true! Our flower arrangements were gorgeous, romantic, and just perfect! We absolutely loved the table arrangements. Our venue was so full of flowers and made our wedding look stunning. I just loved my bridal bouquet - it was incredibly beautiful! I highly recommend Aberdeens for wedding flowers.
---
Great Job with our Flowers!
Reviewed on

10/29/2014
Edward M
I can't say enough about how great a job Aberdeen's did on our flowers. My wife and her maid of honor handled this part of our wedding. She met with our florist a couple times and from the first meeting seemed at ease and comfortable with her choice. She did shop for florists but told me that the combination of gorgeous flowers, a great value for the price, and how nice they were to work with sold her on Aberdeen's. I did go with her one time so that I could see what she had chosen for our flowers and was very impressed with the variety of options we had. Between the flowers on our tables and the flowers for our bridesmaids, our parents, and for our groomsmen everything was beautiful and as promised. I highly recommend Aberdeen's and plan on using them for other events in the future including if/when I send flowers to my wife for our anniversary. Thank you Aberdeen's for a great job!
---
Beautiful Flowers/ OK Service
Reviewed on

9/22/2014
Andrea L
I received an email from Aberdeen's after attending a bridal expo at Navy Pier. They email a "Bouquet of the Week" and I was amazed at a lot of their arrangements. So beautiful! We met with Lauren in a smaller office located inside a tux rental place. Lauren was helpful and polite and we were able to accomodate what we needed within our small budget. Chris reached out to me about a week before the wedding to confirm everything. A few of the descriptions on the agreement indicated there was a picture to reference. Unfortunately, the pictures were lost and we were never notified. It wasn't a huge deal but a week before the wedding is not the time to find out they lost what you wanted. Luckily, I was able to find other pictures (not the same ones) that represented what we wanted. While this was a serious issue for me in the midst of wedding madness, Chris was wonderful and making our visions come to life. The bridesmaid bouquets, corsages and boutonnieres were gorgeous! They even threw in a few extra, which worked out lovely! The bridal bouquets were beautiful, also! My only concern was the ivory ribbon wrapped around the stems was minimal and was soaked from the water bags attached.. I would consider using Aberdeen's again, but I'd keep my own copy of the photos.
---
Blown Away!
Reviewed on

9/06/2014
We were referred to Joe at Aberdeen's by a family member and couldn't have been happier! Joe went absolutely above and beyond to work-up samples of what we wanted for our wedding and even though everything was perfect, he was constantly trying to be creative and propose different ideas. On the day of the wedding, I think he was one of the first people at the hotel waiting for us and then again at the venue to make sure everything was put together exactly as we envisioned it. Our flowers looked even better than we imagined and Joe was so extremely professional. I highly recommend using Aberdeen's for your upcoming wedding!
---
you pay for what you get
Reviewed on

8/27/2014
Ann Marie P
When I signed the contract with Aberdeens, I thought I had gotten a great deal with great customer service. I bought a package that included flowers for the church that could be re-used for the ceremony. However, when the wedding was a week away, two different people (one being the owner, another being the designer) called to verify my order. Both got it incorrect. I was getting anxiety about their service level since we had reviewed the order several times. I paid $75 extra to have them deliver the flowers from the church to the reception so that my mom or guests did not need to worry about it. Before the ceremony, the driver dropped the flowers off at the church and asked my groom where to put everything and commented that she didn't know how we were getting everything to the reception - and she left. They did not put the large long and low at the altar, and they did not put the roses for the moms or Ave Maria at the altar. Nobody saw them so they went unused. Then after the ceremony my mom was stressed about who was moving the flowers to the reception. My guest had to do this. I would have never paid the extra $75 or bought the package for the church flowers had I known they would screw up and none of it was used. The lack of delivery to the reception caused extra stress and confusion while we were taking family photos at the altar. I would never recommend Aberdeens. They are cheaper but you pay for what you get. They work on volume so they don't care if your order is correct. There is very poor customer service. After my honeymoon I called the owner to express my concerns and demand my $75 and she never called me back. Finally the designer called me back. Three weeks later, I'm still waiting for that $75 check. I do not recommend this florist.
---
Amazing Flowers!
Reviewed on

8/11/2014
Paula from Aberdeens definitely made everything super easy for me and the arrangements and bouquets were gorgeous! I have to say I was honestly overwhelmed with the idea of picking the flowers for the wedding as that is definitely not something I am familiar with. I gave Paula my color scheme and she ran with it. She went through a lot of great options with me and showed plenty of examples to help me narrow down what I wanted. Everything turned out beautiful and I received a lot of compliments from the guests and bridal party about how they looked. I would definitely recommend going with them for your wedding!
---
just beautiful!
Reviewed on

8/05/2014
jessica j
My flowers for my wedding this past Friday were absolutely gorgeous! Joe did a great job and listened to my ideas. It was exactly what I wanted and the bridesmaids flowers were different shades of purple with perfect amount of bling! The guys had purple calla lilies also with bling and it stood out wonderfully! They were also so reasonably priced and I'm so happy!! Thank you!!
---
You Won't Be Disappointed
Reviewed on

7/01/2014
Pamela K
Can't say enough about Aberdeens! The flowers for my wedding were fantastic! From the bouquet's, mother's flowers, boutonniere's, alter flower and flowers for the cake, everything was perfect. The staff at Aberdeen's is very easy to work with and paid special attention to my needs and wants to give me the extra special something for my wedding day. The quality of flowers that were used were absolutely stunning and held up through all the heat and humidity the day of my wedding. Aberdeens was very reasonably priced and worth every penny!
---
Great flowers
Reviewed on

5/19/2014
Molly D
Floral arrangements were beautiful. Service was ok. Had to switch who I consulted with and had to return all vases following ceremony.
---
Nice looking flowers, just be careful
Reviewed on

5/06/2014
Sherry K
Our flowers were beautiful. However, if you decide to go to Aberdeen's make sure you ask about what kind of holder they will be using for the bride's flowers. My flower's looked amazing but they had a defect in their oasis holder which caused some of my flowers to come out throughout the day. They did apologize and are supposed to issue us a credit. The bridesmaid's flowers looked great as well. I wasn't all that pleased with the church arrangements but it was a miscommunication on what I wanted vs what they thought I wanted. The quality and price was great though, I just wish they would have used a better holder for my bridal bouquet.
---
Great florist for the value
Reviewed on

4/03/2014
Becky O
My bridal bouquet was absolutely gorgeous and very unique. My color scheme was a little complex as I had a rainbow theme color of sorts and each bridesmaid and groomsmen partner/couple had a different accent color for their flowers. Both the bridesmaid bouquets and the groomsmen boutineers were beautiful. I had ivory roses with various colors of princess orchids in mixed in with the roses. The service was wonderful every time I called, and their prices were hard to beat. I had been to many florists in the area and most were charging 2-3 times as much and were nowhere near as helpful. I have already recommended them to a number of couples getting married in the next year.
---
Average
Reviewed on

11/14/2013
Ann K
Aberdeen's will do a fair job for you, but if you have anything that you want in particular, you will need to be very specific with them. My bridal bouquet was perfect, but the bridesmaids bouquets were on the small side. The centerpieces were ok - but I would have liked to see them with a little more attention to detail. They provided what I asked for but if I had known that I needed to be so specific, I would have done so. They also failed to provide the flowers for one part of our ceremony which we paid for. If you are ok with micro-managing, go with them. Otherwise, I'm sure you can do better with another florist.
---
Beautiful
Reviewed on

11/09/2013
Ashley P
Beautiful
---
OK flowers!
Reviewed on

10/02/2013
Kathryn K
This company was great to work with. They were very accommodating and the staff was very friendly. I loved my bridal bouquet. They gave us a great deal and changed their packages to accommodate the number of bridesmaids I had. However, I was not super thrilled with our flowers. The flowers of my bridal bouquet were already starting to die. And the bridesmaids bouquets did not turn out the way I was imagining. My centerpieces, however, were beautiful and I loved them. They were exactly what I had imagined, and they worked with me to get the best deal.
---
Beautiful flowers, rude service
Reviewed on

8/04/2013
Jess M
Aberdeen's provided beautiful flowers for my wedding! I was very pleased with visual aspect of this business deal, but the representative that was sent was very rude to us. She arrived to deliver flowers to my house the morning of the wedding and I had to tell her which parts of the order were to be delivered to the house and which were supposed to be delivered to the church. She also misplaced a corsage and one of my special guests ended up not having one for the wedding. The Aberdeen's representative also made an inconsiderate comment about my Grandfather who had just passed away a week before the wedding. Maybe she was having a rough day, but it is not the time to be rude to a bride and her family on the wedding day.
---
Horrible quality of flowers and customer service!
Reviewed on

7/18/2013
Kristina W
We've had an ongoing horrible experience with Aberdeens! To start, I was assigned a rude consultant when I went to pick our wedding flowers. Nancy was condescending, unprofessional and instead of listening to my ideas she just insisted I use their pre-designed arrangements. I got very upset during our meeting and agreed with her just so I could get the meeting over with, and I ended up leaving in tears. I decided to cancel my order even though it meant losing my deposit, but they convinced me to change consultants. The second time around with Paula was better since she was kind and listened to my ideas, and I left feeling much better, but I was horrified when my flowers arrived the morning of my wedding! First, flowers in both the bridesmaids and my bouquet were starting to brown and wilt! Then, the worst part were the princess orchids on the flower girl basket, mothers' corsages, and other boutonnieres. They SPRAY PAINTED them white because they didn't order enough white orchids and only had green ones! The paint was cracking and chipping off the flower so you could see the green underneath, and the white paint ended up on the men's black tuxes. Third, my bouquet was way too big! They noted on the contract that I was 5'1", so they could modify the size of the bouquet, that didn't happen. The pink flowers were also a much brighter pink than the soft/blush I thought I was getting, so we ended up just cutting out the wilting pink roses all together! This had me in tears an hour before walking down the aisle! Fourth, the groomsmen boutonnieres were huge bloomed roses instead of being tight and looked horrible. Needless to say, all boutonnieres and corsages were taken off as soon as the ceremony was over! It goes on though! After we posted this very review, the owner Joe emailed us, asked for pictures and then admitted they 'did not meet expectations' and 'needed to offer something' to make things right. He offered us a partial refund, but two days later he emailed to say he wouldn't be sending us the refund until this review was taken down (not previously discussed), meaning he was only concerned with the review, not customer satisfaction. We agreed to remove it first if he was willing to put his offer in writing, but the last we heard from him was a threat that he would take legal action against us for writing a negative review on a review site. Very unprofessional!
---
Friendly, creative, responsive florist
Reviewed on

6/23/2013
Bridgette C
Aberdeen's was absolutely amazing. We had a baseball themed wedding, and Joe absolutely loved it. He suggested ideas, and did an excellent job incorporating it (and our special requests) without being tacky. The flowers were beautifully arranged and survived through photos, despite the fact the wedding was in June. Also, they are affordable, which is always a plus. I would definitely recommend them!
---
Aberdeens was AMAZING!
Reviewed on

6/18/2013
Kaitlin G
I lived not too far from Aberdeens... always driving passed. When I started planning my wedding, I called a different florist because they were family friends. They were also super expensive. So I did a little digging and I was reminded of Aberdeens. Stupid, forgetful me! I called up and scheduled a Saturday appointment with Gloria. She is the sweetest lady! We talked about what I liked, roses and hydrangeas and peonies. Gloria explained to me that peonies get really wilty really quickly, so we axed them. She explained to me all of the wedding packages, but I didn't need all of the items in the packages, so I ordered everything a la carte. I ordered 1 bridal bouquet, 1 moh bouquet, 1 toss bouquet, 1 flower girl basket, 5 corsages, 5 plain boutineers, 4 fancy boutineers, 1 ring bearer boutineer, 1 round bowl for the head table, 18 centerpieces, and 2 large vases for the ceremony (that were then moved into the reception hall). I spent around $1,700 which is crazy cheap! The flowers were stunning! My only advice is.... do not get the silver sparkle baby's breath. The silver glitter ended up EVERYWHERE! Oh well... it was cute.
---
SO Beautiful!
Reviewed on

12/10/2012
Nicole S
Aberdeens is a staple for wedding flowers for a reason. Our flowers for our November 24 wedding were absolutely stunning. The team really listened to what we wanted (and honestly, I went in with an overall vision, but knew nothing specific about flowers). Gloria took the bits and pieces we described, and created more than I could have ever imagined. Everything was where it was supposed to be, on time. The bouquets, corsages and boutineers were beautiful, the centerpieces were perfect, and the flowers for church were gorgeous. They stayed healthy throughout the day, and guests were commenting on stunning the flowers were. Thank you, Aberdeens, for your exceptional service and integral role in our wedding. You truly live up to your reputation!!!
---
Flower Beautiful/Customer Service Not So Much
Reviewed on

12/05/2012
Amber M
Our wedding flowers and centerpieces were so beautiful, and were worth the headache that came with dealing with their customer service. Once we signed our contract with their northern area rep, that was it she would never return my calls or my emails. I headed up calling their main office in Chicago and had Paula confirm all our wedding flowers. She was a lifesavor, confirmed everything and calmed me down. If you go with Aberdeens for your wedding flowers they will be breath taking, but be prepared for slow responses.
---
One of the best Vendors EVER!
Reviewed on

11/11/2012
Lauren F
Joe and the entire staff at Aberdeen's were a constant pleasure to work with. My flowers were beautiful. I came to them with some unusual requests, mostly that I used antique bridal baskets for my flowers instead of bouquets, and then were excited for the challenge. They were there every step of the way for set up and even came back at the end to take back the things we rented instead of us having to return them. Aberdeen's really was one of the best vendors I had.
---
Gorgeous bouquets with all the bling
Reviewed on

11/11/2012
Jennifer K
My bouquet and the girls were perfect! The aisle bows and flowers were a bit cheap looking and I was a bit disappointed that the guys bouquets had 1 tiny green leaf that they called greenery. Communication was a bit frustrating as our original designer was out for ahi.e and we felt as though our order got shuffled around. All in all good though and they delivered on time.
---
Send Email