Home

Aberdeen's Wedding Florist
About this Vendor
Making Weddings Beautiful since 1958
At Aberdeen's, we understand what an important role your personal flowers, ceremony arrangements, reception centerpieces and décor have on your special day. Aberdeen's, is a weddings-only floral service provider. From conceptual design to flawless execution, our goal is to make your day beautiful.
Details
Aisle Decorations, Centerpieces, Flower Girl Baskets, Pedestals, Plants, Vases, Chuppah, Wedding Arch, Wedding Decoration Delivery, Wedding Decoration Setup, Decorations + Accents, Bouquet Wraps, Bouquets, Boutonnieres, Corsages, Flower Delivery + Setup, Flower Arrangements
Contact Info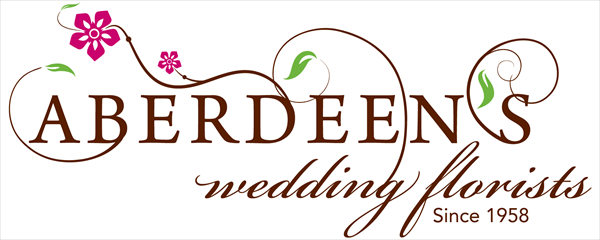 1109 Tower Road, Schaumburg , IL
Beautiful!
Reviewed on

10/08/2014
Michelle A
We used Aberdeen's for our wedding and were not disappointed! We originally meet with Lauren and showed her pictures and right off the bat she totally got out vision. They did a mock display for us a few weeks later and we were blown away. It was exactly how we pictured it. The day of the wedding I was so nervous in antipication of how the flowers would look and again I was blown away. Everything was beautiful and exactly what I dreamed of and more. From the church arrangements, to the girl's bouquets, and the tent. Everything was perfect!!! I know I was annoying to work with ( a little narotic) but they never made me feel like that! It was a pleasure working with Lauren and Joe and would definitely recommend them to anyone getting married!
---
Great Experience!
Reviewed on

9/23/2013
Lindsay B
The flowers for my wedding were absolutely beautiful. We had many different arrangements and they all looked great! We really enjoyed working with Aberdeen's; the people are extremely helpful, friendly, and quick to respond to any questions I had. The flowers were delivered on time and set up perfectly. The flowers easily lasted all night and beyond. My guests loved the arrangements so much, many of them were taken home to enjoy.
---
Awesome
Reviewed on

8/20/2013
Sara L
I offered to give my sister her flowers for her wedding. I contracted with Aberdeens, and they really blew our minds away. We were all at my mothers home, getting ready, and when the fowers showed up, it was like we were at a concert - all the girls started screaming. They were fantastic, I highly recommend them. Everything was fresh and on time. Great experience.
---
Flowers were Amazing
Reviewed on

8/01/2013
Trish B
A little sketchy on follow up and communication, but once the day came - everything was perfect! If you're looking for a florist, do NOT go to your local FTD - use a WEDDING florist...Aberdeens is the only one in our area!
---
Reviewed on

6/14/2015
Dory S
Aberdeen's did a great job with our flowers. Our consultant, Lauren, did a great job helping us to pick flowers in our first meeting. All we knew were colors that we wanted but she helped us find the perfect flowers in our budget. The mock-up of our flowers wasn't quite what we had imagined but they took our comments and made us beautiful centerpieces. We couldn't have been happier with how all of the flower arrangements turned out!
---
flowers
Reviewed on

5/13/2015
Rick W
What more can we say then Wow! We were both amazed and so happy with the friendliness and professionalism that Aberdeens showed us. The flowers from the bouquets to the boutonnieres to the table center pieces were so beautiful. The tall flower centerpieces were exactly what we were looking for. Along with the low triple candle centerpieces the room looked elegant and beautiful.
---
Roses :)
Reviewed on

4/27/2015
Bianca P
Aberdeen's florist was the choice for us and we will definitely recommend it to everyone we know, for any occasion, especially their wedding! Our flowers were simply stunning! Working with Dena and Michelle was a blessing. This company, and these ladies, were awesome! I am so grateful to have had such an artist creating our bouquets, corsages, and boutineers. I gave them little "additions" of pearls/rhinestones a few days before, so they could incorporate into my bridal bouquet. While I was at the florist, they showed Kevin and I our actual wedding flowers! They were so sweet and personable! The boutineers looked so very classy and elegant! The bouquets were beautiful, and even better than how I imagined them. The corsages were lovely and perfect, ! They took all of my ideas and photos, and made them into magnificent masterpieces. I never knew how much flowers made a wedding, but it truly stood out as a special addition to our day! They even made sure we had an extra corsage and boutineer just in case! And our presentation flowers were so delicate and pretty!!!!!!!!!! They provided vases for the delivery to preserve the roses until the last minute! They were flexible with delivery time and always willing to make sure it was the way we wanted. It was a wonderful experience and I would recommend them to everyone. My bridal bouquet was gorgeous! I was so happy!!! Thank you so much Aberdeen's!!!!
---
More Beautiful that I could have Imagined
Reviewed on

4/11/2015
Lynn F
When picking out flowers I am not the best. I showed Nancy some photos of what I liked and told her my "vision". From there she gave me ideas and suggestions. I honestly don't know my flowers and put all my trust into her (and her enthusiasm). She promised me I had made the right choices and that the flowers would be beautiful...that was an understatement!!! My bouquet was GORGEOUS and the centerpieces were unbelievable. The only hiccup was that they did not deliver my throw-away bouquet; thankfully I had a smaller Jr. Bridesmaid bouquet that my niece willingly gave up to save the day. The flowers were fresh and smelled wonderful too…I still have some of the centerpieces (2 weeks later) that are holding onto their beauty!!! I highly recommend Aberdeen's to future brides and grooms!!! Great Experience, Great Pricing, and Great Product!!!!
---
Great price and flowers
Reviewed on

4/06/2015
Molly C
I was given Aberdeens as a reference from my mother in law and they were amazing from start to finish. They worked with my budget and I got real flowers on 18 tables and 8 bouquets for an amazing price. I also paid an additional amount for them to setup and come back to get all the vases I rented. It was worth every penny because I didn't have to worry about anything. GREAT COMPANY!!!!
---
Excellent service & quality!
Reviewed on

12/07/2014
Michelle L
We hired Aberdeens to be our florist for our wedding in downtown Chicago in June 2014. Living in California, it was extra challenging to plan our wedding in Chicago. Joe at Aberdeens did everything he could to make the process as smooth as possible. We met with him two times during our visits to Chicago, and Joe was extremely accommodating by driving to meet us and going out of his way to help us with the planning! We had a vision for our flowers and Aberdeens absolutely made it come true! Our flower arrangements were gorgeous, romantic, and just perfect! We absolutely loved the table arrangements. Our venue was so full of flowers and made our wedding look stunning. I just loved my bridal bouquet - it was incredibly beautiful! I highly recommend Aberdeens for wedding flowers.
---
Highly Recommend!
Reviewed on

11/30/2014
Katie L
We are very happy we chose Aberdeen's for our wedding flowers! It was a little unnerving for us not knowing how everything would look that day, but we were thrilled when we finally got to our reception and saw them! The flowers and their arrangements were excellent, and our family members who interacted with their staff setting it up had nothing but good things to say. We were surprised by how expensive wedding flowers are, but the value we received from Aberdeen's was much more than we found from other vendors. The process of picking everything out was a little difficult because we had so many unknowns, but Paula was great in helping us navigate through that process. The best part was the morning after the wedding. We thought we would have time to return the vases ourselves and opted out of their pickup service. When Sunday morning came, we realized that was a terrible idea, and Aberdeen's was able to come get them on very short notice, saving us and our families a fair amount of stress that day! They're under new ownership now, and we can't speak to that, but we were very satisfied with our experience!
---
Stunning Floral!
Reviewed on

11/24/2014
Lauren R
I used Aberdeen's as my florist for my recent wedding in October. My sales person Gloria was fun to work with, down to earth and had wonderful suggestions. If it weren't for her, I wouldn't have had thought of the colors that she suggested. I was stunned on my wedding day when my flowers arrived and I saw how gorgeous they were...especially my bouquet! Even after the wedding, I am able to enjoy my bouquet as I dried it out and it still looks beautiful!
---
Aberdeen's Florist
Reviewed on

11/02/2014
Valerie R
My husband and I met with our Aberdeen's representative and knew immediately that we wanted them to be our wedding florist. We had met previously with another vendor who was going to give us fewer flowers in colors we weren't completely sold on for a thousand dollars more than what Aberdeen's quoted us. When we went to meet with our Aberdeen's representative we weren't 100% sure on what we wanted, but after hearing about our wedding colors and our basic thoughts our rep whipped together an arrangement that was absolutely gorgeous. The flower they recommended to us was a Blue Bom Orchid, we had never heard of it before and it was the perfect color to match our wedding. Aberdeen's allowed us to customize our package so that we didn't have to pay for items we weren't going to use. When the day came our florist was in and out and had everything set up so quick. Our flowers turned out beautifully. All of them were the right colors and sizes and everyone loved the special orchids they made for us.
---
Great Job with our Flowers!
Reviewed on

10/29/2014
Edward M
I can't say enough about how great a job Aberdeen's did on our flowers. My wife and her maid of honor handled this part of our wedding. She met with our florist a couple times and from the first meeting seemed at ease and comfortable with her choice. She did shop for florists but told me that the combination of gorgeous flowers, a great value for the price, and how nice they were to work with sold her on Aberdeen's. I did go with her one time so that I could see what she had chosen for our flowers and was very impressed with the variety of options we had. Between the flowers on our tables and the flowers for our bridesmaids, our parents, and for our groomsmen everything was beautiful and as promised. I highly recommend Aberdeen's and plan on using them for other events in the future including if/when I send flowers to my wife for our anniversary. Thank you Aberdeen's for a great job!
---
Amazing
Reviewed on

10/29/2014
Paula W
The flowers were amazing. They were better than I could have imagined. Michelle the head designer worked with me to do my final meeting and she is an artist.
---
LOVE LOVE LOVE my flowers!!!
Reviewed on

10/20/2014
Jaclyn R
I attended a Bridal Expo at my venue and I actually won a Bridal bouquet from Aberdeen which also included a discount on my purchase should I choose to use them as my florist. I did! The flowers are absolutely GORGEOUS! I fell in love with the Bridal bouquet that I won! I met with Nancy at the Schaumburg office and I went with pictures and she was very helpful with her suggestions and patient with me as I changed my mind like a million times in that hour we met! As the wedding approached, I met with Gloria at the main location on Harlem. She is totally AWESOME and really knows her stuff! I recommend that all brides meet with her. As I looked through all of the bouquet books, I realized that I was going to change my mind... And I did...Gloria took my pictures and made mock ups of those bouquets...and I will tell you the truth...I did not like them at all! Gloria showed me pictures of what she thought I would like and that is when I FELL IN LOVE with her choices. We went through the list of bridal attendants that would need flowers which was a little time consuming but we went through it...twice! The week of the wedding I received a call from the florist confirming all of the flowers and delivery locations which was great! The day of the wedding, 10-3-14, the flowers were delivered. I was still getting ready and the delivery driver would not do anything until I viewed the flowers which I thought was very professional and I appreciated her patience in waiting until I was ready. OMG!!! is what I said when I saw all of the flowers! They were so beautiful and vibrant! My only 1 complaint is the ribbon on 3 of the corsages did not really match the colors of the wedding but as it was a shade of purple, it still worked. The delivery driver pinned the boutonnieres on the guys jackets that were at the house. Even though the groom and his guys were not due at the church until 2:30pm, she waited at the church to pin there boutonnieres. That was very nice of her and much appreciated! Overall, I would definitely recommend Aberdeen's to anyone looking for not just a florist for a wedding but for any occasion! AWESOME JOB!!!!
---
Beautiful Flowers/ OK Service
Reviewed on

9/22/2014
Andrea L
I received an email from Aberdeen's after attending a bridal expo at Navy Pier. They email a "Bouquet of the Week" and I was amazed at a lot of their arrangements. So beautiful! We met with Lauren in a smaller office located inside a tux rental place. Lauren was helpful and polite and we were able to accomodate what we needed within our small budget. Chris reached out to me about a week before the wedding to confirm everything. A few of the descriptions on the agreement indicated there was a picture to reference. Unfortunately, the pictures were lost and we were never notified. It wasn't a huge deal but a week before the wedding is not the time to find out they lost what you wanted. Luckily, I was able to find other pictures (not the same ones) that represented what we wanted. While this was a serious issue for me in the midst of wedding madness, Chris was wonderful and making our visions come to life. The bridesmaid bouquets, corsages and boutonnieres were gorgeous! They even threw in a few extra, which worked out lovely! The bridal bouquets were beautiful, also! My only concern was the ivory ribbon wrapped around the stems was minimal and was soaked from the water bags attached.. I would consider using Aberdeen's again, but I'd keep my own copy of the photos.
---
REVISED REVIEW
Reviewed on

9/21/2014
Nicole J
Well, it's been 8 days, ON MY WEDDING DAY, since I first called Aberdeens Wedding Florist about problems with my floral arrangements. All arrangement were WRONG except the boutonnieres. I have since called SIX times and been told I have to speak with Joe, the owner, to resolve my issue. Every call I have been told he has not been in. What kind of owner does not come in for an entire week during one of the busiest wedding times of the year?? Yesterday I was told he would be in at 2:30 and would DEFINITELY be calling me back. Still waiting........ Joe is the one who took my order, you would think he would be more interested in resolving this. I guess they already got my money so they don't really care. At this posting my suggestion to anyone thinking of using them....DON'T. They are all over it and helpful when they are getting your money but have a total lack of customer service when there is a problem. I will be posting an update to this EVERYDAY until I get a response , maybe SOMEONE there will think it's worth following up on. After a month and a half of communication back and forth-some very rude, condescending, and even threatening-I did receive a adequate refund from Joe the owner. I have since been told that this business is under new ownership, I even received a call from the new owner, something I NEVER received from the last one, and he was very understanding and apologetic, especially for something he had nothing to do with, therefore I am updating my review and basing it SOLELY on the conversation I had with the new owner who seemed to be much more professional and concerned with the situation than anyone I had dealt with previously.
---
Amazing Wedding Florist!!
Reviewed on

9/10/2014
Christine K
We used Aberdeens for our wedding flowers. It was the best decision I made. Our flowers were better than I could have envisioned for our day if that is possible!! When I saw them it was breathtaking. Everything provided from the bridal bouquet to the table arrangements was amazing and very elegant. The team at Aberdeens was great to work with. We met with Joe several times for a consultation and to see a mock up of our table arrangements. Everything we received on our wedding day exceeded our expectations. Our guests have raved about how beautiful our arrangements were. All emails were responded to promptly and the team arrived early the day of our wedding to provide all the bridal party items needed for pictures, and was there as soon as the wedding ended for take down. We cant say enough good things about Aberdeens and the service provided and would definitely recommend them to anyone. Aberdeen's is definitely Chicago's best kept secret :)
---
Blown Away!
Reviewed on

9/06/2014
We were referred to Joe at Aberdeen's by a family member and couldn't have been happier! Joe went absolutely above and beyond to work-up samples of what we wanted for our wedding and even though everything was perfect, he was constantly trying to be creative and propose different ideas. On the day of the wedding, I think he was one of the first people at the hotel waiting for us and then again at the venue to make sure everything was put together exactly as we envisioned it. Our flowers looked even better than we imagined and Joe was so extremely professional. I highly recommend using Aberdeen's for your upcoming wedding!
---
you pay for what you get
Reviewed on

8/27/2014
Ann Marie P
When I signed the contract with Aberdeens, I thought I had gotten a great deal with great customer service. I bought a package that included flowers for the church that could be re-used for the ceremony. However, when the wedding was a week away, two different people (one being the owner, another being the designer) called to verify my order. Both got it incorrect. I was getting anxiety about their service level since we had reviewed the order several times. I paid $75 extra to have them deliver the flowers from the church to the reception so that my mom or guests did not need to worry about it. Before the ceremony, the driver dropped the flowers off at the church and asked my groom where to put everything and commented that she didn't know how we were getting everything to the reception - and she left. They did not put the large long and low at the altar, and they did not put the roses for the moms or Ave Maria at the altar. Nobody saw them so they went unused. Then after the ceremony my mom was stressed about who was moving the flowers to the reception. My guest had to do this. I would have never paid the extra $75 or bought the package for the church flowers had I known they would screw up and none of it was used. The lack of delivery to the reception caused extra stress and confusion while we were taking family photos at the altar. I would never recommend Aberdeens. They are cheaper but you pay for what you get. They work on volume so they don't care if your order is correct. There is very poor customer service. After my honeymoon I called the owner to express my concerns and demand my $75 and she never called me back. Finally the designer called me back. Three weeks later, I'm still waiting for that $75 check. I do not recommend this florist.
---
Beautiful Flowers
Reviewed on

8/19/2014
Colleen H
Aberdeen's did an amazing job with the flowers for our wedding. I brought in pictures of flowers that I had seen and they matched them perfectly. Lauren was amazing to work with. She listened to everything I wanted and completely delivered. Everyone commented on how beautiful they were. The only one downfall I would say was with the pompadour balls for the flower girls. WHen I originally ordered them I ordered fake flowers. We had 3 little girls and I felt fake would hold up better. When we got the balls, they were made out of real flowers which were pretty but they kept falling out. By the time we were taking pictures after the reception two of my flower girls only had half of a ball left. One was so worried about the flowers that she wasn't paying attention to getting her picture taken. The was the only downfall that the flowers didn't stay in the balls. But everything else was beautiful. The flowers were actually one of the easiest and least stressful experience of the wedding. Lauren put together beautiful flowers.
---
Amazing Flowers!
Reviewed on

8/11/2014
Paula from Aberdeens definitely made everything super easy for me and the arrangements and bouquets were gorgeous! I have to say I was honestly overwhelmed with the idea of picking the flowers for the wedding as that is definitely not something I am familiar with. I gave Paula my color scheme and she ran with it. She went through a lot of great options with me and showed plenty of examples to help me narrow down what I wanted. Everything turned out beautiful and I received a lot of compliments from the guests and bridal party about how they looked. I would definitely recommend going with them for your wedding!
---
just beautiful!
Reviewed on

8/05/2014
jessica j
My flowers for my wedding this past Friday were absolutely gorgeous! Joe did a great job and listened to my ideas. It was exactly what I wanted and the bridesmaids flowers were different shades of purple with perfect amount of bling! The guys had purple calla lilies also with bling and it stood out wonderfully! They were also so reasonably priced and I'm so happy!! Thank you!!
---
Beautiful Flowers - Flexible Options
Reviewed on

7/23/2014
Melissa A
We were on a very tight budget and Aberdeens was able to work with us to get us what we wanted at the price we could afford.
---
Send Message