Home

Advanced Limousine Services
About this Vendor
The Best Limousines, The Best Drivers!
Quality, not size, is the hallmark upon which we've built our company, and in which we take great pride. We at Advanced Limousine Services develop success by choosing and diligently training those certain individuals who possess the special qualities that will guarantee your great satisfaction!
Details
Rehearsals + Parties, Wedding
Classic + Exotic Cars, Limousine + Sedan, Shuttle Service, Transportation
Contact Info

Reviewed on

8/02/2016
Laura J
Kaitlyn from advanced limo was the absolute best to work with once we decided to go with advanced limo for our wedding transportation! She was there for my every need, question and concern that I had. Andrey was also an absolute pleasure to have as our driver. He made sure we... Read More were comfortable and relaxed! I cannot thank Kaitlin and Andrey enough for everything they did for our special day! I recommend Advanced Limo to anyone and everyone that is in need of a limo service. Thank you so much again!!
---
Reviewed on

4/01/2016
Allison H
Courteous drivers, clean well appointed vehicles, on time. A pleasure to work with and well priced. I was very happy with their service.
---
Awesome!
Reviewed on

9/23/2015
Megan B
Advanced Limo was so great to work with and I'm so happy we used them for our wedding day!! We used them for our bridal party and also a shuttle to and from the hotel. From the beginning the communication was so easy and I knew I could count on them. Kaitlin was so helpful... Read More throughout the entire process. They were on time for everything and were so accommodating. We decided last minute to use Advanced Limo for our airport transportation for our honeymoon and that was perfect as well! Our driver was here early and got us there in plenty of time for our flight. Plus since it was our third vehicle with them, we got a great deal on that price. Highly recommendable and I will use them again for sure!
---
Reviewed on

10/16/2017
Katie D
Couldn't have asked for a better limo experience on our wedding day. From the day I reserved the links to the end of our wedding, everything was organized professionally and carried out perfectly. They followed through with all of my requests and accurately followed the planned... Read More timeline. I highly recommend them to anyone needing transportation for any big event.
---
Reviewed on

8/25/2017
Andrea S
We used a limo for the bridal party and three different shuttle buses for our guests to use in between the hotel and the venue. They were responsive to us making a few changes leading up to the event, and everything ran smoothly and on time the day of the wedding.
---
Reviewed on

8/14/2017
Megan Q
I am shocked at our service from Advanced Limo. We used them last year for my sister in laws wedding and decided to use them this year. We had a big bridal party and had a 24 passenger vehicle. Our driver was driving so fast, we had to ask him multiple times to slow down..he... Read More acknowledged this but did not take the feedback. We had a 4 year old in the car with us and she was having to hold on to her mother. One of my bridesmaids actually slid off the seat. It was ridiculous, and it was the most stressful part of our day. I will not be using them again.
---
Reviewed on

7/06/2017
Kristin A
Advanced Limo provided the transportation for our wedding party this past June and we were very happy them. They were so easy to plan and communicate with leading up to the wedding. Their driver was on time, very professional, and also very nice and accommodating. I would... Read More definitely recommend them if you are having your wedding in the Philadelphia area.
---
Reviewed on

5/08/2017
Tamra C
Fantastic! They arrived right on schedule! Our 24 person party bus was stocked with champagne, glasses, water bottles, and even napkins to match our wedding colors! The driver, Andrey, could not have been nicer! He got us to all of our picture locations with no problems. The... Read More party bus was definitely one of the highlights of the day! Advanced Limousines was super easy to work with! We just booked and they took care of everything else! Thanks so much!
---
Reviewed on

1/24/2017
Teresa G
I 1st contacted AL for my 10/8 wedding around 7/3. Up until the wedding, they always responded to my emails & phone calls quickly.The reason I went with AL is because I wanted a limo bus that had captain seats & seatbelts for young children, & wrap around seats for the adults in... Read More the bridal party. They were the only company I could find in the area that offered this. I reached out to them again on 8/31 to confirm the type of bus & request pics to send to the bridal party. I received my pics & everything was good. On October 4th, I spoke with AL to confirm the details of the wedding day.My church were at 3 pm and the limo bus arrived at 2 pm. My sister, whose son was the ring bearer, told me that the limo had no captain seats or seat belts. Immediately, I got upset because I went with this company because they offered a specific vehicle I needed. I called AL right away. The woman I spoke to on the phone apologized & said something had happened with the original vehicle.At this point, there was nothing we could do & I was practically in tears. Fortunately, the parents of 2 of the children let them go in the limo but 1 ring bearer was not able to.If they didn't, we would've had a huge issue with getting them to the church. On 10/25 I emailed AL telling them what happened & that I wanted some type of refund for their error. They responded that day & apologized for the "confusion and inconvenience" but the vehicles are on the road & accidents happen, etc. & that "our rental agreement does reserve our ability to switch vehicles in the event of such an unfortunate incident."The limo bus did not get to my house until 2 pm.They had enough time that morning to call and inform me.The worse thing they could have done to a bride on her wedding day was to not inform them & just surprise them with this.
---
Reviewed on

11/14/2016
bruce m
ON time and friendly professional service. Everything you want in a Limo Service. They did a great job for all of our guest who used their transportation. Thank you!
---
Reviewed on

11/13/2016
Ariana R
Unprofessional, rude, never again and allows their drivers to call and harass past customers with no repercussions . Recommended by a nearby hotel. Made reservations for a pick up the morning of my wedding from the hotel to the venue and then pick up from the venue back to the... Read More hotel. Same day. Get a call to confirm, had us being picked up 10/8 from hotel and then 10/21 picked up from venue, when my wedding was 10/21. First red flag. Ended up canceling first trip & to only be picked up from the venue and taken back to the hotel after the wedding. I waited over 1-1/2 weeks for a refund from the first trip. I was told would be 48-72 business hours. Driver arrives, rude no introductions nothing. Refuses my husband, the groom because he was drunk but stated he was belligerent. He was not. But he needed a ride, our best man offered the driver $50 to take him. He quickly accepted and my husband got in the front seat. About 12 of us pack in their 14 passenger van, start to take off and the driver backs into my husbands truck behind us which was being driven by someone else with all of wedding stuff. Driver decides to start pulling away as if nothing happened. We get ins. info. and license plate #. At this point, not once did the driver get out of his vehicle to check if any damages were done. He drops us off at the hotel, still no interaction no apologies nothing. A few days later I called the office to let them know we're going to have our truck checked for damages and would get back to them. The driver never told the office he hit our truck or accepted $50 to take my husband which after he hit the truck my husband ended up being driven by someone else. The office then decides to tell me we're being charged for $250 sanitation fee for clean up of a small smear from a sick passenger. They were charging my card without my knowledge. Not once did I receive a call from them to explain I would be charged. If I didn't call them I would have never known. After I speak with the office about the truck I get two phone calls back to back from an unknown number, as I'm calling it back I see a voicemail pop up on my phone, before I could hang up someone answers. The driver is calling me harassing me stating I'm submitting false claims of thousands of dollars of damages to our vehicle. Not once did I say to anyone there was $$$ damages. I clearly stated we were going to have our vehicle checked and if anything I would let them know. The driver is yelling and screaming at me over the phone. I have also saved his voicemail to show the unprofessionalism of this company allowing drivers to harass past customers. All we got was from the manager, we're so sorry and the driver is sorry too. They can keep $475 for a 10 minute ride, cause clearly they are more worried about money than word of mouth which goes a longer way.
---
Reviewed on

10/29/2016
Lily Q
Advanced Limousine Services was very easy to work with leading up to our wedding day and it was never stressful communicating with them, either by phone or email. Our driver the day-of was so polite and such a gentleman, and the 28-passenger shuttle bus was extremely nice and... Read More comfortable inside! He drove our guests to/from the reception from our hotels and it was nice to know our guests were in good hands when traveling during our wedding day. I would highly recommend Advanced Limousine Services!
---
Reviewed on

9/26/2016
Natasha K
On time & professional for my wedding. Thank you Advanced Limousine!
---
Reviewed on

8/28/2016
Kim B
The team at Advanced Limousine was amazing to work with - they helped answer all my questions before the wedding and executed perfectly the day of the wedding. I couldn't have picked a better team for our transportation needs!
---
Reviewed on

9/23/2015
Kaitlyn F
I cannot say enough how wonderful Advanced Limousine was for my wedding rehearsal and wedding day transportation on labor day weekend. We used the fabulous MKT Limousine for the bridal party, the 1960 Rolls Royce for myself and my father to get to the wedding, a shuttle bus for... Read More my guests, and last but not least car service to and from to get my grandparents safely to and from our wedding. All drivers were on time and provided water bottles in each limousine. Even the employees in the office were great! Stephanie called me a couple days before to make sure all addresses were correct and that the transportation timeline matched up with our wedding day needs. Words cannot adequately express our gratitude. Thank you so much Advanced Limousine for being apart of our wedding!
---
Reviewed on

6/08/2015
Advanced Limo was great. Completely stress free from beginning to end. Mark was a complete pleasure to work with and was so helpful. On the day of the wedding they were on time and extremely professional and friendly. Their prices are extremely competitive and reasonable.... Read More You will not be disappointed.
---
Beware: Switched Vehicle, Breakdown, Poor Service
Reviewed on

2/09/2015
Sharon L
I've stirred quite a bit over whether to write this review, and have finally decided to speak up. My wedding was on Saturday, January 24, 2015... I booked a charter mini-bus to seat 14 passengers a full 7 months before my wedding. On the morning of my wedding, I get a call from... Read More Advanced Limo telling me that the mini-bus I reserved (7 full months ago) has broken down and, apparently, they don't have a replacement for me. I was told by the man on the phone that they would be sending me a "plush" van. The word "plush" was used several times as if to drive home that this was somehow better than a regular van. (It was just a big van). The employee also had the nerve to tell me that the price difference was negligible, as if he were doing me a favor by not charging me more -- or, perhaps saving himself from having to refund me the difference. Either way, this is hours before my wedding, the morning of, and I agree to the van. The van was a van. Not "plush." It was the type of van that guests in nice dresses and men in nice suits had to bend over and squish into to reach the 3rd or 4th row of seats in back. Hardly the bus I had reserve 7 months prior. Do they only own one single mini-bus? Do they not account for breakdowns? Apparently not. I've had suspicions that they overbooked and gave my reserved mini-bus away, sticking me with a "plush" van. It gets worse: About 15 minutes before my 4:30p ceremony start time, I received word from my venue's coordinator that the van (the "plush" van that replaced the broken down mini-bus I reserved 7 months ago) had -- guess what -- broken down en route with guests on board. So now my guests were awaiting another vehicle (an identical van, as it turned out) to pick them off the side of the road and bring them to the venue. My wedding ceremony was delayed 15 minutes (it was only a 30-minute ceremony) waiting for Advanced Limo to deliver my guests in another "plush" van. My cocktail hour, my photos (which we were forced to do with very little light) and ceremony were all delayed because of this. And it might have been all forgiven (because our wedding was a beautiful event) had someone from Advanced Limo called me, emailed or text me the next day or next week to apologize for the inconvenience at the very least. Any respectable company would reimburse me at least a portion of the money I spent for switching my vehicle and delaying my event. But here we are, more than 2 weeks after my wedding ceremony and not a single person from Advanced Limo has reached out to apologize. No one. It's an embarrassing way to do business. Customer service at it's absolute worst. Beware when booking with this company and get a guarantee that the vehicle you book is the vehicle you'll get... or at least get one that is in working order.
---
Great Price and Great Car!
Reviewed on

11/18/2013
Rachel H
My husband and I used Advanced Limo for our wedding day on 11/9/13. We were able to reserve a really hott 1988 Rolls Royce to pick us up from the wedding/reception venue, take us to our hotel to drop things off and change, then take us to our after party. Now, this is a pretty... Read More unique request as we did not need a bunch of cars/limos for our entire wedding party or anything. I must have called EVERY limo company in the Philly area and Advanced gave us THE best price. On top of that, our driver was extremely polite and led us to our destinations smoothly. I would certainly recommend Advanced!
---
My Sweet Ride
Reviewed on

7/12/2013
Nicole F
We arrived at the church in style!!! There was plenty of room for the bridal party to ride in comfort to our wedding reception.
---
Cool Car; Good Service
Reviewed on

10/16/2012
Samantha N
This company offered a unique car - a vintage Rolls Royce - that perfectly fit what my groom wanted. Their prices are comparable to other companies we researched. THe only disappointment was that the car to pick us up at the end of the night was almost 30 minutes late. And the... Read More driver proceeded to ask us for directions to our hotel!
---
My Ride
Reviewed on

9/26/2012
faith h
The car was beautiful. 1960 Rolls Royce
---
Perfect
Reviewed on

3/18/2012
Kathryn H
Very easy to work with, answered all my questions, on time, and even made an extra stop for drinks on the way to the reception!
---
Extremely Disappointed
Reviewed on

10/04/2011
Jonathan R
The planning process with Advanced was very easy and the customer service from the office was great. The limos are also very clean and look great. However this is where the good ends. First leaving with the groomsman, our limo driver was conversing with the driver of another... Read More vehicle when we came out. When he saw us, you would have thought he'd end the conversation greet us and open the door. Nope, he kept talking while we all piled into the limo, and then we sat there for a few more minutes while he continued to talk. Then driving to the Church, there were numerous short stops as well as a point in time where we thought we would get T-boned by an oncoming car because of a turn none of us thought he should make. Second, the limo that was to pick up my wife to go to the Church was about 20 minutes late. On the way to the reception, there were also numerous short stops and a couple of horn honks. The drivers were very rude, did not open any doors nor did they help any of the ladies into or out of the limos, my wife included. Then to make matters worse, the limo driver wanted me to sign a piece of paper because we arrived to the reception 5 minutes after our scheduled drop off time. All in all, it was a terrible transportation experience on my wedding day and we will not be using Advanced again for any function.
---
wedding transportation
Reviewed on

8/17/2011
Kelly C
We used Advanced Limo for not only wedding transportation but for our hotel shuttle as well. It was a great experience.
---
Rating for Advanced Limousine Services
Reviewed on

5/10/2010
Kate S
---
Meet The Coordinator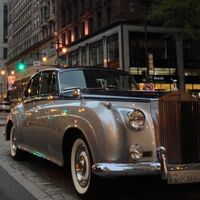 Advanced Team
Allow the friendly and knowledgeable staff here at Advanced Limousines to help create your dream transportation for your special day!