Home

Agora Grand Event Center
Book Your Wedding with Agora Grand Event Center
---
A BALLROOM IN LEWISTON, ME
About Us
At Agora Grand Event Center in Lewiston, Maine, weddings are a gala celebration. Everything about this wedding venue is about panache and over-the-top appeal. It's simply not possible to increase the luxuriousness of the surroundings at Agora Grand Event Center. The tastefully appointed indoor event spaces carry you through every facet of your wedding day.
The Chapel. A distinctive painting serves as a backdrop to the altar in the Chapel. Stained glass windows help create a traditional tone inside the Chapel, while the chandeliers set a refined ambience. Wood pews fill the sanctuary for your guests. The Chapel connects to the Reception Hall for easy access. This ceremony site accommodates up to 200 guests.
Reception Hall. Stepping into the reception hall promises to take your breath away. As the eye travels up to the 55-foot ceilings, the stately architectural columns are truly majestic. Stained glass windows give the hall a medieval feel, but state-of-the-art sound and lighting ensure that your event is cutting edge. This space accommodates up to 450 guests for a cocktail reception and 350 guests for a seated affair.
What You Should Know
Weddings at Agora Grand Event Center are all-inclusive affairs, allowing you to pass off all the details to event coordinators. All that's left for you to do is relax and enjoy the magical moments of the day. Coordinators take care of not only the planning and preparations, they also manage all of the day-of details for you.
Your venue rental time is a full 12 hours. The bridal party has use of the Luxury Balcony Lounge. From this stunning spot, you can look down on the Reception Hall to enjoy the view. You can also use this area as a VIP lounge for select guests. The lounge has comfortable seating, a whirlpool tub and a private bathroom.
A dance floor in the center of the reception hall provides ample room for dancing. The venue provides all the furniture and equipment you could need for your events. Full table and chair setup is provided and the crew sets the tables with linens, chargers and tableware. The in-house sound system is ready for your emcee and DJ or band. The coordinators are happy to help you choose other wedding services for flowers, photography, entertainment and more.
Immediately after your ceremony, the cocktail hour begins. Staff serves hors d'oeuvres and the wedding toast is served. An open bar provides wine, beer and liquor, served by professional bartenders. You have your choice of three different caterers for your reception meal. Banquet staff serves the meal to your guests. When it's time for the wedding cake, servers cut and plate it for your guests. This venue is fully handicap accessible and it also has free on-site parking.
Extra Perks
No detail is too large or too small for the professional event coordinators at Agora Grand Event Center. These capable professionals welcome your special requests. Many perks and amenities are also available, which can make your wedding day even more special.
Choice of a one-day event or a weekend event
Guests can stay next door at the Inn at the Agora for weekend events
Canopy provided for the reception; place it over your sweetheart table, over the cake-cutting station or even use it as a projection screen
Crew sets up lighting according to your wishes with customization and up-lights available
Many photo opportunities around the venue; park across the street has a gazebo and Inn at the Agora has a picturesque courtyard
From the Vendor
Royal Weddings at the Agora Grand Wedding Castle
Imagine your royal wedding celebration at one of New England's most elegant and unique castle wedding venues. The Agora Grand Event Center was created from a 19th century Neogothic church, a picturesque setting for the wedding of your dreams. With our all-inclusive wedding packages that are ideal for destination weddings, treat yourself to a mesmerizing Reception Hall, a gorgeous chapel with original stained glass, a luxurious balcony lounge to pamper you and your wedding party, and America's only honeymoon suite created in a church steeple. Click on our website today to find out more!
Amenities + Details
Amenities
Bridal Suite

Handicap Accessible

Liability Insurance

On-Site Accommodations

Indoor

Reception Area

Wireless Internet
For more details about amenities, please message the Venue.
Ballroom, Castle, Museum, Historic Venue, Church, Religious Setting
Bar + Drinks, Destination Wedding Packages, Destination Weddings, Rentals + Equipment
Contact Info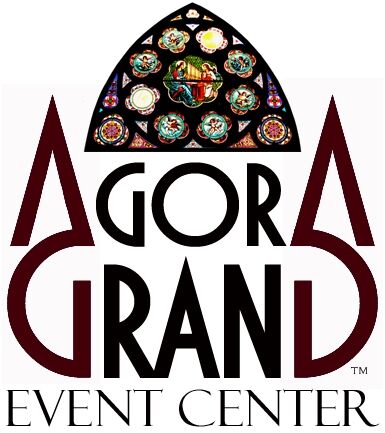 Reviewed on

11/14/2016
Vanessa O
We had our wedding reception at the Agora Grand in August of 2016 surrounded by friends and family. We could not have asked for a more perfect venue. (Note: We may be a hair biased, as the groom and his family were parishioners at the former St. Patrick's Church which the Agora... Read More Grand has acted to preserve.) The space is naturally beautiful, classic Gothic architecture that draws the eyes up; with the accent lighting in the windows, bar, and ceiling, decorating beyond some nice centerpieces was unnecessary. The layout worked well for our rather large reception, but could still be comfortable and close for a smaller group. The dance floor is centrally located, so getting your guests out on it is that much easier. Our DJ was able to hook in to the built-in sound system quickly without any trouble, and the dance music easily filled the space. We did experience some issues with the acoustics for speeches given through the system, as the natural acoustics of the space are beautiful, but were not compatible for the speaker setup. The Agora Grand staff were apologetic and have since resolved the issue with a completely redesigned speaker setup, so this should not be an issue for future events in the space. As far as the climate control of the space, there is a central air system that kept the space, with many enthusiastic dancing guests, quite comfortable in the middle of the August heat. The choir-loft-turned-balcony-lounge is well appointed and provided an excellent space for our bridal party and parents to relax before getting announced into the reception. The bathroom up there was an added, and much-needed, convenience. The bridal suite itself made for a perfect dressing room for the groom as well. Overall, if we had to do it all over again, we would hands-down use the Agora Grand as our reception venue. We have even contemplated hosting other family events there in the future (milestone anniversaries and birthdays). It is a great space and the staff is second to none and really creates a first class experience for their clients.
---
Reviewed on

10/04/2016
Donna S
The Agora Grand for our Wedding venue was perfect for our special day. From beginning to end we knew this was exactly what we were looking for. When we first visited the Agora it was still a work in progress. You could see with keeping much of the beautiful architecture it was... Read More full of history, elegance, and charm. The updates of the lighted bar, concessional, and the unbelievable balcony lounge added that special touch of class. Having the ceremony, the reception, and the Inn all at one location is most convenient. The chapel is simply tasteful with the stained glass windows giving beautiful natural light and the open ceremony area is like a blank canvas you can do as little or as much as you would like for decor. We opted to only have a few lighted trees and lanterns along the couple steps as it's beautiful on it own. The reception was just a short walk around from the chapel, staying right inside the building. When you walk into what used to be St. Patrick's church, now the Agora Grand Event Center you are just blow away. The high ceilings, columns, balcony lounge above with an amazing stained glass window takes your breath away. The lighted bar, windows, and ceilings add that special modern touch. Not to mention you can pick the lighting color to work with your wedding colors. We chose a theme with rustic and elegance that worked perfectly. Really, you can do simple or extravagant at the Agora and win either way. The balcony lounge will not disappoint. Pure elegance and charm with original wood, leather sofas, crystal lamps, and exceptional view over the reception area. There's a suite with a jetted tub, mini bar area, and bedroom to get ready in. We took full advantage of this which was so worth it. The Agora Inn is right there so we chose to rent the rooms for the wedding party. After such an eventful busy day it was nice for us to all go to the Inn and just relax and unwind together. Very relaxing atmosphere to just reminisce on the amazing day we just had. The Inn has historical charm, quaint rooms, with lounging areas on the first floor. Not to mention the wrap around porch on a beautiful night. All in All if you are looking for the perfect fairy tale wedding this is the place for you. Words cannot describe all the details of the Agora. Andrew the owner is fantastic to work with. He had a vision to make the old St. Patrick's church something amazing. This venue exceeded our expectations. Andrew worked with us beginning to end. When I say worked, he worked! He was very hands on and not just an owner that oversees the event. He was much involved. And very appreciated!!
---
Reviewed on

9/22/2016
Cecilia C
In July, my husband and I had our wedding at St. Patrick's Chapel at the Agora Grand Event Center. It's quite an understatement when I say that the chapel is classy, elegant and, most importantly, very spiritual. It was the ultimate perfect intimate setting for our wedding on... Read More a beautiful, sunny day. When I arrived, our 12 grandchildren were on the outside front lawn of the church, running and laughing, making this day an extra very happy and festive occasion as they waited for their grandparents' wedding to begin. With the sunlight streaming from the beautiful old fashioned stained glass church windows, the church was alive with a rainbow of colors as all our children and grandchildren, all dressed in pink, with flowers in hand, walked down the aisle as one big, happy family (just before the bride), making the chapel setting extraordinary and unique. It was really something to see! It was such a wonderful day and we are very grateful to Andrew for making it possible for our wedding day to be so memorable and joyful … and 25 years from now, we hope to renew our wedding vows at the same St. Patrick's Chapel at The Agora Grand Event Center. We were also most honored to attend The Agora Grand Event Center grand opening and I can't say enough as to how beautiful this venue is. Andrew made sure to respectfully keep the integrity of the old St. Patrick's church alive and well while, at the same time, enhancing it like no other could! Andrew: you're a planning genius with great and fine vision for rich, good taste and classy glamour! You are gifted with ultra-unique creativity and you make it possible for people to celebrate any occasion by making their special day alive and splendid … a really wonderful "dream come true." Thank you, Andrew! The Twin Cities of Lewiston and Auburn are very proud and honored to be home to the Agora Grand Event Center.
---
Reviewed on

7/18/2017
Maritess T
Where do I even begin? When my beautiful wife and I first started to look for wedding venues, we didn't know where to start. We first saw the wedding venues in Freeport, (way too expensive and not even what we pictured), in augusta (still not pleased with what was offered) but... Read More we thought about settleing. Then one day my wife brought up the agora grand. Saw pictures online and fell in love. We soon contacted Andrew (one of the most patient, kind, and honest guys I know) and told him our story. We then had a meet up to check out the place. Let me tell you, the pictures are beautiful, but seeing the agora grand in person was unbelievable. So spectacular and my wife and I fell in love with this place immediately. Once we went back home and a few days later Andrew contacted us and was able to give us some prices. The prices were great, but unfortunately still out of our range. Sadly we were prepared to give the bad news to Andrew and had to decline. That didn't stop Andrew from wanting to help us achieve our dream wedding though! We talked for a while and really helped me understand what my options are and what I can do to still pull off our dream wedding. Before you know it, I was able to share the good news with my wife! Tears of joy were shed and now comes the real fun. After all the stress of any wedding planning was done, we were at the table surrounded by our friends and family with the most beautiful scenery. All of this beautiful memory came to be and it's all thanks to Andrew and the Agora grand! We are now on our honeymoon and we cannot stop thinking about how blessed we are! Definitely recommend! I'm sure you can look at other places, but you won't find a gem like this!
---
Reviewed on

7/17/2017
Anna R
The Agora Grand was the most perfect setting for our wedding this past May. The recent renovations to the church are well executed and help to create a phenomenal space no matter what the occasion is. Andrew and Jan are great people who are pleasant and easy to work with. We had... Read More a seamless wedding day experience and I am so pleased we chose Agora as our wedding location.
---
Reviewed on

2/09/2017
Tiffany N
Stunning and over the top. I live in Northern Virginia and attended a wedding at the Agora Grand. A venue like this in the DC area wouldbe very expensive, especially for a wedding of 200 or more. This place is a masterpiece, super classy and full of architecture and elegance... Read More you won't find in anything modern. On the down side, while it's located in Maine's second largest city, it's still a pretty small city so don't expect any wild nightlife. Still, it's an incredible bargain considering how close it is to Boston (about 2 hours). Once the rest of New England hears about this place, you can expect the price to jump, so book while you can!
---
Reviewed on

1/31/2017
Patrick N
I was asked to be part of a wedding party. The wedding itself was held at the Agora Grand, and the wedding party stayed at the adjacent inn. The whole event was great! The inn is was a nice, cozy, and very convenient place to stay with very friendly and courteous staff. The... Read More Agora Grand -- formerly a church -- was an excellent and tasteful wedding venue. It fit 200 guests comfortably and had great acoustics for the reception after the ceremony.
---
Reviewed on

1/22/2017
The Agora Grand Event Center, formerly St. Patrick's Church, is an elegant and hip venue for events in the LA Area. I am the Architect that helped Andrew with permitting and some design and I have also had the pleasure of attending several events after it opened in May,... Read More including a wedding, the Dempsey Gala, and private parties. Years before St. Patrick's closed I attended mass there, so it is especially exciting for me to see Andrew renew this gorgeous Lewiston landmark into a modern and stylish event space. Andrew and his construction team did an amazing job with everything … from the restoration of the beautiful stained glass rose window, to the creative reuse of pieces of the pipe organ for the new bar, and the creation of a chic lounge area in the former choir loft. The space is a great balance of history and modern features. It also amazes me that the events were so seamlessly run considering it is such a new business. I'd recommend checking it out for any public events they host in 2017!
---
Reviewed on

12/12/2016
Celeste L
Attended a wedding here and .... I wish this place was around when I got married 10 years ago! Maybe we'll renew our vows or something here. It's almost like a castle inside, so beautiful, tall ceilings, LOVED the lighting. The chapel is very pretty but the best part is the... Read More upper level lounge area .... so swanky and great views of the venue. Also a honeymoon suite in the tower ... what is THAT?!! So amazing. Definitely recommend for your wedding.
---
Reviewed on

8/24/2016
Kelsey C
Andrew has done an outstanding job in creating a desirable, sophisticated reception venue. The gothic architecture, columns, and high ceilings simply bespeak beauty and elegance. Visually, the setting stands alone without much need for supplemental decoration! Throughout the... Read More planning process, Andrew made himself very accessible and communicative, willing to meet to speak periodically and able to answer any questions I had. For the first year of a venue and a novice in the wedding business, I was ultimately pleased, though the Agora required more self-advocacy and footwork than other all-inclusive venues might. Aside from a few minor complaints -- such as a lack of adequate air conditioning -- I was very satisfied with the venue. Stunning, aesthetically pleasing, and spacious!
---
Reviewed on

6/29/2016
Tamson R
This is a spectacular venue...beautiful old church that has been converted to an event center. It also has a beautiful chapel attached and a kitchen. The venue itself has soaring high ceilings and resembles a cathedral in the UK or Europe. It also has a small built in bar, an... Read More old confessional which is available as a 2nd bar and a balcony which overlooks the reception area. There is a dance floor and state of the art technology with a screen to show videos or pictures. There is also a large kitchen ( caterer will need to know there are not stoves or ovens) and even up lighting in the large side windows with a selection of colors. The owner and staff are very nice and were wonderful to deal with.
---
Reviewed on

6/28/2016
Annie A
First, full disclosure, I got married at the Agora Grand on May 21, 2016 – to the owner! When Andrew proposed, he told me he wanted to create the perfect place for us to get married so he spared no expense in creating a truly gorgeous wedding venue because he wanted us to be... Read More the first wedding there. So even though I'm the Agora's first bride, I also know I'm biased so I just wanted to give a review that's as objective as possible (but forgive me if I gush a little!) The Agora Grand was created from a large, beautiful, historic church. It has all kinds of awesome architecture, like ornate pillars and tall ceilings, plus lots of cool woodwork. They even used some of the pieces from the original pipe organ to create the bar. One of the key benefits of the venue is that it's really all-in-one. There is a traditional chapel lined with stained glass that's attached to the main reception area, so guests can go right from the ceremony to the reception without going outside. There is a quaint, cozy hotel next door that was created from the former rectory and is ideal for the wedding party. It's called the Inn at the Agora and to get an idea of the kind of place it is, check out their website and their reviews on TripAdvisor. The main reception hall is stunning. There is a built-in sound system that our DJ (Kevin Duran at Double Platinum) could easily plug into so he didn't have to bring his own speakers. All kinds of lighting has been added that can be adjusted to your wedding colors and it adds a breathtaking aura at night. The balcony has been turned into a lounge with a minibar area and a luxurious bathroom. The lounge has a lower area and an upper viewing area – both have incredible, sweeping views of the reception hall. To the side is the entrance to the honeymoon suite located inside the main tower, which just might be New England's most unique and beautiful honeymoon suite! (It's where we stayed on our wedding night.) I am from New York City originally and the Agora Grand has the ambiance and sophistication of the most upscale venues there. All my guests absolutely raved about how classy and beautiful the wedding and reception were. Now the negatives. First, they only have a partial commercial kitchen (until they upgrade next year) so until then you'll need to work with one of their preferred caterers who is familiar with the Agora Grand's kitchen. Second, the venue is located in the middle of Lewiston-Auburn, which is a fast-growing urban area, so if you're looking for a secluded Maine barn wedding, this isn't for you. On the plus side, this means there are several hotels nearby and also a few bars for the after-party. Finally, their heating and A/C are only adequate for May-October, so they can't accommodate weddings year-round. I know I'm a bit biased, but my wedding at the Agora Grand was everything I'd hoped for. Probably my favorite part of the night (other than saying "I do!") was after dinner when the DJ cranked up the music and we all filled the dance floor!
---
Reviewed on

6/28/2016
Matthew L
We hosted a Chamber of Commerce event with about 240 guests at the Agora Grand. The ambiance is incredible. It was created from a former Catholic church, so it has beautiful architecture, high ceilings, and stunning stained glass. The venue really took our breath away. It... Read More has been updated with modern sound system and lighting, and there is also a luxury suite built in the former choir balcony that has great views. The team did a great job of making sure the event ran smoothly. We can't say enough about the Agora Grand and we highly recommend it for business events as well as beautiful, upscale weddings.
---
Meet The Owner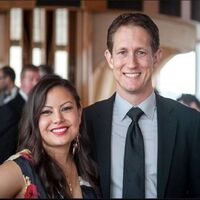 Andrew Knight and Annie Allen
Two years ago, Andrew Knight, a former high school teacher, fell in love with the gorgeous nineteenth-century Neogothic building formerly known as St. Patrick's Church and decided to convert it to an event center, specializing in weddings. The Agora Grand Event Center opened in May, 2016, to host its first wedding -- when Andrew married his loving fiancee, Annie. As newlyweds, we know how important your wedding day is and how many details are involved in creating the picture-perfect fairytale wedding. We love working with couples and helping them realize their wedding dreams.