Home

A.H. Fisher Diamonds
About this Vendor
Full Service Jewelers
For more than 30 years in Red Bank, A.H. Fisher Diamonds is one of the shore's leading authorities for fine diamonds and jewelry. Specializing in GIA Certified Diamonds, Alan Fisher and his knowledgeable staff guide customers through the most important factors when purchasing that special diamond. With its repair shop, appraisal lab, and custom design service, A.H. Fisher Diamonds provides complete and professional jewelry services. A.H. Fisher Diamonds is also corporate headquarters for Claimlink Jewelry Replacement, a national network specializing in the replacement of lost and stolen jewelry for the insurance industry.
Details
Bracelets, Brooches, Earrings, Necklaces, Rings, Wedding Jewelry, Fashion, Engagement Rings, Appraisals, Custom Designs, Engraving, Financing Available, Jewelry Cleaning, Ring Insurance, Ring Sizing, Ring Services, Wedding Rings
Contact Info

Reviewed on

9/15/2016
Joseph G
Alan and Matt and the entire staff are amazing! It was such an easy process from start to finish.... They found the perfect engagement stone and ring for me and they take the time to make sure you get exactly what you want at the best value.
---
Reviewed on

8/19/2016
I can't say enough positive things about Matt, his father, and their store. Before we got engaged, my husband read many reviews about Red Bank jewelers and decided to set up an appointment with Matt. Three years have gone by and I CANNOT stop staring at my beautiful rings.... Read More People often stop and ask me about them, and lets just say, all of my friends' fiancés and now husbands have traveled from near and far to experience the honesty, trust, knowledge, and creativity, in a welcoming environment, that make these guys stand out from the rest.
---
Reviewed on

7/28/2016
A.H Fisher is the place to go in Red Bank! I've had such a pleasant experience working with Matt for my engagement and wedding ring. Matt takes his time to explain all options and provide an informative education on available diamonds. If something I was looking for was not... Read More available in store, they would always order it for you. The friendly atmosphere at A.H Fisher always makes for a great experience as well. You won't be disappointed!
---
Reviewed on

6/22/2017
Matt J
A.H. Fisher completely surpassed my expectations. My now wife and I could not be happier with our purchases made. Matt was knowledgeable, patient, and helpful during the entire process. I will not go anywhere else.
---
Reviewed on

6/22/2017
Leigh V
As I was researching jewelry stores in search of an engagement ring I came across AH Fisher. It stood out to me because it is a family owned and operated business and it also had wonderful reviews. I met with Alan and he showed me a number of diamonds and educated me on every... Read More one. I found the perfect diamond thanks to him. Both Matt and Alan worked with me to design the perfect ring without going over my budget. They were very patient and helped answer all of my questions. My girlfriend (now fiancé) loves her ring! I highly recommend AH Fisher and we will definitely be going to back for our wedding bands!
---
Reviewed on

6/16/2017
Danielle K
My wife and I absolutely love our wedding bands from A.H. Fisher Diamonds. Matt was a true professional and made this process very easy. After shopping around for months we found that you cant beat the quality and price A.H. Fisher offers. Please don't hesitate to check them... Read More out! Thank you Matt! D&D
---
Reviewed on

11/29/2016
Rob K
The wedding planning industry can leave folks feeling a little skeptical. Am I getting the best deal? Does this vendor truly care? I've never felt more confident and comfortable with such a big purchase as I did with Matt and the staff at AH Fisher. Consummate professionals... Read More who opened early, stayed late, and came in on the weekends for me to make sure I could take all the time I needed. They really REALLY know their stuff, but don't push anything on you. They know this is YOUR choice. Extra bonus, you might even get a slice of pizza after you pick out your ring! :)
---
Reviewed on

11/29/2016
Erika H
I could not be happier with my engagement ring buying experience at A.H. Fisher. I knew I was in good hands with Alan and Matt the moment I walked into the store. Both Alan and Matt are very professional, friendly, and are extremely knowledgeable in the industry. The service... Read More was amazing and the attention to detail is what will keep me coming back. A.H. Fisher is the only jeweler you will need to go to! -- Brendon
---
Reviewed on

10/24/2016
Melanie E
Buying an engagement ring, wedding ring, or any other fancy piece of jewelry, for that matter, is a big deal. You need to feel comfortable with the people you are buying from, that they know what they're talking about, that you're not getting ripped off, and that you're going... Read More to be happy with the purchase for the rest of your life. My husband and I have were lucky enough to have had exactly that experience at AH Fisher diamonds. Matt and Alan are extremely knowledgeable, were very patient with us and never made us feel pressured at all. When we need to make our next big jewelry purchase we will definitely go back. Hopefully soon! A girl can never have too many diamonds :) Thanks for the great experience -- and products!
---
Reviewed on

10/24/2016
Brad Y
Alan, his wife and son were all wonderful to work with. After meeting with 3-4 different diamond importers/jewelers I came to conclusion that great stones are available everywhere and the most important thing is finding someone to work with that you trust. From day 1 Alan took... Read More the time to educate me on stones so that instead of hearing "take my word for it" I was able to really understand what I was buying and where my priorities should be. From that point on his entire family was professional, punctual and genuinely appreciate to have our business. I would recommend them to anyone and my Fiancée could not be more happy with her ring. We look forward to many more years of being loyal customers.
---
Reviewed on

10/21/2016
Jessica L
Fantastic jeweler! Everyone in there was so nice! I would recommend all my friends go to this jeweler!
---
Reviewed on

10/20/2016
Kathleen V
I, Andrew, was referred over to A.H. Fisher Diamonds for an engagement ring by a friend. I had an idea of the style band that my wife wanted but had no experience with picking out diamonds. The second I walked into the store Matt made me feel comfortable and fully educated... Read More me on how to choose a diamond. Picking out the diamond then became the easy part. The style band my wife wanted had to be custom made. Matt and I worked together to design a ring I knew she would love. His guidance and support made the whole process so much easier. He even helped me to get insurance prior to proposing. I, Kathy, was so blown away by my beautiful ring. I couldn't have designed it better myself. When it came to picking out the wedding bands I sent Andrew back ALONE to design my band and pick out his. I had one requirement for mine; the rings needed to fit together which was going to require more custom work. Matt made sure I was happy with what they chose by sending me images of the designed wedding band. I was so grateful to be able to view the ring digitally but really, didn't need to. Andrew picked out his ring there as well. The education provided on the metals made his decision quick. Planning a wedding is so stressful that having the confidence in your vendors alleviates so much pressure. A.H. Fisher Diamonds definitely took a weight off our shoulders by being so easy to work with. Since our wedding, we have referred at least 2 friends. No only are our friends now life long customers, their families found themselves a new jeweler as well. A huge thank you to Matt and Alan!
---
Reviewed on

10/16/2016
Shayna J
From start to finish, AH Fisher Diamonds provided a phenomenal experience helping me choose the perfect engagement ring. Matt helped relieve any stress and was very generous with his time educating me on the 4 C's. The ring is perfect and I cannot thank AH Fisher enough! -... Read More Nick
---
Reviewed on

10/06/2016
Nikki G
A.H. Fisher in Red Bank was amazing! They were easy to work with and provided us with excellent service. Matt helped guide us in picking out an engagement ring setting, diamond and wedding bands which suited us best. He was amazing and beyond helpful! The diamond we bought... Read More is truly stunning and the workmenship on the rings are top notch. We couldn't have asked for anything more. The quality, service and atmosphere of A.H. Fisher is one of a kind! Thank you for everything!!
---
Reviewed on

9/28/2016
Lauren S
I could not have been more thrilled with my engagement ring from A.H. Fisher Diamonds in Red Bank, New Jersey. After dating my fiancé for 8 years, I ensured he would have no questions when it came time to purchase my ring. I had researched a very specific ring type that I wanted... Read More and made sure Jon had all the details ;). Thankfully Jon went to A.H. Fisher Diamonds and they perfectly created the ring of my dreams! It is absolutely gorgeous and they took care of everything. My fiancé had a seamlessly easy experience, and I could not be more ecstatic with my stunning engagement ring. THANK YOU ALAN AND MATT!
---
Reviewed on

9/16/2016
Nicole C
Matt at A.H. Fisher Diamonds has been my trusted jeweler for years, as he has proven to be knowledgeable, honest and incredibly helpful. I couldn't be happier with my engagement ring and always get compliments on the quality of the stone. It was also so comforting to know that... Read More my fiance could trust the people at AH Fisher and rely on them for guidance in making such an important and significant purchase. I am so excited to be working with them again when we pick out our wedding bands!
---
Reviewed on

8/24/2016
Christopher G
When I was starting to plan my engagement, I knew there was only one place I was going to go to look at rings and that was AH Fisher Diamonds. My family has dealt with them for years and every piece of jewelry ever purchased from there has been stunning. I can't thank Alan... Read More and Matt Fisher enough for all of their help in picking out and designing the engagement ring for my fiancé, Kim. Buying jewelry (especially diamond rings) can be overwhelming and stressful because there are a lot of things to understand that affect the look, size, cut, shape and color (and in turn, affect the price). They make the whole experience stress-free and take the time to give you a full understanding of "The 4 C's" and everything else involved with picking out a diamond ring so that you have the confidence that you are picking out the right ring for your future bride. I wanted Kim to have a unique ring that no-one else would have and Alan helped design a custom ring setting that went perfect with the diamond I chose to provide that individual, unique look. My fiancé was absolutely blown away by how gorgeous the ring was! We've since gone back to their shop in Red Bank on a few occasions (to resize the engagement ring and pick out our weddings bands) and every time we go, Alan and Matt treat us as if we are their only customers. They only carry the finest jewelry, yet they are fair with pricing and can meet anyone's budget, either large or small. If you want to have full confidence that you are getting high quality jewelry, that is fairly priced, looks amazing, and have that personal touch and interaction with the jewelers themselves (rather than being just a number in a line of customers), then you should look no place other than AH Fisher Diamonds in Red Bank, NJ! They are the absolute best and you WILL NOT be disappointed nor will your girlfriend, fiancé, wife, or whomever that special someone is in your life! Without Alan and Matt, I wouldn't have been able to pull off my engagement plans (see video link below) and I'm certain that they will help you blow away your significant other with the gorgeous jewelry you purchase for them from AH Fisher Diamonds! Our engagement video: https://youtu.be/QMg78Rj3x4I
---
Meet The Manager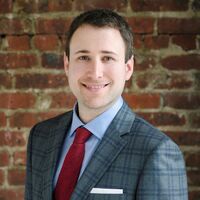 Matthew Fisher
I've been immersed in the jewelry business since birth. My father, Alan Fisher, is the owner of our family operated business since its founding in 1983. I started working in the store at 17 years old. After graduating from the University of Delaware in 2009 with a degree in finance, I decided to return to my roots and help manage the store. I love educating people who walk into our store on the diamond buying process and guiding them in making the best purchase that suits their needs and desires. Having completed GIA classes, I'm currently studying to complete my full gemologist certification.