Home

Alisa Marie
About this Vendor
It's your day. It should happen your way!
On the day of your wedding, we ensure your plans are carried out smoothly, and discreetly handle any problems that may arise. We act as the liaison with the venue, vendors, parents, and couple in a process that begins in the final few weeks leading up to your wedding day. In the end, we pull the puzzle pieces together for you – your way!
Details
Getting Engaged, After Party, Rehearsal Dinner, Rehearsals + Parties, Ceremony, Cocktail Hour, Reception, Rehearsal, Wedding
Destination Weddings, Day-Of Coordination, Full Service Wedding Planning, Planning

Contact Info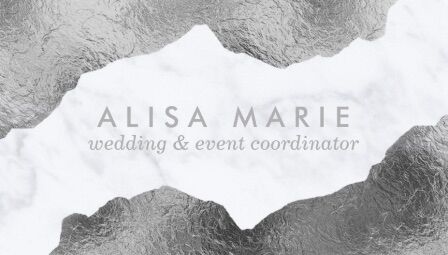 Reviewed on

10/29/2017
Holly M
Having Alisa as our coordinator was the BEST decision we made for our wedding! Alisa is a lovely person a very talented event coordinator. She really listens to what you are saying when planning and she has this calming and gracious demeanor that makes it easy -even for a... Read More control freak- to trust her with your big day. She made me feel at ease after every meeting, and the things I had been stressing over seemed like no big deal once talking it over with her. She gave me suggestions for various vendors I still needed to book, looked over contracts and created our day of timeline with was all very very helpful. There are so many details I had not even though of that Alisa took care of and helped us figure out. She was there for our entire wedding day and I have no idea if there were things that went wrong and I wasn't stressed about anything the day of- that is 100% because Alisa was there making it all happen! Future brides- you are very lucky if Alisa is available on your wedding day! Don't hesitate to book her !!
---
Reviewed on

10/29/2017
Jackie K
Hiring Alisa as our DOC was the best wedding decision we made. She was an absolute life saver on and prior to our wedding day. Her attention to detail was impeccable, and she asked questions that I hadn't thought of before (and I'm pretty OCD). She even read through our vendor... Read More contracts and caught little stipulations that I hadn't, like what size tables we needed to provide for the DJ, etc. Alisa was thorough and timely in helping us create our super-detailed wedding timeline for the rehearsal and the wedding day itself. She made sure to confirm all arrival times and details with each vendor during the week of the wedding, which was a HUGE time saver and stress reliever for me. On wedding day, Alisa helped move our timeline along without being bossy or rude, as I've seen other coordinators do. She took charge of seemingly trivial tasks that mattered to me, and she handled every thing I threw her way with grace and a smile. My now-husband described her as our "happiness insurance"- we chose all of the vendors we wanted and did the bulk of the planning, but Alisa was there to insure that we were actually happy with how everything came together and could relax and enjoy our wedding day. She is the absolute best!
---
Reviewed on

10/04/2017
Kacie H
As we approached our wedding day on October 1st I was starting to get very anxious about the logistics of the day - I had planned most of the details on my own and wanted to make sure everything went off without a hitch, but I also wanted to be able to enjoy the day without... Read More having to run around and make sure all of the tiny details were in place! So when Alisa reached out to us about day-of coordination in late May, it wasn't long before we were signing the contract. The day was absolutely perfect, and it's hugely thanks to Alisa! She handled every detail from set up to tear down and worked gracefully with all of our other vendors to make sure that the day went according to plan and according to our timeline. We were truly able to relax and enjoy the day from start to finish because we had total reassurance that Alisa was taking care of everything. You can tell she loves what she does and enjoys working with people - she's great at it! Do yourself a favor & hire Alisa - I guarantee you it'll be one of your best wedding investments!
---
Reviewed on

10/29/2017
Lauren G
Alisa is incredible and made our day run so smoothly, and was one of the best decisions we made in the planning process. She is extremely organized but also very laid back and worked seamlessly behind the scenes. It put myself and my family at ease to be able to truly enjoy the... Read More day, knowing that Alisa had already thought of every detail and was already taking care of it. Do yourself a favor and hire her for your wedding day, you won't regret it!
---
Reviewed on

10/28/2017
Alyssa E
Alisa coordinated my wedding last October. She did an amazing job making sure everything was just right, people were where they needed to be, and she saw everything through. Her attention to detail worked extremely well with my personality type, and I knew that she would make... Read More everything go smoothly. I am extremely thankful that I had her as my coordinator, and I would recommend her to ANYBODY looking for a great, affordable wedding coordinator!
---
Reviewed on

10/28/2017
Emily C
If I didn't have Alisa my wedding wouldn't have been the same! She went above and beyond to make sure everything was what I wanted. And I'm picky. She did such a nice job in every situation, I can't thank her enough. If you don't book her, your missing out. Seriously.
---
Reviewed on

10/28/2017
Libby B
I couldn't have any better things to say about Alisa. Throughout the planning process, Alisa was attentive, organized and resourceful. Alisa helped to alleviate any additional stress leading up to the wedding by providing timelines and touching I regularly. She took the reigns... Read More on our rehearsal day and made sure everyone knew exactly what they were doing, and made it fun and enjoyable throughout. On our wedding day, I knew I had absolutely nothing to stress about because Alisa was on it. Every little detail, every step of the way. I couldn't have asked for a better planner, and am so grateful that we picked Alisa to help us throughout our wedding planning. I would recommend Alisa to absolutely anyone!
---
Reviewed on

10/25/2017
Judy W
Our granddaughter recently married at Brick Gables in Lititz, PA. I initially thought we could manage the entire event independently. However, somewhere along the timeline, I came to my senses and realized we need help. Thank goodness for Alisa Marie. She was incredibly helpful... Read More in pulling together all the loose ends. The bride and groom and all of the wedding party enjoyed working with Alisa Marie. I especially enjoyed being able to relax and enjoy the wedding knowing everything was under Alisa Marie's very capable management.
---
Reviewed on

10/09/2017
Georgia R
I don't know what I would have done without Alisa! She is worth her weight in gold! I hired her as my day-of wedding coordinator, and I cannot say enough good things about her work. During the planning phase, she met with me personally twice, and both times I left our meetings... Read More feeling reassured and at ease. On our wedding day, she was a source of calm and confidence, and I didn't have to worry about a thing. Thanks to her, I got to relax and enjoy my wedding day! I recommend her to every bride I know!
---
Reviewed on

7/10/2017
Amber T
I cannot express how grateful I am/was to have Alisa there on my wedding day. She was on top of absolutely everything and made sure I was relaxing and having a good time. I am your typical "control freak" bride. I had everything planned to the "T" and I wanted to do everything... Read More on my own so that I knew it would fit my vision. However, after meeting with Alisa and talking with her over the planning period, I learned that I could trust her with everything. When I showed up to our venue on our wedding day, Alisa had everything under control, she greeted me and surprisingly, I was at ease. I did not feel the need to check on anything or even leave the bridal suite. She kept me updated and prepared. She kept everyone on task and made sure that any "could be" issues were resolved. When I saw my reception area, I was floored. I know she put so much time and effort into putting everything together and it looked incredible. Our wedding day flowed so effortlessly and I can truly say it was because of her. When it came time to clean, up, she was running around taking care of everything. She even managed to help me change out of my wedding dress at the end of the night. You might not think you need a wedding day coordinator, but I can assure you, you do. It is one of the best investments you can make in your wedding day. Thank you Alisa! <3
---
Reviewed on

6/21/2017
Jen S
I was hesitant to hire a day of coordinator for our wedding because like most brides, we were on a budget and we did not think it was worth the expense. However, I'm so glad I reached out to her as it turned out to be one of the best investments of the day! Her pricing was VERY... Read More affordable and worth every penny! Alisa was super helpful on our wedding but more importantly the weeks leading up to our wedding! She was very organized and prompt in answering all our questions; she even helped us think about things that we would have missed. My husband and I both felt a lot less stressed knowing that she was the point of contact at our wedding. We could actually dance and enjoy our time as a newly married couple celebrating with family and friends instead of worrying about all the little details. I would recommend her to anyone!
---
Reviewed on

4/27/2017
Stephanie P
I contacted Alisa super late in the game. I didn't think I needed a day of coordinator, but I am so glad I hired her! She was so organized, friendly, and was always one step ahead of me. I literally do not know what I would have done without her!! One of the best investments we... Read More made. Don't pass her up! Thank you Alisa!
---
Reviewed on

4/24/2017
Alissa G
Alisa coordinated my wedding and she did such an amazing job. She took care of all the details so I did not have to think about any of it! She even had safety pins with her for my mom's dress. She was easy to contact, super friendly, and very organized in her work. I would... Read More recommend her to anyone looking for a wedding planner/coordinator for their day. This was one investment I am very glad I made!
---
Meet The Owner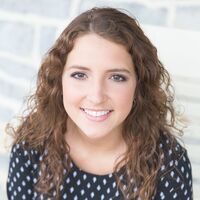 Alisa Esbenshade
I grew up in the small town of Lititz, Pennsylvania and graduated from Millersville University with a degree in Marketing. My degree taught me the importance of building relationships and staying organized throughout life's events. I have a natural, God-given talent for organizing, coordinating, and helping others. Growing up planning and learning how to coordinate different events, my passion specifically for the wedding industry continued to grow. Being a part of this industry provides so many thankful moments and I can't help but smile with the thought of being able to call this my "job"!