Home

Alison Conklin Photography
About this Vendor
Alison Conklin is an award-winning photographer for weddings, engagements, families, and children, as well as commercial photography for lifestyle and catalog shoots. She is known for her candid, bright, and emotionally-charged shots which have graced the pages and covers of numerous magazines.
Details
Contact Info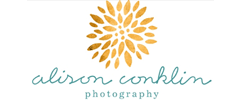 Alison is AMAZING!
Reviewed on

10/09/2011
Nicole S
What I say ... Just go to her website, alisonconklin.com and you like the rest of us will understand why you MUST have Alison Conklin for your wedding photographer. Her and her husband Geoff are so professional, prompt, and deliver on what they know best ... Pure quality!! My wedding day was perfect and I wouldn't change a thing. Thanks to Alison, I have every moment captured by her brilliant eye. Absolutely amazing!!
---
Truly EXCEPTIONAL!
Reviewed on

9/16/2013
shelley b
EXCEPTIONAL! EXCEPTIONAL! EXCEPTIONAL! I am trying to grab the attention of all brides-to-be. You must be sure to book Alison Conklin as your photographer. While Alison may be holding a camera she is truly performing magic before your eyes. Alison's creative eye will take any simple scene and turn it into a MAGICAL- truer than life setting. Take the time to review her web site's blog and galleries and you will instantaneously feel that you were a guest at all of those weddings. Alison's great flexibility and calm manner will keep the bride and groom, bridal party, et al at such ease that the most natural, unposed and candid photos will be yielded. I continue to be amazed at how Alison and Geoff (who assisted her at my daughter's wedding) were able to be there at all the "right moments" while not getting in people's way or view. I recently attended a wedding where the photographer was constantly blocking people's views, practically tripping us on the dance floor, and often shining bright lights in our eyes. Alison's photography is IMPECCABLE, NATURAL,EXCITING, STIMULATING and just downright BEAUTIFUL!!!!!!! Any bride-to be- should consider booking Alison Conklin Photography as soon as you set a date. Utilize her packages fully and she will provide you with an exceptional and fun engagement picture session which will wet your appetite for what will be coming at your wedding. Your selection of her services as your wedding photographer will REAP you many rewards, as her memorable photos will immediately take you back to the feelings of wonder and excitement you had on your special day. I cannot thank Alison enough for providing my daughter and then fiancee with a fun filled and creative engagement photo session. The resulting photos are amazing and required great creative thought and inspiration. I quickly saw that Alison was able to see Dara and Sal's bright personalities and great love for each other. This carried through to their wedding day where the pictures just draw you in and allow you to feel their joy and love for one another. I am so grateful that she placed a large sample of their wedding day on her blog, a short time after the wedding. Now that we have the full set of pictures I am so amazed by all the wonderful aspects of the day that she was able to capture, many that I, as mother of the bride was too busy to observe, or recall due to many blurred memories of the day. People always say that the day will go so quickly. Thanks to Alison and her creative eye, I will have all the wonderful moments of my daughter's wedding to cherish and revisit forever. I also want to thank Alison and Geoff, for making us feel like VIPs. Their constant state of "calm" put us at such ease and enabled her to catch the bride and groom's and bridal party and guests "best moments" . You want to laugh along with them. While at the same time she captured Dara and Sal's great love for each other with some of the most romantic and touching pictures I have ever seen. These photos continue to bring tears to my eyes each time I look at them, now a few months later. I know that my family's relationship with Alison Conklin Photography will be ongoing for many other important events in our lives.
---
Alison Conklin is the MOST amazing photographer
Reviewed on

5/01/2013
emily d
Alison (and her wonderful husband, Geoff) are incredibly talented artists. I cannot express how grateful my husband and I are for capturing moments that we will treasure for decades to come. Alison captures the MOST priceless moments, emotions and connections between people. I am truly in awe of her gift. She also somehow manages to take the most perfect photographs without ever being in the way...our families (and our entire bridal party) absolutely loved her. Not only is Alison talented, but I guarantee that you will also want to become friends with her. She is one of the most perceptive, patient, cheerful, generous and kind people I have ever met...and she effortlessly puts everyone at ease around her. I honestly cannot understand why any bride would choose a different wedding photographer - the images she captures are worth their weight in gold (just take a look at her website!) and she is an absolute pleasure to work with. I am already excited to work her with again in the future when my husband and I have children!
---
The Best of the Best
Reviewed on

2/05/2015
Meghan B
First, their talent. Alison and Geoff work in such a way that you can can literally relive your wedding day through their pictures because they get the moments - the tug at your heartstrings moments, the ones you look back on and remember the most. They are fully invested and engaged in the dynamics of the day and beautifully capture them on camera. Everyone looks better through their lens - gorgeous, loving, happy and genuine. On an interpersonal level, Alison and Geoff are people you want on your wedding day. They are so easy to be around - friendly, funny but know when and how to blend in seamlessly so as not to divert attention. They were so discreet while we were getting ready, during our ceremony and reception but you'd never know it from their pictures. I can't recommend them highly enough!
---
The ACP experience
Reviewed on

11/24/2014
Jessica T
My now husband and I saw Alison's pictures well over a year before our September wedding and from the first picture we both were in agreement that we had to have Alison photograph our wedding. We can not say enough wonderful things about ACP it truly is such an experience to work with Geoff and Alison. From getting ready to the last kiss of the day Alison and Geoff were there to capture every special moment. I received my pictures back in such a timely manner and they came back beyond expectations. When Alison showed us our pictures I was left with tears in my eyes and butterflies in my stomach, my pictures were absolutely stunning and we were so excited to share them with our friends and family. I honestly can say I brag to everyone that I was lucky enough to get the best wedding photographer a bride could ask for Alison and Geoff truly do provide an amazing experience and these two certainly are masters of their craft with the talent and personality to match. You can not go wrong with ACP as no other photographer even compares to what you get with Alison!!!!
---
wonderful people/professionals
Reviewed on

11/20/2014
Elizabeth H
I had been following Alison's blog since she did a friend of ours wedding almost 3 years ago. I love how she and Geoff are able to capture so much emotion in a picture. I found myself tearing up at pictures of people I didn't even know! Having Alison do our wedding was probably the first decision I made during the planning process. We decided to choose a package that included engagement pictures. During the engagement session, Alison was so nice and down to earth. She made us feel very comfortable. She asked questions to get to know us, and also shared some of her own stories. The pictures she took on that day were beautiful. For the wedding day we had both Alison and Geoff. My husband loved Geoff. He was really funny and easy going during the "getting ready" part with the guys. After the wedding we had a short time to get pictures taken and Alison and Geoff were super efficient and professional. We got the USB of the pictures super quick and the website they give you to navigate online is also very easy to use. I've gotten so many complements on the pictures and have suggested her to every bride that asks!
---
Incredible Photographers. Amazing People
Reviewed on

10/20/2014
Roni R
My partner and I were recently married and were lucky to have Alison and Geoff as our photographers. They were a joy to work with before and during our wedding. They worked with our vision of the wedding and were completely attentive to our goals for the day (including integrating our dog into it)! Alison had creative ideas about pictures to take that highlighted our venue and that fit our personalities. Alison and Geoff were great through all of the family photos, remaining patient with all of the personalities and keeping us all on track. They made us feel comfortable and special the entire day. The pictures are amazing. Alison and Geoff captured the day beautifully. Alison has a gift for catching the subtle smiles or glances and making them the most beautiful pictures ever.
---
alison conklin is amazing.
Reviewed on

10/20/2014
Danielle L
where do i even start... alison is such an amaaaaazing photographer. not only is she super talented, she is one of the nicest human beings on this planet. we used her for our engagement and wedding. five years later we are still getting compliments on our wedding photos. since then she has become a friend and turned into our family photographer and shot some of our new milestones, my pregnancy and our little girl. she is the best and we would recommend her for your big day!!!!!!
---
The most breathtaking photographs
Reviewed on

10/18/2014
Mallorie C
There is only one way to describe the Conklins: a gift. Despite living in Manhattan we were extremely familiar with the Conklins from weddings we had previously attended in PA. As a NYC bride, I had a pool of well-known, accredited wedding photographers at my finger tips, but the Conklin's work stood out and spoke to me. They capture you being you! My most honest, candid, natural and emotional moments are featured in our wedding photographs. They also have an appreciation for editorial shots (style!) and capture those looks beautifully. They traveled to NYC for our engagement session, no questions asked- super easy and flexible - despite being out of state. They are both incredibly professional and most importantly, the kindest, sweetest, most genuine people. They are the ultimate husband and wife dream team that will be right alongside you through the joy of your day. I absolutely cherish our engagement and wedding photographs. They are everything to me. It was almost impossible to choose the shots that I wanted to frame..I am in love with every.single.shot. They are artwork. Our wedding photographs have been featured in Style Me Pretty, BRIDES, Things Remembered Catalog and many more blogs/social media accounts and it is all because of these two! We care for Alison and Geoff as family and recommend them to every newly engaged couple we meet!
---
Picture Perfect!
Reviewed on

10/17/2014
Elizabeth R
My husband and I were so happy with our decision to choose Alison Conklin Photography for our wedding! We didn't get a videographer and surely didn't need it... The pictures captured so much emotion, that it was like reliving the day all over again! There were moments where you didn't even know your photo was being taken. We would definitely recommend Alison Conklin Photography hands down!
---
Worth Every Penny
Reviewed on

10/08/2014
I met Alison briefly when I was a guest at a friend's wedding. I had heard from the bride how amazing she was, and I passed along the compliment to her when I met her at the reception. She was working with her husband, Geoff, and they worked so seamlessly together. They were everywhere snapping away, and yet, you hardly noticed. I saw a blog post of the pictures when they were ready and I was literally BLOWN AWAY. I was at this wedding, yet she somehow captured things I missed and made everything look even more breathtaking. Immediately, I decided to book her for family portraits and was excited to see her magic with my own family. We have family pics done yearly, and I will NEVER use anyone but Alison. Hers were by far the most amazing ones we have ever had done. I was so glad to meet her at this wedding, and happy to say we now use her yearly.
---
I Knew I Wanted Alison Before I Got Engaged!!
Reviewed on

10/08/2014
Erin B
The minute I saw my college roommate's wedding photos in 2011, I knew that I wanted Alison to be my photographer when I got married. After I got engaged, I immediately emailed Alison and lucky for me, she was available. I had no doubt that she was going to deliver. I communicated with Geoff, Alison's husband, throughout the planning process and he always responded timely and answered any questions that I had. Alison met us in White Plains, NY on a cold December day for our engagement photos. She has such an ability to see the beauty in abstract places. I was so happy with the results of our engagement shoot that I asked Alison to make our guest book out of them. Alison and Geoff came to NY the night before my wedding so that they would not hit the dreaded Friday Long Island traffic and be late. Geoff went to my husband's parent's house and shot the boys getting ready, while Alison continued onto the venue to scout out the location and wait for my arrival. Taking photos the day of the wedding was a breeze! I feel like I rarely saw Alison and Geoff during the wedding, yet they captured every moment. We are beyond grateful to have had Alison and Geoff at our wedding. Now we have memories to last a life time!
---
Amazing Wedding Photography
Reviewed on

9/14/2014
Jacqueline
Alison and her husband, Geoff, were amazing to work with! They are so sweet and professional and their work speaks for itself. They also responded very quickly to any questions that I had leading up to my wedding. I LOVE my wedding photos and could not be happier with my choice to ask Alison to photograph my wedding day.
---
Wedding 06.14.14
Reviewed on

9/14/2014
Lauren S
Alison and Geoff are everything you imagine and more... As soon as we became engaged Alison was our first contact to ensure availability. We initially chose Alison Conklin Photography for the beauty captured through her lens by using natural lighting, candid approach and creating a timeless style. You quickly learn, Alison and Geoff are much more than photographers with their down to earth personalities, personal touches, hands on guidance and patience; i would go as far to say day-of therapists. Their calming presence, ability to make you feel comfortable in front of the lens is what allows those special moments to be captured forever with their beautiful touch. There aren't enough words to rave about Alison and Geoff, we love them and wish we had reasons to see them again! They are simply one of a kind, a power duo to say the least!
---
An Artist!
Reviewed on

8/07/2014
abby g
I've known Alison for several years and have worked with there professionally and privately. I can honestly say that I've never seen such an artistic twist to wedding photography as she has to offer. And she proves it over and over again! I recommend her to all of my clients.
---
Perfect Pictures
Reviewed on

6/13/2014
Melissa O
We can't put into words how perfect the pictures were. They captured every detail that made our day special, they truly amazed us. We were surprised to be one of "15 inspiring Pennsylvania weddings" published in the Knots 2014 Fall issue for the Pennsylvania/Delaware areas, so apparently my wife and I were not the only ones who thought Alison and Geoff's pictures were amazing. We consider ourselves very lucky to have found them. We have no regrets and only memories to cherish now, forever, thanks to them.
---
Alison and Geoff are the best!
Reviewed on

4/22/2014
Becky B
We are so so so incredibly happy with our wedding pictures!!! Alison and Geoff make such an incredible team. First of all, they are the nicest people, and so accommodating and easy to work with!! We loved just having them as guests at our wedding!! Second, their talent is just unmatched. They have a remarkable ability to capture every emotion and every moment, and that made our decision so easy when choosing them for our wedding. The quality of their work is so far beyond anything we had seen, they are truly in a league of their own. Their photos speak for themselves. Each and every picture is so beautiful, and looks like it came out of a magazine spread. I can't even count how many people told me, "Your wedding pictures are the best I've ever seen!" We couldn't imagine the day without Alison and Geoff there!!!
---
Amazing
Reviewed on

3/08/2014
Joana S
Really there are no words for Alison and Geoff. They do an outstanding job. Not only are they really nice and easy to work with but their work is phenomenal. I've never seen more beautiful pictures in my life.
---
July 20, 2013 Montauk Wedding
Reviewed on

9/23/2013
Jacqueline W
I cant say enough amazing things about Alison and Geoff Conklin. They were extremely patient and communicative throughout my whole wedding year preparation and I needed that from my vendors, especially my photographer. Throughout the tumultuous times that 2013 brought, Alison and Geoff were still there to support my husband and I to accomplish the most beautiful engagement and wedding shoot I could have ever asked for. They were recommended to us by a family friend. I just knew that they would be the perfect match for us because of their candid style and easy-going approach to what can be a very awkward thing. The pictures are truly unlike any others and I cant wait to see our wedding in SMP! I recommend them to all of my friends and I hope that you consider them as they are both as beautiful as the pictures they take!
---
Awesome photographer, happy bride and groom
Reviewed on

9/23/2013
Caro L
We got married in Germany this August and despite the distance we hired Alison and Goeff. I knew Alison was the photographer I wanted to take my wedding pictures even before I was engaged or had even met my husband, for that matter. Even though I'm not particularly crazy about weddings in general, I had been following her work on her blog for years and I knew she was the perfect choice. Both my husband and I are incredibly happy with her pictures. Not only did Alison capture the atmosphere and the immense happiness we and our families felt that day but she and her husband Geoff also took the most amazing pictures of our guests, when they weren't paying attention to them. Our wedding day felt perfect to us and the pictures really reflect that. Alison simply has a way of putting a unique liveliness into her pictures. Actually, you should really check out her website and see for yourself, then you'll know what I'm talking about! On a more personal note, Alison and Geoff are both really sweet, easy going, professional and very discrete. I hardly noticed her being around, taking pictures while I was getting ready, nor later during the ceremony. Long story short, Alison is still my favorite photographer, even more so now, and I do absolutely recommend her.
---
Truly Remarkable Photographer and Person!
Reviewed on

9/20/2013
Bridget S
At the time of my engagement, I was working for a local wedding magazine and was very familiar with Alison's incredible photography. I knew right away that I would love to work with Alison. Lucky enough, she was available for our winter wedding date. I can tell you with 100-percent confidence that it was one of the best planning decisions we made! Here's why: Let me begin by saying that my husband and I are both pretty shy people. And personally, I've always felt very uncomfortable in front of the camera. Before meeting Alison, I even remember telling coworkers that I'd be happy if we had three or four nice shots from the wedding. However, after our first meeting with Alison, my husband and I both felt so at ease. Alison has such a warm, engaging and (best of all!) calming personality that you feel like she's someone you've known for years. She's exactly the type of person you want around on such an emotional, nerves-filled day! On the day of the wedding, Alison and her amazing husband Geoff were such a pleasure to work with and be around. I honestly feel like they were part of the celebration, experiencing and capturing all of the happy moments with us! I never once felt under the watchful eyes of the camera. (Which means not a single picture with forced, uncomfortable smiles!) After the wedding, multiple guests even commented on how lovely and unobtrusive they were. In fact, one of the things I like most about Alison's style of photography is that she doesn't shoot overly pose-y pictures and instead strives to capture very natural, candid moments. Because of this we have so, so many beautiful pictures (and not just of us—but of our family and friends and of all the little details that made that day so magical) that really recreate the pure joy and emotion of that day. One last thought: I have multiple friends who've waited months (some as long as year!) to get their pictures. Alison's turn-around time is truly remarkable. My husband and I were able to look at an online gallery of our shots just days after the wedding while on our honeymoon! I cannot thank Alison and Geoff enough for the wonderful shots—and the lasting memories—we have as a result of their hard work!
---
REMARKLABLE Person + Talent!
Reviewed on

9/18/2013
dara b
Working with Alison & Geoff was truly one of the most enjoyable, peaceful, and memorable experiences from our wedding. To say we adore them would be an understatement. From the moment we first met Alison and had the honor of doing our engagement pictures with her we knew we were so lucky! She is so easy going, fun, genuine, and most importantly...an incredible talent! Our wedding pictures are a a DREAM! This team expresses true artistry through the lens. They have an eye for the most stunning/unique images. Their ability to capture people and read emotion is inspiring! There is no doubt Alison would provide you the most wonderful epic shots from your special day. Even more so, you will be left feeling as though you have a wonderful friend by your side helping you create and capture your fairytale! Our appreciation for them grows each time we look at our pictures. Alison Conklin was hands down one of the best investments we made for that special day. We are forever grateful!
---
If you want your dream wedding pictures, look no further.
Reviewed on

9/11/2013
Tessa M
I simply have no words to sum up how incredible Alison and her husband Geoff are. These two are the most humble, down to earth, talented team of people I have ever met and we now have phenomenal engagement and wedding pictures to cherish for the rest of our lives. Not only do Alison and Geoff shoot absolutely breathtaking shots (they will make you look good no matter what!) but, they have a way of capturing every single detail and emotion of your big day without you even knowing they are there. They made the process for us so easy; returning emails right away, recommending fun locations/ ides for our pictures, and making us feel comfortable in front of the camera. Their pictures are truly something out of a fairy tale, but now it's your fairy tale. Alison Conklin Photography is the best of the best, look no further.
---
nicole lee
Reviewed on

9/11/2013
nicole p
Alison is an incredible, talented, creative, and professional photographer. Actually, this space does not even give me nearly enough room to say all the great things about her. She truly has a gift and sees things with an artistic eye that is beyond other photographers. Her pictures display the most detailed parts of any special occasion. Her work not only captures people in the most flattering (yet natural) light but she is also able to portray personality. Not only will she go out of her way to make things go smoothly but anyone will automatically feel comfortable around her as she is very laid back and relaxed. You won't even realize what a genius she is at work until the pictures come back. She is one word: sublime.
---
just book her already!
Reviewed on

9/11/2013
Susan G
You've probably read it multiple times that Alison was the first vendor I booked and the like, but when you have someone as talented as Alison to document your wedding day, you know it has to happen. Like many of the other brides, Alison was the first vendor I not only booked, but also contacted after my engagement. My now husband laughed at me at the time, but I emailed Alison after being engaged for no more than six hours. Her work is perfection. Whether you look at her blog or her albums, you can see the passion and love that goes into her work. Everytime I look at the wedding photos, I am reminded of another emotion, memory or aspect of our wedding day. It seemed to go by in the blink of an eye, but the photos capture the moments that made the day so special. From the candid laughing shots to the first kiss, they all evoke different yet important memories of the day. The photos are elegant yet realistic. They not only capture a memory but also a feeling. One of my favorite things about Alison's work is how nothing feels forced. Upon meeting her officially for the first time for the engagement shots, she immediately felt like an old friend. She took the time to ask questions about my husband and myself as she was taking our photos. You can tell the level of comfort by the lack of forced expression on our faces. Everything she does is amazing. I keep wondering how she is going to top some of her best work, but she does it again and again.
---
Send Message