Home

All My Heart Bridal
About this Vendor
The Boutique With Curves
All My Heart Bridal is the first, and only, bridal boutique in Kansas City to specifically service plus size brides sizes 14 and above. Showcasing designers from all over the world, including Allure, Callista, Ivory & Co., Studio Levana, and our very own Watercolor Collection, our salon focuses on making brides feel beautiful on their big day.
Details
Wedding Dresses, Dresses, Bridal Stylists, Custom Designs, Dry Cleaning + Preservation, Plus Size Available, Private Appointments Available, Fashion
Contact Info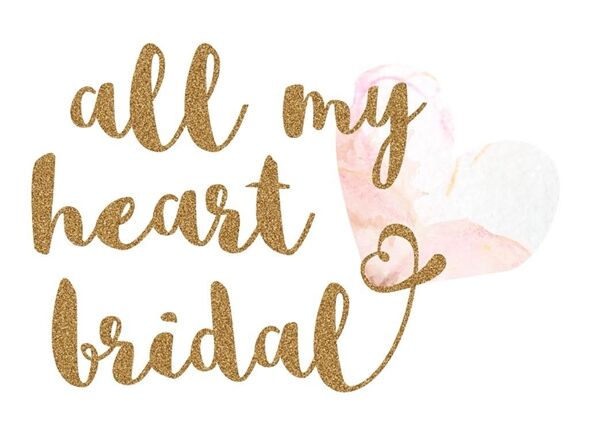 Reviewed on

6/13/2017
Sloane E
From the minute we walked in the door I knew this was going to be the place I would buy my wedding dress. Sarah made my group and I so comfortable, we knew we were going to have a great time! I started off by letting Sarah know that I really didn't want anything strapless so... Read More that I wasn't pulling it up constantly, I didn't want anything too tight, and no super long trains. Being a "curvy girl", I have never in my life been to a store that everything I put on fit like a glove. Not only fit, looked beautiful! It was a feeling I had never had, but I was happy and loving it!! Then we found the one... It ended up being everything I thought I didn't want. Strapless, very form fitting and a beautiful train! Sarah showed me that I could pull these things off, and rock it! I remember in my head thinking "I won't be that girl that cries". Joke was on me; the second Sarah put the veil on me I lost it, and so did my family along with me. We were able to do so many different things with veils and belts to really get the look I wanted (or didn't know that I wanted, rather). Overall I would rate Sarah and her store a 15/10. I could never have pictured a more perfect day!!
---
Reviewed on

6/29/2017
Jennifer O
AMH is the perfect shop to find a plus size dress! I had just about given up going into a bridal shoppe, everywhere I went there was nothing I could try on, or the fit was so off I looked ridiculous, or it was just not what I wanted. I was also tired of feeling like livestock... Read More being shuffled through the line and feeling like it was a bother to ask for assistance. My entire mood changed the second I walked through the door of AMH! Heather greeted me and was so sweet and helpful. She took the time to really ask about my preferred style and themes and budget. She knew the in's and out's of every dress and was so helpful in finding one's that suited me best! The selection was outstanding and I knew my dress the second I put it on! When I came back a few months later to pick it up, I was blown away again at how welcoming and helpful Sarah was. I will recommend AMH to any and every plus size bride-to-be I know, because they are truly THE BEST!
---
Reviewed on

5/18/2017
Kiley F
I have so many great things to say about AMH. I went in for one of their Sip & Shop appointments and was blown away by the service. It was amazing to get my hair and makeup done as I want it to be on our wedding day while my family got to drink champagne, eat cupcakes, and... Read More browse through dresses. Sarah made sure that I tried on the dresses that I liked and not just whatever my family had pulled off the racks. The dress selection was amazing. There were so many different styles of dresses in a very wide range of sizes. Sarah made trying dresses on fun and painless, and ultimately picked my dream dress! I couldn't be happier with the service I received! I would definitely recommend!
---
Reviewed on

9/20/2017
Brittney H
5 stars is just not enough! Sarah is such an amazing person. I called day of needing an appointment to come in to try on wedding gowns. Danielle set me up with an appointment and got more insight about what I was looking for. As soon as you walk into All My Heart Bridal, you... Read More feel beautiful, before even tryingn on dresses. I was able to pick dresses that I wanted to try and Sarah sat with me and talked to me about my vision for my wedding gown and day. She is very outgoing and has such a beautiful story of how her shop was founded. She made me feel super confident and comfortable in my own skin. The first dress I tried on was beautiful. She has beautiful gowns in all sorts of styles. I was so in love with the dress, but I still wanted to try all of my favorites on. She assisted me, was very open to my feedback about the dress, and helped me even assessorize. She allowed me to try on the 1st dress and I just knew that it was the one! Overall, I left feeling AMAZING and most importantly BEAUTIFUL! Thank you! Sarah and Danielle
---
Reviewed on

9/19/2017
Ashley T
My consult time with All My Heart Bridal was amazing. Going in to my first dress search i kept my options open. There were several options of every type of dress available for me to try on, and was able to find the perfect dress for my day! I said "YES TO THE DRESS" which was... Read More not expected at all. Sarah was happy to assist me with everything i needed to make my wedding dress a reality. I would recommend All My Heart Bridal to curvy brides every where!
---
Reviewed on

8/09/2017
Tiffany C
Seriously, I cannot express enough how happy I am with All My Heart Bridal. They have a great selections of dresses. I felt very comfortable there. I tried on about 5 dresses, but I knew the second one was it for me. The staff are amazing and truly help you find the dress of... Read More your dreams.
---
Reviewed on

8/04/2017
Dionne L
The was the first store I visited and the owner was wonderful. I didn't know exactly what I wanted but the owner was so patient and kind. I never felt rushed.
---
Reviewed on

8/04/2017
Erin C
I loved shopping here. I had been to a couple other places but AMH has a great supply of plus size dresses and I found several I loved and ended up buying one. Sarah was great about helping us look and honest about what alterations could be done. It was a great experience all... Read More around and I would recommend to any curvy bride.
---
Reviewed on

7/26/2017
Wendy H
I can't say enough good things about my experience at All My Heart Bridal. Sarah is AMAZING. Extremely helpful, so sincere and makes you feel so wonderful about shopping for your dress. I visited AMH because of the amazing reviews on theknot.com and it exceeded my expectations!... Read More I found the most amazing dress with Sarah's help. I HIGHLY recommend you stop here first!
---
Reviewed on

7/20/2017
Kristen C
It was an absolute joy to work with Sarah in picking my dream dress. I had no idea what I wanted and she took the time to figure out what would fit me well and what also appealed to my personal taste. I tried on THE ONE and tears were streaming. Thank you, Sarah, for making this... Read More such a special part of my wedding.
---
Reviewed on

7/18/2017
Jamie D
I loved my experience at AMH Bridal! Sarah took the time to find what I really wanted and i'm so glad I found my dress!
---
Reviewed on

7/03/2017
Andrea C
Sarah was absolutely amazing to work with! She made me feel confident in every dress that I put on but was also honest with me. I'm so glad that I chose All My Heart Bridal as my first wedding dress shopping experience.
---
Reviewed on

7/02/2017
MicKayla S
Fantastic!! So glad I went to AMH bridal I'm so in the with my dress I can't wait for the big day!! Sarah is absolutely amazing and knows exactly what she is doing!! Thanks so much!!
---
Reviewed on

6/30/2017
Caitlin E
Sarah is amazing. I was really dreading shopping for a dress and I had a blast at AMH. And I found the perfect dress!
---
Reviewed on

6/12/2017
Rebecca N
Sarah was absolutely amazing! I cried as soon as I put on the first gown because it was the first dress that fit. Her shop caters to REAL plus size and curvy brides. She ACTUALLY had my sizes in her shop instead of only having 1 or two that I could barely get over my head. She... Read More made me feel so special & taken care of. I highly recommend AMH Bridal!
---
Reviewed on

5/31/2017
Olivia W
Amazing place. Loved the fact that it was small, but had plenty of dresses that fit me and made me feel beautiful!!
---
Reviewed on

5/30/2017
Bethany L
If you're thinking about visiting, do it!! I loved everything about dress shopping here! I'm SOO glad I found this dress shop!
---
Reviewed on

5/09/2017
Elizabeth W
Shopping at All My Heart Bridal was amazing! I am not a girl who ever wears dresses and Sarah made it so fun. I had a great time and my mom and MIL-to-be did too. An awesome place for curvy brides. Definitely where I would send my friends.
---
Reviewed on

5/02/2017
Lindsay H
Finding my dress was such a wonderful experience at AMH! We had a Saturday afternoon appointment. Once we arrived Sarah greeted me and gave me the chance to look around at the dresses and select some to try on before she even asked me any questions! Just let me find whatever... Read More might catch my eye! I had two sisters, my mom and best friend with me and Sarah encouraged them to also look around and see what they'd like to see me in as well. It set the tone for an amazing shopping day! Sarah had me try on a couple of dresses she chose and they were amazing. However, she was always encouraging and listened to my likes and dislikes about everything. Sarah was focused on helping me find what I wanted, not what she wanted me to have and I appreciated that! She was mindful of my budget and offered some options for payment that allowed for flexibility! Truly every single dress was incredible in its own way. It was wonderful to try on dresses created with a curvy bride in mind rather than dresses just in a larger size. I felt so beautiful! Sarah never rushed me or questioned my thoughts or what I liked. I ended up finding the dress of my dreams and I can't wait to keep working with AMH through the tailoring and accessory process. It was everything I could have hoped for and more!
---
Reviewed on

4/27/2017
Gwen M
LOVE, LOVE, LOVE!! This was the first place I went and it should have just been the only place I went! Like any curvy girl I can be pretty confident about my curves, but was a bit of a nervous disaster about getting my wedding dress. As soon as I walked in the door Sarah put my... Read More nerves at ease. Almost every dress I tried on I liked, but one stood out that I LOVED! There was a variety of dress at that AMH Bridal, but there was not a huge selection like at some other big box stores. After shopping around a little more I figured out why. The prices at the other store were the same, but the quality of dresses were not! The quality of dresses at AMH Bridal were in an entirely different league than the other stores; from the materials to the cut. They were designed for curvy girls. They are not dresses designed for girls with straight, thin, uncurvy bodies just in larger sizes. Also I feel Sarah put a lot of thought into the dresses she picked to be in her store with cuts and styles that will be flattering on a curvy girl. I am not going to lie ladies, it is fun to put one dress on after another that feels flattering. I kept my entire appointment at AMH Bridal while the other 2 stores I walked out of my appointments. Ultimately I went back to get the dress that I love and I am so happy with my decision! (Not to mention the second time I went in, I was now stressed out about other aspects of my wedding and Sarah knew the right people to fix my problems. Big Bonus she knows the industry well!) Thank You Sarah!!!!
---
Reviewed on

4/01/2017
Jess W
I AM SO GLAD THIS PLACE EXISTS. A boutique with only plus size dresses?! Yes, please! I had an amazing experience here. My appointment was with Sarah (the owner) on a Friday afternoon and it could not have went more smoothly. Sarah was very knowledgeable about all of the dresses... Read More and made all of us feel comfortable and welcome. The shop is adorable and has a nice selection of different dresses for lots of budgets. If you're a plus size bride who is looking for a really nice, low-stress, and low-pressure experience, please check this place out!
---
Reviewed on

3/28/2017
T A
Great experience!! Loved the shop, and the assistance I was given.
---
Reviewed on

2/21/2017
Allison V
Sarah (owner) was amazing!! She knows what she is doing and did everything she could to make me feel special the entire day. I never felt rushed or pressured to make a purchase. I loved that her entire store is designed for plus size brides. She had dresses starting at size 14.... Read More This was the 4th store I had been to trying to fine the right dress. I walked in frustrated and ready to give up. She made my dreams come true by helping me find my dress. Her attention to detail will make her store a huge success.
---
Reviewed on

2/08/2017
Julie D
This boutique is AMAZING! The owner, Sarah, made my time there memorable. She was very professional and at the same time made me feel comfortable and beautiful. She is incredibly knowledgable about the products she carries. I would recommend her boutique to any curvy... Read More bride!
---
Reviewed on

2/07/2017
Megan G
I had the best experience here! The owner is amazing at what she does and she was so helpful and gave great input. Highly recommend to everybody
---
Meet The Owner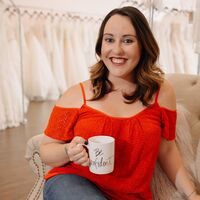 Sarah Bronson
Hello, Lovelies! My name is Sarah, and I am the owner of All My Heart Bridal, or AMH as I so lovingly refer to it. Creating personal relationships with my brides is one of the most important and fun things I love about my job. I love Reese's Peanut Butter Cups, I wore a Justin Alexander tea-length gown on my wedding day, I have two canine little girls whom I love dearly. More importantly, I cannot wait to meet you and hear all about your big day. I cannot wait to laugh with you, shed tears of joy with you, and most importantly, pop a bottle of Champagne and say "Yes to the dress!" with you.