Home

Amore' Bridal & Tuxedo
About this Vendor
Awakening the beauty within you...Experience Amore
Exclusive Designers -- Intimate Appointments -- Unique Accessories Exceptional Service
Details
Bridesmaid Dresses, Flower Girl Dresses, Mother of the Bride Dresses, Wedding Dresses, Alterations
Contact Info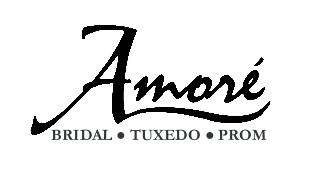 The best!
Reviewed on

7/28/2012
Joyce B
I had an amazing experience with Amore. They listened to what I wanted for a wedding dress, and helped me find the PERFECT dress! I really wanted a lace-up corset style bodice, but my "perfect" dress was zip-up/button. However, Amore has AMAZING alterations ladies, and they... Read More helped me transform my almost perfect dress into the most gorgeous dress I have ever seen. It fit me perfectly, and the customer service was fabulous. Thea (alterations) assured me that my bustle would not break during my long night of partying. I didn't believe her, because everyone's bustle breaks, right?!? However, my bustle DID NOT BREAK! I was comfortable all night in my amazing dress!
---
before and after service
Reviewed on

8/02/2012
Cassie K
After looking at 3 other bridal shops, I found the perfect gown at Amore. The fitting before the wedding was quick and painless, and after the wedding, they sent the dress to be cleaned, pressed, and boxed up for me!
---
Helpful and Easy to work with!
Reviewed on

6/21/2011
Lauren T
I went to several dress shops before deciding on my dress. The other stores I visited wouldn't stay in my price range or brought only dresses in the upper part of my price range. The other stores would ask me what I liked and find dresses for me. At Amore they let me just... Read More look at the dresses and pick out which ones I wanted to try on. Heather helped me try on the dresses and was so laid back during the process and not pushy at all. Definitely the easiest dress shop to work with and they have wonderful dresses!
---
Reviewed on

10/12/2017
Carmelita A
I was absolutely terrified after leaving this place. Every girl plans a perfect wedding & you read all these nice reviews about how great the help was. I don't know what her name was but she was awful. I asked to look at a few things or what we should do, she said she didn't... Read More think there was anything for me there + I was coming there way to late to get a dress. I was dumbfounded. It took me a week before I even considered going somewhere else. We went to Stephanie's in Independence & I received a real big help from them. Like it's going to be ok. Won't recommend Amore to anyone
---
Reviewed on

2/03/2017
Sam G
Kristen was great and very helpful! It is quite pricey. I found a dress that I loved (that needed to be ordered) and ended up going to Urban Bridal to get a very similar dress as a sample and saved a lot of money.
---
Reviewed on

7/24/2016
Tiffany B
Absolutely loved the girl that helped me find my dress! It was the dress that I compared all other dresses. My seamstress worked with over my three fittings to help get the dress ready for my 5'1" frame!
---
Wonderful!
Reviewed on

9/09/2015
Megan H
Every employee from the minute I walked into the boutique was kind and helpful. I got the perfect dress for my wedding without having to stress out about the process of it. They made everything run smooth, from picking out dresses and trying them on, to the alteration process.... Read More I will definitely be recommending this to future brides!
---
Reviewed on

7/21/2015
Becka O
At first I was completely in love with Amore' Bridal & Tuxedo. When I walked in they were very helpful as I was looking for and trying on dresses. I found "the one" but due to time constraints I had to order off the rack. It had some beads missing and had a makeup stain, but... Read More they did not offer any sort of discount or try to make amends. I should've walked right there, but I really liked the dress and knew I should have started looking sooner. As soon as they knew they had me (and my money) hooked, I lost the enjoyable experience that I originally had. I was overcharged for items (not to mention alterations are an arm and a leg!), talked in to things I was told I "needed" but learned I did not, often felt ignored or unimportant when I had to return several times for alterations, and they just weren't as personable once they were no longer trying to sell me something. I LOVED my dress and that is the important thing, but I was glad to be done with Amore' and wouldn't recommend them to anyone.
---
Reviewed on

6/01/2015
Kimberly H
After many stops, I finally found what I was looking for at Amore. The staff was courteous and very helpful. They pushed me to think a bit outside the box and when I did, I found the perfect dress. They were very easy to work with.
---
Amazing place!
Reviewed on

10/13/2014
Jessica H
I found my dream dress here! I went to two other places besides here and I cried after both because both places weren't listening to what I wanted. Amore took the time to listen to my needs and wants for my dress. I could go in and try it on as much as I wanted and I felt they... Read More were decently priced. My alterations were great as well! My handmade belt was beautiful and I got so many compliments on my dress!
---
eal3
Reviewed on

8/12/2014
Emily S
Amore' was one of the first bridal stores I went to on my ultimate search for the dress. It was one of two stores that did not pressure me into dresses that I did not want or felt uncomfortable with. Unfortunately, I did not find the one there; I do wish I had though.
---
Wonderful shop
Reviewed on

8/01/2014
Jennifer S
We stopped in on a whim and I wish I would have gone back, but she gave us the idea for the perfect dress, I just wanted to find it cheaper.
---
Amore' Bridal
Reviewed on

7/02/2014
Sarah S
Amore' Bridal was absolutely Great to us! We got my dress there as well as my moms dress and all of the bridesmaids dresses! I absolutely love that the store feels more like a boutique with custom items, nothing like the cookie cutter feel at David's Bridal. We worked with Emily... Read More while we were shopping and she was so much fun! It was like just having another friend with us. She was interested, offered honest advice, and threw her own ideas in as well and I loved her. After first meeting her I tried not to come back unless she was there. We also worked with Elsa for alterations and that crazy lady was an absolute blast! She had us laughing with her stories about running into a tattoo convention on her way to climb a mountain and being cheeky but we knew for sure that she was not going to let my party and I look anything less than perfect!
---
Ok
Reviewed on

4/10/2014
Heather
I tried dresses on here and the girls were very nice and helpful. I didn't end up getting my dress here but I did get my shoes and jewelry foe them. Overall it was an ok experience. They were supposed to dye my shoes and we had to call and they didn't have them done, but then... Read More did rush them so we had them in time.
---
Great Selection
Reviewed on

2/04/2014
Deanna M
I found my dress after only two visits to this store. The help was great and I found exactly what I was looking for at a reasonable price.
---
OK wedding dress experience
Reviewed on

12/29/2013
Mallory H
My experience here was just ok. They didn't really make it a special experience. They also would call to let me know my things were in. When I went to it up it turned out they had some things but not others. They did not seem very organized. I did love my dress though.
---
nightmare
Reviewed on

11/11/2013
summer r
I am so disappointed with how Amore bridal & tuxedo in independence runs their business. We bought 7 bridesmaid dresses from them and it turned out to be a complete nightmare. We were told that the dresses would come in on time by the owner herself only to receive a call saying... Read More that we would have to pay for rush delivery. It took lots of phone calls and visits for them to agree that they made a mistake. Second they do not know their designers after getting sized by them one of the girls dress was to small by 5 inches. When we went in to talk to them they said that they are not responsible. Then who is???? We made so many wasted trips because of their mistakes also because the store hrs change on a daily basis. They were rude and unprofessional!!! We have never been so disappointed with a business as we have been with Amore
---
unprofessional
Reviewed on

11/11/2013
lesya k
I was one of 7 bridesmaids. Dresses were purchased from amore and each dress cost about 170.00. We gave them our business but what we got in return was a total nightmare. Unprofessional!!!! First I went in to get sized and then I came back in to get resized a week later because... Read More another bridesmaid that wears the exact same size as me was ordered a size 8 and I was told I was a 4. We got sized by different ladies. That is why I went in to get resized well I go in and another lady sizes me and tell me I'm between a 4 and 6. What??? At this point I don't even know what to think. I let the lady know that the previous lady sized me at a 4 and that I'm afraid it will be to small because my friend who is the exact same size as me got an 8. At this point I was speaking to the manager all the manager says is that they already placed the order. No reassurance no apology. Second we had a junior bridesmaid they measured her and when her dress came in it was 6 inches to small!!! Again they were rude and no apology. First they said well the designer sometimes measures different. Asked them to fix it since that is their mistake. Was told no. Drove up there for the 5th time and the seamstress told the 10 year that she gained weight. In 3 mths I don't see how it is even possible to gain 6 inches. I would understand an inch. They decided to fix it free of charge but only after telling us that they do not accept any responsibility and they are doing us a favor. Basically they don't take responsibility for the designers they carry if that really was the problem, I believe they sized wrong. So then another 5 trips had to be made. I went in there to pay for my dress and waited an hour because the lady could not figure out how to make the machine work. I didn't say anything even tho I wanted to get to costco before they closed. What bothered me about having to wait is the other employees just looked at her instead of trying to help her out. Third mistake they said the dresses would come in on time if ordered by Tuesday. We knew that 3 of the dresses would have to get rush delivering that was fine. I went in Monday and got sized only to receive a call that they would have to rush deliver. It would cost extra money. Had to argue with the manger that that was not what she told us otherwise we would have went to a different place after many phone calls she finally took it off. Lastly took my dress in to have it steamed before the wedding was told I could pick it up Friday went in Friday it was not ready said I'm my friends mom will pick it up Saturday. When she went in she was handed the wrong dress thankfully she knew what it looked like. Also I don't celeb it was steamed because it was wrinkled. I live a good 20 min away, I made so many trips, so much money and time was wasted. I didn't get a single apology or anything from them. The bride got a letter in the letter they said they do not take responsibility for the 6 inches to small dress that they measured on a skinny 10 year old. How about the gas, the time or mostly for how rude
---
Transformation
Reviewed on

11/05/2013
Samantha S
I bought a sale dress that I would have totally looked over if it wasn't for my wonderful maid of honor who saw a beautiful possibility. Martha did a great job completely transforming the dress into something even better than what I envisioned. And Emily was extremely helpful... Read More and accommodating as I tried on a few dresses multiple times!
---
Easy to work with
Reviewed on

9/10/2013
Jennifer R
Loved my dress. Was a bit pricey for alterations, but great service Ordered bridesmaids dresses too!
---
Good
Reviewed on

8/22/2013
Jennifer S
Amore Bridal did the bridesmaid and day of helper dresses for our August 11, 2012 wedding. The colors were turquoise and red and I was having a difficult time finding cute, affordable dresses to match the shades I was looking for. I finally ended up here and thankfully there was... Read More a selection to choose from! I had a total of 9 girls in my bridal party and I wanted them all in different dresses which was an undertaking, but Heather was very helpful during the process and they all found dresses they liked. Unfortunately a lot of the more affordable dresses were not in the store to try on and most of the girls didn't feel comfortable ordering a dress they couldn't try on. I also had a size issue with one of the bridesmaid dresses that we were thankfully able to take care of, but to this day I'm still not sure what exactly happened because I didn't have time to fully look into it.
---
Expensive
Reviewed on

6/22/2013
Madison B
Although I did absolutely love my dress, I wouldn't say the service was anything special. I felt like as soon as I bought the dress they started hounding me on buying excessories and I wish I would have looked around instead of buying them on the spot. The alterations were also... Read More really expensive, and the seamstress was rude, I would have taken them elsewhere had I been given the chance, but they just kind of started without even giving you the chance! Overall, beautiful dresses, but just ok service and premium prices.
---
The perfect dress
Reviewed on

6/18/2013
Aimee W
I had been to other bridal stores before going to look at Amore. The service was great and personal. I didn't have to compete with 10 other brides for help from the sales ladies. They listened to what I wanted and didn't push me into anything I didn't want. Needless to say, I... Read More found my perfect dress there! They all celebrated with me when I did and it was an overall great experience! Go see Jennifer at Amore!
---
Great Bridal Shop
Reviewed on

6/18/2013
Lacey W
I was able to get both my bridesmaids dresses and my dress here along with my jewlery.
---
good job
Reviewed on

6/11/2013
Jennifer S
Good prices, enough selection for options but won't overwhelm you. Don't charge you to store your dress when it comes in. My alterations went well and my bustle held all night
---