Home

Amp'd Entertainment
About this Vendor
REMIX'D WEDDINGS
The Official Home of REMIX'D WEDDINGS! Atlanta Turntablism Style DJs for Every Occasion! Hire us with comfort of knowing you are not bringing a "Tradional Wedding DJ" to your event! Voted The Best of Weddings by the Knot 3 Years in Row! Check Out our Reviews + Recommendations on the Knot!
Details
Disco, Folk, Hip-Hop, Jazz, Pop, R&B, Rock, Indian, Latin, Persian, World Music
Ceremony, Reception, Wedding
MC Services, Recorded Music, Sound Equipment, Music
Contact Info

1500 Southland Circle NW, Atlanta, GA
Ready to dance?! Jordan is your guy!!!
Reviewed on

4/09/2015
laura f
Jordan with Amp'd was one of the easiest and most fun vendors we worked with during our wedding planning. He took the time to meet with us and talk about our expecations for the music playlist at the wedding. If you're looking for impressive entertainment at your wedding - and something that has the potential to break the mold of the typical wedding playlist, Amp'd is your go-to! My then fiance/now husband is a musician, and needless to say - we had pretty high expectations for our playlist and wanted the music to perfectly express our personalities and set the tone for the event. No "chicken-dance" or typical wedding songs for us - we had high demands for a unique and alternative playlist. Jordan knocked it out of the park - the music was perfect and our guests were clearly enjoying themselves! We wanted our guests to hear music they might not have been previously exposed to and it worked out perfectly. The music fit "us" and we partied until the lights came on! Jordan was professional, prompt and most importantly even danced with us!
---
AMP'D and DJ Hollan are amazing!
Reviewed on

11/08/2014
Mitra M
DJ Hollan was simply fantastic. Not only was he great to work with from the very beginning but he was so professional throughout our entire wedding planning process. He really took time to get to know us and get feelers for what type of wedding party we wanted. He had a difficult task of playing not just western, modern music but also Persian music. He couldn't have done a better job. The dance floor was packed the ENTIRE party. He read the crowd perfectly and played a perfect combination of both types of music. Do you want to have the best party ever? Book Hollan. HE ROCKS!!! I couldn't recommend him enough and I'm hard to please!!
---
Mike and Amp'd are the best around!!!
Reviewed on

4/08/2014
Belinda S
I honestly don't have enough good things to say about Mike Walsh and Amp'd Atlanta. During the planning stages Mike was always available for any questions or concerns we had. He was incredibly thorough and asked all the right questions. Mike made great suggestions that made our evening spectacular. He was without a doubt the most reliable, professional, and helpful person we worked with throughout the whole wedding process. Night of, he kept the dance floor packed all night, everyone worked up a sweat! All of our guests complimented how great his music was. The two videographers we worked with that night were incredibly kind and captured great moments, we can't wait to see their footage. I truly wish we were planning another event just so we could work with Mike again. Hurry up and book him!
---
Reviewed on

7/23/2015
Kara P
We had Hollon of Amp'd Entertainment DJ our wedding this past weekend. We absolutely loved him, and apparently so did all of our guests! In conversations with guests after the wedding, they all made comments about how much they loved the music and how much fun they all had on the dance floor! It was a nonstop party out there! From our first contact with Hollon when we were inquiring with various DJs, I immediately felt most comfortable with him. He responded to our emails and calls with quick and thorough responses. He was also very flexible and seemed to put a lot of thought into the music played at our wedding. He took the time to get to know our music tastes and not only incorporated our requests, but came up with some fantastic ideas and mashups of his own that suited our wedding perfectly. And, he even pronounced my new last name correctly during the introduction, and I can guarantee that is not easy! He also played music during our ceremony and beforehand as guests were arriving, as well as during our cocktail reception, and all of that went smoothly. He worked very well with our officiant and wedding planner too. I can't say enough good things about Hollon--he was a super fun/positive/upbeat guy without being over-the-top!
---
Reviewed on

7/21/2015
Sarah B
I can't find enough good things to say about our DJ and Amp'd Entertainment!!!! They were AMAZING! From the very first phone call Hollon impressed us with his upbeat attitude and kindness. The planning process was a breeze with the Amp'd website and any question we had along the way was quickly answered. The night of the wedding was absolutely perfect, and we owe a lot of that to Hollon. Our venue was spread out, and he did a wonderful job directing people to and from cocktail hour to dinner to cake cutting, etc. He led the way throughout the night. Lastly, the music and lights were incredible!!! We danced all night and never had an empty dance floor. Most people danced until the last song. So thankful for this amazing company and super awesome staff!! You can't go wrong choosing Amp'd Entertainment... and ask for Hollon! :)
---
Reviewed on

6/23/2015
Lauren A
Our DJ, Brian, was a pleasure to work with and really made our special day such a hit. We appreciated how he got the party started and got our friends and family on the dance floor. Brian also gave us a lot of his time to help plan our event.
---
Reviewed on

6/14/2015
Lauren J
Jordan was amazing! He was so responsive and really wanted to know what we envisioned. We wanted a full on dance party and did he ever deliver! Our friends describe our wedding as "epic". Jordan and Amp'd are on top of their game, and we are so thankful we used them for our wedding.
---
Reviewed on

6/09/2015
Jessica H
We worked with Hollon from Amp'd Entertainment as our DJ. He was very easy going, laid back and knowledgable. My husband and I were not super picky about what we wanted to be played at the wedding - we added some songs to our list but Hollon did an amazing job filling in the rest!
---
Reviewed on

5/31/2015
Shannon L
I was referred to DJ Mike Walsh of Amp'd Entertainment from a friend and had a blast dancing at her wedding. Mike was extremely professional and helpful during the planning process and knew all the right questions to ask. He was very easy to reach when I had questions or concerns. On wedding day, Mike was a huge help in facilitating the flow of events and he impressed me with his mixing of songs. Would highly recommend!
---
Mike and Amp'd Provide The Perfect Soundtrack
Reviewed on

4/29/2015
Amp'd and Mike Walsh were amazing. They worked closely with us before the event to make sure ALL the music for ALL parts of our night were perfect. He played all of our favorite songs during cocktail and dinner and then kept the dance floor packed for hours (not always an easy feat at a wedding). He even encouraged us to make a "Do Not Play" list of songs not to play (and he didn't play them). Three weeks after the wedding, we are still getting compliments from friends and family on the music from our wedding and multiple people are asking for his name. I recommend Mike and the whole team at Amp'D for any wedding or any event where you want great music and great energy!
---
Very Pleased with Amp'd and Jordan!
Reviewed on

4/10/2015
Amp'd Entertainment and Jordan were friendly and professional right from the start! The occasion was my daughter's wedding at a beautiful venue. We are completely satisfied with Jordan's performance! Here are the details: Amp'd has a great website and the Client Portal keeps you updated on financials, arrangements, communication, playlist management, etc. Jordan arrived early on the day of the event and got his equipment set up without hampering the other event coordinators. But more importantly, Jordan saw things that needed to be done and went above & beyond the call of duty and stepped in and solved challenges not even related to his specific duties. Anywhere sound was needed, Jordan made it happen! We found that Jordan is not only an awesome DJ and Emcee, but a great Project Manager! He has extraordinary attention to detail. During the reception, Jordan performed his Emcee duties exceptionally - even observing when guests were not following instructions and professionally bringing things back under control. He did an excellent job managing the transitions between the various parts of the reception. Later, when the dancing started, Jordan's talent shone brightly! He is able to read the crowd and play the music that keeps them moving! Guests we thought would never dance were on the floor dancing!! I highly recommend Jordan and Amp'd Entertainment!
---
Great Job, Great Entertainment
Reviewed on

4/05/2015
Mike was our DJ. He met with us before the wedding so he would know what we were looking for during the wedding reception. He was extremely professional and had many great ideas and suggestions. We enjoyed looking at his sound equipment. My daughter (the bride) and I knew we would be good hands as he very much wanted everything to go according to her vision. He also has a good website for planning, too. The reception was wonderful. Mike was very professional throughout the day. The timing of all events during the reception went according to plan. Everything ran very smoothly. We had so many compliments on the DJ and his music. Everyone danced! Many people hoped they could have his play list. One guest particularly was very complimentary. This guest performed in a very popular cover band back in the day, was a DJ for many years and a band manager for another popular band. He was very impressed by Amp'd Entertainment's sound and equipment and his professionalism. We highly recommend Mike and Amp'd Entertainment.
---
DJ Mike
Reviewed on

12/11/2014
Kayla M
DJ Mike is the best! Also helped us with our videography. Kept everyone dancing the whole time! Attentive to our suggestions and musical stylings!
---
Fantastic DJ
Reviewed on

11/16/2014
Alyssa N
Mike was the best DJ we could have asked for! Sometimes you go to weddings and no one dances- well that was absolutely not the case! Mike played songs that kept the dance floor completely full up until the very end of the wedding! We are still receiving compliments about how involved Mike was and how he truly made the crowd come alive! He listened to all of our requests (like shortening the length of father-daughter and mother-son dances) and was entertaining! We did give Mike a list if suggested songs but also gave him free range to play what he thought was best. Letting him choose is the way to go- he is the professional and chooses the best music for the certain crowd! We will recommend him to all of our friends and family for their upcoming events!
---
Great from planning to execution
Reviewed on

11/06/2014
Kathryn F
I was very impressed with Amp'd. We communicated a number of times before the wedding and they were exceptional when it came to getting the exact versions of songs that I wanted for the ceremony and even using a piece of music that I edited to fit a certain amount of time. We also discussed them using their judgment in terms of deviating from my music play list during the reception in order to get people to dance. While I enjoy rap music, my original list did not have any on it in order to be more multi-generational. As a result, my DJ incorporated more dance/rap music to try to get people to dance, which did not happen. After trying, I would have preferred that he had gone back to my original choices more but in all fairness I did not say anything at the time because I was focused on other things. Great work, just be sure you stick to what you want or include caveats and they will follow your direction. All of this said, I would use them again.
---
Amped ATL - AWESOME
Reviewed on

10/28/2014
DJ Big H was awesome. Very easy to work with. Very easy to for everything, made our day less stressful! I would 100% recommend Amped Atl and DJ Big H. Kyle Adams
---
Awesome DJ services!
Reviewed on

10/28/2014
RoseAnne H
We couldn't be happier with the job that Hollon with Amp'd Entertainment did with the sound for our wedding ceremony, and DJing our reception. His skill-set and specialization is one of a kind, the result of 15 years DJ experience and a lifetime of music appreciation. He is a great person to be around, and was so much fun to work with. He always had the perfect suggestion for our musical tastes, and is a virtual encyclopedia of the coolest tracks in the world! Plus he knows how to tailor them to your specific event. When the reception arrived, there were no surprises...except the level of participation from our crowd. Virtually everyone was on the dance floor, dancing and singing, and clapping along exuberantly throughout the duration of our final song (best send-off ever). In summary, we can't imagine our wedding with any other DJ. Hollon is a true talent, and a true professional. He'll take care of you for whatever special occasion or event you are planning.
---
Thanks!
Reviewed on

10/27/2014
Kim J
Hollon did a fantastic job at our wedding reception! The crowd enjoyed the music selections and had a great time dancing and celebrating. Thanks for a memorable night!
---
Amp'd Atlanta
Reviewed on

10/21/2014
Amp'd Atlanta staff were all super easy & fun to work with from the very beginning of planning our wedding! DJ Bigg H aka Hollon was AWESOME!! He was great to work with, always prepared & very accommodating. We used him for our ceremony & reception and he did a fantastic job, playing the most perfect songs to set the mood! On top of being a great DJ, Hollon went above & beyond our expectations working with the other wedding vendors & our coordinator to assure everything was perfect! We could not have had a more awesome time!! We will definitely be using DJ Bigg H again in the future. We strongly recommend him for any event from weddings to house parties or corporate events. Thank you again Hollon!!
---
Best Dance Party Ever
Reviewed on

10/15/2014
Julie F
We saw Amp'd Atlanta in action at a friend's wedding and knew we had to book them for ours as well. Mike made an effort to get to know our music preferences and the vibe we wanted for our reception. He was very professional and he was great at reading the crowd. In our humble opinions, it was the best wedding dance party we've ever been a part of. So much fun and everything we hoped it would be.
---
Best Dj ever
Reviewed on

10/02/2014
Ali M
We could not have picked a better Dj! He was amazing! Jeremy kept the reception going the whole night. Everyone after said it was the best reception they had been too. He was very professional, fun, and full of life. He was Always on time. If you are anything like me, I was Lost at all that needed to be done/ decide and he helped us every step of the way. All around the best Dj I have heard and dealt with. Amp'd Atlanta is the way to go! Thank you Mike and Jeremy for all you did !
---
Look no further!
Reviewed on

9/29/2014
Shannon C
There are not enough words to express my gratitude and praise of this group. Especially DJ Bigg H (Hollon). He went above and beyond to ensure that my wedding with my wife was a hit. Going as far to create a one of a kind mash up of our songs. Guests at our wedding said he was the best they have ever heard and you would be very pleased to have him spin for you. I also want to note, not that it should matter, but if you are a same-sex couple like us, looking for a great DJ, give him a call! He treated us with respect and threw an amazing party and I think we were his first. Check these guys out!
---
AMAZING
Reviewed on

9/14/2014
Kate G
Hollon did an amazing job. He made sure everything was just how we wanted it. He was responsive and easy to work with. All of our guests had a blast! HIGHLY recommended.
---
Best DJ!!!
Reviewed on

9/13/2014
Laura H
Both my husband and I are music nerds so this was probably the most important vendor to book for us. When we met with Mike we found a fellow music nerd who, it turns out, worked in radio the same time that my husband did and we ended up talking for way longer than we should have! Once booked, Amp'd had an incredibly easy website to work with and we got to add all of our songs by the events of the day (e.g. Billie Holiday during the cocktail hour, David Bowe during the seated buffet, etc.). If they didn't have a song in their database they would get it for you and Mike did an awesome job MC'ing the night. He makes sure that if you don't want requests from all of your drunk wedding guests he won't do it and he certainly won't be playing any cheesy music like the Macarena :D So much fun and well worth it. Our only regret was that we booked our photobooth before we knew that Amp'd also offered this service as I'm sure that would have been excellent too!
---
Class Act
Reviewed on

9/02/2014
K F
Mike was awesome. Super nice, super responsive, super talented. He worked with us to accomplish what we wanted to, including timing of certain songs. I docked a point just because he announced the Best Man and Best Woman together, but we had asked him to do so separately to drag out their intro song; Minor detail. He is great at what he does. You can tell how professional he is by his song transitions. HIs website is really easy to use, and he really uses your requests.
---
Meet The Owner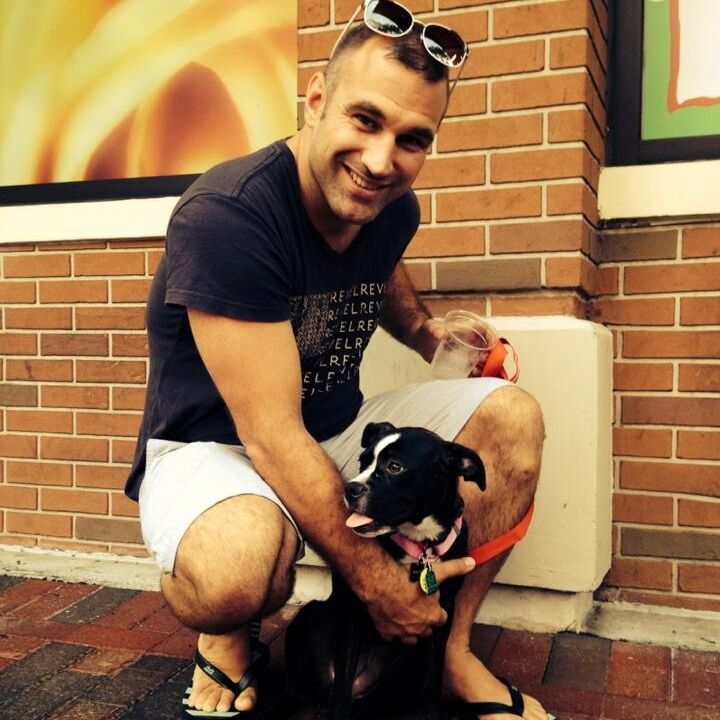 Mike Walsh
Hi, I'm Mike with Amp'd! We're looking for super cool couples to remix super cool parties. So, let's grab a coffee and chat about your wedding!
Send Message