Home

Amy's Cupcake Shoppe
About this Vendor
Baking a World of Delicious
At Amy's Cupcake Shoppe we pride ourselves in gourmet cupcakes, French macarons, and custom cakes. We make everything from scratch from our cakes to our fillings and frostings with only the best ingredients. We are able to create unique flavors that will be sure to wow your guests and keep them coming back for more. Delicious bursts of flavor in every bite. Looking for something a littler different? We also make mini pies, tarts, cheesecakes, rice krispy treats, custom cookies, and authentic belgian waffles, perfect for a waffle bar! We make treats for weddings, bridal showers, bachelorette parties and so much more. Email or call us to schedule your complimentary tasting at our beautiful new shoppe is Hopkins!
Details
Dairy Free, Gluten Free, Vegan
Cake Stands, Cake Delivery + Setup, Cake Tastings, Groom's Cakes, Cakes + Desserts
Contact Info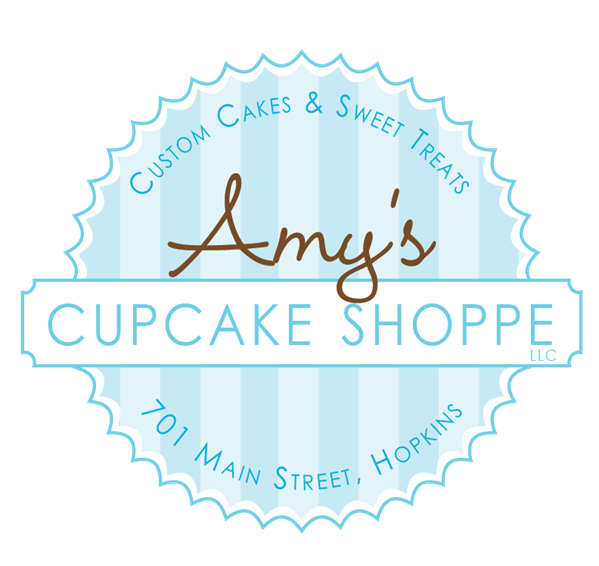 Reviewed on

8/28/2017
Amy L
Amy's Cupcake Shoppe was amazing in every possible way. Not only were the cupcakes and cake ABSOLUTELY DELICIOUS, but the setup and communication was great as well. I plan on telling everyone, whether they are planning a wedding or not, to head over to this shop to check out the... Read More great items! Amy and her staff are so great to work with and we couldn't be happier with the turnout!
---
Reviewed on

10/04/2016
Erin W
I will start off by saying I am not a person that likes a lot of sweets, but I have dreams about Amy's Lemon Chiffon Cupcakes. Seriously amazing. We loved every minute of working with Amy's Cupcake Shoppe for our wedding cupcakes. From the moment we met Amy we knew she was... Read More someone we wanted to work with. She was so fun and very accommodating. You could tell she loves what she does and it shows in how delicious her sweet treats are. We had a last minute custom request for two little bride and groom cupcake toppers and she said it was no problem. We got so many compliments from guest about the cupcakes and to be honest I was nervous that we wouldn't have any left so I squirreled a few cupcakes away to save for after the wedding. I am so glad I did! Thank you Amy and I can't wait til we are back in the cities to stop by the shop for more cupcakes!
---
Reviewed on

8/09/2016
Sarah L
When our initial wedding cake vendor told us they could not longer complete the order 3 months before our wedding, panic set in. We had chosen Amy to create our Packers Football themed cake as a surprise at our Rehearsal Dinner, so I decided to call her and see if she would be... Read More available to do our wedding cake as well. "No problem! I would love to!" said Amy on the other end of the phone. She quickly washed away my panic and stress. Not only did she make the most amazing Packers Football cake, but it was delicious! For our wedding cake she made a three tier Vanilla Almond cake with a Raspberry filling and Vanilla Buttercream frosting. Our guests RAVED about this cake. It also had a rosette design in blush pink. Absolutely gorgeous. I would highly recommend Amy to any bride/groom. She's extremely creative, a true joy to work with, and makes delicious cakes!
---
Reviewed on

10/18/2017
Sara S
We ordered a two-tiered cake and mini cupcakes for our wedding. The cake and cupcakes were OUTSTANDING! All of our guests raved about how beautiful and delicious the sweets were. Amy was so responsive and easy to work with. She created our desserts exactly as we wanted them. The... Read More tasting was free and we were able to choose 4 flavors out of many options. Cake was delivered and set up perfectly and we were able to rent cake stands free of cost. We would highly recommend Amy's Cupcakes!
---
Reviewed on

10/18/2017
Tosha A
Our experience with Amy's Cupcake Shoppe was great! We originally planned to have our caterer do our sweetheart cake (as well as our sheet cakes for guests) but I had second thoughts about the design capability and wanted to see what other bakeries could offer. I decided to... Read More reach out to Amy's Cupcake Shoppe about two weeks before the big day to see what they could do and I was put in touch with Jenn, one of their lead decorators. I talked to her on the phone and then exchanged several emails, as well as stopped by the shop to pick up some sample tastings (where I got to meet her in person). She showed me around the shop and showed a few cakes that they were working on so I had a better idea of sizing, icings, decorations, etc. I was very impressed with her level of skill and the price was quite reasonable ($90 for 2-tiered 6" and 4" cake to serve 12 - top layer to be saved). The flavors they offer are amazing (and they have quite a few options). My biggest compliment is how quickly they responded to me and that they could take us on at the last minute. She was able to send an invoice over so we could pay online instead of running back down the the shop, and had everything ready to go for pickup on the big day (since their deliveries were booked). Amy's Cupcake Shoppe is a great option for weddings, bridal or baby showers, graduation parties, or personal parties (or even if you're just craving a super good chocolate cupcake) and I will definitely use them again in the future!
---
Reviewed on

10/13/2017
Erin W
Amazing cupcakes! Super easy to work with, and a great value for a superior product! We are now lifelong customers!
---
Reviewed on

10/11/2017
Crystal Q
Amazing treats!
---
Reviewed on

10/10/2017
Brianna D
Easily one of the best cakes I've ever had. Amy is so talented and easy to work with. She helped me figure out the best cake options at an affordable price, and allowed my husband and I to customize what we wanted for flavors. We went with white wedding cake with raspberry and... Read More chocolate filling. SO GOOD!! Even my dad, who does not like cake, loved this cake.
---
Reviewed on

9/29/2017
Blake M
Amy's Cupcake Shoppe was the PERFECT addition to our wedding. The cupcakes (both regular and gluten free!) and cake were delicious and picture perfect!
---
Reviewed on

9/26/2017
Cally Q
LOVE Amy's Cupcake Shoppe! Guests at our wedding commented this was the best cake they have ever eaten! They did such a beautiful job cakes, very elegant! Perfect for weddings at a reasonable price!
---
Reviewed on

9/18/2017
Emily S
Amy's cupcake shoppe was amazing! They offer such delicious options it was hard to choose what ones to go with! Their cupcakes, macarons, and cakes are moist, flavorful but still light making you want to come back door more. Thank you ladies for being part of our day and rocking... Read More out some fantastic desserts!!!!
---
Reviewed on

9/18/2017
Rose E
Amy went above and beyond for our wedding cake. I have dietary restrictions and she was able to accommodate and still make the cake taste amazing! We told her about our special cake topper and our fear of frosting in it, so she made sure to have a fondant disc on top and added... Read More red lines for us (zamboni legs cake topper). If you are looking to support a local business that is great at what they do, pick Amy's and you won't be disappointed!!!
---
Reviewed on

9/15/2017
Kevin B
Amy was a distinct pleasure to work with! We coordinated entirely via email since we live out of town. I sent her a picture of what I was looking for and then they got to practice! She sent me pictures updating me on their progress (they required a lot of skill to make just... Read More right!) When the wedding day came along and they were delivered, they were absolutely beautiful! They looked just like the ones in the picture I first sent her! They were so delicious too!
---
Reviewed on

8/25/2017
Jessica B
We had Amy's Cupcake Shoppe make our two tier wedding cake and cupcakes. They were all absolutely delicious and we had so many people compliment us. Not only were we able to get multiple flavors, so we had something for everything, but we were also able to not spend a fortune.... Read More For the two tier cake, I brought in a picture of the style we were looking for with beautiful piping on the top tier and they made it look exactly the same! I was so shocked since they specialize in cupcakes, but they have amazing designers that are able to do it all.
---
Reviewed on

8/20/2017
Kristi C
Amy's cupcake shoppe makes more than just cupcakes- they make wedding cakes too! Amy's was the easiest to work with and had the best prices out of all the other cake shoppes I met with. And their cakes tasted amazing too! They took the time to meet with me and really listened to... Read More what I wanted and asked for. They were able to design and make the cake to exactly the look we wanted, where as some other bakeries would not use certain ingredients. They were super nice and friendly throughout the whole process. And I was able to work with Amy directly so I knew I was being taken care of. Amy was super responsive to all of my questions and always sent back details info and pictures to my questions. On our wedding day our cake looked beautiful and turned out exactly how I imagined! My only disappointment was that they did not leave a cake box with our cake on our wedding day, and our event venue did not have one either so we did not have a box to properly store and bring the rest of our cake back home after the wedding. Our mom had to improvise by wrapping it with seran which was the only thing we had and our cake got completely smushed in transporting it home. If you get a cake with Amy's be sure to make sure they give you a cake box with the cake delivery. Amy did say they will make us, and all their wedding couples, our cake again complimentary on our 1 year anniversary- so I am thankful,appreciate and look forward to that. :) I would recommend Amy's Cupcake Shoppe for your wedding cake or special event!
---
Reviewed on

7/31/2017
Danielle E
Absolute Beauty! I loved working with them and was so incredible happy that they made my vision come to life! I think everyone didn't know if they wanted to eat or just admire the cupcakes and macaroons!
---
Reviewed on

7/26/2017
Eloise C
Absolutely LOVED loved loved the cupcakes and macarons I got from Amy's for my wedding! Beautiful presentation and even better taste! Good communication throughout to help me get exactly what I wanted. Would highly recommend!
---
Reviewed on

7/18/2017
Lauren K
Our cake turned out beautifully and tasted amazing! Super friendly staff. Hands down best cake I've ever had.
---
Reviewed on

7/11/2017
Jill J
This is the sweetest bakery in the Twin City area, both in personality and in product. Our planning meeting was so fun and they were open to all of our ideas. The dessert table at my daughter's wedding was beautiful and the guests loved the cupcakes and macarons. We asked for... Read More a lot of special items (Mickey Mouse macarons!) and they totally delivered. If you want the best day ever, this is the bakery you should choose.
---
Reviewed on

7/11/2017
Megan O
The cupcakes and the cake pops were delicious. They did really great job with the set up and it looked beautiful. Everyone love them and there were very accommodating to making the flavors that we wanted for the wedding.
---
Reviewed on

5/30/2017
Jenelle B
Amy did a beautiful job with our wedding cake and cupcakes. We ordered 100 cupcakes in 4 different flavors and a small wedding cake. They were able to provide us with 3 gluten free cupcakes to accommodate one of our guests as well. Amy worked with me to establish a time to drop... Read More off the desserts and we were able to rent a cupcake stand, trays and serving utensils. They did a fantastic job with the cake and dessert and my guests keep commenting on how good the cake and cupcakes are. I would definitely recommend them for any event that you may need a cake/cupcake or other dessert for. They also make fantastic macaroons! I found that their pricing was comparable to other like bakers, but I felt that they had a much more personal touch than other bakeries and they truly show a passion for what they do!
---
Reviewed on

2/21/2017
Meghan K
I am SO happy we went with Amy's Cupcake Shoppe! I didn't way to pay a ton of money for cake (but also knew I didn't want cupcakes/pies/cookies/donuts, etc) so I shopped around looking for the best price for the design that I was looking for. After going to several companies I... Read More knew Amy's Cupcake Shoppe was going to be it for us. She had such a variety of flavors to choose from and allowed us to do a tasting ahead of time before narrowing down our choices. We ended up going with a 3-tier cake to feed half of our guests and then a sheet cake to feed the rest. Each tier of the cake was a different flavor--Salted Caramel, Carrot, and Raspberry Cream. Amy was super willing and eager to try a new technique (to her) which was a watercolor effect. The finished product was AMAZING and ended up being even better than my Pinterest inspiration pictures. I would HIGHLY recommend Amy's Cupcake Shoppe to anyone!
---
Reviewed on

12/12/2016
Jessica R
My husband and I used Amy's Cupcakes for our wedding dessert, we had four flavors: lemon curd, chocolate caramel, vanilla and spiced apple. THEY WERE AMAZING! she did such and amazing job and our guests ate all of them! There were no left overs for us to keep! She is highly... Read More recommended !
---
Reviewed on

11/27/2016
Susie K
Amy makes the most amazing wedding cake and cupcakes! She is wonderful to work with - super nice and incredibly responsive. Did I mentioned talented?! I highly recommend Amy to anyone!
---
Reviewed on

10/30/2016
Chaunte' A
Everything was beautiful and yummy!
---
Meet The Owner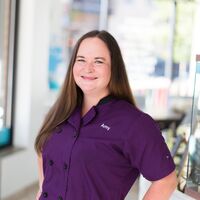 Amy Brace
I am a wife, mother, and lover of baking everything! I have baked Christmas cookies with my mom for as long as I can remember. Baking to me, means home. Comfort, family, and amazing food. I started my business in 2011 and have loved it ever since. Bringing joy to people's family and friends through delicious dessert is so much fun! Memories are always better when they have food in them. We just opened our first brick and mortar location and our amazing team offers the best of the best in ingredients and design for everyone. I am a passionate perfectionist and love it!