Home

An Enchanted Evening
About this Vendor
Award Winning DJ, Photo Booth & Lighting Services
An Enchanted Evening is a professional mobile entertainment company specializing in wedding receptions. We repeatedly exceed our customer's expectations by maintaining a level of service above and beyond other entertainment companies.
Details
Classical, Country, Disco, Folk, Hip-Hop, Jazz, Pop, R&B, Rock, Arabic, Indian, Klezmer, Latin, Persian, World Music
Ceremony, Reception, Wedding
MC Services, Recorded Music, Sound Equipment, Music
Contact Info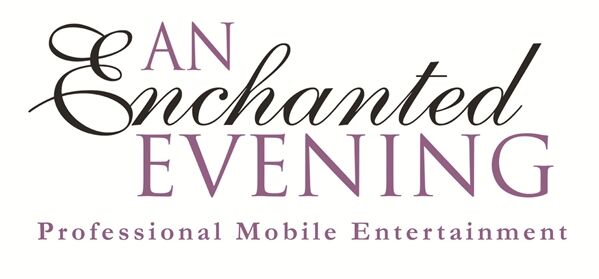 1920 Thoreau Dr , Schaumburg IL, IL
Dream wedding and Dream DJ Services - Not a single negative comment!
Reviewed on

10/06/2013
Karen M
We cannot say enough positive statements about our DJ, Mike, and An Enchanted evening as a whole. From beginning to end, they were all so fabulous. We never felt taken advantage of and they did anything and everything to help. We had an unfortunately circumstance of having our original banquet hall closing and needed to switch rooms and therefore reducing the amount of services required from An Enchanted Evening. This was even after we had submitted our final deposit and they were completely understanding to our situation and without any fight they adjusted our services. Mary was fantastic with replying back via phone and e-mail with any questions we had before, during, and after the process and the initial meeting was put together very well. They give you the full "tour" of what your night may look like by showing you a video, letting you listen to their sound system, showing you videos of each DJ in action in which you select yourself. Our DJ, Mike, also did everything possible to accommodate all of our wishes. We had some untradtional "activities" that were traditional for my husbands South African family to have at a wedding and he made sure it happened exactly how we wanted. He went through the entire agenda on the phone the day before as well as the actual day. He was friendly, humorous, and gave great directives to our wedding party. He also touched base with my husband and myself throughout the evening to keep us up to speed on when the next "Event" would occur and made sure we were happy with how everything was going. Again, I can't say enough, and neither could our guests. The reception hall had to pretty much push out our guests (even after my husband and I left!) because they were having so much fun on the dance floor. Thank you Enchanted Evening! We recommend you to anyone for any occasion!!!!
---
Kept us dancing all night!
Reviewed on

5/08/2014
Nina P
An Enchanted Evening was very easy to work with, and the price was right. They showed us all of the equipment they use and how they use it. our DJ Greg was great. He really listened to what we wanted, and kept people on the dance floor all night long!
---
Great DJ Experience
Reviewed on

4/29/2014
Jen
We had Mike the main DJ for our wedding. After witnessing his talent at my cousins wedding, my husband and I had no question that we wanted the exact same DJ at our wedding, as long as the cost was decent. Mike normally charges an additional cost since he's the manager, but he waived that charge for us since we said he came as a referral from my cousin. We got 6 uplights for free as well with a coupon. We added in a DVD player and screen for our photo slideshow for a little more money. We had an absolutely wonderful time at our reception, Mike did a phenomenal job! He kept everyone on the dance floor all night long. He played the best songs based off our requests and avoided all the silly songs we didn't want to hear. When the dance floor was getting empty, he played a few slow songs which got lots of people back on the dance floor. Everyone had a great time at the wedding, and I danced all night long! I loved the songs he was playing and how he played them. He was also our Emcee and he did a great job announcing all the speeches and all of the bridal party, etc. Thank you Enchanted Evening and Mike! :)
---
Superb!
Reviewed on

6/09/2015
Alyssa F
We chose An Enchanted Evening after meeting with Mike at a bridal fair. They helped my daughter and her husband choose all the right music for their reception. Chip was fabulous and helped to make their night a truly enchanted evening!!! They were easy to work with and made the whole process simple.
---
Chip is where it's at!
Reviewed on

4/27/2015
Bianca P
Enchanted Evening is an awesome company! They worked very well with us and had an affordable price! When looking at other companies and DJs, we knew we had to go with them. The company was very personable and professional. We had CHIP as our DJ and he was THE BEST!!!! I met Chip at a Bridal Expo and I knew that he needed to be our DJ. He was very charismatic and truly cared about making sure we would have a great time with his creativity and our input. The online tool was perfect, especially since we live in a different state than where our wedding was happening. Chip was a blast! We received so many compliments about how the music was a wonderful variety and kept the night going! Our parents were told multiple times, too, of how the DJ was fun and funny, keeping the night moving at a great pace for everyone to enjoy the evening-but make sure we were able to do all he traditions! My HUSBAND and I busted a move on the dance floor and could not be happier with the choice! We had a special Bride and Groom dance, that Chip was able to fade right after our first dance! He was so easy to work with and took our requests, while still putting his live DJ spin on it! We also had a special track to play, which he had no problem playing. We did not have to worry about a thing, and it was awesome! I cannot think of more words than WOW! Way to go! Thanks so much!
---
Fantastic DJ!
Reviewed on

2/20/2015
Molly P
My husband and I got married on 9/20/2014 and used An Enchanted Evening as our DJ. The service was phenomenal. When we went to meet with them initially, we were able to preview how their equipment sounded in their sounding room. Prior to our wedding, I had a phone conversation with our DJ, Mike, who walked through the entire day with me. It was reassuring to me that he knew what we were expecting prior to the day of our wedding! Mike was a fantastic DJ and got everyone out on the dance floor!! We not only got the complete wedding package but we also upgraded to the enhanced sound system for an extra $100 and added the name in lights as well. The enhanced sound system was well worth the extra $100! And the name in lights turned out phenomenal! My husband and I highly recommend An Enchanted Evening!!
---
The best!
Reviewed on

2/12/2015
Beth G
We originally were going to go with a different vendor because they were a little out of our price range. I was very sad about it because I loved them. I went to a bridal show and met them there again. They were able to negotiate my costs down quite a bit to make it affordable and we signed on the spot. Anything I needed, they were there. They were so helpful! Larry did a great job keeping everyone on the dance floor and had us laughing. We couldn't have picked a better dj and photo booth service. Thank you again!
---
Great service!
Reviewed on

2/12/2015
Courtney R
The DJ we had was amazing! Communication was very easy throughout and the price was reasonable.
---
Nate and Melissa Wedding
Reviewed on

2/01/2015
Enchanted Evening did a perfect job. The wedding prep brought a lot of stress, 0% of it coming from them. Our DJ Bob was perfect. He had the old people dancing and the kids dancing. The dance floor was packed the entire night.We also asked him if he could play "Shake Ya Tailfeatha" for a groomsmen dance. Not only did he play the song, but he coordinated a cool light thing to go along with it. Enchanted Evening couldn't have been better. Highly recommended!
---
An Enchanted Evening
Reviewed on

1/06/2015
Brittany M
They are true to there words. Our DJ was wonderful. There was always someone dancing. He really helped us organize all of our speeches and announcements throughout the whole night. Wonderful service.
---
Amazing DJ and service!
Reviewed on

1/05/2015
Ana P
We had David Plug as our DJ and he was phenomenal. My fiance and I met with David about 2 wks or so before our wedding and he had a timeline and everything and what to announce. He was not pushy and really let us be in control, but had great suggestions. Despite our wedding being multicultural, with Russian, Indian and American music, David did great integrating it all, and all our guests were so happy. David set up music for our ceremony and music and lights for the reception. He was enthusiastic and made our night feel so special! We could request as many songs and it was so nice to hear the music we requested on our special day. He also accommodated our guests and played what they liked :) Thank you David and Enchanted Evening for making our wedding wonderful!
---
Great quality and value! Had so much fun!
Reviewed on

10/31/2014
Samantha G
Enchanted Evening did a fantastic job. We had an online form in which we were able to request songs and then spoke with the DJ before the wedding to discuss it all. He was extremely friendly, enthusiastic, and prepared. He played all songs we requested and kept the energy high! Thanks Mike- we had the best time!
---
Great Service
Reviewed on

10/29/2014
Rachel B
Our DJ was fantastic. He called us prior to the date to review our selections, confirm name pronunciations, and to make sure he understood what we were looking for. At the reception, he was very engaging, and kept people entertained and dancing. It really made the reception that much more fun!
---
DJ for my wedding
Reviewed on

10/27/2014
Davina S
My husband and I used Enchanted Evening as the DJ for our wedding earlier this month. They did a great job! They stuck with our play list, didn't play anything we had on the "do not play list", and they got the music accurate for all the special situations (i.e. first dance, garter toss, ceremony music, etc.). Our DJ, Larry, was funny and did a great job with introductions. Although all my songs on the playlist weren't played, that wasn't the fault of the DJ, but more so that there is only so much time for music at the reception and our playlist was long. Regardless, the music played was great and everyone had a great time. Mike at Enchanted Evening and Larry kept me in the loop and were on top of the planning via e-mail and phone calls during the pre-planning process and it made out for a great day. I'd definitely recommend An Enchanted Evening to anyone looking for a great company that does amazing DJ work.
---
Wonderful!
Reviewed on

10/24/2014
Kelly H
DJ Tom from An Enchanted Evening did an incredible job at our wedding! We received so many compliments throughout the night about our playlist, but we didn't even have one! It was Tom picking the music. He also called me earlier the week of the wedding to finalize details, ask about pronunciation of names, song choices, etc. He really put my mind at ease. I would recommend them to anyone!
---
Amazing DJ Service!
Reviewed on

10/22/2014
Stefanie B
An Enchanted Evening was so amazing to work with for our wedding! They were always extremely accommodating and made everything so easy and fun, special thanks to Mary for all of her help! Our DJ (Mike) really knew how to read the crowd and we were so happy to have a dance party all night long! We spoke a week before the wedding and I was very confident that he was going to make the day very special. One of the most important things at our wedding was a special tribute to my grandfather that Mike timed out perfectly, we could not have been more appreciative for that. The entire staff of An Enchanted Evening really takes their time to understand what each couple is looking for in a DJ and they absolutely deliver. We are so grateful for the amazing job they did and we will without a doubt recommend them to all future brides and grooms we know! Thank you again!!!
---
Amazing DJ experience!!
Reviewed on

10/20/2014
Rosie N
We went to see so many different DJs and from the very beginning we loved An Enchanted Evening. Our DJ was Larry and he was just amazing! He helped us from the beginning, the line-up, gave us advice on our songs! There are no negative comments here for Larry or the company. From the beginning, they explained how everything worked, all the prices, left nothing out. Price was VERY reasonable. Everybody had a great time at the wedding and loved the music. The most important thing is Larry ALWAYS kept people on the dance floor throughout the whole night!!!
---
Loved Our Wedding DJ!!!
Reviewed on

10/16/2014
Megan C
I recently had my wedding, and I was so impressed with DJ Dana. He was organized, energetic, played our requested music, plus his own! Everyone at the wedding was dancing, requesting music, and having a blast! I would definitely recommend An Enchanted Evening for any event, especially a Wedding! He was dressed for the occasion, provided extra speakers and microphones, and had all the needed equipment. He was definitely prepared and professional!
---
AWESOME DJ Company!!!
Reviewed on

10/15/2014
Jaclyn R
Mark and I would like to express our sincere THANKS to our DJ,Bob Wolkette! He was AWESOME and got everyone on the dance floor. Throughout the night and even days after the wedding, our guests kept telling us that our reception was the most fun one that they had ever attended. That is exactly what Mark and I wanted to happen! We were so pleased with Bob's organization and patience when we had to wait a few moments at certain points in the reception. We appreciate him playing songs from our request list as well as the guest's requests. We will DEFINITELY recommend An Enchanted Evening to our friends who are in need of a DJ! Keep up the great job! We can definitely see why your company has won awards with The Knot and was listed as one of the top DJ companies in all of our research. Thank you so much for making our Wedding reception so memorable! Jaclyn & Mark St John :)
---
DJ and Lighting
Reviewed on

10/13/2014
Cristina P
We had Chip as our DJ and he did a great job. He started out playing some of the songs we asked for but when the crowd wasn't responding he switched it up to get people on the dance floor. Unfortunately we had an older crowd that wasn't much into dancing but those of us that were spent several hours getting down on the dance floor. The up-lighting and name in lights looked great and totally added to the ambience of the room. We were very happy with An Enchanted Evening.
---
Just Say Yes!
Reviewed on

10/05/2014
Shannon B
We had two major concerns when hiring a DJ. First, we wanted everyone to have a good time on the dance floor, and second, we wanted to enjoy our night without having to deal with the details of the agenda...Oh and did I mention we were on a strict budget? Well, thank you Enchanted Evening, because that mission was accomplished. Larry was our DJ, and he was a godsend. He was patient with two people who were somewhat clueless at times about the procedural minutia that accompanies a wedding reception. He was our guide the entire night and communicated closely with our photographer. It was so great to relax and enjoy the evening. Not to mention that our dance floor was packed the entire night! No small feat! For anyone looking for a quality company and a worry-free reception we would recommend this company without hesitation.
---
DJ Mike and Crew Amp up the Night!
Reviewed on

10/02/2014
Larisa S
Storybook wedding. Fairy Tale dreams begin. The BEST wedding DJ's in the Midwest right beside us. Mike was more than magical keeping everyone amused and embraced in the moments. He was clever, quick, and kept everyone dancing like we imagined. With prior planning as hectic as could be we were 120% happy with our choice of Enchanted Evening and Crew! There was not one flaw from beginning until the end. We will be referring all of our friends and family with future plans of getting married. You will not be disappointed with choosing this company. They simply are the BEST! Thank you again Mike for a truly Enchanted Evening!
---
Fun, Fun, Fun with An Enchanted Evening
Reviewed on

10/02/2014
June P
We recently got married in September of 2014 and Chip was our DJ from An Enchanted Evening. We were so happy with everything and he definitely kept the party going on the dance floor. And you know that Chip was playing awesome music because we got wedding crashers that showed up on the dance floor from another party in the hotel!! We also had a photobooth that night and the guests loved it. They were able to keep a strip and put one in a book for us with a message for us to see right after the wedding - so much fun! The service at An Enchanted Evening is great. Mike sold us on our first meeting with them and he and Mary have been great in responding to our emails right away. We would definitely recommend this vendor to anyone looking for DJ/photobooth services for their wedding.
---
Great service!!
Reviewed on

10/02/2014
Jamie F
We were very pleased with every step of the process with enchanted evening. They provided us with important details and reminders and were very quick to respond to any questions or requests. Dana was our DJ and he was great!! He did a wonderful job listening to our input and was able to read the crowd and make sure everyone was having a great time. I didn't have anything to worry about- he took care of everything and it all went smoothly. I would absolutely recommend enchanted evening!!
---
Poor Communicators
Reviewed on

9/06/2014
Nancy G
First I want to say that the DJ who ultimately worked our wedding did a good job. However, this was not the DJ that we had requested. The DJ that we requested was not available on our wedding day and the company did not feel that it was important to notify us of this at the time that it was known to them that the requested DJ was unavailable (approximately a month before my wedding). When I did find out that he was unavailable (5 days before my wedding), the company did manage to work a deal out with him to change his plans and be available for my wedding. This was not given to me as an option until after they spend time selling me on how great a job the now-assigned DJ would do for us. They told me that he would do a better job than the one that we requested so when they came back and said the requested DJ was now available, I asked them why I would want him after they spent the past day convincing me that he wasn't the best DJ for the job. As I said the DJ we had did a good job. My issue with this company was their lack of communication and excuses for it.
---
Send Message