Home

Aries Charter Transportation
About this Vendor
Transportation for small or large groups
Aries is a full service transportation company that offers sedans, SUVs, Limousines, 25, 29, 32 & 39 passenger mini-buses, transit buses, motor coaches and a 24 passenger limo-bus for all wedding related events. To and from - Rehearsal dinners, bachelor/ette parties. Wedding party and guests from Hotel to church, to venue and back. We work with you to customize your itineraries!
Details
Rehearsals + Parties, Wedding
Limousine + Sedan, Shuttle Service

Contact Info

Great for weddinng transportation
Reviewed on

9/16/2013
Jenna H
Wedding transportation in the city is a must have for guests. It brings your guests experience to another level. They will appreciate that you take care of this part of their weekend -- so worth it. Aries is great to work with for weddings -- they do this kind of work all the... Read More time. Our 24 passenger limo bus for the wedidng party was so clean, nice and stocked with beverages to celebrate after the ceremony, on the way to cocktail. We would recommend using Ariies ten fold.
---
A rollin good time!
Reviewed on

7/25/2013
Jackie
Good service. Clean buses. On time & were willing to make another trip past our time when we still had people at the reception - billed us later but that was to be expected!
---
Kline Wedding
Reviewed on

11/04/2012
Jessica S
We loved our party bus and the driver was patient and understanding of the locations we needed to go. Would definitely use them again!
---
Reviewed on

9/04/2016
Brittany R
We hired Aries to drive us from our wedding ceremony to the reception. I booked the 24 passenger party bus about 8 months in advance. The woman I initially worked with answered emails within a few hours, was very courteous on the phone, and even went out of her way to take... Read More extra pictures of the bus and email me photos since I live out of town and didn't have time to come see the bus in person. About a month before our wedding, I called to confirm our bus. The owner informed me the girl I'd worked with previously was no longer with the company and that there was a $150 fee for bringing outside alcohol and food onto the bus. When I told him I'd specifically asked about this before booking, he waived the fee. The day of the wedding, the bus arrived right on time. The driver, Reuben, was delightful. He let us play whatever music we wanted, drove us to 2 different locations for pictures, waited patiently while we took pictures, and even took us for an extra lap before dropping us off at the venue because we were having so much fun. Thanks Reuben and Aries for making our wedding day wonderful!
---
I'd use them again!
Reviewed on

12/13/2014
Laura C
I had a great experienc using Aries Charter for my wedding this past November. They were on time, buses were clean, very flexible with timing and best of all the price was perfect! We used Aries as a shuttle service after the reception to shuttle guests back to the hotel. I... Read More would definatley use Aries Charter again!
---
I HAD TO TAKE A CAB IN MY GOWN B/C THEY DIDN'T SHOW!
Reviewed on

11/22/2014
Cara A
WORST NIGHTMARE!! Are there 0 stars for this???? They arrived 20min late for my guests. I had a champagne reception set for my guests as they arrived, which they were supposed to enjoy before the ceremony started. Well, the bus didn't show so that was cut from 30min to 10min.... Read More And the best part? They were running so behind that they didn't make the trip back in time to pick ME up! The bride. In my wedding dress. So I had to take an Uber. Again.. in my wedding dress! It was a nightmare. Not something you want to deal with when you're already nervous about so many things. Done yet? No. The driver was rude and antagonizing on the drive back at the end of the night. Really the way I wanted to cap off my wedding night... thanks Aries. Do not call them. They were absolutely awful from start to finish.
---
Good company
Reviewed on

10/23/2011
Christie H
We used Aries Charter because we didn't really care how we got from point A to point B on our wedding day. We chose a regular charter bus (no bells or whistles) and it worked out great. Our driver was super nice and even let a few buzzed members of our wedding party do a... Read More Chinese Fire Drill around the bus at a stop light on our way to the reception from taking pictures. The bus was clean, she had the air conditioning blowing (since it was 85 degrees in October) and let us bring on two coolers full of drinks for the ride.
---
Very reliable
Reviewed on

7/01/2011
Jeannie N
We enjoyed the service provided. The bus we rented was clean and comfortable, the driver was polite, prompt and did a great job!
---
Great Service...
Reviewed on

11/14/2010
Teresa G
I can't say enough good things about Aries. We used them to shuttle our out of town guests from the hotel to the ceremony and back. Our wedding took place on the same day as the Chicago Marathon (lord!) and Aries agreed to show up a little early to ensure that everyone made it... Read More to the church on time. The buses were clean and the driver was friendly. I only wish they also offered limousine services!!
---
Shuttle
Reviewed on

10/21/2010
Monica J
We chartered this company to provide shuttle service from the hotel to the reception and back. It worked out great! The shuttle was on time, it kept looping back and forth before and after. My guests all said it was always there waiting for them, they never had to wait. The... Read More bus was clean and the driver was polite and professional. Also, one of the best prices I could find after calling many companies.
---
Great Party Bus
Reviewed on

10/19/2010
Jennifer E
We had a blast on the Party Bus! The driver arrived on time and was very accomadating. We needed more beer and cups: he made the stop for us during our ceremony so we would be set to celebrate afterwards. Great prices too!!! The best I found!
---
Bus to Transport the Masses
Reviewed on

8/11/2010
Michelle H
For $500, we got a bus that could seat just under 40 people and a nice driver who was on time...it was warm and muggy and he kept the A/C on for everyone while pictures were taken at the Arboretum. Very good!
---
Review for Aries Charter Transportation
Reviewed on

5/10/2010
Stephanie C
The buses were clean and on-time. We were able to provide transportation for all of our guests from the hotel to the church and then to the reception. They did a great job!
---
Meet The Director of Sales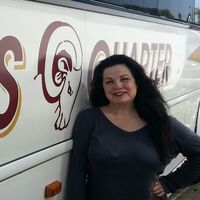 Antoinette Gonzales - The Mini-bus Lady
Hello I'm Antoinette the Mini-bus Lady! Seriously - would you want to be known as the "bus-lady"? Having participated in all areas of the wedding industry. I've done it all! - Banquets to transportation - Over the years my industry experience has given me a unique understanding what a wedding couple is going though and the transportation needs they may require on their wedding day. Or for the events surrounding their wedding! Give me a call and let me help you figure out the transportation logistics for your wedding party and guests... You won't be sorry you took the time to talk with me!