Home

Aromas Boutique Bakery
Details
Gluten Free, Sugar Free, Vegan, Vegetarian
Cake Stands, Cake Toppers, Cake Delivery + Setup, Cake Tastings, Groom's Cakes, Cakes + Desserts



Contact Info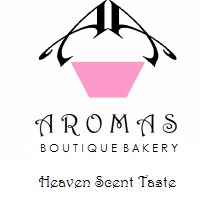 Address
8 West 126th Street, New York, NY
New York - Manhattan, Bronx, Brooklyn, Queens, By Request
(212) 360-0010
WEBSITE
Reviewed on

11/14/2017
Lorenzo R
Jo-Ann and Eileen were so kind, patient, and helpful in helping us pick our perfect cake from flavors and icing types to decoration. And it was delicious. Can't recommend them enough.
---
Reviewed on

10/31/2017
Tameeka J
Our engagement cake was awesome! we loved the chocolate and we are looking forward to out wedding cake. Thank you!
---
Reviewed on

10/31/2017
Neil P
Lance and me loved our cake. Our guests called it the perfect way to end the night. We hope to work with you again because everything was so easy
---
Reviewed on

10/31/2017
Jack S
Thank you for our beautiful cake. You were so nice to work with, The bergamot buttercream was perfect and so delicious.
---
Reviewed on

10/31/2017
Partricia R
Thank you for a wonderful cake. The bergamot butter cream was delicious and so silky. A sophisticated flavor that matched our celebration perfectly.
---
Reviewed on

10/30/2017
Mara M
We simply loved our cake. What a perfect night and a perfect way to end it. With all the specialty diets we though we would have to serve fruit at our wedding, but Aromas was the perfect solution and we served a little of everything. Sugar Free, Vegan, Gluten Free and tasty... Read More vanilla cake with vanilla buttercream for the traditionalists. Thank you!, Mara.M
---
Reviewed on

10/30/2017
Bart N
We are on our way to our honeymoon and had to send a huge THANK YOU to these lovely ladies for g the perfect cake with the most delicious tiramisu buttercream, delivered perfectly for our last minute wedding. You're awesome and the cake was awesome. Thank you for coming through... Read More for us! B&C
---
Reviewed on

10/24/2017
Overall communication was good, but the overall product and the taste was not exactly what I expected (colors were off a bit and the taste itself was really just OK). Given the price level they charge I would expect much more than that!
---
Reviewed on

10/24/2017
Seana F
Dream girl, dream cake, dream day. Thank you for being the icing on the cake...I couldn't help myself. This cake was moist, delicious and so perfect. My mother who is the baker in our family couldn't believe how good it was. This is an impossible feat and these ladies did... Read More it. Thank you and I'll see you for my birthday. By the way, my granddad really appreciate a sugar free cake. Thank you!!!!!!!!!
---
Reviewed on

10/24/2017
Genesis S
Thank you, thank you, thank you for making my incredibly delicious dream wedding cake a reality. It was so much more than awesome. Our guests raved. We are so glad we found you and look forward to many more cakes. You ladies are beyond awesome!
---
Reviewed on

8/07/2017
Words cannot begin to express the monumental role that lead Creative Cake Designer Jo-Ann, Chef Eileen and their amazing team played once Jo-Ann carefully reconsidered and agreed to fully accept taking on this tall order of a task literally at the eleventh hour with a very... Read More narrow time constraint under less than desirable circumstances after initially and understandably declining to take on my huge project. By the grace of God and once Jo-Ann met with her team and determined that they could meet the inherent challenges and expectations for this life cake project, Aromas Boutique Bakery were fully committed, engaged and removed an enormous burden from me, two weeks prior to the event. The vision in my mind for my mother's 80th milestone birthday celebration also centered around a "Cake Walk - Down Memory Lane" program segment with the focal point on a gourmet specialty customized cake, which embodied major milestone events in my mother's life artistically and creatively displayed through objects of significance in the chronological order in which they occurred while capturing the colors along with the theme of the celebration. Jo-Ann completely bought into my vision and was on a mission to bridge the concept mapped in my mind to full fruition. This project was so much more than just about a cake, as my vision of this beautiful, delectable, artistic creation would also have to chronicle the monumental moments of my mother's life journey and Jo-Ann soldiered the full weight of that responsibility with complete confidence. Thank you Jo-Ann, Chef Eileen, and the fabulous team for treating this unique life cake project with the honor and respect it deserved and required while amazingly crafting such a beautiful work of art. Jo-Ann always kept me in the loop at all times with detailed follow ups and presented fresh creative ideas in a collaborative fashion throughout the entire process. This amazing sister duo are true class acts as well as consummate professionals evidenced by accommodating me and my husbands hectic schedules and meeting with us on a Sunday - a day when their business is closed. Jo-Ann went above and beyond the call of duty as she researched, reserved, and covered the parking garage fee for our scheduled tasting and consultation. I also extend a gracious and warm thank you to Jo-Ann and Chef Eileen's mother for her willingness and patience in her involvement with my mother's life cake project by allowing her beautiful brown hands to be photographed countless times to capture with great precision flour falling upon them for the object of significance representing the very first life story shared with all. Thank you Aromas Boutique Bakery for coming to my rescue, being my angels on earth and for diving into this life cake project with an amazing team, compassion, dedication, enthusiasm, love, passion, professionalism, and respect; your significant role in creating a lifetime milestone memory for my mother and her guest remains priceless. My husband and I look forward with great anticipation for the next major life event as Aromas Boutique Bakery has absolutely earned our confidence, trust and hearts as they have proven to be more than capable of delivering big when the stakes were high.
---
Reviewed on

11/02/2016
Lana K
This was the easiest part of planning our engagement shower and our wedding. Thank you for making it great.
---
Reviewed on

11/02/2016
Emily S
Our cake was the perfect match for our blush pink wedding. .Thank you for bringing my dream to life. AND IT WAS SOOOO DELICIOUS.
---
Reviewed on

11/02/2016
Karen S
Gluten Free Couples Rejoice!! We were so excited to find a baker that could do delicious gluten free cake. Thank you ladies for creating such a beaituful cake.
---
Reviewed on

10/30/2016
Sally M
Aromas is the bakery of choice for my friends. We attended 2 weddings with Aromas cakes and we scheduled our tasting soon after. The harders part was choosing a flavor because everything tasted so delivious. We chose the chocolate with cinnamon ganache. Our guests loved it... Read More and so did we. Thank you for a memorable cake and a delicious memory.
---
Reviewed on

10/30/2016
Matt M
Ilene and I wanted all of our guests to enjoy our cake. Aromas was the only bakery that could do sugar free, gluten free, ve Thank you for helping us create the perfect cake and for making it easy. You guys are great! Your pumpkin cake is the best!
---
Reviewed on

10/30/2016
B. K
Thank you for making our vegan wedding cake the most beautiful cake I have ever seen. My parents were surprised that a vegan cake could be so delicious.
---
Reviewed on

10/26/2016
Abigail C
Ruffles, ruffles, ruffles! That was the theme of my wedding and 4 bakeries later, I finally found someone who could do beautiful ruffles out of fondant and Jo matched the blush color perfectly. Thank you for making my dream cake a reality. We also appreciated the venue... Read More referral.
---
Reviewed on

10/26/2016
Brian A
Audrey and I wanted a traditional wedding, traditional venue and traditional cake. With traditional, one often gets boring. Aromas had our cake be traditional and so so good. Our guests still talk about it Pumpkin Cream Cheese was the perfect choice for our September... Read More wedding. Thank you for listenng and giving us the perfect wedding cake.
---
Reviewed on

10/25/2016
Flores A
Lifesavers! One of my clients from Buenes Aires got married en New York City. I know New York has the best of everything and I truley gave them the best when I chose Aromas. This is an incredible duo. They customized everything from my clients and even gave us mini meringue... Read More treats to serve aside their delicious, delicious cake. Thank you so much from me and my clients. I hope we can do this again.
---
Reviewed on

9/27/2016
Victoria M
Jo-Ann was friendly and professional from our first phone conversation. The delivery to our lunch reception was seamless. The cake we had (chocolate with chocolate ganache wrapped in vanilla buttercream) was phenomenal, all of our guests loved the cake as well. I just had the... Read More frozen leftover piece (we got married June 2015) and it was still SO GOOD. And reasonably priced! Highly recommended!
---
Reviewed on

11/01/2015
These ladies surpassed all of our expectations with the awesome cake and cupcakes they prepared for our wedding. The bridal cake was unique and delicious with the best passionfruit buttercream we ever have tasted and the assorted cupcakes were a knock it out of the park hit... Read More with our guests. The chocolate lovers swooned over the chocolate cupcakes with champagne buttercream frosting. Thank you for helping make our wedding celebration a big success. There was not even a crumb left, not even left-overs for us, the Bride and Groom. I highly recommend them and assure you that you and your guests will not be disappointed. The prices are right and the taste, even better. Call and arrange for your tasting - you won't be sorry! Thank you Ladies - Rosa and Curtis T.
---
Reviewed on

10/31/2015
Sreeta E
We recently had our engagement celebration and Joann was great about my ensuring my parents that there would be no traces of alcohol in any tier of the cake and that we would have one absolutely eggless tier. The bright, henna inspired cake was perfect and so delicious. Our... Read More parents were very happy and are now really looking forward to our wedding celebration. I only wish we could fly a cake to Bangladesh for our final celebration. I am so grateful for having this process be so easy when so many other pieces of planning took alot of time. Thank you, thank you, thank you!!!
---
Reviewed on

10/31/2015
Abeline K
I joined my daughter and son in law for their cake tasting. I had the pleasure of meeting the Chef of this NYC gem. Eileen was patient, accommodating and treated us like family. She was enthusiastic about creating the Van Gogh inspired hand painted design my daughter fell... Read More in love with and she just as eagerly showed her simpler designs with hand painted accents. This was a great experience. Aromas is impressive and stands far about the rest in what I have learned is a competitive industry. Thank you for being such a delicious part of my daughters wedding.
---
Mr.& Mr. Greene - Ushlee
Reviewed on

10/31/2015
Jo-Ann and Eileen created the perfect cake for the perfect wedding. After a fun tasting with two very patient ladies, we decided on the chocolate salted dulcet De Leche and a traditional vanilla cake with vanilla buttercream, YUM!!!!! We loved it, our guests loved it, our... Read More parents really loved it and I could go on... Thank you for custom topper! We are looking forward to many. Many. Many more celebrations. So wonderful working with you,
---