Home

Artistry Florist & Event Design
Details
Centerpieces, Vases, Decorations + Accents, Bouquets, Boutonnieres, Flower Arrangements

Contact Info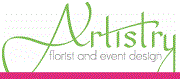 Reviewed on

12/05/2017
Jana S
Randy and team at Artistry were spectacular and made working with them so easy! Randy is completely professional and so skilled at his work. His vision was executed perfectly. All of the flower arrangements were delivered to the hotel and reception site early and beautifully. I... Read More can not thank them enough!
---
Reviewed on

10/03/2017
Elise Y
Randy is amazing!! He took our ideas and vision for our wedding day, and was able to build on it. Our flowers were gorgeous, and the process was so smooth when we worked with Randy!
---
Reviewed on

12/19/2016
Dana G
5 stars isn't enough for Randy and his team! Randy was the ultimate professional and from the moment my mom and I met with him, I knew he'd be able to create a vision of the winter wonderland my husband and I wanted. Everyone commented on how gorgeous the flowers were. I would... Read More recommend artistry to ANYONE looking for an amazing florist!
---
Reviewed on

12/29/2015
Meghan K
Randy is fantastic and the flowers exceeded my greatest expectations! He was so patient with us and went above and beyond to try to keep everything within our budget. The final product looked so much more expensive than it was (not that it was cheap, but it was absolutely worth... Read More it)! My favorite was that he created a stunning flower arrangement for the length of our long King's table that was surrounded by candles. It looked stunning in person and in pictures. Everything was delivered and cleaned up on time and I did not have to worry about a thing. I am so happy we chose Randy and so pleased by how everything turned out.
---
Reviewed on

8/15/2015
Sue M
Artistry Floral did the floral design for our June 2015 wedding and we could not have made a better choice. The bouquet, ceremony and reception arrangements were exquisite and far exceeded our high expectations. We were wowed and so were our guests! Each variety of flower used... Read More was large and at its freshest with no last minute substitutions in our choices. Randy, a true floral artist, is wonderful to work with. His large showroom is so very helpful because as you are planning and making selections, you can actually see, not visualize, how it will work together. The costs were clearly described and itemized in the contract so there were no surprises in the final amount due. Outstanding job!
---
The artistic touch!
Reviewed on

12/15/2014
Lauren R
Artistry brought their best artistic touch to our wedding. The artists worked together with us in planning the perfect florals, listening carefully to our ideas to make sure they captured our vision. Their excellence was in stark contrast to other floral groups we interviewed,... Read More who often superimposed their own ideas over our own wedding plans. We couldn't be happier with their work creating such a beautiful setting on our wedding day!
---
Amazing!
Reviewed on

11/18/2014
Rebekah K
We chose Artistry because we had a great meeting with Randy but also because he came highly recommended by our wedding planner. Randy was amazing to work with. He completely understood our vision for the flowers and had so many creative ideas that really contributed to the... Read More overall impact. When I saw the flowers on the wedding day they were not only EXACTLY what I wanted but went above and beyond my expectations and were even more beautiful and perfect than what I had imagined! We got so many compliments on the flowers all night and they were definitely one of my favorite aspects of our wedding day. Probably one of the greatest things was that Artistry was able to move and re-purpose some of the flowers from the ceremony to the reception, and they looked so incredible we couldn't believe they were the same arrangements! Our brunch the next morning was at the same location as our reception, where we were able to use all the flower arrangements again and they still looked beautiful, so some of the arrangements were used 3 times! I could go on and on about how beautiful our flowers were, and our experience working with Randy/Artistry was exceptional. Couldn't have imagined anyone else executing our vision as well as he did!
---
Beautiful
Reviewed on

10/29/2014
Shannon S
Working with Randy was a pleasure, and I could not have asked for better flowers and table arrangements. My bouquet was flawless and exactly what I envisioned. Randy is an expert in the field, and I would recommend him to anyone.
---
Amazing
Reviewed on

10/23/2014
Rachel V
Our flowers were great, and Randy knew our venue extremely well. It was very easy to plan and made my job so much easier as it was a somewhat destination wedding. Everyone raved about the arrangements, and made our ceremony/reception extra special!
---
Wedding
Reviewed on

10/23/2014
mackenzie c
My daughters wedding flowers were beautiful! They totally set the décor of the room....elegant!! Friends are still talking about them as is the photographer and reception site! If you want top notch...very very much recommend Randy at Artistry!
---
BEAUTIFUL
Reviewed on

10/22/2013
Laura S
The flowers for our wedding were so beautiful. Randy at Artistry did such a wonderful job. My bouquet was so beautiful as were all the other personal flowers. The reception flowers really added to the room and looked amazing. I could not have asked for a better florist. Randy... Read More was helpful in giving suggestions about other aspects of our wedding and reception and well due to his experience. Randy really knows what he is doing and knows how to make a bride happy.
---
MAGICAL AND BEAUTIFUL
Reviewed on

7/18/2013
Jeni B
Randy came to my rescue when another florist let me down. Randy was willing to work with my budget and created the most amazingly gorgeous flowers. From the hand bouquets, to the wedding arbor, to the stunning centerpieces people could not stop talking about the flowers. They... Read More were amazing. Randy is truly an artist! His showroom is also amazing and it's great because he has vases on site and silk flowers to help you visualize what he's talking about. Randy paid attention to all the small details and then made everything more beautiful than I ever imagined. People asked all night who the florist was. At the end of the evening my dad even asked to meet Randy before we left because he wanted to thank them. Working with Randy was easy and fun. He's got a great personality and he is a great listener. He made me feel comfortable right away and when I had any questions, he was happy to answer them. I felt like it mattered to Randy that I truly loved my flowers and I did. He was honest with me when I asked for something that he thought wouldn't be great, but always came up with an alternative that was even better. I would highly, highly recommend him to anyone getting married. By far the most gorgeous flowers I've ever seen and he made both the ceremony site and the reception look incredible.
---
Beautiful Buds! Couldn't be happier!
Reviewed on

7/02/2013
Amy M
My experience with Artistry was definitely one piece of the perfect puzzle that was my wedding! Randy was INCREDIBLE to work with. He was informative and helpful when I told him my budget and my floral needs. My flowers were stunningly beautiful! Perfect for the day I... Read More envisioned! If I could do it all again, I would choose Artistry again.
---
The best florist around!!!!!!
Reviewed on

6/09/2013
melissa m
Professional, talented at what he does. Exceeded expectations. Stunning showroom. Personable!!!
---
Gorgeous Flowers, Average Service
Reviewed on

4/19/2013
Michelle R
Artistry absolutely created beautiful bouquets, boutonnieres, and centerpieces for my wedding. Randy was able to create exactly what I wanted from my description and a few photos. I was very happy with the end result. The cost was quite high for the flowers I chose. I was... Read More somewhat disappointed that the flowers began to wilt and brown after about 4 hours. The weather was cool and cloudy on our wedding day. I had mostly roses and hydrangeas, so maybe that is just the nature of those flowers. The only area of improvement would be in communication. It is difficult to get a hold of staff at Artistry. It takes a few phone calls before hearing back from someone. The staff is very friendly, knowledgable and courteous.
---
Love the designs...not the price
Reviewed on

11/08/2012
Kristen C
Randy did a fabulous wonderful spectactular job on our flowers however he did go over our budget
---
Great to work with
Reviewed on

5/29/2012
Katie W
Centerpieces were exactly what I wanted..perfect! I liked all the consults...about 3. The last one was actually the day before and I got to see my actual flowers and a centerpiece demo
---
Beautiful bouquet
Reviewed on

11/01/2011
Amie B
I asked for a "wildflower look" for my bouquet using fall colors. Pretty difficult to come by, but they made it work! All my flowers were beautiful!
---
Amazingly beautiful work!
Reviewed on

10/14/2011
Ashley B
My wedding flowers were gorgeous! I absolutely love the work they do here! Would do it all over agian!
---
perfect
Reviewed on

10/30/2010
Natalie B
my flowers were amazing. I came in with a picture and Randy the owner made it come to life. I had antique hydrangeas and anna roses.
---
Sooooooo beautiful
Reviewed on

10/21/2010
Cheryl V
Beautiful flowers, wonderful suggestions and expert opinions, service.
---
Amazing and Beautiful!
Reviewed on

8/09/2010
Courtney P
Randy could not have done a better job. The flowers were exactly how I wanted...if not better...and he was so great to work with. He also gives you great ideas outside of flowers so your entire night comes together. He is AMAZING!!!
---
Review for Artistry Florist & Gifts
Reviewed on

5/10/2010
Stacy D
He was very creative. I told him a few flowers and colors I liked and he made everything perfect! Everything looked polished.;He can be pricy, but worth it!
---
Review for Artistry Florist & Gifts
Reviewed on

9/26/2007
Andrea S
I brought my ideas to the florist and he did a great job of recreating my dream design in the flowers/colors we chose. He was the one who recommended specific flowers for their color and texture, so I think he did very well.;The bridesmaid's bouquets were smaller than I... Read More expected.
---
Review for Artistry Florist & Gifts
Reviewed on

9/04/2007
Carolyn B
The flowers looked AMAZING! I received many compliments from guests. They had many ideas, and were very helpful. They also offered a coupon at the St. Louis bridal show that saved me a good amount of money. They have many arrangements in-store that you can look at to get ideas... Read More as to what you are looking for. This wasn't the case for many florists I looked at, they just had photo-books.
---