Home

Atlantic Strings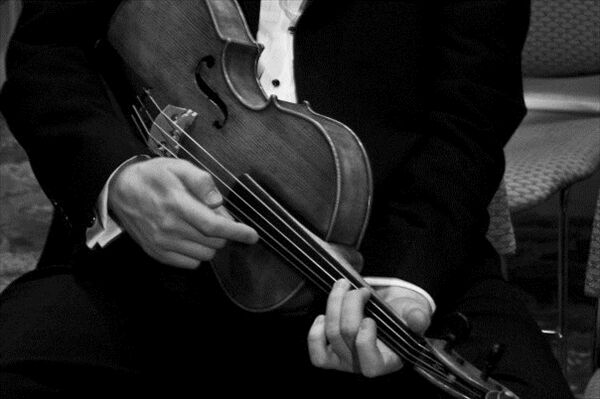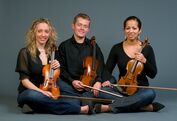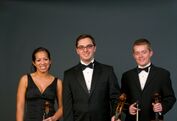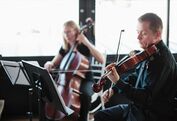 About this Vendor
Professional musicians for your wedding day
Atlantic Strings is an ensemble that provides music for weddings and private events. You can choose a solo performer, a duo, trio or string quartet. Live music will add the perfect touch of elegance to help make your event unforgettable. In addition to strings, we offer piano, harp, flute & trumpet.
Details
Superb String Quartet - Highly Recommend
Reviewed on

2/04/2013
Elizabeth P
The musical talent and professionalism of Atlantic Strings is superb and I highly recommend them! We used Atlantic Strings for our wedding ceremony and they played beautiful music. After a lot of research on string quartets for our wedding ceremony we came across Atlantic... Read More Strings and we were blown away by their versatility and professionalism. They played a beautiful mix of poppy and traditional music for us as our guests arrived, through to our processional and as our guests departed. We knew we wanted a string quartet as we love the string sound, but were looking for a mix of traditional and non-traditional wedding music and Nina provided outstanding suggestions! Atlantic Strings were awesome, and they were a wonderful addition to our wedding ceremony.
---
Summer Farm Wedding 07_07_12
Reviewed on

1/12/2013
khaalid k
We have been arranging our wedding photos and remembering the great and unforgettable wedding day. Nina, was a part of that and we are very grateful for her beautiful music for our outdoor wedding ceremony. Even the birds sang perfectly with the tune of her violin that made our... Read More day ever so beautiful and special. Nina, I thank you for your professionalism, patience, and kindness in helping me select the right music for our ceremony. I highly recommend Atlantic Strings Music to friends and family!! Thank you again ASM for providing classy and friendly service!! Cheers! ABarr
---
ceremony music at Aldrich Mansion in Warwick, RI
Reviewed on

12/10/2012
Brynn C
We hired Atlantic Strings as a trio for our ceremony music, and they were absolutely perfect. The music was flawless and exactly what I envisioned for our ceremony. They worked with my cousins who sang a couple different songs, and they sounded great together after less than 1... Read More hour of rehearsal time before the ceremony. Nina was a joy to work with, she was extremely kind, patient, and helpful. I highly recommend Atlantic Strings for any wedding in New Englang!
---
Reviewed on

8/03/2015
Jonathan K
Hired Atlantic Strings to play at our wedding at Glen Magna Farms in Danvers in August 2014. Atlantic Strings did a great job, was easy to work with, and reasonably priced. We interacted with the group leader Nina Biship. Very professional. Helped us plan the music.
---
Reviewed on

7/29/2015
Rebecca A
My wedding was in June 2015 at the Boston Harbor Hotel. Atlantic Strings was amazing! Nina was also a joy to work with. My guests loved the music! Very professional and talented! Thank you!
---
Atlantic Strings Trio
Reviewed on

7/20/2015
More beautiful than I'd even imagined.. Atlantic Strings were simply 'perfection' at our garden wedding. Nina worked diligently with me in advance to help choose the right music for both our ceremony and cocktail hour; she even learned new music for us and worked with our own... Read More soloist (who they accompanied) in advance. True professionals one and all, never enough thanks to you for making our day so special.
---
Atlantic Strings is AMAZING
Reviewed on

3/02/2015
Kati C
I hired Atlantic Strings to play at my Wedding Ceremong and Cocktail Hour at the Hawthorne Hotel in Salem. All of our guests loved them! I highly recommend them. They made my wedding seem super fancy!
---
Atlantic Strings was fabulous!
Reviewed on

2/12/2015
Molly B
We used Atlantic Strings for our wedding ceremony in New Bedford, MA on 9/20/2014! Nina was a pleasure to work with and the entire group was fabulous! Nina helped us to sort out the flow of our ceremony (which was a complete Catholic mass) and worked directly with our soloist,... Read More leaving me available to focus on other things in the weeks leading up to the wedding. The music throughout the ceremony was flawless and the guests really enjoyed it! I never had to worry about a thing! I would highly recommend them!
---
Absolutely Terrific!!!
Reviewed on

2/02/2015
Mitch C
My wife and I used Atlantic Strings for our wedding reception and they were amazing! The best memory from our beautiful reception was Nina and crew playing a heartwamring rendition of I'm Yours. It was so beautifully done it caused my bride and I to spontaneously dance to it!... Read More It was an impromptu "first dance" and my most cherished memory of a day/night full of special memories. This was one of over a dozen gems they played that night! If you're looking for something special and not just a DJ, look no further, these guys are the best!
---
Beautiful music
Reviewed on

12/21/2014
June N
We highly recommend these very talented musicians. They were very reasonable and very professional. If you need music for any event please give these talented people a shot you will not be disappointed!
---
Wonderful Cello!
Reviewed on

11/26/2014
Hired a cello musician to come play at our wedding/ceremony/dinner at Four Seasons and it was absolutely beautiful! Nina was very good at coordinating everything and reliable. I highly recommend this company to anyone.
---
Great Ceremony Strings!
Reviewed on

11/26/2014
Rachel F
Atlantic Strings did a great job for my ceremony. they were extremely professional and were very responsive. They are up to date on their music and even learned a new song we wanted for our precession. I would recommend them to anyone!
---
Atlantic Strings Duo
Reviewed on

10/21/2014
We are so pleased that we chose Atlantic Strings to perform at our wedding ceremony. Nina was so easy to work with and the musicians were extremely talented and professional. Everyone commented on how lovely the music was. Thank you so much!
---
Beautiful music!
Reviewed on

10/20/2014
Bethany L
Atlantic Strings was a pleasure to work with! We were able to customize our song choices for the ceremony, which sounded exactly as I hoped. There arrival and set-up was seemless and the music played made the ceremony all the more beautiful.
---
Amazing strings!
Reviewed on

9/28/2014
Juliana R
For our wedding in September we knew we wanted a string quartet to set the scene for a classy and fun celebration. I could not be happier with choosing Atlantic Strings! I first saw Atlantic Strings at a bridal expo in Boston. They were playing fun, upbeat music on strings and I... Read More was instantly drawn to them. I got their information and was soon emailing Nina. Nina was so responsive to my emails, I never had to wait very long and she always answered all my questions. Their song selections for the wedding cermony were great. They can play a wide variety of music, so I had fun making my playlist. The day of the wedding the ceremony music and cocktail reception music sounded great! I got many compliments from guests on how great the musicians were! I would recommend them to everyone! They are very talented and easy to work with!
---
Beautiful Ceremony Music
Reviewed on

9/28/2014
Eva L
Me and my husband were very pleased with our ceremony musicians from Atlantic Strings. We chose a violinist and cellist and they performed all the music we requested beautifully. What we loved about Atlantic Strings were their musicians performed songs that weren't the typical... Read More songs you normally hear at weddings. For instance, my husband walked down to Edward Sharp and the Magnetic Zero's Home and my wedding party walked down to Beyonce's Halo. The musicians were very professional and Nina was a joy to work with as she was very accommodating with all of our requests. Wish we could do it all over again!
---
Ceremony Music
Reviewed on

8/08/2014
Courtney H
Atlantic Strings were great to work with. Nina is extremely friendly and quick to respond. They cost was very reasonable and they did an awesome job. I was just looking for traditional ceremony music which they provided seamlessly even though my ceremony was rather short. I... Read More highly recommend them to anyone who is looking in the New England area!
---
beautiful ceremony music
Reviewed on

6/11/2014
Jessica B
Atlantic strings did a great job with our ceremony music!
---
Perfect touch to my wedding ceremony!
Reviewed on

2/15/2014
Sarah
I had a solo violinist, Micah, play at my Catholic wedding ceremony. Nina was so great to work with throughout the planning process. Always very prompt with responding to e-mails and so helpful with all of my questions. I was pleasantly surprised by the cost of having the... Read More violinist, I expected it to be more expensive and the value was unbelievable. Even in the whirlwind of the day, I specifically remember hearing the violin playing at my wedding and thinking how beautiful and perfect it was. It was just how I pictured it and created the perfect touch to our ceremony. Would recommend Atlantic Strings a billion times over!
---
Atlantic Strings
Reviewed on

12/27/2013
Jessie S
Atlantic Strings performed during my wedding ceremony & cocktail hour. They were amazing. I dealt with Nina and she always responded quickly to my questions or requests and is very easy to work with. She had great suggestions on music selections and was very friendly. I... Read More would highly recommend Atlantic Strings to anyone looking for string music. They are reasonably priced and extremely accommodating. I want to thank them for playing so beautifully during my wedding.
---
Atlantic Strings truly enhanced our wedding day!
Reviewed on

11/19/2013
Ashley N
My husband and I hired Atlantic Strings to play during our ceremony and cocktail hour at our October wedding at the Fairmont Copley. We knew that a string quartet would really enhance the feel of our wedding, and Atlantic Strings definitely delivered! Nina was so easy to work... Read More with - from the first time we spoke, she offered her knowledge and expertise of what would work for us and our wedding. I had a special request for songs during the ceremony, and Nina and the members of Atlantic Strings made everything flow beautifully. Additionally, as a bride, Atlantic Strings gets extra points for their professionalism and ability to manage themselves on the wedding day. I never felt like I needed to hold their hand and direct them. In terms of value, while I have never had to hire a string quartet before, I think their rate was resonable when you consider what it costs to have a Boston wedding. All of my guests commented on how wonderful their music was - I only wish I got to hear more! Overall, you cannot go wrong by hiring Atlantic Strings!
---
They were fantastic!
Reviewed on

10/15/2013
Jaimie D
They played in our chapel during the ceremony and played a mix of classic & pop material (chosen by us from a list of songs they already knew how to play). They also learned a new song (special request by us) for a very small fee and they played with a cousin of my husband's who... Read More sings professionally. They made time prior to the ceremony to practice with her and everything worked out wonderfully. They also played at our cocktail hour. They had to move inside at one point so they could read their music (we had a cocktail hour that was outside in the evening and it was quite dark) but our guests still enjoyed the music! Overall we were very pleased with the performance and so thrilled that they were so easy to work with! Highly recommend!
---
Joy Grimes
Reviewed on

10/04/2013
joy g
Beautiful music! I couldn't have asked for a more perfect wedding, and one of the things that made it so exquisite was the high level, and professionalism of these musicians. I would recommend them highly for any wedding or special occasion.
---
Perfect Trio
Reviewed on

10/04/2013
Nina and Chris did such a fantastic job at our wedding. My boss, who is a true aficionado and violin player himself was even blown away. He must have brought up their superior skill at least five times. Nina was also great at helping us select songs and plan the ceremony, so... Read More she really is a consultant and a musical talent. Thanks so much, Ethan
---
Wonderful Ceremony Performance
Reviewed on

9/30/2013
Erica A
Atlantic Strings was an absolute delight and I am more than pleased with their performance! From the planning process to the beautiful composition of my song choices and the final product, everything was wonderful! Nina was great to work with and made everything simple and... Read More stress free! Thank you!!
---
Send Message